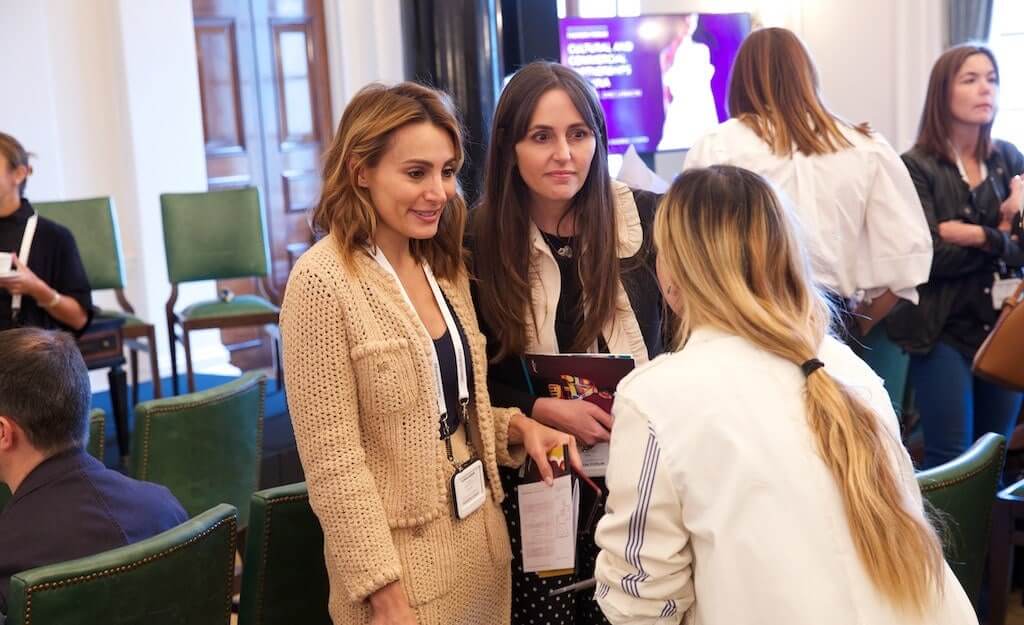 Blendology has been making interactive badges with a lanyard for a number of years. The company focuses on interactive elements such as being able to tap another badge to get that persons contact information and their technology has been used at over 350 events in 40 countries around the world.
Blendology is a unique badge, it is reusable, paperless and glass-free, using a screen from PlasticLogic. It acts as a networking device and has the ability to store agenda pages. The simple oneTap system allows people to network easily as well as "ice-breaking" a conversation, it increases networking by 30%. The delegates see all the people they tap with and the organiser sees how the event played out and how much networking happened – and it is surprise to many organisers, in fact how much people network.
The company first started doing business in 2011 and are based in Cambridge, United Kingdom. It took them five years to perfect their tapping technology. In 2016 they debuted a second generation model that employs a 32 bit ARM Cortex MO+ SAM Microcontroller and two 2.4GHZ radio chips. Their latest market entry are visitor badges for corporate and government buildings. Within the next year or two Blendology plans to focus on miniaturization.
There were several display options that the Blendology team considered when they were working on their first generation model. One was Mirasol because it offered a full colour aspect, however, size was an issue as it was only available in a 2-inch form factor. Sony's Grayscale was also considered but this would have needed a battery backup which went against the lightweight design principle that was a key criterion for Blendology's product.
The team also looked at Pervasive Displays but were put off by the one million minimum order quantity. They also looked at a low cost $12 glass display from China but safety concerns would have meant a significant extra mechanical design spend.
Blendology decided to use Plastic Logic's off-the-shelf 4-inch display that comes with a logic controller that acts as an interface between the badge and the Blendology app. One badge costs US$60 but as it's designed for reuse, it will pay for itself in just three events if rented out at US$20.
The Plastic Logic display brings a range of benefits to Blendology's pioneering electronic badges. Firstly, they are robust enough to withstand any resistance when tapped or dropped. They also have extremely low power consumption which allows them to be used over a series of days without charging. The lightweight nature of Plastic Logic's technology also makes the badges comfortable for delegates to wear around their neck for long periods of time, and the always-on display offers a nice, readable reflective display, similar to that of paper.
Here is how the whole system works when they are used for special events. The event organizer has a dashboard that works on an iOS app. All of the attendee information is stored on a central server and the data is transferred to each badge via WIFi or Bluetooth in batches of 30. A few wireless hubs are spread throughout the venue and they keep track of when two badges are touching and automatically transfers user information to each person. The two delegates cards will buzz with haptic feedback when the process is complete.
I think this is great technology, but you have to rent them, Blendology does not sell them directly. Their rates are not posted on their website, so you actually have to reach out to them with a general contact form to find out the costs. Considering their product is fairly high tech they have very analog way of reaching out and trying to do business with them.
Michael Kozlowski is the Editor in Chief of Good e-Reader. He has been writing about audiobooks and e-readers for the past ten years. His articles have been picked up by major and local news sources and websites such as the CBC, CNET, Engadget, Huffington Post and the New York Times.