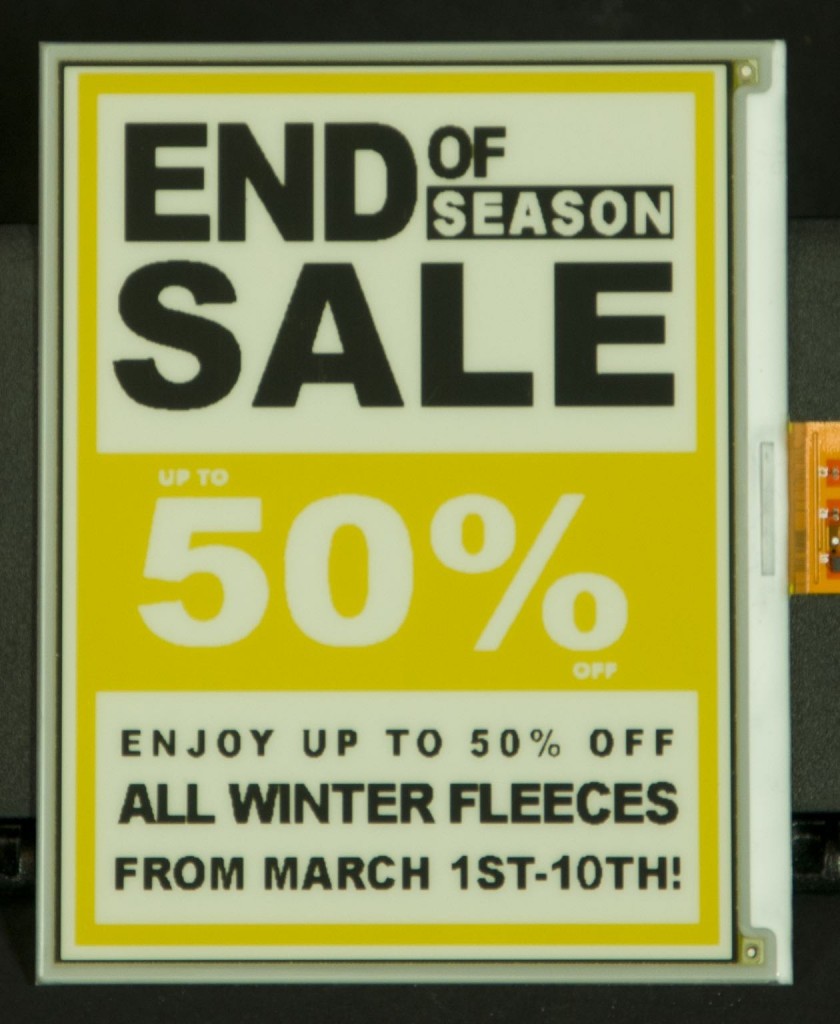 E Ink has a storied track record of announcing new e-paper at the Consumer Electronics Show in Las Vegas or SID Display Week. It looks like the company doesn't have any new plans to develop anything new for e-readers this year, instead they are focusing on digital signage.
When it comes to digital signage, E Ink primarily focuses on grocery stores and big box retailers with their Spectra technology. This segment has accounted for 100% percent year over year growth for the past two years, and E Ink expects similar growth in 2015 as well.
This year, instead of developing something entirely new, e Ink has expanded on their Spectra product line to include yellow. Spectra yellow gives retailers further choices in how they use Electronic Shelf Labels (ESLs) to promote their merchandise and support their branding strategies, giving retailers the choice of either red or yellow, in addition to black and white.
"The Spectra product was engineered to deliver multiple color options from the beginning," said Dr. FY Gan, vice president and general manager of the ESI Business Unit at E Ink. "The delivery of the yellow product option shows the flexibility of E Ink's three pigment system. More importantly, it provides retailers with color options for their pricing systems that can better engage the customer. Spectra red or yellow provide retailers with the same visual clarity and power saving attributes of E Ink's products."
I am somewhat disappointed that there is no e-paper coming out this year, since e Ink basically controls the market. They have bought out all of their competition or have sued them into oblivion.