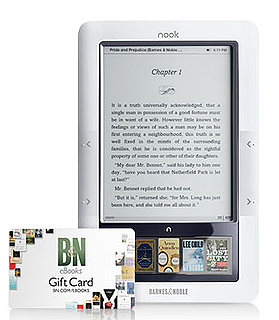 Barnes and Noble are offering a free $50.00 Gift card with purchase of a Nook E-Reader from either Bestbuy or the Barnes and Noble website, effective immediately!
Although there are plenty of e-readers to choose from in the stores these day with the Amazon Kindle being sold in Target Stores nationwide, and Sony E-Readers, the advantage goes to Barnes and Noble this father's day as the gift of choice.
"The company will provide a free $50 Barnes & Noble gift card with any Nook eBook Reader purchase through Barnes & Noble and Best Buy," the press release notes. "Recipients can instantly stock up on their great summer reads, choosing from the expansive Barnes & Noble eBookstore, or show their style with a Nook accessory." The Web site claims the gift card is a "limited-time offer").