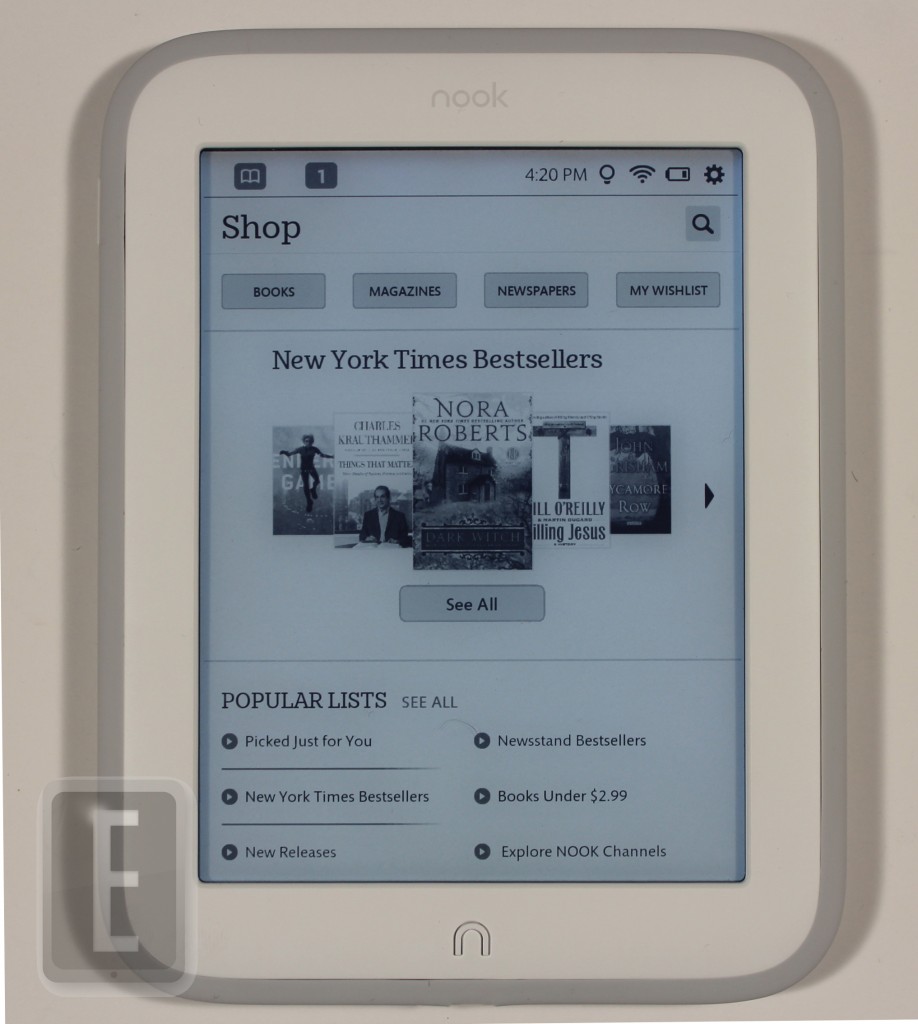 Barnes and Noble has just released their second generation glowlight e-Reader and has dropped the "Simple Touch" naming convention. The Nook Glowlight has a design that is entirely unique and features a piece of rubber that circulates the device in a bid to minimize the damage from dropping it. The company has refined the lighting technology that allows you to read in the dark and can now give Amazon and Kobo a run for their money in terms of clarity.
How does this device perform under real world conditions when reading newspapers, magazines, eBooks and other content? Is the new design a boon or bane for the average customer? Is this worth the upgrade if you own previous Nook e-Readers? Today we look into all of these issues and more to give you the definitive answers.
Hardware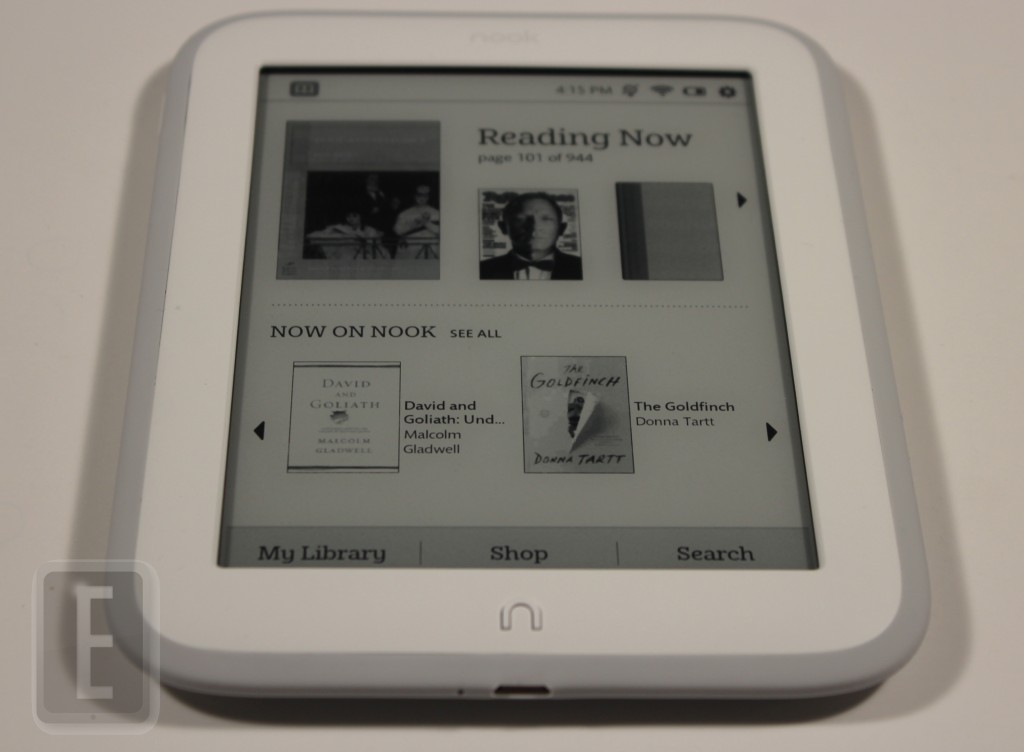 The Barnes and Noble Nook Glowlight features a six inch IR touchscreen display with a resolution of 1024 X 758-pixel and 212 PPI. This is a huge upgrade from the previous generation Nook that only had 800×600 for the resolution. Under heavy tests we noticed that the blacks were deeper in cover art and the way fonts look when you maximize their levels.
The Glowlight technology that allow you to read in the dark has been dramatically enhanced. B&N still continues the philosophy of bucking the major industry trend of putting the LED lights on the top of the device, instead of the bottom. Overall, the light is now almost pure white, where the NST with Glowlight would often have a blue hue to it. The entire Good e-Reader review team think that that the new model has 75% brighter and clearer lighting.
We did notice some drawbacks with the way light was handled. When you have it above 65% in brightness you tend to notice a layer of grey film at the very top of the screen. This is where the 5 LED lights are positioned and point downwards. To turn the light off you can access it in the settings menu or hold down your finger on the home button for two seconds. The settings menu itself is at the top right hand corner and the Nook screen is sunken, much like the Kindle is. You will often have to try and few times to hit the settings menu to control the brightness.
Underneath the hood is a 800 MHZ processor and 256 MB of RAM. There are 4 GB of internal memory that you can use to store purchases made from the bookstore. When you take it out of the box for the first time and power it on, there is only 2.1 GB available. If you like to load in your own PDF Files or eBooks there is only 500 MB reserved for user files. Unlike prior models of the Nook line of e-Readers, there is no expandable memory via SD in the Nook Glowlight. The specs on paper are very much akin to most other e-readers on the market by Sony, Amazon, Kobo and most of the indie companies.
The Nook Glowlight has a full piece of rubber that circles the entire length of the e-Reader. You can take it off, but it exposes some of the assemblies and the motherboard is showing. It also is a bit jagged in parts, so you don't want to do this. This was one of the most oddest design choices ever in e-Readers. Why they did this is beyond me, they don't even offer different colored bumpers to buy to customize your device, which I would have done. I realize the essence of the rubber is to protect your device from drops, as the weight of it would change the momentum to land on its side, rather then face down. Really, how many people are reading when they are walking down the sidewalk or in a position to truly damage their e-readers from big falls? We run a drop test on the previous generation Nook Simple Touch and it was fine after dropping it from five feet in the air on concrete.
Battery Life is on this device is somewhat consistent with other e-readers on the market. You will get two months of battery life out of a single charge and you power it up by hooking it into your computer with the USB cable. Barnes and Noble has elected to not bundle a wall charger, so you will have to buy your own.
In the end, the overall resolution and glowlight enhancements are the main drivers to upgrade to this device if you own one of Barnes and Noble's earlier devices. Text and pictures look way better and the light is more evenly distributed across the screen. The physical construction of the device has a bit to be desired for and I quite frequently found myself starting to peel off the rubber when holding the device. It is not held in place very tightly and easily comes off.
Software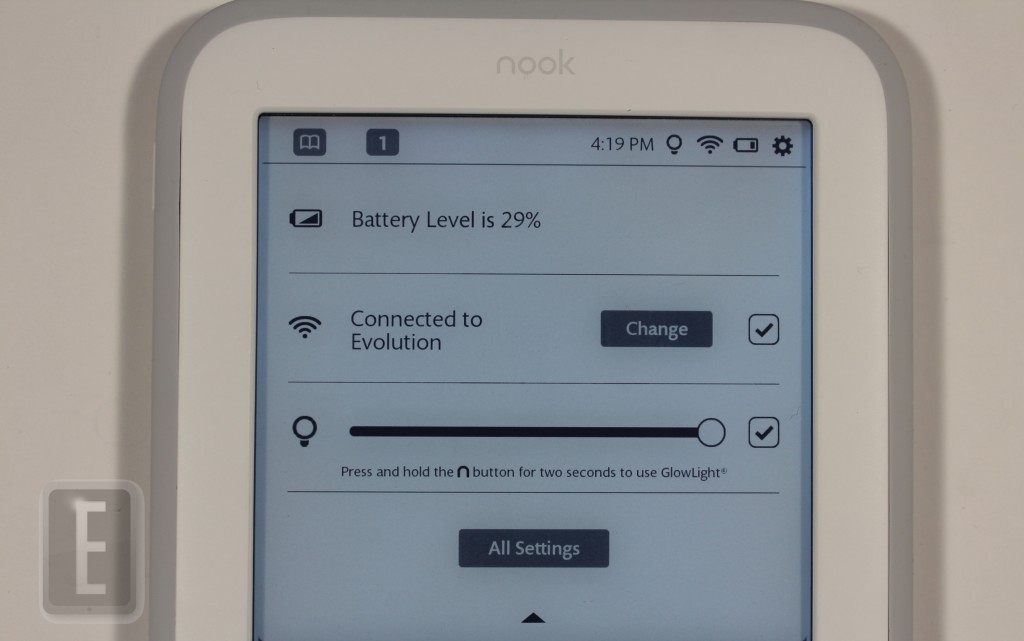 Many uninformed tech sites cited that the Android 2.1 OS that comes bundled on the Nook Glowlight to be old and outdated. It is true that its an older version but to the average user no one cares. You certainly would not gain any compelling benefits of a recent version of Android because B&N heavily skins their UI, so you wouldn't even know.
The UI has been really simplified on this version of the Nook. You no longer have to tap the home button to bring up all of your quick options, instead they are persistently at the bottom of the screen. Library, Store and Search are the only three options available. The settings, social and other functionality is now at the top right hand side of the screen. No one really changes their settings on a daily basis or adjusts the lighting every few minutes, so I dig the fact its neatly tucked out of the way.
The main library shelf has not received an upgrade and you can sort your collections by newspapers, eBooks, documents, and even an "Everything else" option which shows your apps and other content you may have purchased using the Nook HD line of tablets. This is actually their "cloud" option, but everything listed in here is a bit of a tease because you can't even use it. You can also do a cover art few, or a list few, fairly basic stuff and nothing advanced of note.
If you have the Nook Simple Touch or the Nook Simple Touch with Glowlight most of the menus and sub-menus look exactly the same. There are no exciting software enhancements of note. Things are organized a bit differently and I think its more intuitive now than before.
The Store experience right now is quite buggy and we reached out to Barnes and Noble for comment. If you are reading a book and select "more" it brings you to the store. In the past, there were options to change your e-reading experience from the stock portrait view to landscape. If you go into your settings menu and click on LENDME titles, you would think it would bring you into the section of the Nook store with titles you can share with your friends, nope, its the same stock store. If you try clicking on any eBook you can't actually click on it to get the book description and even to buy it. Instead, you have to login to the Nook website and sync your content directly. Finally, if you click on Social and try and enter passwords to connect up your Facebook or Twitter account all of the password fields are blank when you enter text. I ran into the situation where I knew the password I entered was correct but there was no place holder symbols to let me know how many characters I typed. When I scrolled up the page the it for a second showed me the password in plain text but then quickly disappeared. Maybe we have a bum unit, maybe its the software acting up, maybe its the fact we live in Canada but could buy content on our other Nooks, likely the device was rushed out too fast, who knows.
In the end, most e-reader companies release a new model every year and some have some cool new software features that offer a compelling reason to upgrade. Kobo unveiled "Beyond the Book" which is their answer to Amazon X-Ray. Amazon announced GoodReads integration and Kindle Freetime for their e-readers, both are not available yet, but will be soon. Sony and B&N generally remain fairly consistent with slowly refining core elements of their device but not introducing any new software enhancements that make users turn their heads around and take notice.
e-Reading Experience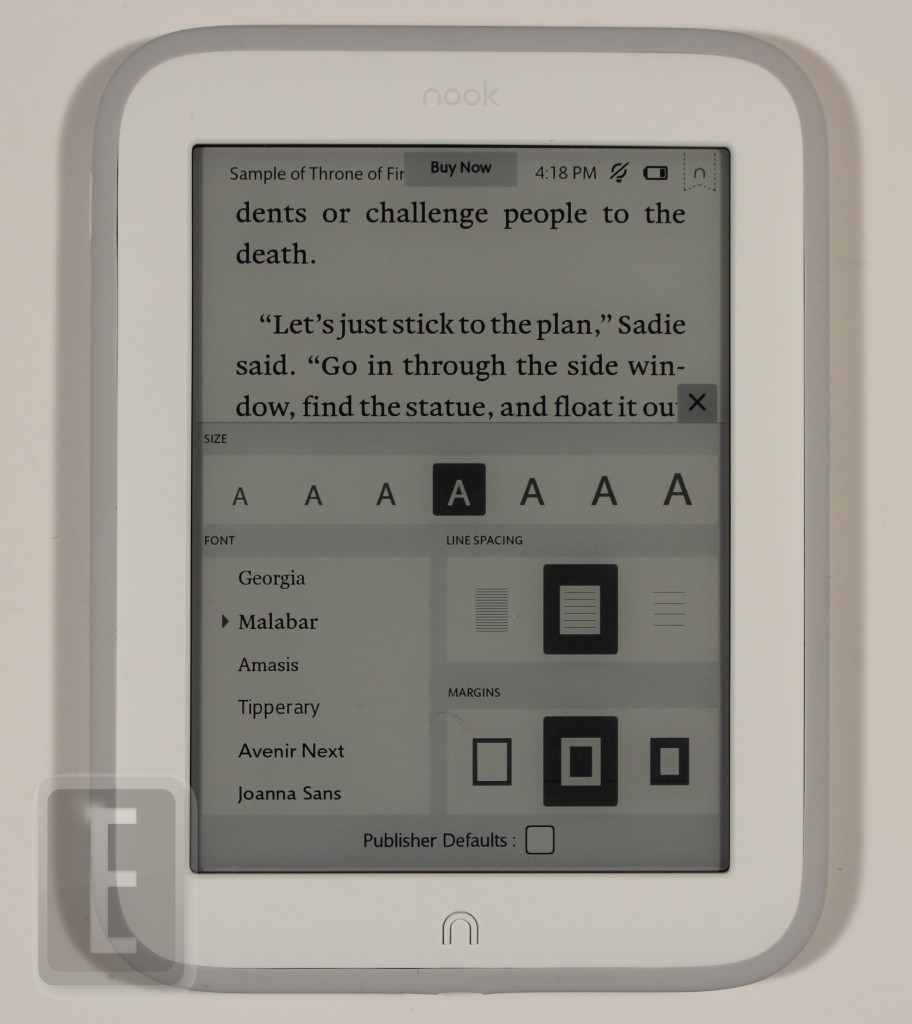 Barnes and Noble has always maintained an elegant e-reading experience and not providing a ton of advanced options to confuse their customer base. When it comes to reading you are mainly using EPUB and PDF Files. EPUB is what the Nook store sells and you can load in your own PDF's.
The Amazon Kindle Paperwhite 2 and Nook Glowlight have similar text augmentation features when it comes to changing the size of your font, line spacing, margins and font size. If you hold your finger down in the middle and select text you are able to customize your changes and it dynamically updates. There are six different fonts, 7 different font sizes and 3 different ways to edit margins and line spacing.
When inside a book you can make highlights, look words up in a very basic dictionary, share a specific passage with your friends on Facebook or Twitter. You hold down your finger on a word to drop an anchor and then can select an entire sentence or page of text. You can load in your own books on the Nook and have access to all of the functionality as books purchased from B&N.
One thing I noticed about the reader is the lightning fast page turns! You do not have full page refreshes at all. We turned 100 pages and did not even experience one refresh. I don't know what Barnes and Noble did to make this happen but its pleasant. The last two Nook readers did one every six pages and every single page you turned tended to blur the text. The Nook Glow is the best reader to date for the company in terms of not taking you out of the immersive reading.
The PDF experience on the Nook Glowlight is lacklustre to say the least. You cannot pinch and zoom on this unit like you can on the Kobo Aura or Amazon Kindle Paperwhite 2. Instead, you will have to chance the size of the font to initiate a reflow. This is much akin to the old way that Sony used to do things by relying on you to switch up your Zoom level. The page numbers change depending on this. Our DND Monsters Manual was around 280 pages but on the first level of zoom changed to 600 pages and 3rd 800 pages. You also don't get a preview window that helps orient you on where in the document you actually are. This is likely the weakest part of the Nook e-Reader and likely a deterrent to anyone looking to purchase one.
Finally, you can purchase magazines and newspapers via the Nook ecosystem but you can think of them as eBooks. Aside from the cover art everything is basically the Nook Edition, and allows you to augment the text size, font type and add notes. Anything you can do in a standard eBook you can do in either of these.
Wrap Up – Is it Worth It?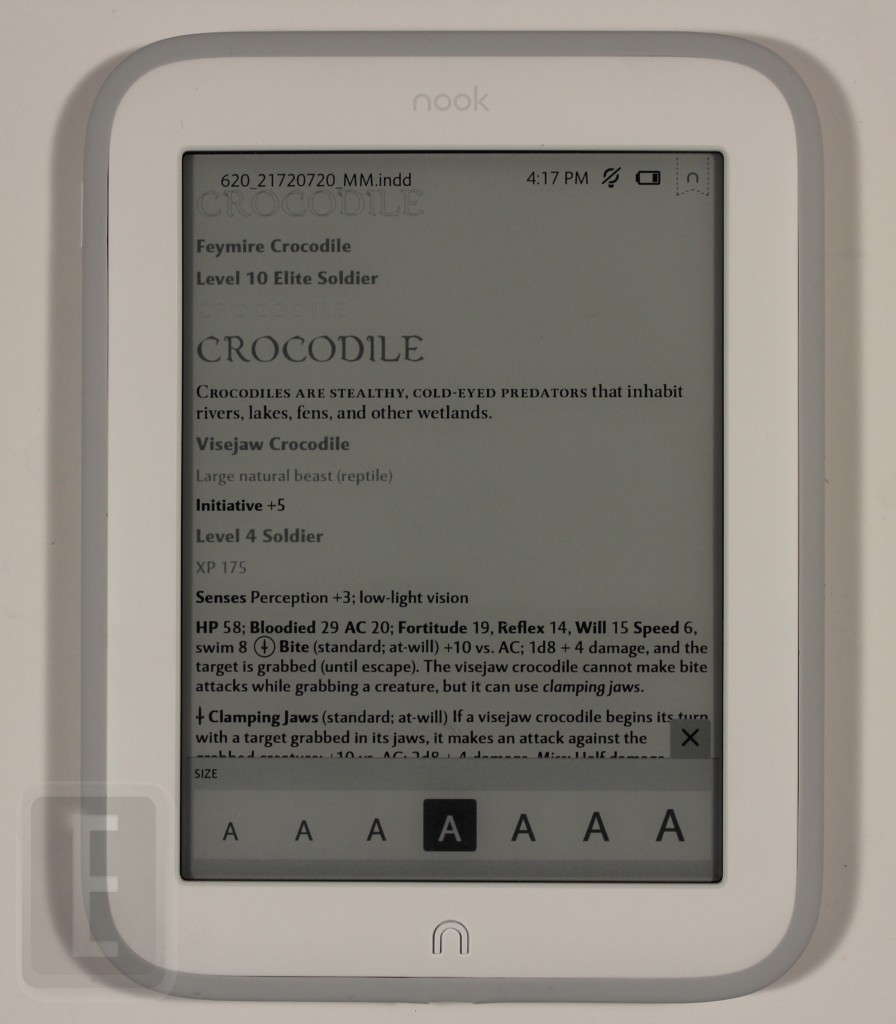 If you have the Nook Simple Touch or the Nook Simple Touch with Glowlight this is worth the upgrade if you read a ton in the dark and if font clarity matters to you. Aside from those two things this reader is very much the same as previous generations in terms of the hardware. The lack of SD card is a black mark on this device, because it does not allow you expandable storage to load in more content.
PROS
Resolution is on par with Kobo Aura and Kindle Paperwhite 2
Expansive eBook Store
Affordably Priced
Fast Page Turns
Glowlight is solid
Good e-Reader for Beginners
CONS
PDF Experience is Woeful
Rubber feels really weird and takes getting used to
No SD Card
Some cases of Ghosting
Rating: 7.5/10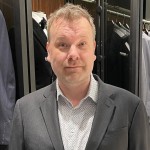 Michael Kozlowski has written about audiobooks and e-readers for the past twelve years. Newspapers and websites such as the CBC, CNET, Engadget, Huffington Post and the New York Times have picked up his articles. He Lives in Vancouver, British Columbia, Canada.