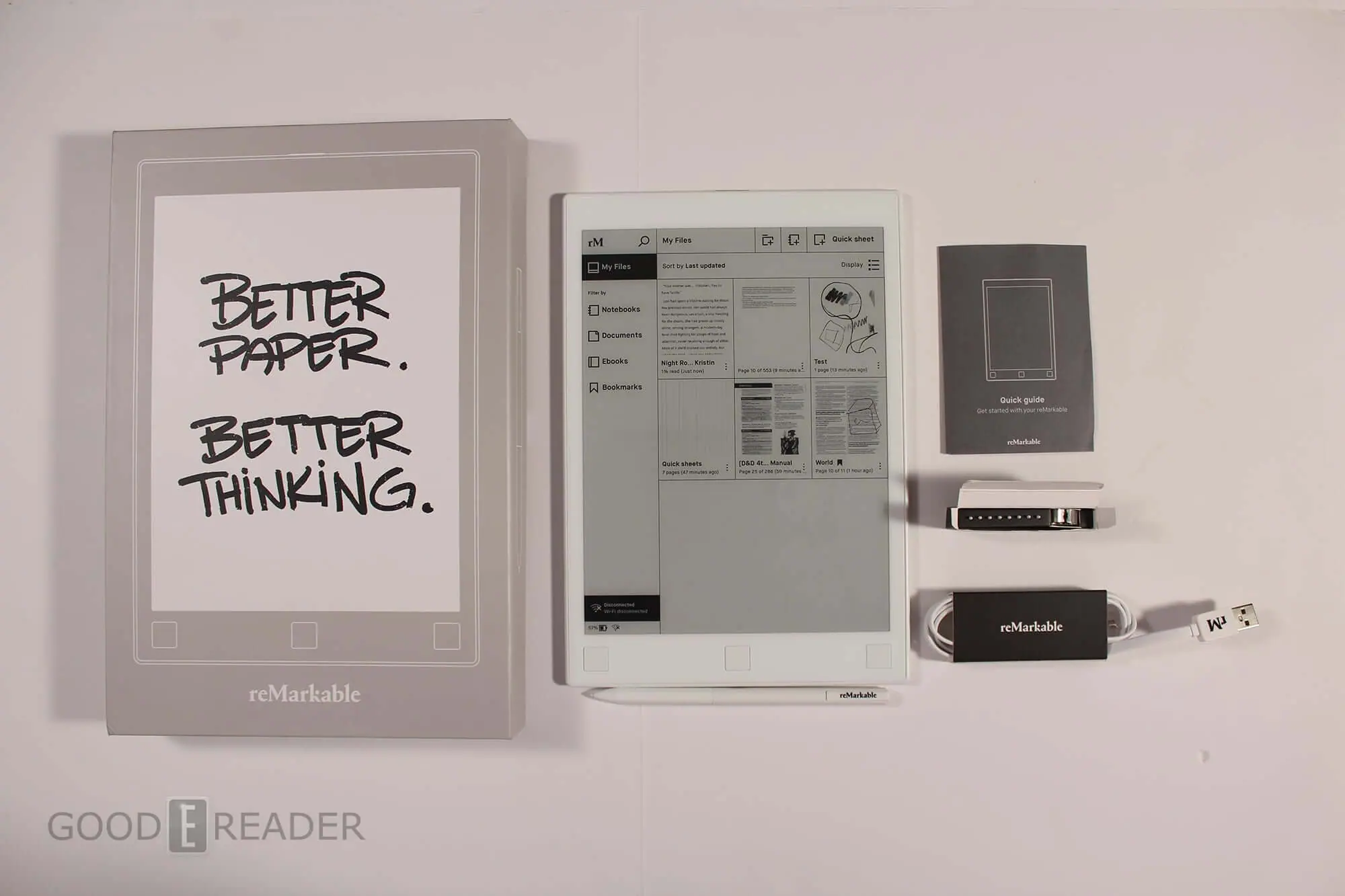 The Remarkable 10.3 inch-writing tablet is appealing for consumers who want an extensive note taking experience and want to read e-books. This is the first product made by Remarkable and it is a very compelling first offering. They begun to take pre-orders last year, sold over 36,000 devices, and raised over $17 million. I believe that this is the best device of its kind currently on the market and trounces the competition.
Hardware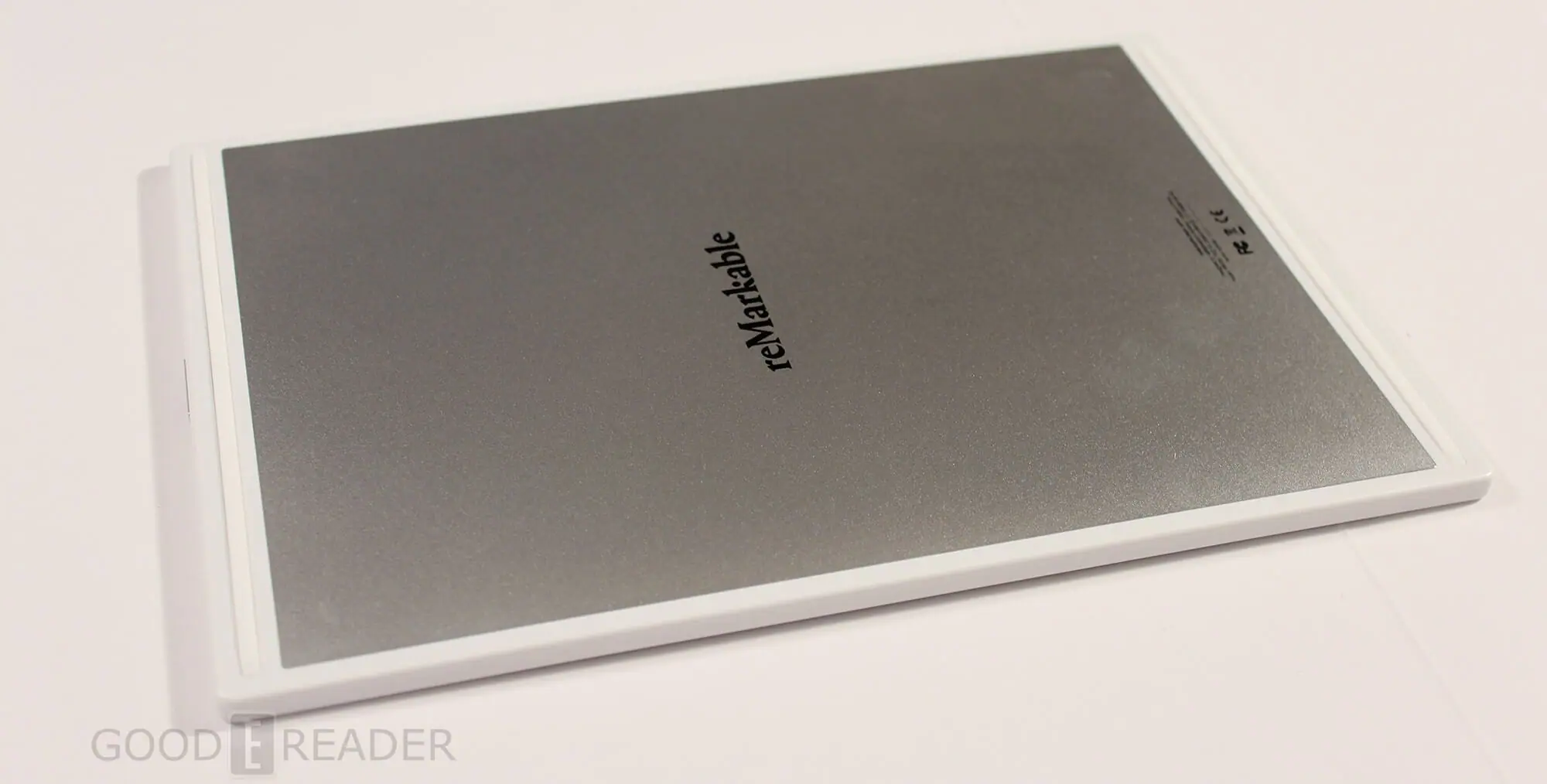 The Remarkable Writing Tablet features a 10.3-inch Canvas display and utilizes E-Ink Carta. The screen has a capacitive touchscreen and you can interact with most elements with your finger or the accompanied stylus.  The note taking experience has palm rejection technology, which means you can easily rest your palm on it. The screen is completely flush with the bezel and the resolution is 1872×1404 with 226 PPI.
Underneath the hood is a 1GHZ Arm A8 CPU processor and 512MB of RAM. You have 8GB of internal storage and there is no SD card. The Remarkable has Wi-Fi that is primarily uses to fetch firmware updates and to synchronize your notes on a local network. This device does not have an internet browser or any other way to connect to websites.
Except​ ​from​ ​the​ ​Wi-Fi​ ​module​ ​and​ ​the​ ​processor,​ ​the​ ​Remarkable​ ​only​ ​uses power​ ​when​ ​the​ ​display​ ​state changes. This is the primary benefit of e-ink in general; unless an image changes on the screen, it does not draw power. ​ ​It has a 3000 mAh lithium Ion battery and it should last for five​ ​days​ ​of normal​ ​usage​ ​and​ ​two weeks​ ​of​ ​battery​ ​when​ ​in​ ​standby.  The Wi-Fi does not automatically turn off to conserve battery life due to the sync system, so you might want to turn it off if you are just reading e-books or taking notes.
Many e-Reader companies often have a jet-black color and a flat back body. The Remarkable uses a white ivory color for the shell and the back of the unit is made of metal. On either side of the metal plate are two small pieces of rubber that run from each edge to the other. This ensures that when you have the device resting on the back, the metal is not touching your desk or table.  The 10.3 inch screen is also beguiling, it looks like it would be heavy, but it is not. It weighs 350-gram​s or .77​ ​pounds, which is easy to hold with one hand.
On the front of the Remarkable are three buttons, home, back and forwards. These buttons only work when you are reading a PDF file or an EPUB e-book.
Stylus

The stylus is critical to the note taking experience. You can interact with the UI elements with your fingers, but cannot actually draw. The stylus is light and does not have any buttons or working parts. The Remarkable ships with 12 different nibs that should last you a few years of constant usage. There is a button on the top of the stylus and when you press it down it is revealed that there is a little storage unit that will hold a replacement nib, so you will always have a backup available.
The Remarkable stylus has over 2,048 levels of pressure sensitivity, which​ ​allows​ ​you​ ​to​ ​draw​ ​thicker​ ​and​ ​thinner​ ​lines​ ​by​ ​adjusting​ ​the pressure​ ​on​ ​the​ ​marker.​ ​The​ ​different​ ​brushes​ ​have​ ​different​ ​pressure sensitivity​ ​, which​ ​creates​ ​a​ ​more​ ​organic​ ​feeling.
The one thing I dig about the Remarkable is that the​ ​stylus reacts​ ​to​ ​512​ ​levels​ ​of​ ​tilt,​ ​which​ ​lets​ ​you​ ​draw​ ​and​ ​write​ ​with a​ ​paper-like​ ​feeling.​ ​​ ​By​tilting the stylus, you​ ​can​ ​add​ ​shading​ ​and​ ​vary​ ​the thickness​ ​of​ ​your​ ​pencil​ ​stroke.​ ​The pen, brush and marker all have different​ ​tilting capabilities.
Software and note taking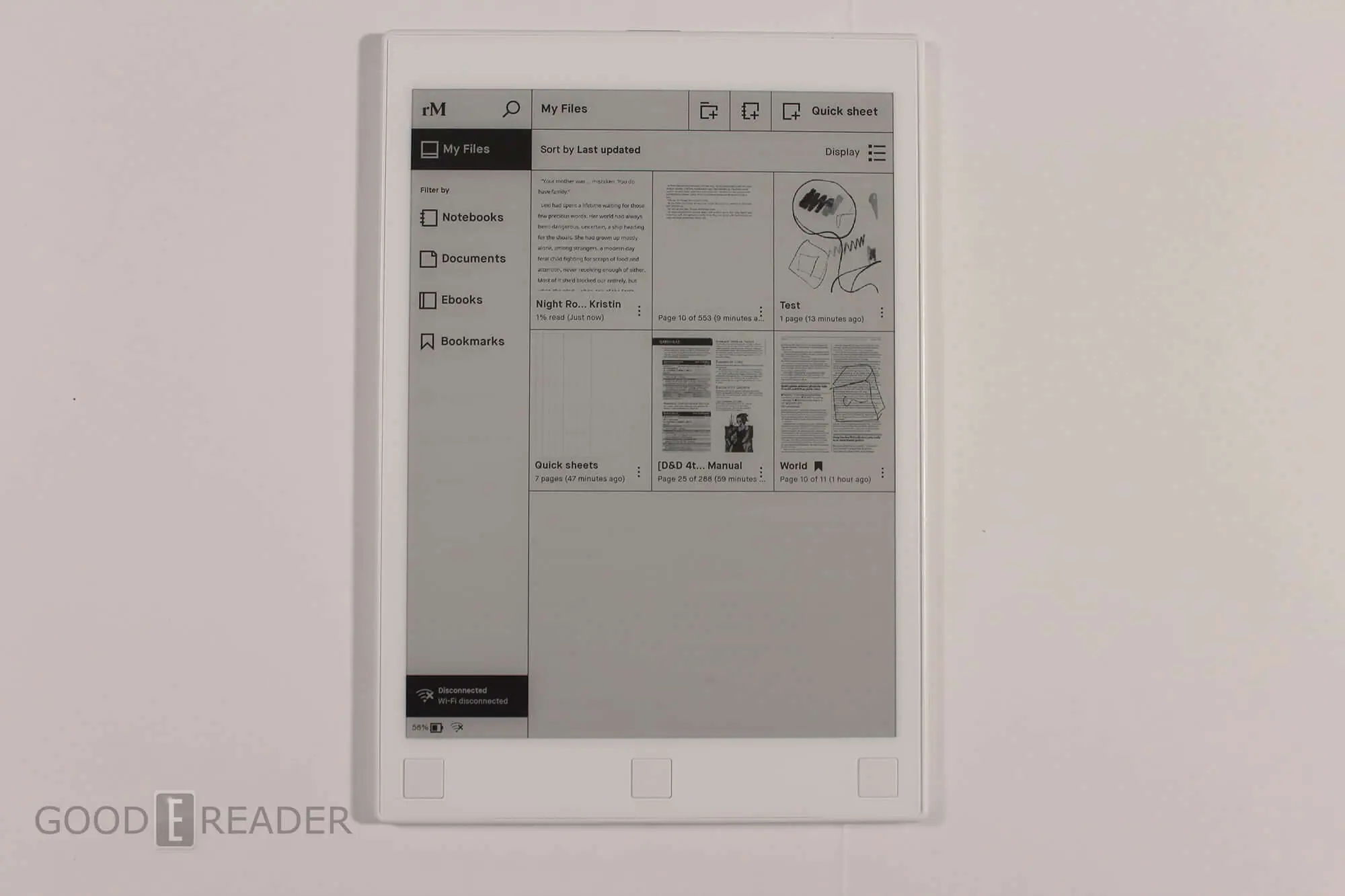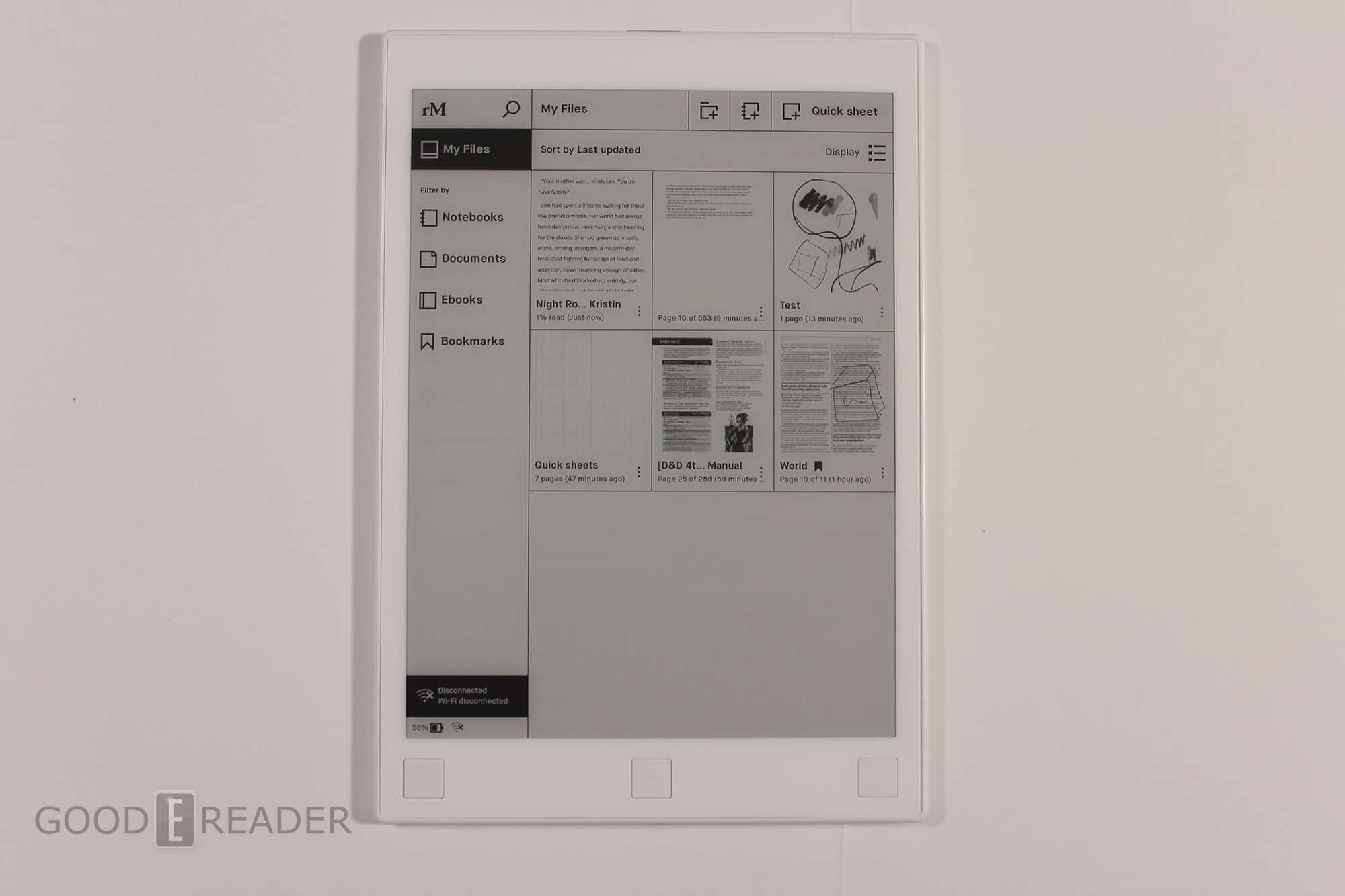 The Remarkable is running a Linux-based​ ​OS​ ​optimized​ ​for​ ​low-latency​ ​e-paper. The OS is fast and robust and everything loads quickly. The home screen comprises of your notes, documents, e-books and bookmarks. On the bottom right hand corner is a WIFI symbol if you have on or off and it lists the percentage of the battery life remaining.
You are buying the Remarkable primarily as a digital note taking device and it has features and functionality that blow everyone else out of the water. The Sony Digital Paper and Onyx Boox Max Carta have a stylus, but they do not have pressure sensitivity on the stylus, which is really hindering for people who need maximum flexibility. The Remarkable stylus has 2,000 degrees of sensitivity, which is appealing towards people who need pinpoint precision, such as artists.
Many note-taking devices have three or four different degrees of thickness for your pencil or pen. The Remarkable does things differently.  The Pencil can be sharp or tilted, so you can shade things. The Pen has ballpoint, felt tip and marker to control the thickness of the lines. The brush is also useful for filling in a large area of a single color. All of these functions can be black, white or greyscale.  You can think of the pen, pencil and brush as an e-ink equivalent of a paint bucket.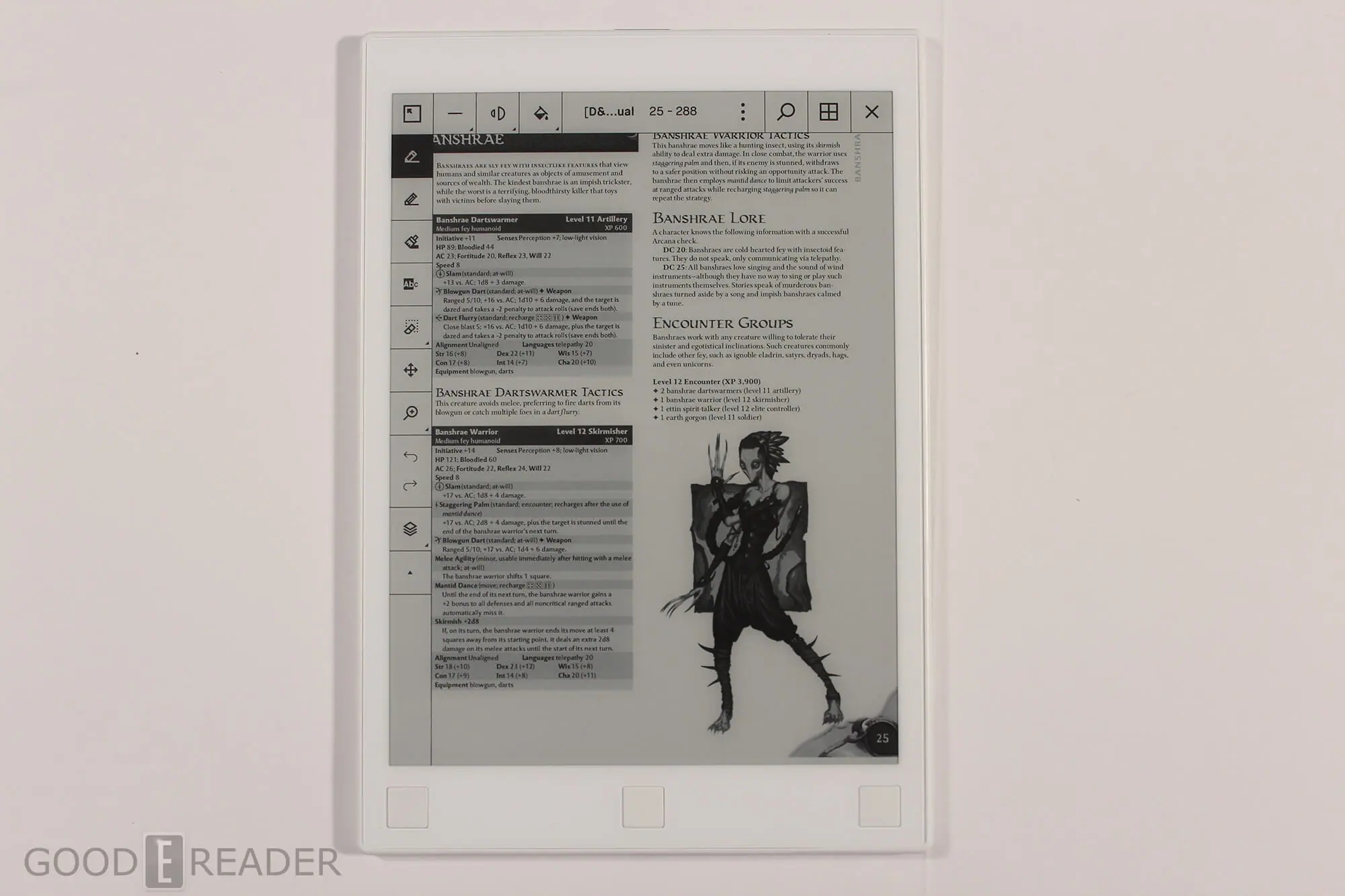 A few cool elements to the Remarkable are worth mentioning. The rotation tool allows you to rotate,​ ​move,​ ​scale​ ​and​ ​copy​ ​text​ ​or​ ​a​ ​drawn​ ​object. There is also a layering system, similar to Adobe Photoshop. You can have a maximum of six different layers that you can use to draw, shade, or highlight. Layering is great for doing things in the foreground and background.
The erasing system is the most advanced I have ever seen. You can do the normal things such as clicking erase and gloss over any area that you want to delete lines or a series of text. You can also select the freehand tool to draw around a specific area you want to erase. Finally, you can simply delete everything on a specific layer.
Templates abound on the Remarkable, and there are over of them. It has college rules, storyboards, day planners, resumes, business plans and sheet music. Remarkable is planning to release a firmware update in the near future that will allow users to create​ ​their​ ​own​ ​templates.
The Remarkable not only is a great note taking editor, but it also has the same functionality in regards to PDF files. You can easily take notes and highlights in an existing document and you can save the edited PDF file as an independent document. This will ensure you have a "before" and "after" copy of the same document, but you have to ensure that the new one has a different name.  If you fail to rename the document, it will overwrite the existing one.
You cannot pinch and zoom on the Remarkable, despite it having five-point multi-touch. If you are reading a PDF file, you have to employ the dedicated zoom button. When the zoom mode is enabled, a mini-map appears on the top right hand corner that gives you an indication on where in the document you are. This is similar to the PDF rendering engine that Amazon and Kobo employ. The only difference with the Remarkable is that underneath the mini-map is a percentage bar that gives you a zoom rating. You can click on the plus or minus sign to slowly enlarge or reduce the size of the document. One of the drawbacks about this system is once you find your sweet spot where the text and images look perfect, you cannot turn a page and maintain your settings. Whenever you turn to the next page, your settings are reverted.
Syncing files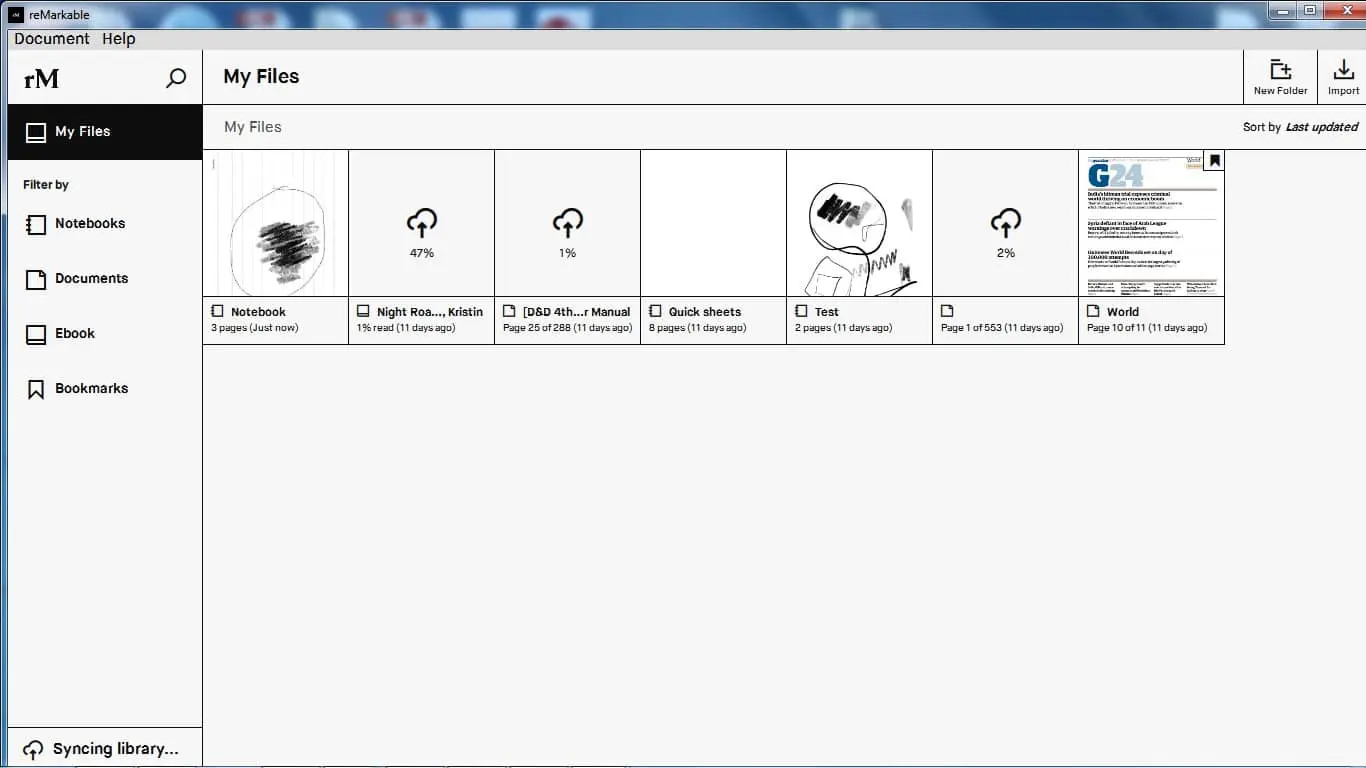 The Remarkable has an app for the PC or MAC that will allow you to synchronize all of the edited PDF files and notes from your device to your computer. When you install the app, it will ask you for a one-time code when you install the software for the first time. If the computer and Remarkable are on the same wireless network the synchronizing is automatic. You can also use the desktop software to copy over EPUB and PDF files to your Remarkable.
One of the more interesting aspects about the Remarkable is a system called LiveView . It instantly​ ​displays​ ​what​ ​you​ ​are​ ​writing​ ​or​ ​sketching​ ​on​ ​your​ ​computer.​ ​If your​ ​computer​ ​is​ ​connected​ ​to​ ​a​ ​projector,​ ​for​ ​example​ ​in​ ​a​ ​meeting​ ​room,​ ​then​ ​you could​ ​project​ ​your​ ​notes​ ​while​ ​writing in real time.
Remarkable is developing a mobile app for Android and iOS that will come out in the next month or two.  The Android app is in beta on the Google Play Store and not available yet on iOS.  Once the app is installed on your phone, you can send any files over a WIFI network directly to the Remarkable.  This is useful if you need to send work documents to a larger screen and read/edit files.  I found myself using this device primarily to sign digital documents and read over contracts.
E-Reading Experience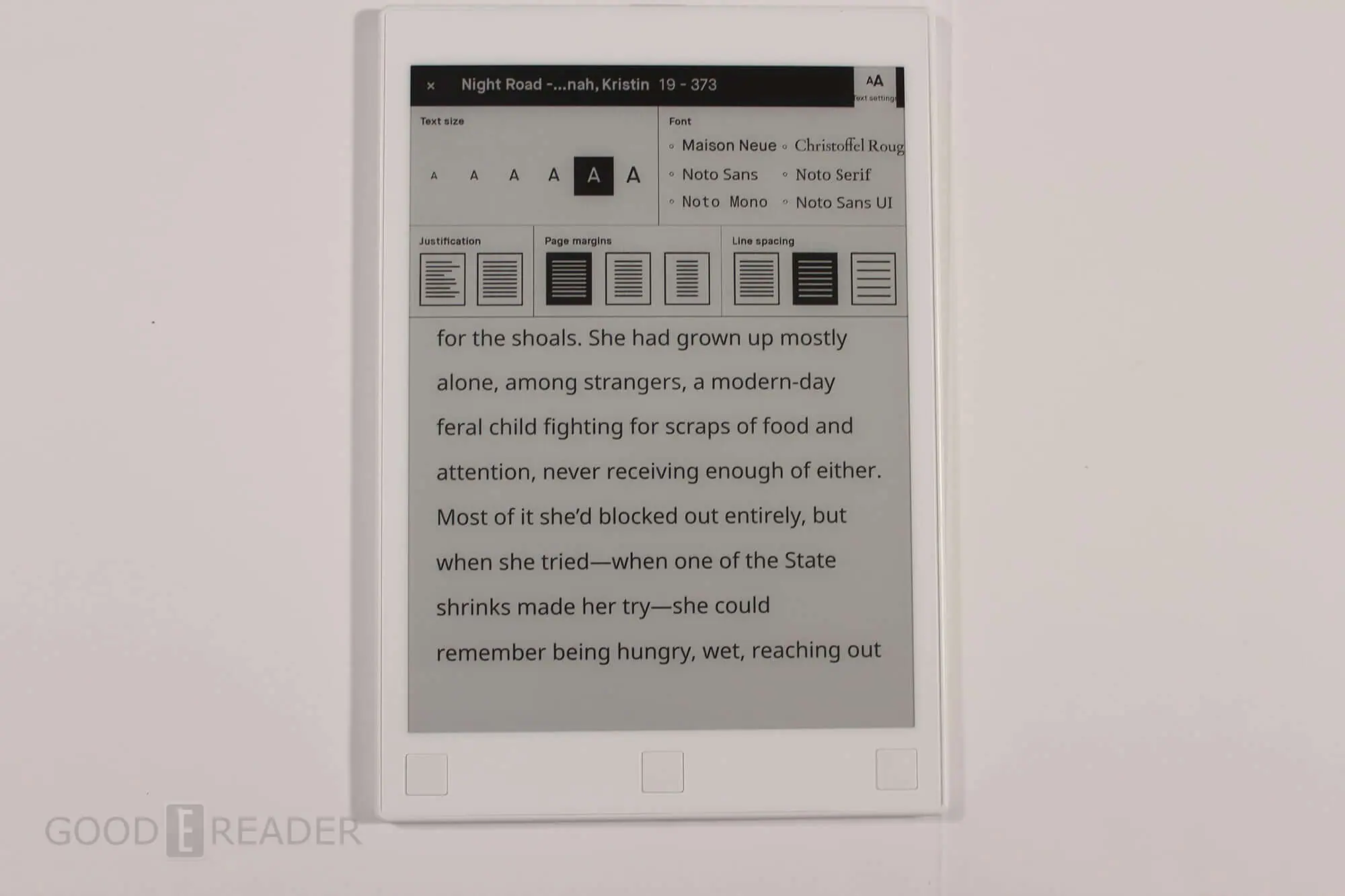 The Remarkable has a dedicated e-book reading app.  It only reads EPUB files right now, but Remarkable has told me that sometime in the near future they will support additional formats.  You can adjust the size of the font, font type, line spacing, margins and justification.  Whenever you adjust any settings you have wait between six and ten seconds for the page to refresh.
The font selection is unremarkable. They have a bunch of fonts I have not even heard of before and none of them is especially interesting. It has Maison Neue, Noto Sans, Note Mono, Noto Sans UI, Noto Serif and Chrisoffel Rouge. All of these are free fonts that are available on Google. I found that Maison Neue is the best one for reading e-books.
When you are reading an e-book, you cannot turn pages with your fingers or the stylus. This is where the physical page turn buttons come into play. You need to press forwards or backwards in order to plow through an e-book. Every six pages there is a full-page refresh and it takes a few seconds for the refresh process to complete. This is one of the big drawbacks of the Remarkable because it breaks reading immersion. Still, the company has promised that they will issue a fix in the coming months and solve the poor refreshing issue.
Remarkable has told me that they are in negotiations with several digital bookstores so users can browse and purchase digital content right on the device. This will be a huge boon for people who want to do things the easy way, instead of jumping through a bunch of hoops. Right now, the only way to copy over an e-book is to make sure it is DRM-Free and an EPUB. You then have to use the desktop software to synchronize it over, which takes around five minutes. The software is important because you cannot just plug the Remarkable into your PC and copy things over with a file manager or Windows Explorer.
I think the Remarkable has a big advantage over the Sony DPT-RP1, otherwise known as the Digital Paper.  The Sony can just read PDF files, whereas the Remarkable can read PDF files too, but also EPUB. This automatically will make the Remarkable more appealing for people who want to read the occasional novel, but it certainly will not replace a Kindle, Kobo or Nook for people who read a few books a week. The primarily advantage of a dedicated e-reader is that it is 100% optimized for reading e-books and the software is really polished. Amazon has a digital comic rendering engine and fonts that optimized for an e-ink screen. If you want to take a break from reading and just talk about books, GoodReads is there. Kobo has a ton of advanced reading options and you can easily sideload in your own fonts or custom dictionaries.
Wrap Up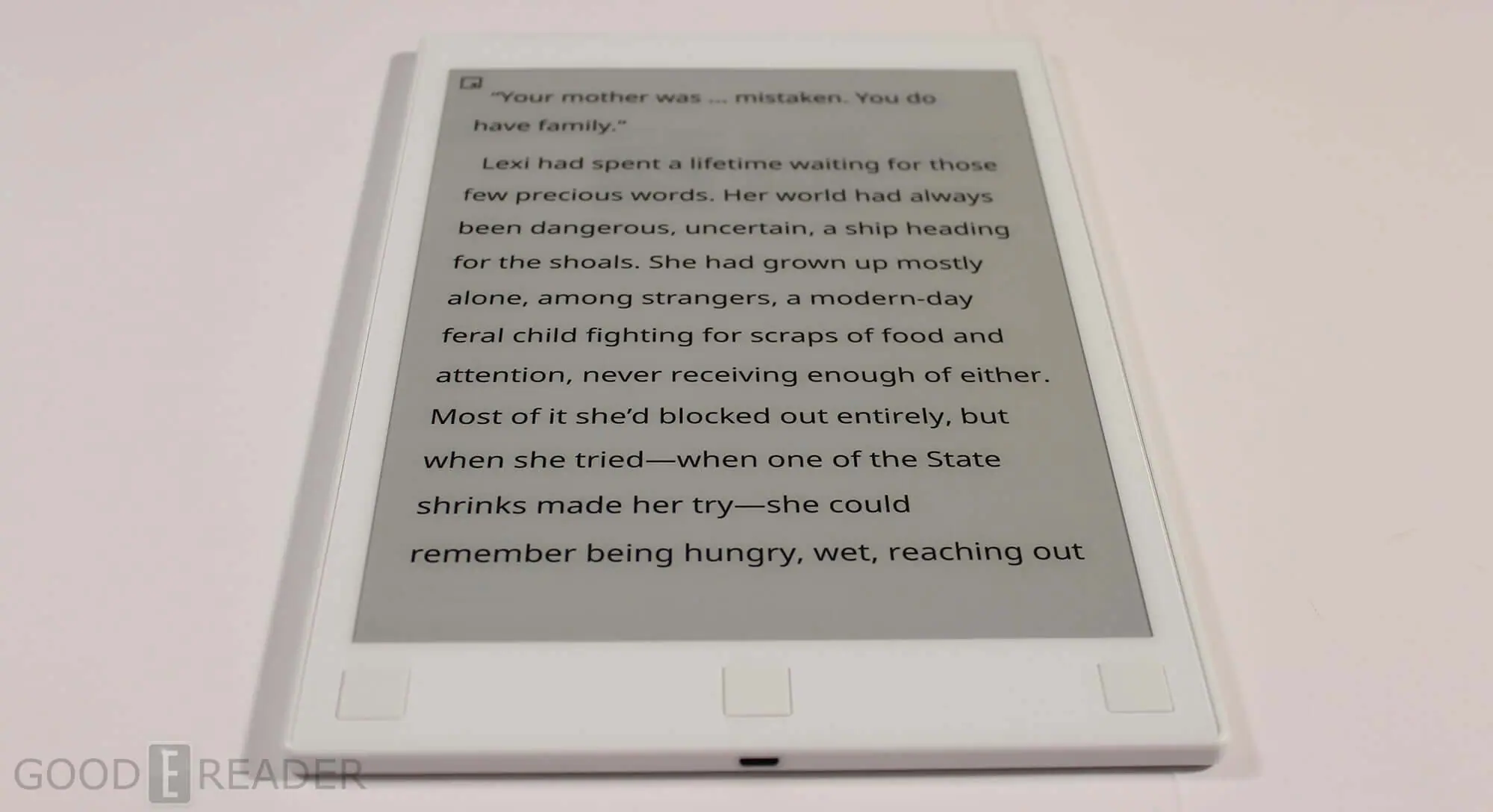 The Remarkable can read and edit PDF files and EPUBS and has extensive note taking functionality. It does this job better than the Good e-Reader, Max Carta or Sony Digital Paper. It has plenty of advanced options to keep people engaged.
I would recommend this product to professionals who need a lightweight digital note taker and want to do some casual reading. Normal consumers should be aware that there is no internet browser, no RSS Reader, no apps or app market. It is a singular purpose product, you use it take notes or edit PDF files or EPUBS. That is it.
It took Sony two tries to get their Digital Paper right and Onyx has still missed the mark with the second generation Max. It took Amazon 4 or 5 years to get the Kindle well designed and it was not until the Voyage did they perfect their design. Remarkable did a superb job on their very first try. This is a testament to their long development cycle and getting things right the first time. The company raised $17 million dollars in a very short period and this type of money can make a polished product.
We filmed a bunch of videos featuring the Remarkable. You can check out the Unboxing and Review video below. As an added bonus we also included a dedicated writing video, which goes over every single little function. It is essential you watch them all because it really goes over everything, other review videos just gloss over some of the most important things.
Pros
Good build quality
Fast page refreshes
Lightweight
Screen flush with the bezel
Stylus has 2,000 degrees of pressure sensitivity
Cons
100% reliant on a the desktop app
Only one Remarkable per accoun
You cannot recover a lost PIN number, unusable
Importing documents is counter-intuitive
No front-lit display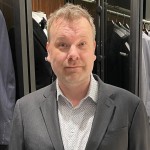 Michael Kozlowski has written about audiobooks and e-readers for the past twelve years. Newspapers and websites such as the CBC, CNET, Engadget, Huffington Post and the New York Times have picked up his articles. He Lives in Vancouver, British Columbia, Canada.