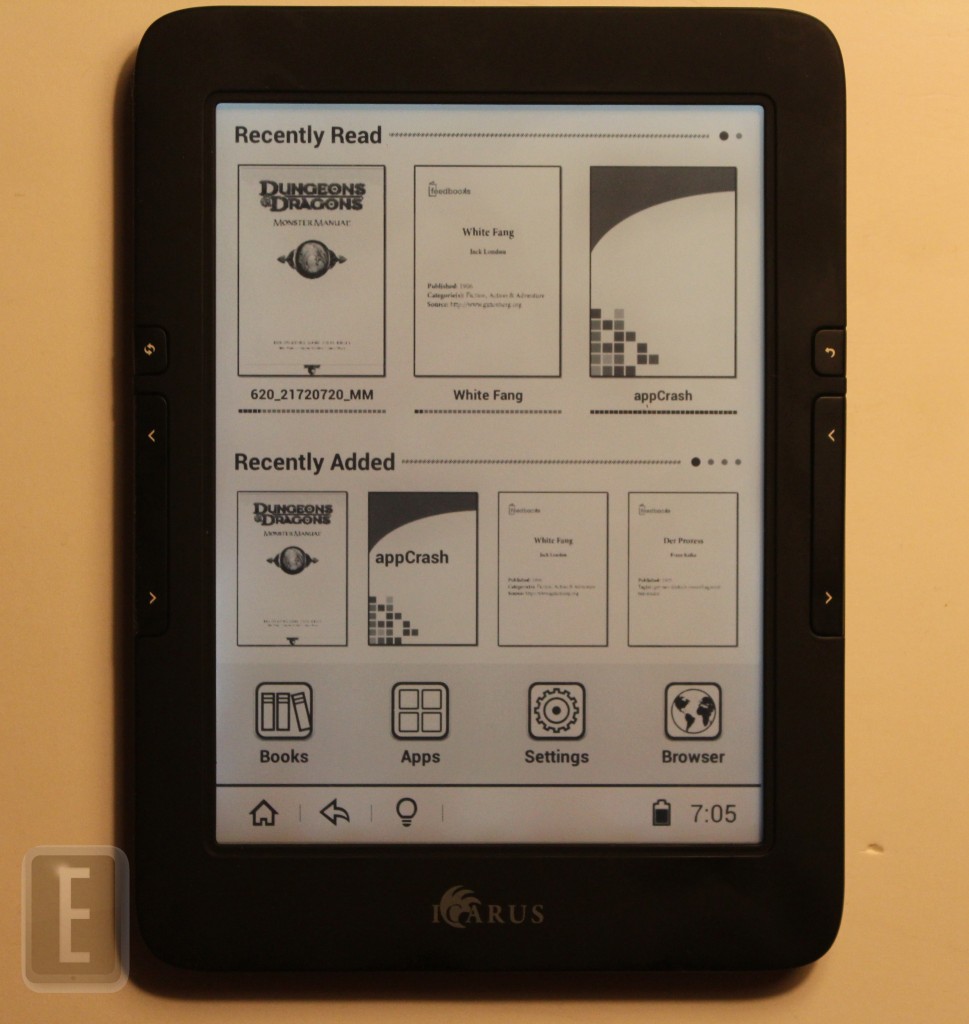 Icarus has redefined what an e-reader is capable of with the advent of the Illumina E653. It comes bundled with Android 4.2, which gives users the flexibility to install their own eBook, magazine, newspaper or manga apps. How does this reader compare to the Kindle Paperwhite, Nook Glowlight or Kobo Auras of the world? Today, we give  you a comprehensive  hands on review of what this new e-reader is all about.
Hardware
The Illumina E653 features a six inch e-Ink touch screen display with a resolution of 1024×758 pixels. This reader does trumpet the fact it has a capacitive touch screen, but it honestly feels like it is employing older Neonode IR technology. None of the stock apps have any sort of  support for pinching and zooming.
Icarus has maintained a front-lit display, that allows you to customize the brightness of the screen and read it in the dark. There are five LED lights at the very bottom of the screen and splash upwards. We noticed from the nighttime reading tests that you actually see a bit of light spillage at the very bottom of the screen. It does not totally break immersion, but the light on the Kindle Paperwhite 2 is far superior.
There has been some design changes from the Illumina HD and the new E653. The current model has done away with the 3.5mm headphone jack, so listening to music and audiobooks are obviously out of the question. They also removed the D-Pad on the bottom and the screen and also the physical  home, refresh, and settings buttons. The only buttons present on the Illumina are physical page turn keys on the left/right hand side of the screen, back button and the physical button that turns on the front-lit display.
There is 4GB of internal storage to house of all of your apps and eBooks. If this is not enough for your literary needs, there is support for a 32GB MicroSD card. You should get some solid battery life with the 2000 mAh, which is good for 4,000 page turns, or about 1 month of constant use.
I feel like Icarus has done a fairly good job with the intuitive design of the second generation Illumina. It feels more modern, although I would have liked to see the screen flush with the bezel like the quintessential smartphone or tablet.
Software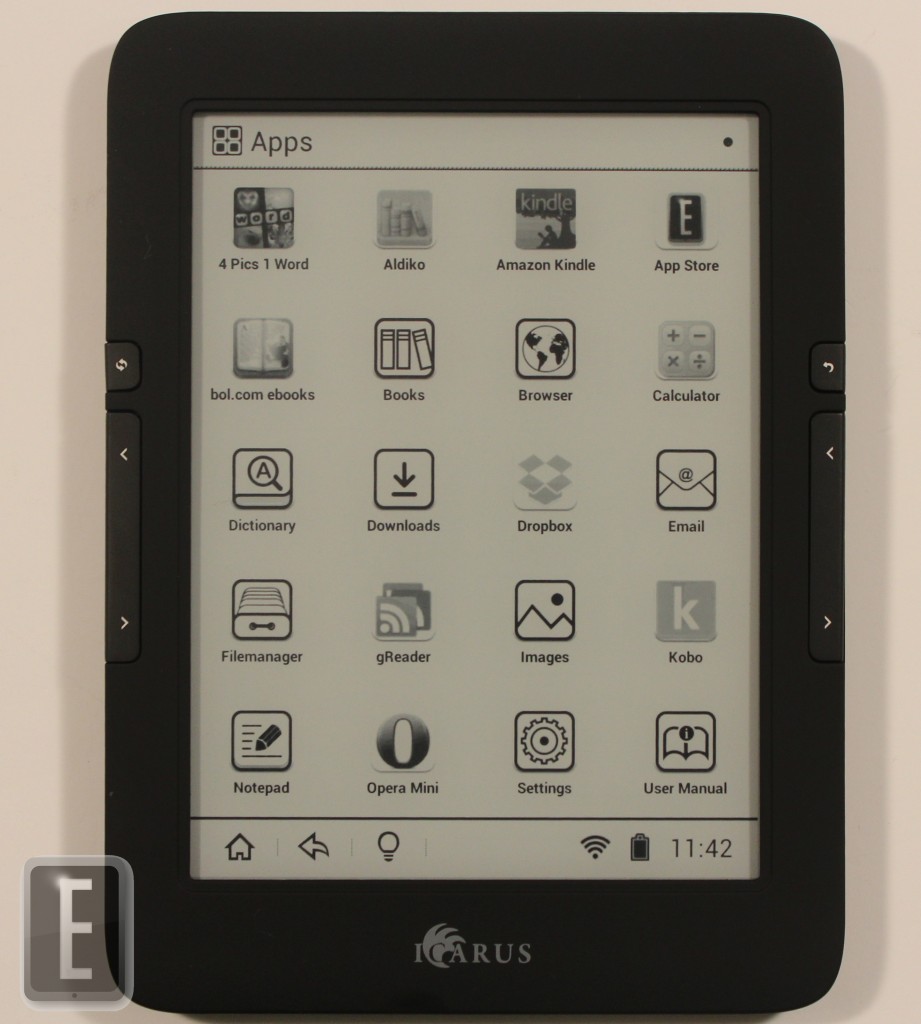 The main selling point behind the E653 is the open nature of Android 4.2. Many e-readers by Sony or Barnes and Noble use Android, but they use a very locked down version and are both heavily skinned. They certainly don't allow  you to install your own apps or give you an interface that is similar to anything that LG or Samsung provide.
The Icarus home screen is  one of the only things on this e-reader that is modified from the stock experience. It shows you the books you have recently read or have added to it via the Microusb port. There is no built in ecosystem to purchase content, so you will not be inundated by book discovery or anyone trying to shill you new content.
When you hit the Settings or Apps buttons things tend to look more like a your atypical vanilla Android smartphone. There are a number of preinstalled apps for you to use right out of the box such as Aldiko, Dropbox, gReader, Kobo, Opera Mini and Amazon Kindle. Sadly though, there is no built in App Store for you to install new content. This will put  a reliance on Icarus owners being savvy enough to load in the Good e-Reader App Store or APK files from the internet.  It is important to note that due to the home screen being modified to be more e-reader centric you cannot set up widgets or wallpapers.
The last thing I wanted to mention is that you can't drag down your finger downwards from the upper top menu to see your clock and notifications. Instead, its on the bottom right hand corner and you have to click on the clock to see the notifications.  You will see apps you downloaded, incoming emails and other critical updates like a WIFI hotspot.
The one thing I really like is the stock keyboard, and its not too often that you hear about it during a review.  It uses the stock Android one and it is actually possible to change it with alternative apps, for further customization. You get a full QWERTY keyboard by default and the keys are placed perfectly apart. The Kobo Aura e-Reader has keys that are placed on top of each other, whereas the Icarus has a true Android keyboard. I dig when you are searching the internet or entering forms and the .com button appears under the enter key, which cuts down on the time entering your email address.
In the end, the Android experience on the Icarus feels more tighter than the Onyx Boox T68. It also is more robust than the only other e-reader currently available that allows you to install apps. Overall, this reader will appeal to anyone looking for more control over their favorite ecosystem, without being locked into anyone in particular.
e-reading experience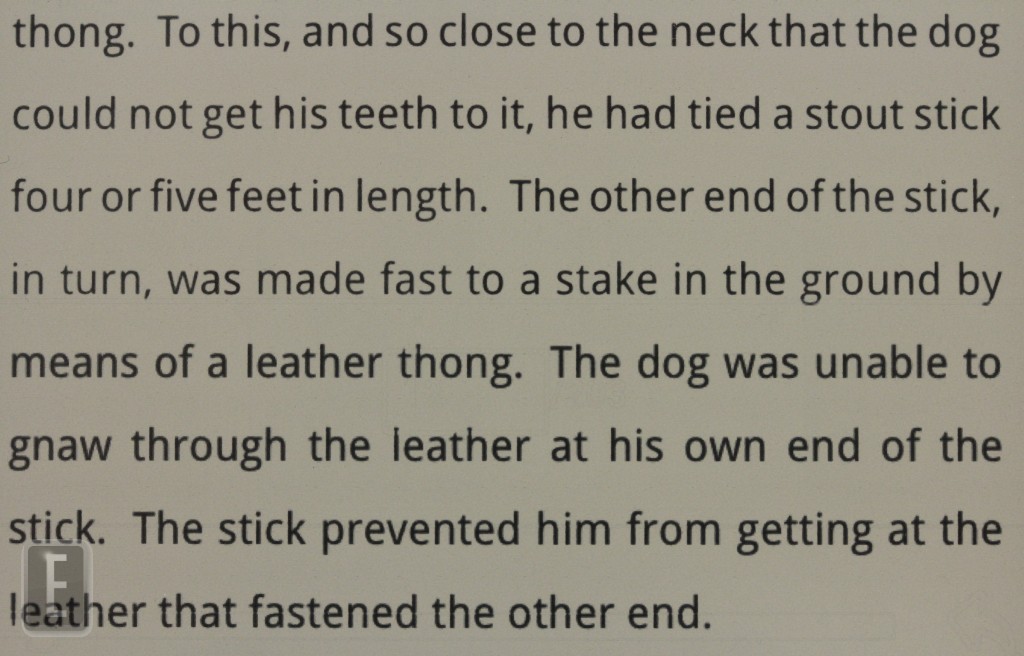 Icarus has an e-reading app that is integrated into the home screen and allows you to read PDF, FB2, EPUB, RTF, MOBI, TXT, HTM files. I have to say ePub books look really great, but the drawback is with PDF files.
When you read a traditional ePub book, such as one of the 37 that come preloaded on the reader, you get a solid experience. The first thing you notice is there is no page turn refresh issues plaguing you every single page you turn. Instead it only occurs every six pages, so it does not constantly break immersion.
If you want to change the font size, line space, margins or font type, you simply have to hold your finger in the middle of the screen. You get 4 icons that appear on the very bottom and it is not immediately clear on what they do. It is important to explore them all to find out what they do.
Advanced users will like the fact there is 56 preloaded fonts to select from, which is the highest number I have ever seen on a reader. I found the fact it as an Android Emoji option, and thought the book would be the equivalent of Wingdings, except for thousands of different smiling faces, but this was sadly not the case, the text basically just looked like a series of text messages.
The one drawback on the Icarus is with reading PDF files. There is no way to pinch and zoom to isolate a particular part of the document.  Instead there are two viewing panes to choose from, the default or extreme zoomed. Once its zoomed you can drag your finger around the screen to find the ideal body of text, but you can't turn pages in this manner.

The one thing that was very unique about looking at PDFS was the ability to actually alter the e-ink display. There is an option exclusive to PDF files that allow  you to physically change the amount of greyscale and black levels. For example, we were looking at the Dungeons and Dragons Monsters Manual and one character looked very clean, I adjusted the blackness levels and suddenly you saw many different shades on his legs, chest and arms. Very cool!
In addition with PDF files, you get the same type of reflow options of text that is much akin to the way the Sony rendering engine performed. You can strip away all of the custom styling sheets and extract pure text.
When it comes right down to it, the Illumina gives you freedom. The Kindle locks you into Amazon,  Nook makes it difficult to access anything but the Barnes and Noble bookstore and Kobo is the same. It is possible to load in your OWN books, but it is difficult for your average user. Icarus gives you the option to do business with whatever ecosystem you want or the ability to download 3rd party indie readers such as Moon+ Reader, Aldiko or Manga Plyus.
Should you buy this?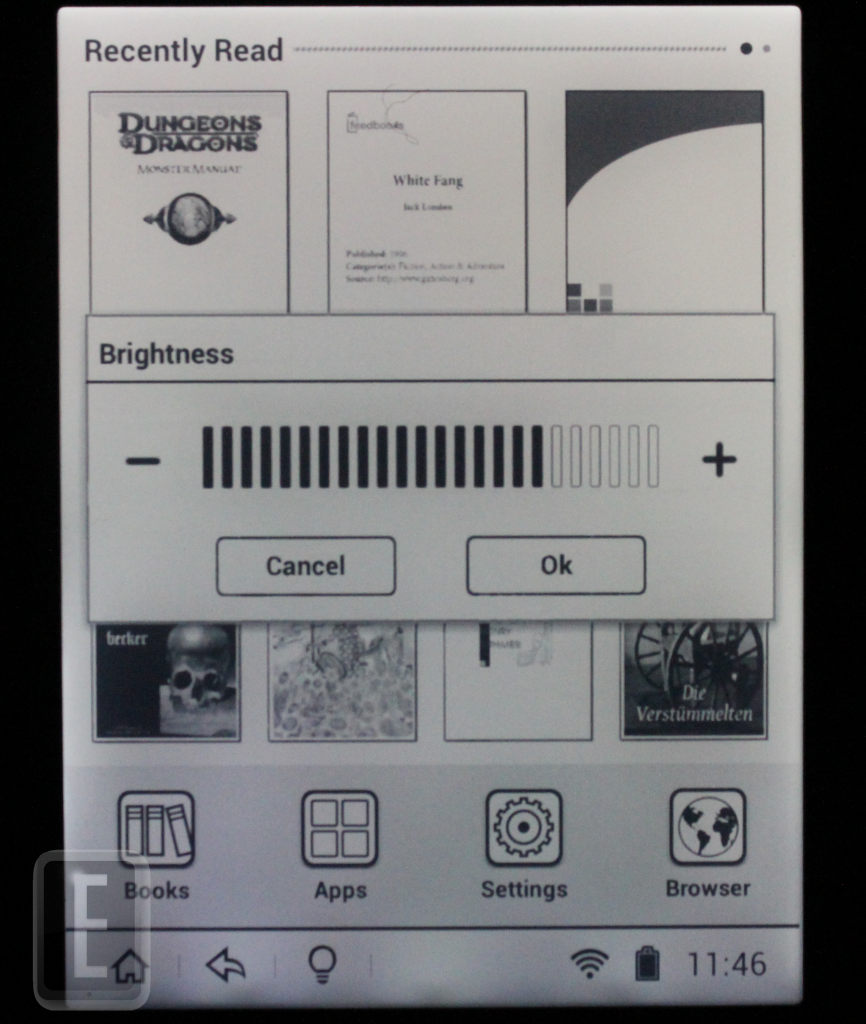 Is the Icarus Illumina E653 worth the 139 euro cover price? It does a better job than Onyx T68,  in handling Android app.  The default e-reading app is also superior and you can easily get by with this, whereas the Onyx one was utterly deplorable.
This e-reader is viable for anyone that wants a true Android experience on their e-reader and does not want to go through the technical rigamarole of rooting a mainstream one. It is completely viable to install your favorite reading apps, whether its a RSS Reader or comic book reader. One important note, any app that requires page turn animations often provide a lackluster experience. This is prompting Good e-Reader to test as many apps as possible and make a dedicated e-ink section on our app store.
PROS
Android 4.2
Great keyboard
The ability to install your own apps
Solid stock e-reading app with innovative features
CONS
Front-light has a bit of light spillage on the bottom of the screen
No ability to customize zoom levels on PDF files
Does not have an app store loaded on it (but we heard it will soon)
Rating: 8.5/10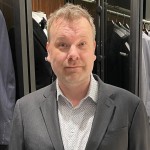 Michael Kozlowski has written about audiobooks and e-readers for the past twelve years. Newspapers and websites such as the CBC, CNET, Engadget, Huffington Post and the New York Times have picked up his articles. He Lives in Vancouver, British Columbia, Canada.