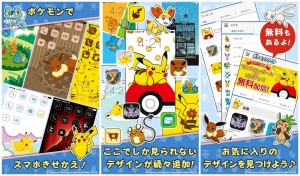 Calling all Pokemon fans! Do you have a home and lock screen on your phone that you like, but you still feel like your missing something? Well, on February 15th, The Japanese Google Play Stores released a brand new Official Pokemon Android Launcher (home screen)! Now you can have cute stylized pictures that represent your favorite Pokemon Pal while also allowing Pokemon to run amok!
Pokemon Style is a free to download app and it appears that all 6 generations will be featured in a variety of free and paid themes (including wallpapers and icons). At the moment, all paid themes are currently half off at about $1.69 until February 25th and feature everything from Eevee Mansion to various Pokemon Centers
Currently Pokemon Style is slowing making it's way to IOS devices but due to limited flexibility of the OS, there will be some differences such as it may not get the actual icon theming the Android version has. There has been no indication on whether or not it will get localized for the Western audience and for now we will have to just cross our fingers and hope for the best! I know I would love to have all the Eeveelutions on my phone! What Pokemon would you guys let run around your home screens? Let us know!
Thi Lathi Chao is a graduate from Vancouver Fine Arts College and reports for Good e-Reader on all of the latest anime and manga news. In her off hours, she is enamored with playing games, drawing and writing short stories.