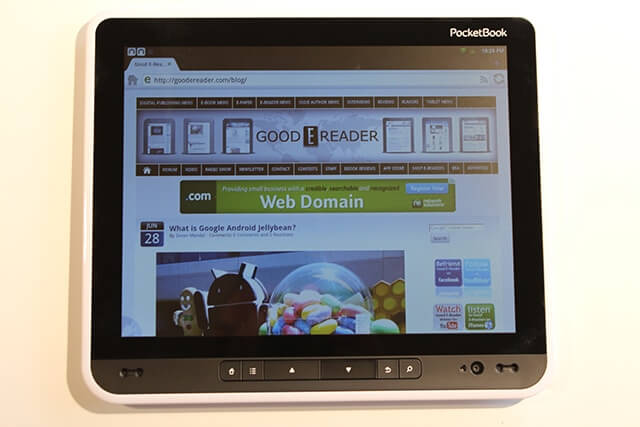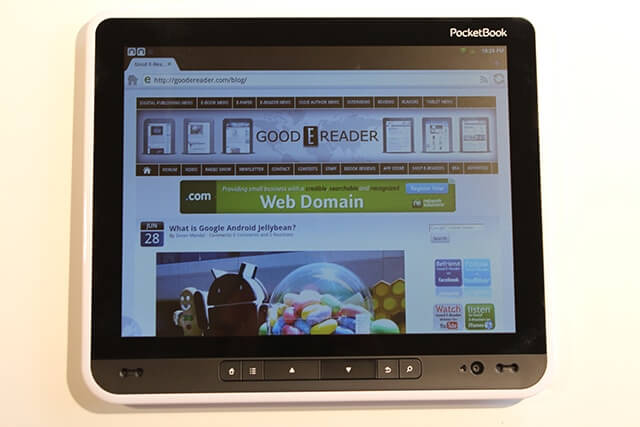 Pocketbook has just released their first ten inch Android Tablet that is sure to impress. Using the same processor as the original Nook Color, things tend to speed along quite well. Pocketbook is well known for releasing numerous e-readers but does not have a ton of experience in the Android realm. How does this new model stack up against the competition and does it have value?
Hardware
The Pocketbook A10 features a 10 inch capacitive touchscreen display with a resolution of 1024×768 Pixels. The TFT screen makes viewing the tablet on an angle a bit harder. Colors often look washed out and you get a strong glare. Viewing is best in low light situations where you can view it at an angle and not get ambient lights hitting it. It is powered by the same processor as the original Nook Color with a 1 GHz TI OMAP 3621. Honestly I was really apprehensive about the paltry 512 MB of RAM in this unit and was afraid it would bog the tablet down during standard tasks. I am happy to report that this is not the case and most programs instantly load. You have around 4 GB of internal memory to store your apps, media, and files. If this is not enough you can buy a 32 GB Micro SD card to give yourself a boost.
One of the best aspects of this device are the dual front facing stereo speakers. Many companies release tablets with the speakers on the back, which muffles the sound. There is also a 2 MP front facing web cam and built in mic for all of your Skype sessions. Even though the screen is touchscreen, you have a number of hard keys to navigate the device. Zoom, back, home, settings, and two page turn buttons are what you have to work with.
On the sides of the A10 is a Micro SD, Miro USB, 3.55 mm headphone jack, and volume buttons. The back of the unit has a cool black grip that makes it easy to hold. The tablet is also very light, weighing in at 670 grams. The battery on the A10 has a 6600mAh variant and will give you around 8.5 hours of constant use.
When Peter and myself did our video review today we both experienced trepidation with the hardware. Peter was afraid this was the case of a human heart in an elephant, where each step you taken puts a strain on it. I am pleased to report that this tablet has the prefect blend of hardware to make the Android 2.3 experience fairly solid.
Software
The Pocketbook A10 runs Google Android 2.3 and will never see any updates in the future. With a new release in 2012 it seems odd that the company would issue their device with a very antiquated version of Android. With Ice Cream Sandwich and Jellybean on the market, many vendors are releasing firmware updates to make their software more current and able to support tons of new features. If you are looking for a super modern Android OS, you might want to avoid this.
There are a ton of apps on this A10 when you turn it on for the first time, including Google Play. This gives you access to over 600,000 Android apps for you to easily download and install. You will also find Gmail, YouTube, and plenty of other exclusive Google content.
Pocketbook never really marketed this tablet as an e-reader but does have an ebook widget on the main screen and gives you around 100 free books. There are no big name ebook sellers bundled on this tablet, but it does tap into the new Obreey ecosystem. You can think of this as the former project Bookland, but supports paid books and more content.
The best aspect for reading is the PDF experience. You can simply just copy PDF documents, game manuals, and other types of content right to your tablet via the USB cable. If you install Adobe PDF Reader, you can heavily customize your documents. The 10 inch display does a superb job in being able to see a full page PDF in the way a seven inch model never can. PDF reading is really where the manual page turn buttons come into play. You can turn pages forward and back without having to rely exclusively on the touchscreen interface.
This device handled every game we threw at it and we loaded up many of the top graphics games. 3D games and normal games like Muffin Knight loaded quickly and were a breeze to play. One of the drawbacks was the unit needing to be tilted to control a car or an airplane. Large screen tablets often suffer from a greater weight problem then your standard seven inch edition.
Our Thoughts
The Pocketbook A10 is a solid tablet for the $350 entry price that it costs to own one. It gives you all the hardware you need to do common tasks and not have to suffer from long load times . There is not many tablets that are this large and most companies find great success in more portable seven inch models.
I find the Android 2.3 OS to be perplexing because it cannot run most of the new apps designed for higher versions of Android. The fact that Pocketbook has come out and said they won't upgrade Android is reason enough to stick with a company like Samsung, Acer, or Asus to buy a large screen model.
Pocketbook is very well known for releasing indie e-readers that are fairly competitive in price, but are more appealing to an international audience. They support a ton of foreign languages for ebooks and devices. You would never really know this was a Pocketbook device because they have lost sight of their roots for e-reading. There is hardly any bundled ecosystems to buy books but they did have FBREADER pre-installed.
This is a fairly mid range tablet with only a single core processor. Most new tablets coming out either have a dual or quad-core processor for customers to work with. Really, tablets are all about high-performance tasks and the extra cores really make a difference with your ability to multitask.
Pros
Solid Design
Google Play
Numerous Apps bundled with it
Good Battery Life
Cons
TFT Screen fades at odd viewing angles
Single Core Processor
Android 2.3 with no hope of upgrades
Poor e-Reading Experience

Rating – 7/10
[cincopa AAPAr7q3-eMf]

Michael Kozlowski is the Editor in Chief of Good e-Reader. He has been writing about audiobooks and e-readers for the past ten years. His articles have been picked up by major and local news sources and websites such as the CBC, CNET, Engadget, Huffington Post and the New York Times.