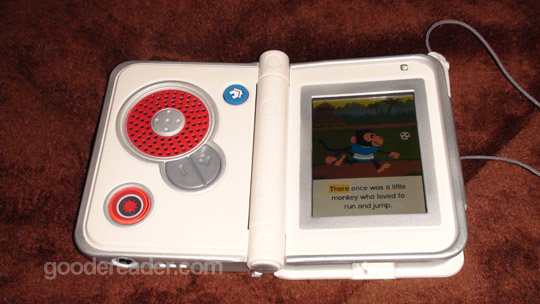 The Fisher-Price IXL functions as a digital learning device aimed at children ages 2 to 5. The Fisher-Price IXL e-reader is a 6 in 1 device the new device functions as a Digital Book Reader, MP3 Music Player, Photo Viewer, Digital Art Book, Notepad and also a Game Player.
Hardware
The IXL opens and closed like a book and is made of a plastic chassis that is able to be dropped without damaging the unit. The screen is a 3.5 inch full color touch-screen device and has a resolution of 320×240. There is a large speaker to the left of the screen with oversized volume buttons. If you are growing tired of hearing the book over and over as your kid interacts with the IXL, it does have a headphone jack. The IXL comes with a Stylus that has a tethered plastic string linking it to the device, making it hard to lose.
Unlike most children's interactive learning devices the IXL comes with a Mini USB port for you to load content directly to your device via the computer. It also comes with a SD card slot, so you can load in content such as pictures, and music. The maximum size of a SD you can use is 16GB so it will be able to hold a fair amount of content.
Software
The IXL has the advantage over rival devices such as the Leapfrog or the V.Tech V-Reader in that it uses CD games and not cartridges. When you buy a new game you can download it online or purchase the extra titles from retail locations, such as Toys R Us.
Some of the benefits of the software include an installation CD that comes with your IXL. It allows you to transfer media via the Mini USB to USB cable right to your IXL. You can send MP3's, and pictures right to your device and view them, or even edit them directly.
We mentioned that this new interactive learning device functions in many different capacities. Let's take a look at some of the different facets of the IXL.
Digital Game Player – The default game that comes with the IXL is much akin to Donkey Kong, but involves counting in order to progress in levels.
eBook Reader – One of the more provocative features on the IXL is the ability to interact with the story as it is occurring. There are options to either have the book read aloud to you or read at your own pace. As the book progresses you are treated to animations instead of static pictures which makes the stories more immersive.
Notepad – One feature that really stood out to us was the ability to become familiar with the alphabet. This notepad functions 3 ring binder paper and prompts you to spell letters both in lowercase and uppercase formats. You then via the Stylus overlap the letters displayed in order to become more familiar with the alphabet. This was a really fun little application that says the letter aloud as well in order to build association.
Digital Art Book – The Art book allows you to edit existing photos or images and select different pen and pencil style settings. Think of it as a very basic Adobe Photoshop for kids. It is very intuitive to select colors and different sizes of brushes in order to work with. You don't have advanced features like layering, but it allows your child to creatively express themselves. Some of the default content that comes with the device is like a digital coloring book.
MP3 Music Player – The IXL comes with a default music player and allows you to load in your own MP3's to listen to using the PC software. When you purchase the machine it has 4 songs in the memory bank and has a dancing monkey that sways along with the music. You can of course load in your favourite kid's entertainer and the monkey animations will play. The IXL has a headphone jack so you can have your child be plugged right in. Although the device does not come with headphones, Fisherprice does make 'Kid Tough' versions of them in both pink and blue.
Photo Viewer – 3 generic sample images are available, but your kids can add any photo in the standard .jpg format to the IXL. Photos can also be manipulated in Art Studio with silly effects.
There are currently only eight games available for the Fisher-Price IXL and each one costs around $26.00 and is loaded onto your device via the Mini USB cable. When you purchase games they come on CD's if you buy it from the store, but you can also do Digital Downloads using the device manager software that comes with your IXL. The current titles available for purchase include; Toy Story 3, Disney Princesses, Handy Mandy, Batman, Scooby Doo, Shrek and Sponge Bob.
The "games" are misnomers because you are not just buying a game – there is so much more included. The IXL is a 6 in 1 and each game comes with photos, books, images, learning games and changes the interface so your device will be an extension of that brand. For example, the default unit comes with a monkey themed package. The coloring book features a monkey to draw, the music player as an animated monkey and even the ebook that comes with the device is the adventures of a monkey. If you were to purchase say Toy Story 3, the unit would transform to a total experience. You would have popular characters such as Buzz Lightyear narrating specific aspects; your child would color popular characters from that franchise and much more!
Our thoughts on the IXL
The Fisher-Price IXL is a great device; it has a ton of great content available from a popular brand of kid's toys. The company has been in the game of kid's toys and learning devices for a long time and the IXL is the first interactive learning device aimed at fostering kid's growth in a well presented format.
The buttons the child presses are all over-sized and easily pressed, and the speaker emits a very clear sound. The volume level does not go really loud, so you will have no fear with your kid blowing their eardrums with the volume cranked up to the maximum if they have their head phones on.
The device folds up like a book and is small enough to fit in a school bag, backpack or even cargo pants pockets. Its plastic chassis will stand up to constant dropping without damaging the unit and even the screen is highly durable.
One of the interesting safety features is the fact the IXL runs on 4 AA batteries that are not included with purchase. In order to put the batteries in or remove them, it comes with a child proof screw that a screwdriver is necessary.
All in all, for the $60.00 price tag, it is a very good device for the money and should keep your child active and learning on holidays, trips, doctor office visits and most other circumstances where they have lots of free time on their hands. We at Good e-Reader always promote learning and reading and what better device to purchase then one that empowers your child to learn in many different ways and have fun. Although Fisher-Price says this device is aimed at children aged 2 to 7, we think it's more geared towards ages 2 and 5. The books and cartoony interface may not appeal to slightly older children and most 7 to 8 year olds are already playing video games.
We recommend the Fisher-Price IXL; it is the smallest of the interactive learning devices we have seen. Its main competition is the V.Tech V-Reader and the Leapfrog.
[cincopa AsNAGe6L2t53]

Michael Kozlowski is the Editor in Chief of Good e-Reader. He has been writing about audiobooks and e-readers for the past ten years. His articles have been picked up by major and local news sources and websites such as the CNET, Engadget, Huffington Post and Verge.