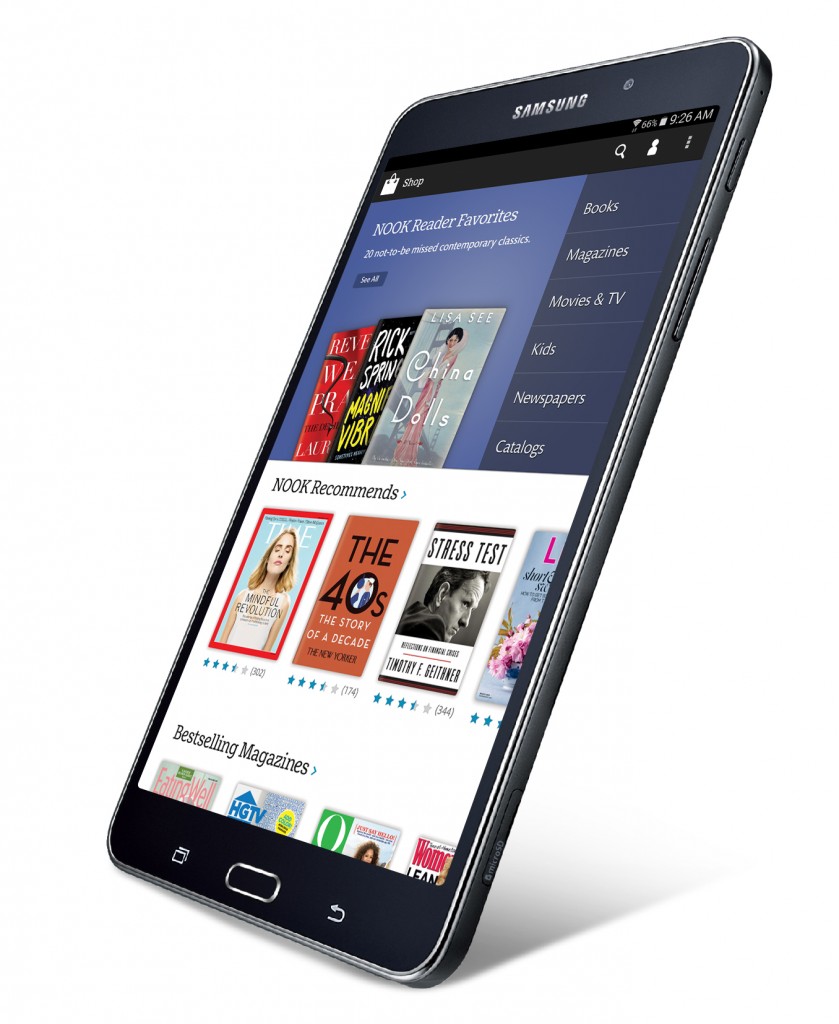 Barnes and Noble has reached an agreement with Samsung for a series of co-branded tablets. Samsung will be providing the Samsung Galaxy Tab 4 hardware with heavily customized NOOK software to give customers powerful, full-featured tablets that are designed for reading. The Samsung Galaxy Tab 4 NOOK will be sold in all Barnes and Noble stores in the US in August.
The Galaxy Tab 4 Nook will feature a seven inch screen with with a resolution of 1280 x 800 pixels, a 1.2GHz quad-core Cortex-A7 CPU and 1.5GB of RAM. The whole thing weighs just 276g and comes with a microSD card slot. It will have a next generation Android UI that turns the tablet from a vanilla experience to the type of reading tablet that the Nook HD and Nook HD+ provided.
The Samsung Galaxy Tab 4 NOOK reflects the first time Barnes and Noble has outsourced the hardware design and manufacturing process to another company. This falls inline with the strategy they announced last year to reduce expenses with research and development and establish partnerships to save money.
Barnes and Noble has lost over one billion dollars since they started selling eBooks, e-Readers and tablets. In order to stay financially solvent they just announced they are moving their tech campus from its 208,000-square-foot Palo Alto, location to two new facilities in nearby Santa Clara and Mountain View that together take up just 88,000 square feet. The bookseller will save almost $108 million over the lifetime of the new lease.
"We are very excited and proud to partner with Samsung, a world-class technology and tablet leader, to create customized co-branded devices featuring our valuable NOOK reading experience and digital content catalog for Barnes & Noble customers nationwide," said Michael P. Huseby, Chief Executive Officer of Barnes & Noble, Inc. "Standing behind these great new devices will be the power of our 40,000 Barnes & Noble booksellers combined with our deep bookselling and retail expertise to provide sales support and personalized in-store customer service for our lineup of new Samsung Galaxy Tab 4 NOOK products. Partnering with Samsung brings our customers great new products and evidences our commitment to our NOOK customers and growing our digital content business."