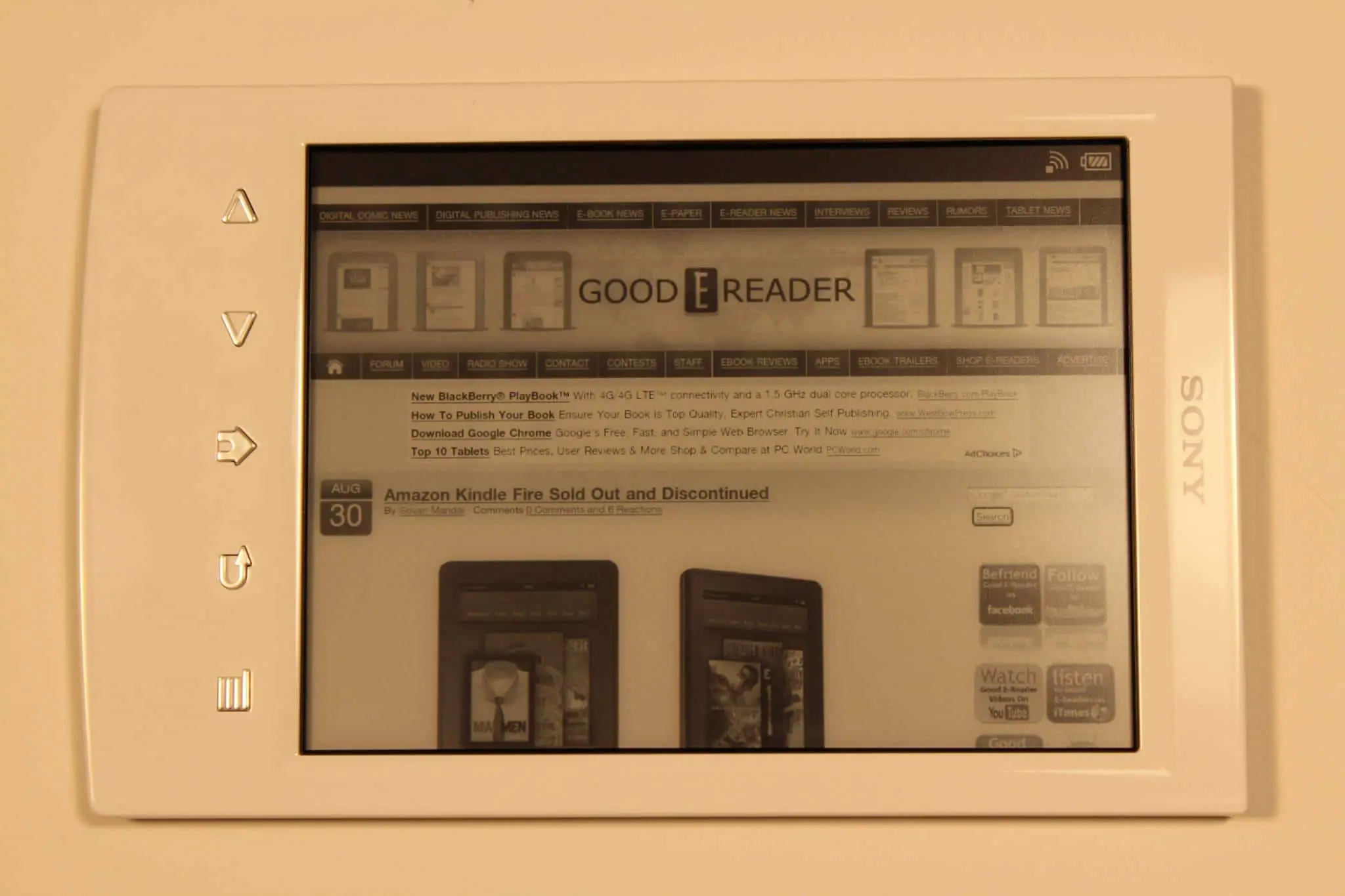 The second generation Sony Wireless Reader was just released in Canada today and Good e-Reader got our hands on it the minute it was available. This new device is a direct successor of the original Sony PRS-T1 Reader that came out last year. Sony used to always released two or three devices every year, but has scaled back their operations to only market a single unit. How does it rank up against the increasingly competitive landscape of e-readers? We dive deep into the issues and give you the lowdown.
Hardware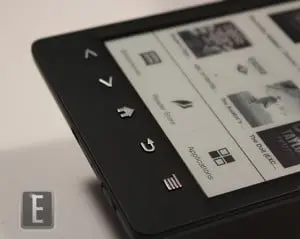 The Sony PRS-T2 features a six inch e-Ink Pearl display with a resolution of 800×600 pixels. You get the standard 16 levels of greyscale and everything from books to photos look clean and crisp. If you have ever used the Kindle Touch, Kobo Touch or Nook Simple Touch, the Sony model has the same IR display. This allows for pin-point-procession when you are interacting with the display screen with the accompanied stylus or with your fingers. There is 2 GB of internal memory and you can easily expand it up to 32 GB via the MicroSD.
The one element that was noticeable right off the bat was the slick new design. The previous model had a embossed piano black finish that tended to reflect light. The new models in White, Black and Red do away with this and give you a very cool chrome aesthetic. The home, settings, and back buttons are not sunken into the device and instead rise up against the chassis. This is a very interesting element because the home key for example, is in the shape of a small house and is very easy to interact with. Many e-readers offer capacitive style buttons that never give you a clear indication if you pressed them correctly. There are strong tectonic elements to interacting with the physical keys.
One of the drawbacks of the hardware right away was the lack of manual page turn keys. You have to swipe it with the accompanied stylus or use the forward and backward buttons to do it. This might ruffle the feathers of people who take public transit and can only spare one hand to turn pages effectively. There is also no holder for the stylus built into the Sony PRS-T2, which increases the likely hood of you losing it.
When you want to charge your reader, it takes about two hours and the battery life should last you around two months. Increasing the lifespan of the reader on a single charge was a huge priority with Sony and doubles it compared to the PRS-T1.
On the bottom of the device is where you turn on the power and it takes around 20 seconds to power on completely. There is also a Micro USB port to facilitate data transfers to your computer. This is useful not only for charging it but copying over e-Books you downloaded from the internet or using Adobe Digital Editions to copy over legitimate purchases from other eBook stores using EPUB.
There is no accelerometer or gyroscope built into this new model and instead relies on software elements while you are reading a book or surfing the internet. This is much akin to the Kindle way of switching orientations. Simple options you can do when you are reading a book. You cannot tailor your entire e-reader experience to be in landscape mode, only certain elements.
In the end, the hardware is a positive step in the right direction. The PRS-T2 is actually lighter than PRS-T1 by a few grams.
When you interact with the Back, Home, Forward and Settings menu, you often get the case of readers thumb. The edges of the keys tend to feel a bit jagged and dig into your hands after awhile.
Software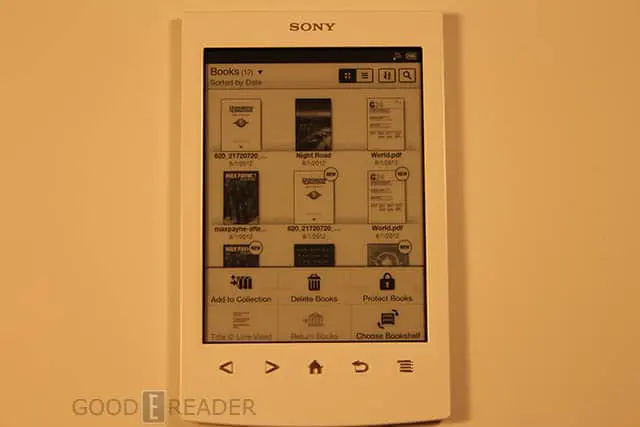 The Sony PRS-T2 is using Google Android as an operating system and contributes towards the speed and robustness of your daily use. Menus, Settings and Programs tend to load lightning quick and I was never truly delayed doing common tasks.
There are a few major components that make this e-reader truly unique. Using the wireless connections you can buy magazines, newspapers and eBooks directly via Sony. The store is laid out very well and is very clean. You can buy most bestsellers for around $9.99 and take out monthly subscriptions in newspapers for around $18.00. If you find a few books you are interested in, you can read reviews and then add them to your wishlist. If you buy books via your PC or tablet, your purchases are automatically synced to your e-reader. This makes things a bit more simple.
The one thing Sony does with their latest generation e-Readers is make borrowing eBooks from libraries as simple as possible. There is a dedicated Library app that allows you to borrow books directly from Overdrive. All you need to get started is your library card and four digit pin code. You can then browse, borrow and read the books directly within the app. All other e-readers make you have to sync your device using Adobe Digital Editions or other complex procedures that often turn off your average user. Built in Overdrive support for residents of Canada, UK and USA is worth the price of admission alone.
The one factor I totally find mind boggling is the fact that Overdrive is not hyping this device to their libraries or users. Sony has been using a variation of Overdrives system for the last two years and the average person doesn't even know it exists. Sony should really be hyping library borrowing to make itself distinctive in the marketplace.
The two completely new features found in the Sony PRS-T2 is the compatibility with Facebook and Evernote. When you setup both of these social networks you can send highlights, notes, annotations and everything else directly to your account. Facebook allows you to update your status to reflect a specific passage you might be enamored with. Evernote lets you send tons of your drawings, notes and bookkmarks into your account, but honestly, who even uses it?
The main menus is very simplistic and shows you the last few books you have been reading and ones that are recently added. There are three main components to the homescreen, your library, Sony Store, and Applications. Your apps, is where most of your options are, and there are plenty of settings to muck around with.
There is advanced usage for the Sony Stylus that is bundled with the unit. Make sure you hang onto it, there is no slot within the e-reader to hold it, like the PRS-650 did. There are drawing and note taking features that allow you to save your drawings to the main memory and then export them to your PC or MicroSD. The stylus is not totally essential for your daily use
Reading Experience
The Sony PRS-T2 mainly deals with the EPUB and PDF formats for eBooks. You can download free and open sourced books directly from the internet and then copy them right to your device using Calibre or Windows Explorer. If you purchase books from other bookstores such as Kobo, Barnes and Noble, Smashwords and others, you will have to use Adobe Digital Editions.
When you read books in EPUB format you are presented with a myriad of options to customize your experience. You have around eleven different font sizes and they are updated dynamically in realtime. This will give you a sense of what size of text is optimal for your own reading experience. Your settings carry over to any other new book you might open, so you don't need to keep optimizing it. There are around six different FONT options too, so you can keep the publisher defaults or change it to suit your needs.
Sony used to lead the e-reader pack with its varied support of the PDF format. The new T2 is severely lacking with the ability to setup proper reflow options and tailor complex PDF documents to a readable format. There ARE options to change the font size, but you can think of it has a glorified magnifying glass. The only way to scale complex PDF documents is to use the pinch and zoom feature. The downside to doing this, is every time you turn a page, you have to pinch and zoom again to get the proper settings. Newspapers are the only thing you benefit from using the reflow text option, but comic books, manga, graphic novels and all other heavy image content is almost impossible to read correctly.
When you are reading both ePub and PDF eBooks you have the options to instantly look up words in one of the six dictionaries. You can highlight specific words and send them to Facebook or Evernote. If you don't use any of these social networks, don't worry, you can save your notes and highlights to independent files.
Finally, this reader does a good job at organizing your library. Once you get more then 20 books, you will want to setup genre based categories, or author based. This will make finding the books you want to find, easier then just scrolling endlessly. Alternatively, you can use Calibre to also manage your library a little bit more effectively, but requires a bit of a learning curve.
In the end, the Sony PRS-T1 is very excellent for a dedicated reading device but suffers from PDF support. The lack of manual page turn keys really hurts it against the competition. Turning pages is not as easy as just tapping on the right-hand or left-hand corner, but require a swiping motion which quickly gets old, fast.
Our Thoughts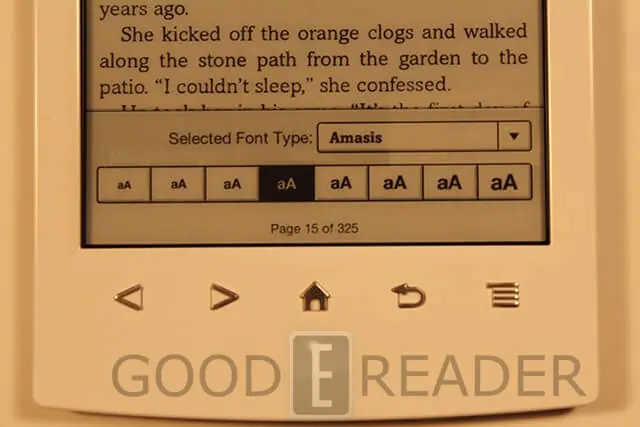 If you are looking for a dedicated e-reader that allows you to browse and borrow free eBooks from the library, this is for you. There is simply no other e-reader on the market that makes the entire borrowing process intuitive and easy to understand. If you are the type of person that just buys all your books, the Sony bookstore has a varied selection of bestsellers. It does not have the sheer amount of books that Kobo, Amazon or Barnes and Noble has, but is adequate if you just want to read popular books.
The Sony PRS-T2 comes with a serial code for one free Harry Potter eBook via Pottermore. You can get Harry Potter and the Sorcerers Stone just for buying the reader, the price is also fairly competitive with most competing devices on the market.
Pros
Solid Bookstore
Overdrive Functionality
Good ePub customization options
Fast and Robust
Superior Collection Management Options
Text is crisper vs. Previous Models
Cons
Turning Pages of books is a chore
PDF support is going downhill
Heavier then the previous model
Sharp Edges on buttons and design hurt after longer reading sessions
NO Audio
Only compatible with Cover and Cover with Light from the PRS-T1.
Rating
7.5/10
[cincopa AcDAO-qMiJuK]

Michael Kozlowski has been writing about audiobooks and e-readers for the past twelve years. His articles have been picked up by major and local news sources and websites such as the CBC, CNET, Engadget, Huffington Post and the New York Times. He Lives in Vancouver, British Columbia, Canada.