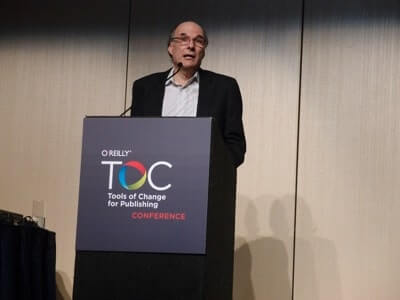 Oren Teicher, American Booksellers Association.
Booksellers represent a combination of the old and the new. ABA is the trade association of the independent bookstores and was founded in 1900. Independent bookselling has changed a lot in 15 years and is seeing a reniassance in the US with an 8% sales growth in 2012 as compared to 2011 (in book unit sales). For most of 2012, we were seeing double digit increases over 2011. For ABA online sales, there was a 28% increase over 2011 and a much greater increase from 2010. Web sales are becoming an important revenue stream for independent booksellers. For the third year in a row ABA membership has grown and more independent bookstores are opening. 43 stores opened in 2012 and one even raised money by crowd-funding site Indiegogo in order to open the store.
One key factor in the increase in sales is that independent bookstores are actively implementing technology. They can offer an online commerce experience through the ABA site, with each company having a fully customizable site. The debate about whether an independent bookstore should be online is long over. ABA partnered with Kobo to offer ebooks, but earlier partnerships, such as that with Google, provided an unsatisfying experience for customers. Through the holiday season, about 400 stores signed up for the Kobo plan. They like the fact that Kobo uses recognized standards and so their readers are not locked into a particular device. Independent bookstores are now outperforming earlier attempts to do this and revenue is increasing. Since the costs of this type of technology has come way down, independent bookstores can now afford to do a lot of stuff they couldn't before. About 15 ABA stores have print on demand with the Espresso Machine and rather than buying books through the machines it has turned out that the major revenue from the machines comes from the self-publishing business of their customers' books.
ABA believes that the publishers steps with regard to ebook agency pricing benefited readers and publishers and they feel, despite the DoJ, that agency pricing actually resulted in lower prices. They feel that the DoJ settlement does nothing but increase prices and help give monopoly power to Amazon. The ABA feels that the settlement will be destructive to book selling.
Independent bookstores are benefiting from the general localization movement in the United States. The move of consumers to independent local stores is an encouraging trend for all independent businesses. The "Buy Local" movement is a success and in five years of surveys they show that indie businesses are growing. The localization movement has reached a tipping point and bookstores have been in the forefront of this for years.
There is no substitute for the importance of indie bookstores in book discovery and the numbers show that this is the case. Indie bookstores perform a showrooming experience for purchasers who may decide to make their purchases elsewhere. Publishers are beginning to recognize this and a number of new initiatives are under way. One example of this is that Amazon had to release the Kindle to stores because they found that discovery of the unit on the Amazon site was not good enough to get them the sales figures they wanted.
Paul Biba is a retired corporate international lawyer who has worked in 53 countries. Since he is a very fast reader he came to ebooks out of self-defense in order to avoid carrying a suitcase of books on his travels around the world. An early ebook adopter, he has read on Palms, Pocket PCs and practically every device that has been out there. After being a frequent contributor to TeleRead.com, the oldest ebook/epublishing blog on the net, Paul became TeleRead's Editor-in-Chief, a position he recently resigned. Send Paul an email to paulkbiba@gmail.com