The new year is upon us and there is no shortage of great books to curl around the fireplace and read a good book. If you just got a Kindle e-Reader from Santa or are still rocking an older model, the best Kindle books of January include the latest from Leigh Bardugo, Tracy Kidder, Jonathan Carroll, and more.
Murder, magic, secret societies, a gauntlet to hell—Bardugo is a fantastic storyteller who knows how to keep the reader both guessing and completely transfixed. Hell Bent seamlessly picks up the thread of Ninth House, with Alex Stern trying to find a way to get her friend and mentor out of hell. Literally. Obscure texts, magical artifacts, puzzle-loving demons—Alex has her hands full, plus a murderer on campus and her "job" as enforcer for a dangerous thug. And let's not forget the monsters (real and otherwise), ghosts, and supernatural events that she seems to draw like a dark magnet. The second book in the Alex Stern series (which will make you want to go back and read the first all over again) is cinematic, surprising, and unputdownable.
The story is set in a small country town, in the backwoods of 1980s Mississippi—and told by Ella, an unloved 11-year old. A middle child—the product of an affair during marriage—several shades darker than the rest of her family—making her a constant reminder of her mother's infidelity. The summer is set to be a dull one, until the newcomer—Katherine St. James, a Princeton graduate student—shocks the town by moving into a house on the same dirt road as Ella, on the Black side of town. A friendship of sorts ensues between Ella and Ms. St. James—however the relationship seamlessly flows through feelings of intrigue, distrust, love, and even hate—taking the reader on an emotional roller coaster ride. This is a coming of age story that looks at the impact of colorism and race on one's identity—a journey to personal discovery in determining how to accept the reality of who you really are.

The Villa: by Rachel Hawkins
As kids, Emily and Chess were inseparable. But by their 30s, their bond has been strained by the demands of their adult lives. So when Chess suggests a girls trip to Italy, Emily jumps at the chance to reconnect with her best friend.
Villa Aestas in Orvieto is a high-end holiday home now, but in 1974, it was known as Villa Rosato, and rented for the summer by a notorious rock star, Noel Gordon. In an attempt to reignite his creative spark, Noel invites up-and-coming musician, Pierce Sheldon to join him, as well as Pierce's girlfriend, Mari, and her stepsister, Lara. But he also sets in motion a chain of events that leads to Mari writing one of the greatest horror novels of all time, Lara composing a platinum album––and ends in Pierce's brutal murder.
As Emily digs into the villa's complicated history, she begins to think there might be more to the story of that fateful summer in 1974. That perhaps Pierce's murder wasn't just a tale of sex, drugs, and rock & roll gone wrong, but that something more sinister might have occurred––and that there might be clues hidden in the now-iconic works that Mari and Lara left behind.
Yet the closer that Emily gets to the truth, the more tension she feels developing between her and Chess. As secrets from the past come to light, equally dangerous betrayals from the present also emerge––and it begins to look like the villa will claim another victim before the summer ends.
Inspired by Fleetwood Mac, the Manson murders, and the infamous summer Percy and Mary Shelley spent with Lord Byron at a Lake Geneva castle––the birthplace of Frankenstein––The Villa welcomes you into its deadly legacy.
Age of Vice by Deepti Kapoor
New Delhi, 3 a.m. A speeding Mercedes jumps the curb and in the blink of an eye, five people are dead. It's a rich man's car, but when the dust settles there is no rich man at all, just a shell-shocked servant who cannot explain the strange series of events that led to this crime. Nor can he foresee the dark drama that is about to unfold.
Deftly shifting through time and perspective in contemporary India, Age of Vice is an epic, action-packed story propelled by the seductive wealth, startling corruption, and bloodthirsty violence of the Wadia family — loved by some, loathed by others, feared by all.
In the shadow of lavish estates, extravagant parties, predatory business deals and calculated political influence, three lives become dangerously intertwined: Ajay is the watchful servant, born into poverty, who rises through the family's ranks. Sunny is the playboy heir who dreams of outshining his father, whatever the cost. And Neda is the curious journalist caught between morality and desire. Against a sweeping plot fueled by loss, pleasure, greed, yearning, violence and revenge, will these characters' connections become a path to escape, or a trigger of further destruction?
Equal parts crime thriller and family saga, transporting readers from the dusty villages of Uttar Pradesh to the urban energy of New Delhi, Age of Vice is an intoxicating novel of gangsters and lovers, false friendships, forbidden romance, and the consequences of corruption.It is binge-worthy entertainment at its literary best.
Awe: The New Science of Everyday Wonder and How It Can Transform Your Life by Dacher Keltner
"Fascinating . . . A timely reminder to appreciate the awe-inspiring everyday wonders flourishing all around us. . . Through his work as an expert in the science of goodness and human emotions, Keltner ably renders these transformative, defining moments with illuminative prose and encouragement for readers seeking their own awe-inspired deliverance."
The Bandit Queens by Parini Shroff
The Bandit Queens is a delightfully entertaining and thought-provoking debut novel about female friendship, agency, and unlikely killers. After her husband disappears without a trace, Geeta's small Indian village paints her as his killer—when we meet her the gossip barely stings, though the loneliness of being ostracized is evident. However, Geeta's husband was not the only one making his spouse miserable, and for some of the other women, enough is enough and they want Geeta's help to "take out their nose ring"—a symbol of widowhood. Smart, funny dialogue had me laughing out loud, but Shroff's story also says much about how women help and hurt each other, and the experience of being female in a society that values earning power but not the earner herself. Witty, enlightening, and surprising, this is an exceptional story of second chances with a mystery twist.
The House in the Pines by Ana Reyes
The House in the Pines isn't a whodunit, more of a head scratching howdunit. At least two young women have inexplicably died while in the company of one man, Frank. Seven years ago, Frank was the charismatic older boy that Maya was in love with, until she suspected he was interested in her childhood best friend Aubrey, too. And though she knows in her gut that Frank was responsible for Aubrey's death, she can't say how, and there are too many unexplained gaps and black holes in her memory for police to find her a reliable witness. Reyes' debut has all a thriller reader could hope for: an unreliable narrator, addiction, misdirection, old secrets, and a seven-year old quest for justice. But it's also an absorbing, cleverly plotted story of female friendship, loyalty repaid, maternal love, and the powerful desire to unlock secrets, even in the face of evil.
The Stolen Heir: A Novel of Elfhame by Holly Black
Eight years have passed since the Battle of the Serpent. But in the icy north, Lady Nore of the Court of Teeth has reclaimed the Ice Needle Citadel. There, she is using an ancient relic to create monsters of stick and snow who will do her bidding and exact her revenge.
Suren, child queen of the Court of Teeth, and the one person with power over her mother, fled to the human world. There, she lives feral in the woods. Lonely, and still haunted by the merciless torments she endured in the Court of Teeth, she bides her time by releasing mortals from foolish bargains. She believes herself forgotten until the storm hag, Bogdana chases her through the night streets. Suren is saved by none other than Prince Oak, heir to Elfhame, to whom she was once promised in marriage and who she has resented for years.
Now seventeen, Oak is charming, beautiful, and manipulative. He's on a mission that will lead him into the north, and he wants Suren's help. But if she agrees, it will mean guarding her heart against the boy she once knew and a prince she cannot trust, as well as confronting all the horrors she thought she left behind.
Decent People by De'Shawn Charles Winslow
His second novel set in the fictional Southern town of West Mills. Three siblings are murdered, a triple homicide that—because the victims are Black—the local police appear to have minimal interest in solving. Jo Wright—a recent retiree transplanted from New York back to her West Mills hometown—realizes that thanks to lazy policing, the victims' half-brother, her fiancé, Olympus "Lymp" Seymore, is the prime suspect. She decides to "help wash the mud" off his name by doing her own investigation. The novel is a straight up whodunit, but Winslow cleverly has the police recede into the background as the questions Jo asks around town set off gossip, finger-pointing, speculation, and rumor. And it's through those conversations that the townspeople reveal their painful prejudices, shameful secrets, and dark histories in this smart, canny, and page-turning historical Southern mystery.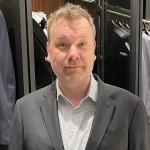 Michael Kozlowski has written about audiobooks and e-readers for the past twelve years. Newspapers and websites such as the CBC, CNET, Engadget, Huffington Post and the New York Times have picked up his articles. He Lives in Vancouver, British Columbia, Canada.