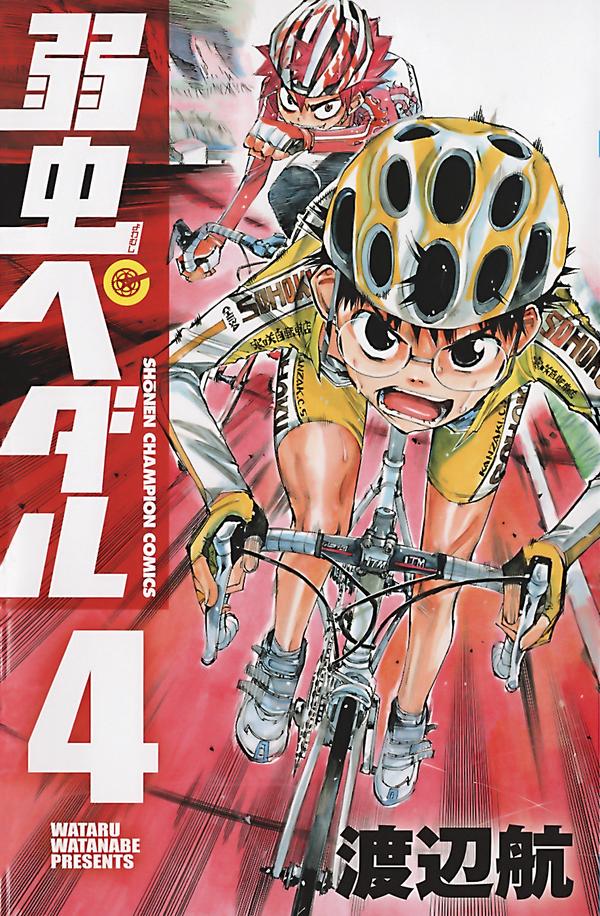 2008 seems to be the year the sports anime began to rise. One of these was Yowamushi Pedal, a manga by Wataru Watanabe, about cycling. In 2013, the manga got its well-deserved anime adaption. Crunchyroll has been streaming the anime and the highly anticipated second season still in progress.
The story follows a character everyone can relate to, an otaku named Sakamichi Onoda. He's the only anime fan at his school, despite multiple tries to pull an anime club together. Onoda is so friendless that he takes the long back hill to school, just so he can sing his favorite anime theme song. His life takes a change for the better when he's caught by Shunsuke Imaizumi, a young professional cyclist, who is amazed that Onoda can climb the hill on his bulky bike. Imaizumi makes a deal with Onoda – they will race up the hill. If Imaizumi wins, Onoda has to join the bike club. If Onoda wins, Imaizumi will join the anime club, which is enough incentive to get Onoda really racing. However, in the process, Onoda finds himself enjoying it, and he ends up joining the bike club. From there on out, it follows Onoda's journey to get stronger and win as many races as he can.
Like all sports anime seem to be, Yowamushi Pedal is popular. But the fans of the cycling anime are taking it a step further. While every sports anime I've seen makes the blood boil and the body itch to get out there and exercise, Yowamushi Pedal fans seem to be actually doing it. Because of the anime, bike sales in Japan have increased. Fans have even started meetups where they get together and go biking. Every sports anime is credited to increase the popularity of their sport by some, but for an anime to cause people to get off their couches and onto bicycles? That is an anime indeed.
More interestingly is the specific demographic of new bike sales. Surprisingly enough, it's women. In the last year, Japan has seen it's bike market for females aged 20-30 double in size. Otome Road, a street in Tokyo's Ikebukuro district so named for its shops marketed towards women, has reported a particular increase in interest for bikes. Considering that Yowamushi Pedal has an intended demographic of teenage boys, the fact that young women invested enough in the story to get out and into cycling is just another marker of what makes this anime so great.
One of the reasons Yowamushi Pedal is so popular outside of its intended demographic is due to the homoerotic undertones. In fact, that's one of the reasons sports anime in general draws in so many female viewers. Fangirls love our shipping. It may seem crazy to some. Will the characters of Yowamushi Pedal turn out to be gay? Probably not, no. But that doesn't stop people from thinking they are, or accepting it as fact in their heads. And many fans are taking going a step further, believing some of the characters to be transgender. These theories are particularly popular around Tumblr. The large female audience of the show has helped Yowamushi Pedal become a platform for gay and trans representation, an are with a strong lack of good representation in today's media. Besides, if the anime can have such an effect on the audience to give them a real interest in cycling, perhaps the audience can have an effect on the anime – fingers crossed!
To put it in simple terms, this anime is a phenomenon. People are buying bicycles. They're getting outside. Women are getting on the road. Perhaps it's because we all see a little bit of ourselves in Sakamichi Onoda. If that skinny little otaku can get on a bike, then so can I.
For people who love to play video games there is a new Nintendo 3DS title that was just released by Bandai Namco. The game features new rivals for the characters to face, and will be fully-voiced with an original story.
I would like to personally challenge you to watch the first episode without singing along to Onoda's favorite anime theme song. "Hime hime, hime, suki, suki…"

Laura is a Douglas College student and an avid anime aficionado. She can sleep through anything, except the latest manga chapter release. Any questions, fire off a message to lmdeheer@shaw.ca!