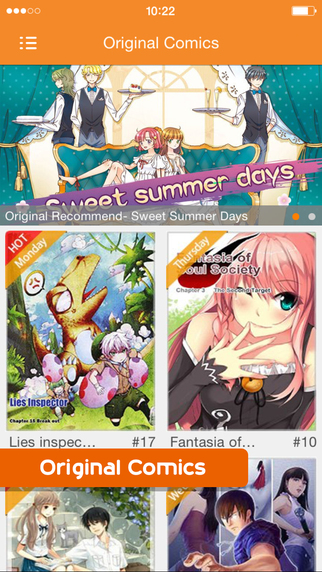 Manga e-reading apps have really grown up in the last few years as companies are starting to employ more features in order to standout in a crowded landscape. Some are trying to emulate the flat design principles that Google is hyping and others are just giving you an excellent user experience. Lets take a look at the best manga apps of 2015.
Zingbox Manga – ZingBox is a free manga reader app for Android which provides the most amazing manga reading experience. You can read manga in a clean and easy-to-use interface. It supports paper-rolling, page-turning, landscape and portrait mode.
What I like about this app is that they have a ton of original content. They make it easy for independent artists and self-publishers to submit their manga into their service.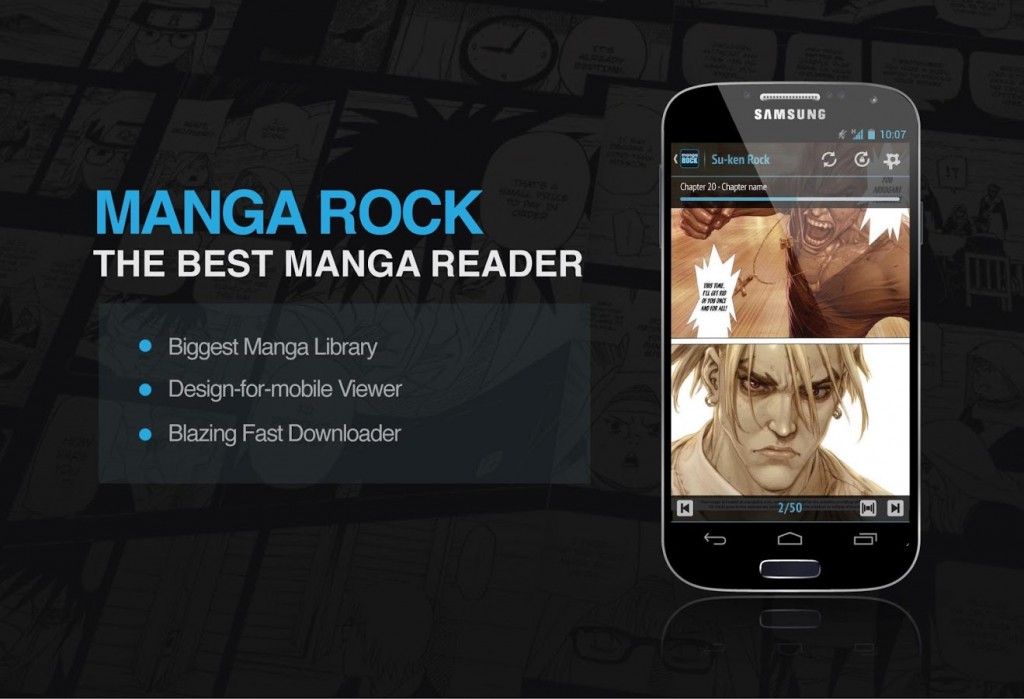 Manga Rock – Manga Rock is a brilliant app to read manga, not only has it one of the best reading UIs out there, but it's also extremely easy to get hold of manga as well. It can ever deliver manga in more than just English, which is great for those in other parts of Europe and even Latin America. I can't stress enough how good it is to see a developer take advantage of what Android 4.1 and above can bring to app design, the slide-out drawer and action bar are used to great effect and there's even smart use of gestures such as pinching and more.
The vast variety of manga and fast speed of the app makes this a no-brainer for those already heavily invested in manga but, those just starting out will find a welcoming app to start something new. For those starting out I'd recommend just taking a look at the huge catalogue on offer and choosing something to get your teeth stuck into. Manga Rock will make your commutes quicker and your lazy Sundays more fulfilling. Don't forget to download which version you need, there's one for US residents and one for those outside of the US.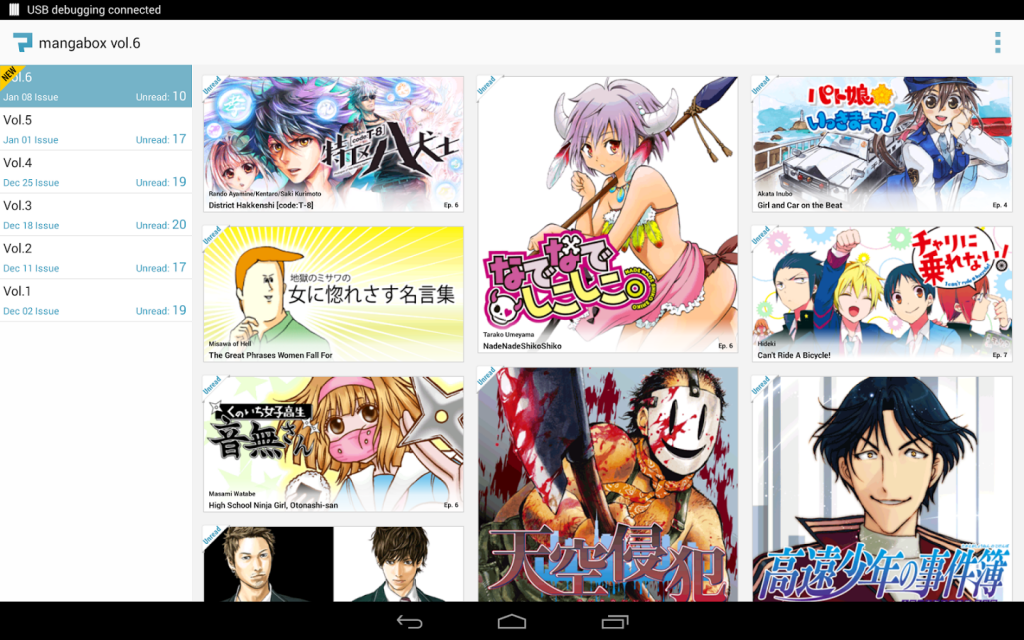 Manga Box – This app was developed by DeNA who have an extensive track record of quality app development for Android. Manga Box is hosting manga from Kodansha, as well as Shogakukan and DeNA itself. The company also plans to add more publishers to the app in the future.
Some of the manga featured on Manga Box are being published simultaneously in both English and Japanese, and the app is available on the iTunes Store and on Google Play in 140 countries and regions around the world. DeNA also plans to add more languages to the app in the future.
Manga Box will allow users to read the 12 most recent issues of manga for free, and the users can also read the first 100 pages of the first volume of each series at all times.
Shin Kibayashi (one of the many pennames of Tadashi Agi and the creator of The Drops of God, Kindaichi Case Files, and GetBackers), is serving as editor-in-chief of the app. DeNA is selling e-books and printed books of the manga published on Manga Box, and also plans "a variety of movie adaptations and merchandise based on the series in collaboration with Dentsu Inc."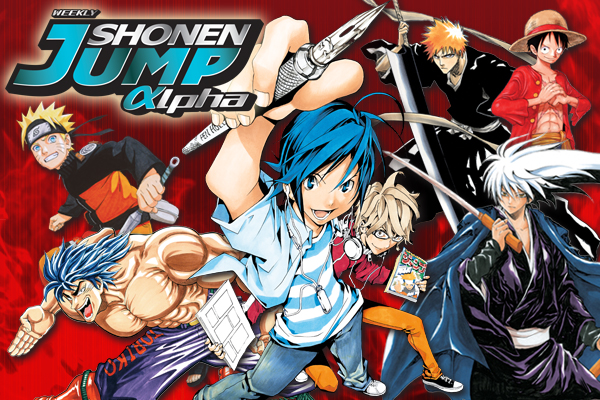 Viz Manga – Viz is certainly a force to be reckoned with when it comes to manga production. They have lots of really great retro stuff such as Random 1/2, Berzerk and Bleach. The free VIZ Manga App continues to be the top application for reading digital manga and features a massive library of 2,000 volumes across nearly 200 different series.
You can read manga in both portrait (where it appears as a single page) and landscape (where it appears as a two page spread) orientations. Portrait gives you a larger page, which is very nice, but landscape feels a bit more natural to me. They're both quality ways to read manga, and it's easy to adjust your reading experience to your preferred orientation.
Viz's pricing is pretty good. It seems like it's divided up according to page count, with exceptions for certain titles. Most manga, such as the popular Shonen Jump or Shojo Beat titles, will run you $4.99. These books run in the neighborhood of two hundred pages, give or take a couple dozen pages. For $5.99, you can purchase longer works, from 200 to over 300 pages. This includes many of Viz's SIGIKKI books, several of which we've talked about before. These books tend to be aimed at a more mature audience than Naruto or other shonen titles.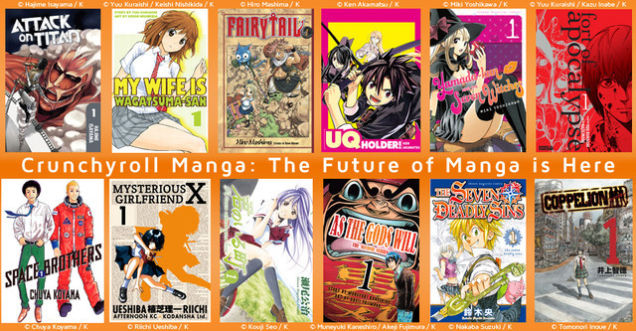 Crunchyroll Manga – Crunchyroll is best known for their television and streaming manga video app. They have dedicated apps basically for every single platform out there, including Android, Apple and Xbox. Last year they launched their impressive Android Manga Reader app and the big selling point is it has new manga chapters the same day they are released in Japan.
Crunchyroll is different from almost all other manga services in one important respect: It is a streaming service. The user cannot download the manga. Given a choice between free streaming manga or download-to-own manga at a price, a substantial part of the manga audience has opted for the free service. There is no shortage of users that can use the service either, its available in almost 180 different countries.
So how does the app actually perform? Crunchyroll Manga comes with a sleek, minimalistic interface and responsive swiping and zooming-in gestures, which make the reading quick and enjoyable. Also, the content, itself, looks great on a good screen. The guide mode shows you mangas, panel by panel, allowing you to focus on the drawings and observe even the smallest details. This is a great feature that no other manga apps we know of have. There is also a huge number of free chapters are available for sampling, making it easy for you to discover interesting titles.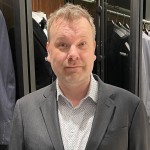 Michael Kozlowski has written about audiobooks and e-readers for the past twelve years. Newspapers and websites such as the CBC, CNET, Engadget, Huffington Post and the New York Times have picked up his articles. He Lives in Vancouver, British Columbia, Canada.