Description
Soft and colourful, the Bookeen Saga e-reader accompanies the reader in every one of their literary epics. Thanks to the FrontLight, you can read comfortably day and night, for hours at a time, because of its battery life of nearly several weeks. When you lift the smart cover of the Bookeen Saga, you will be taken to the last page you were reading, so that you never get lost. Finally, left-handed readers will no longer be left out because the controls are adapted by simply turning the e-reader.

Technical Specifications
Multi-point E-Ink touch screen
Screen: 6 ' '/Resolution: 1024 x 758/PPI: 213
Technology: E-Ink
Tactile: Multi-point capacitive
FrontLight
Invisible Film Guiding Light
Anti-glare/LED Treatment
20 Levels of light
Fast and powerful processor
CPU: Allwinner A13 Cortex A8 1GHz
Compact and elegant Design
Dimensions: 134 x 155 x 15 mm
Weight: The Saga is an all-in-one reader of 320g with cover
Storage
8GB, more or less 8 000 ebooks
Buttons
Mechanical buttons: FrontLight, front page and Back page, menu, ON/off
Connectivity
Wi-Fi (802 .11b/g/N)
Autonomy
Battery: 1900 MAh
Autonomy of about 1 month (depends on the use of Wi-Fi)
Gyro
Built-in Gyroscope for right and left handed
Components
Exit and standby with Smart cover
Cable for battery charge and timing
Features
Simplifying the layout/notes/bookmarks/highlighting/dictionaries (depends on the interface settings)/search/20/progression character sizes in the book/export notes
Software
Internet browser/OS: Linux/Adobe Reader Mobile SDK 10/EPUB Standards Supports: epub, PDF, Adobe DRM, HTML, TXT, FB2, DJVU
Images: JPEG, PNG, GIF, BMP, ICO, TIF, PSD
User Interface in 27 languages
What's in the box?
The box contains everything needed to start using the Bookeen Saga e-reader:
-The Bookeen Saga e-book device (2-year warranty)
-A micro-USB charging cable
-Quick Start GuideMulti-point E-Ink touch screen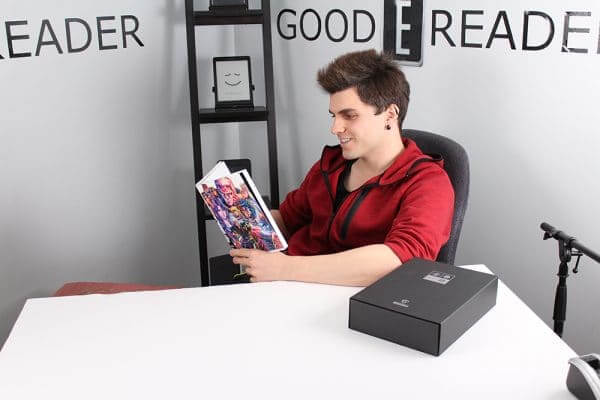 Peter is the director of ecommerce at Good e-Reader. His primary task is to make sure that everything runs smoothly and everyone receives their purchases quickly.