Description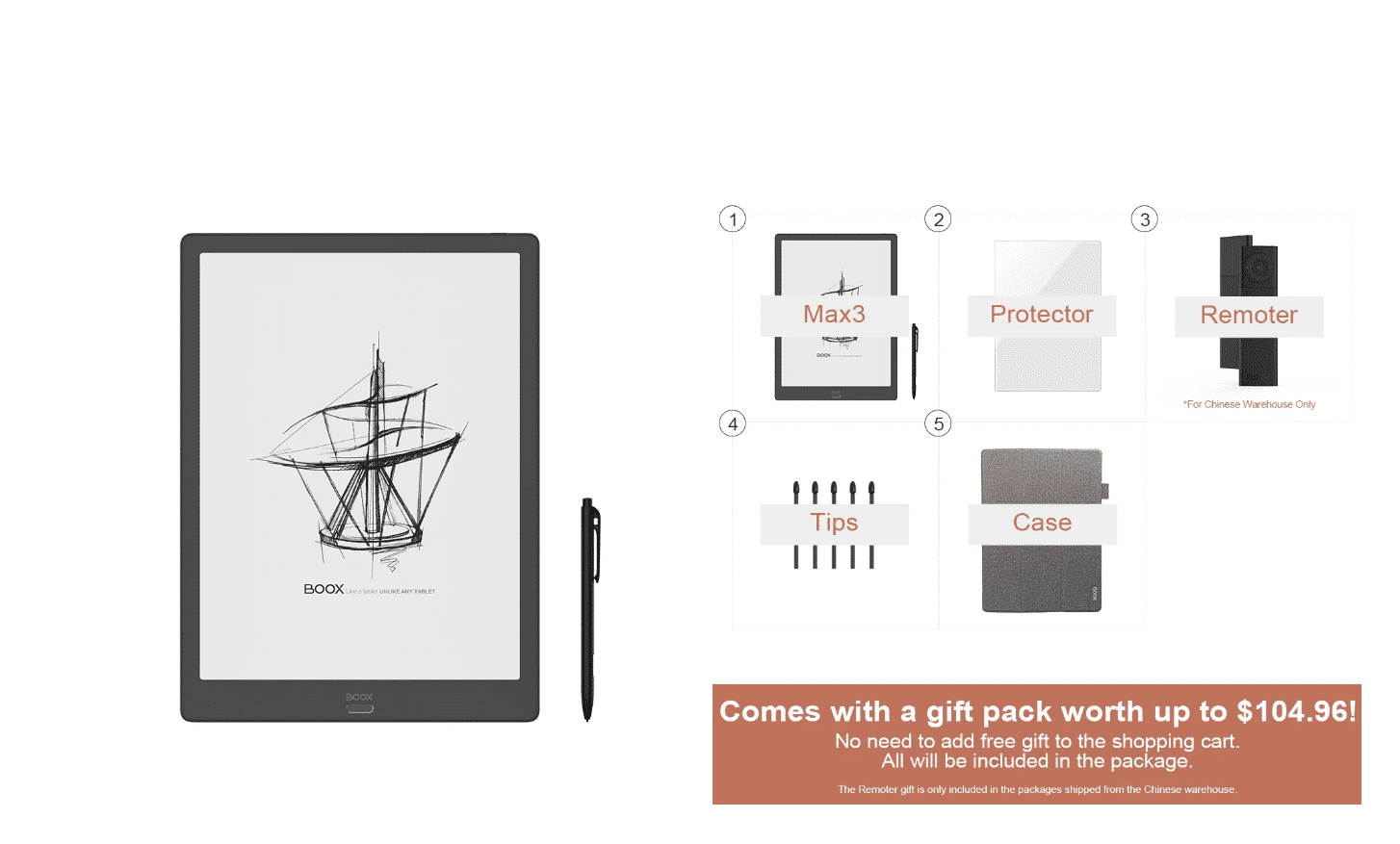 Onyx has just launched the best e-reader the company has ever made. This device features Android 9.0 OS, an absolutely huge breakthrough for e-readers, because the vast majority use Android 6.0, which has known security vulnerabilities. This model is only available in black, the white model was discontinued.
BOOX Max3 features a 13.3-inch E-ink Mobius and Carta display and a resolution of 2200×1650 and 207 DPI. It has a WACOM screen for the stylus and a capacitive touchscreen for interactions involving swipes and gestures. The Max3 will also feature a PMMA based display, so the screen will not get damaged no matter how hard you press on the stylus. And at the same time, PMMA based display offers a vivid handwriting experience like on real paper. The accompanied Wacom stylus has 4,096 levels of pressure sensitivity.
The Max3 has an HDMI port that can connect up to your PC and acts as a secondary monitor. The software for the secondary monitor is excellent. It has four refresh modes used for different situations such as browsing the web or programming with different refresh rates and contrast.
Underneath the hood is a Qualcomm 2GHz Octa-core processor, 4GB of RAM, 64GB of storage. This is the first time Onyx has employed an Octa-core processor and it dramatically increases performance when taking notes or running Android apps. You can surf the web and access cloud storage with 5G WIFI.
You can keep your MAX3 secure and only you can access the device. It has a has a fingerprint recognition feature that strengthens the security of your personal information, and unlocks the device by just tapping a finger on the back button.
Currently a great number of mobile phones support OTG, and so does Max3. Max3 has a USB-C port that allows it to connect peripherals such as a wired keyboard, mouse, TF cards and other USB devices without having to install any driver.
Most Android driven e-readers get a few weeks of usage, before you to have to recharge the device. Onyx is using a gigantic 4300 mAh battery can last about 40 days. It also supports Quick Charge, so you can plug it in and have it fully charged in mere 2 hours.
Full Specs
13.3″  E ink flexible screen with flat cover-lens
2200×1650 Carta (207dpi)
16 gray scale
Capacitive touch+Electromagnetic pen touch(WACOM)
Qualcomm Octa-core 2.0GHz
4GB LPDDR3 memory
64GB EMMC storage
Wi-Fi (2.4GHz + 5GHz)+ BT 4.1
Software
Regal refresh
Android  9.0
Documents Format: PDF, EPUB, TXT, DJVU, HTML, RTF, FB2, DOC, MOBI, CHM…
Images Format: PNG, JPG, TIFF, BMP
Audio Format: WAV, MP3
APP Store: BOOX store
Support DRM
Others
Buttons: power, back button with fingerprint recognition
Monitor Interface: Micro HDMI
Expansion Interface: Type-C (support OTG)
Speaker: Dual Speakers
Mic: Dual Microphones
Earphone Jack: Type-C earphone jack
Battery Capacity: 4300mAh Polymer Li-on
Battery Life: Up to 4 weeks (standby mode)
Dimension: 309.8*227.8*6.8mm
Weight: ≤490g