Description
This InkPad 3 features a 7.8 inch E Ink Carta display with a resolution of 1872×1404 and 300 PPI. It has a front-lit display with 10 white LED lights and 9 orange. I was surprised on how good this new Pocketbook ereader performs in low light conditions or complete darkness. I think this is primarily attributed to Pocketbook using new white LED's than previous models, such as the Pocketbook Touch HD 2.
One of the big advantages of the smartlight/warm light display i s that you can mute the bright white screen into various degrees of orange. Pocketbook really hit a homerun with being able to really configure this experience, resulting in a ton of different options to warm up the screen. This is the first e-reader to really get this right.
Underneath the hood is a 1GHZ dual core processor, 1GB of RAM, 8GB of internal storage. There is a MicroSD port to enhance the storage up to 32 GB. This device does not have a 3.5mm headphone jack or a speaker, but Pocketbook has pioneered the concept of an audio dongle that plugs into the Micro USB port and has an audio output. This allows you to listen to audiobooks, music or podcasts. The InkPad 3 also has a text to speech engine, so you can initiate this function and have your books read aloud. The default is English, but there are 15 language packs to download from the main Pocketbook website.
The one thing Pocketbook has always done right is include manual page turn buttons on their ereaders and the InkPad 3 is no exception, you can easily hold it with one hand thanks to it only weighing 207 grams. It is made of plastic with not aluminium, so this cuts down on the overall weight.
InkPad 3
Enjoy reading, keep listening
The new e-reader supports MP3 format via micro USB adapter. For auser it means not only convenient opportunity to listen to music while reading, but also enjoying audiobooks. Moreover, Pocketbook InkPad 3 supports Text-to-Speech function, which converts text into spoken voice. Just choose a book and switch on Text-to-Speech and the e-reader will read aloud any text file in any of the supported formats.
Refined design, perfect ergonomics
PocketBook InkPad 3 pioneering the new PocketBook design concept. The refined design ably combines the opposites – smooth rounded corners and sharp edges, soft-touch parts of housing and glossy buttons. All the elements of the e-reader harmoniously emphasize each other's elegance and perfectly merge into one.
The large size along with the record low weight of only 210 g makes PocketBook InkPad 3 great companion for impeccably comfortable reading anywhere – at home and office, outdoors and traveling. The device with dimensions of 195 x 136.5 mm is only 8 mm thin. On the front, there are ergonomic paging buttons, which may be used most conveniently together with the touchscreen of the device. Due to the inbuilt g-sensor the user can choose the most convenient way to hold the e-reader – in vertical or бhorizontal position.
| | |
| --- | --- |
| Display | 7,8″ E Ink® Carta™ (1404 × 1872) |
| Frontlight | + (SMARTlight) |
| Touchscreen | Capacitive (multisensor) |
| Dimensions | 195 x 136,5 x 8 mm |
| Screen material | glass |
| Shades of gray | 16 |
| Colour | Dark brown, Black |
| Accumulator | 1900 mAh (Li-Ion Polymer), up to month without charging (Battery life and values mentioned above might vary depending on usage mode, connectivity and settings) |
| Processor | Dual Core (2×1 GHz) |
| Operative memory | 1 GB |
| Flash memory | 8 GB (the actual available internal storage size may vary depending on the software configuration of your device) |
| External memory slot | microSD (32 GB at maximum) |
| Audio Out | – |
| Formats of e-books | PDF, PDF(DRM), EPUB, EPUB(DRM), DJVU, FB2, FB2.ZIP, DOC, DOCX, RTF, PRC, TXT, CHM, HTM, HTML, MOBI, ACSM |
| Formats of images | JPEG, BMP, PNG, TIFF |
| Formats of audio | MP3 |
| Weight | 210 g |
| G-sensor/Accelerometer | + |
| Speakers | – |
| Camera | – |
| Wireless connectivity | Wi-Fi (802.11 b/g/n) |
| Additional features | PocketBook Cloud, ReadRate, Dropbox, Send-to-PocketBook, Book store, Library, Dictionary, Browser, Audio player, Gallery, Calculator, Notes, RSS News, Chess, Klondike, Scribble, Sudoku |
| Casing material | Plastic, 'soft-touch' |
| Dictionary | ABBYY Lingvo® dictionaries (24 language combinations), English – German, Webster's Dictionary 1913 |
| Developer | PocketBook |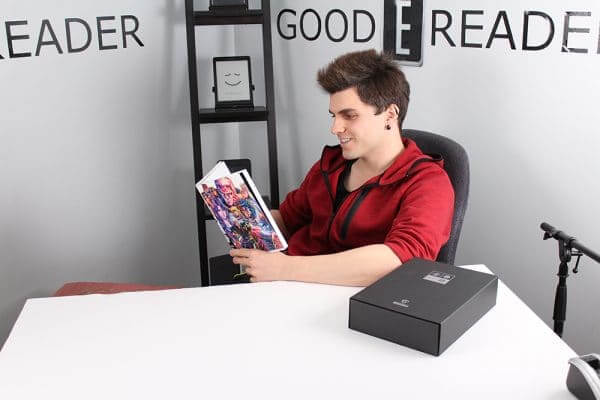 Peter is the director of ecommerce at Good e-Reader. His primary task is to make sure that everything runs smoothly and everyone receives their purchases quickly.