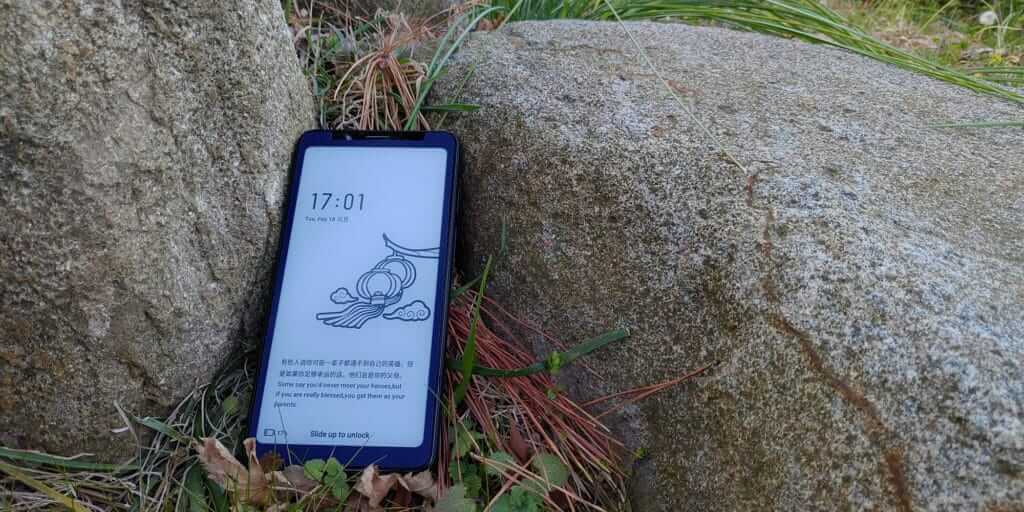 The Hisense A5 is one of the only epaper phones currently on the market and it runs Android, which means you can install  your own apps. It does not have the Google Play Framework installed out of the box, so you will have to download APK files yourself or install a third party market. This device is great for reading ebooks and you only have to charge it every few weeks, making it a very compelling value proposition.
Hardware
The Hisense A5 is employing a 5.8 inch E INK Carta HD display with a resolution of 1440×720 with 278 PPI. It has a front-lit display to read in the dark and to illuminate the display, but it does not have a color temperature system.
Underneath the hood is a Snapdragon 439 processor, which has 8 cores. It has 4GB of RAM, which is more than capable of making this phone snappy and robust. There is 32GB of internal storage and it does have an SD card on the SIM card tray to expand it up to an additional 64GB. It is powered by a respectable 4,000 mAH battery and it does not have a USB-C port, just MicroUSB.
The rear facing camera has a resolution of 4160×3100 pixels and the front-facing camera has a resolution of 1920×1080 pixels. You can only use the front snapper for video calls on Skype or Whatsapp. It can also be used to unlock the phone with just your face.
The Hisense A5 has Bluetooth 5.0 and also GPS, A-GPS, Glonass and Beidou. This will allow you to use mapping systems to find directions. It has WIFI  and supports all of the major aspects, but does support have 5G.
These are the carrier frequency bands the A5 supports.
GSM: B2/B3/B5/B8
CDMA: BC0
TD-SCDMA: B34/B39
WCDMA: B1/B2/B5/B8
TDD-LTE: B38/B39/B40/B41/B34
FDD-LTE: B1/B3/B5/B7/B8
This device is using a ES9318 professional HiFi chip, which can play audiobooks, music or podcasts. The digital content is emitted from a single speaker at the top of the phone. This is the same speaker that you would  use for speaker calls, while talking on the phone. There is also a 3.5mm headphone jack to plug in a pair of headphones, although via Bluetooth, you can attach a pair of wireless buds. On the sides of the device are a pair of volume buttons and power button. The back is rather clean, with just a Hisense Logo.  The dimensions of the Hisense A5 are 74.6×154,7.95mm and weighs 157G.
This phone is basically an entry level device, it does not have a 300 PPI display, it was designed to be a low-cost E INK phone, where you can make calls, read ebooks, listen to audiobooks, use apps, but the main draw is the front-lit display and the ability to go weeks without charging it, the average smartphone needs to be charged daily.
Software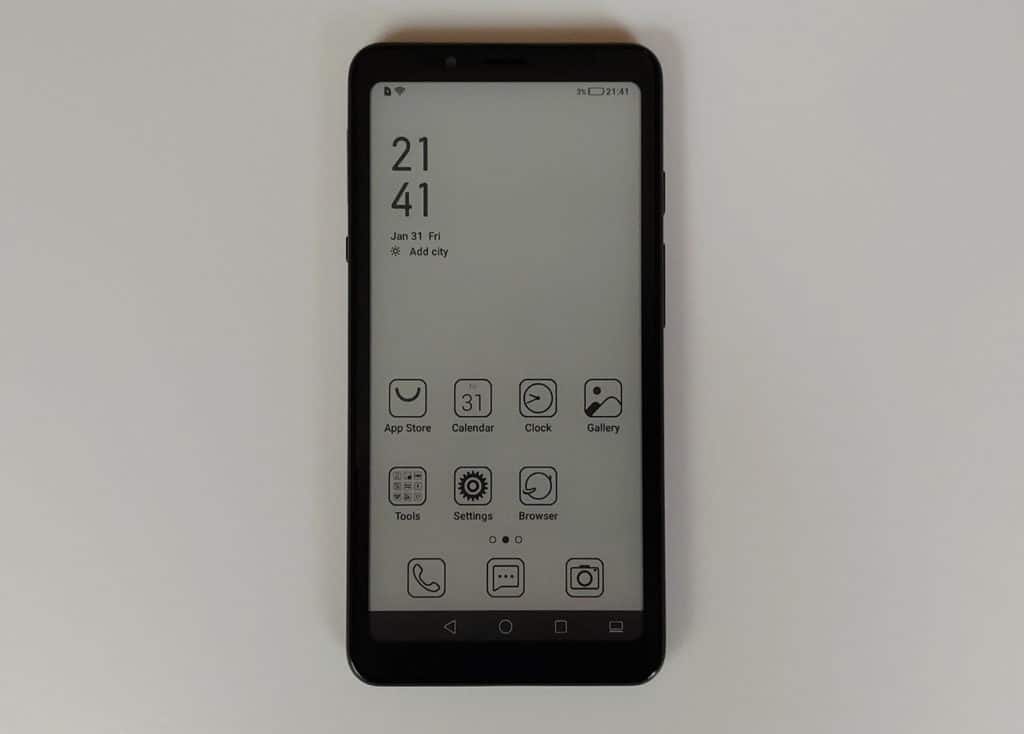 The Hisense A5 is using Google Android 9, which only a few E INK devices are currently running. The only others are digital note taking devices from Onyx; the Note 2 and MAX 3.
The A5 is using a proprietary skinned version of Android. On the top left are your Android notifications and WIFI network. On the far right is the time and remaining battery life.  The homescreen has some default programs such as a folder for all of your apps, calendar, clock, gallery, tools, settings and a basic webkit browser. On the bottom UI is an option to make phone calls or browse your contacts, messaging client and camera.
If you swipe up no the home screen you can view or install widgets. This could include weather, clocks and anything else that has a widget. I would caution against using widgets, because it defeats the purpose of an E INK product. E INK only consumes battery life if a static page changes, if you have a clock, that is always counting down the seconds, or a weather widget, it would always fetch temperatures and drain your battery pretty quickly.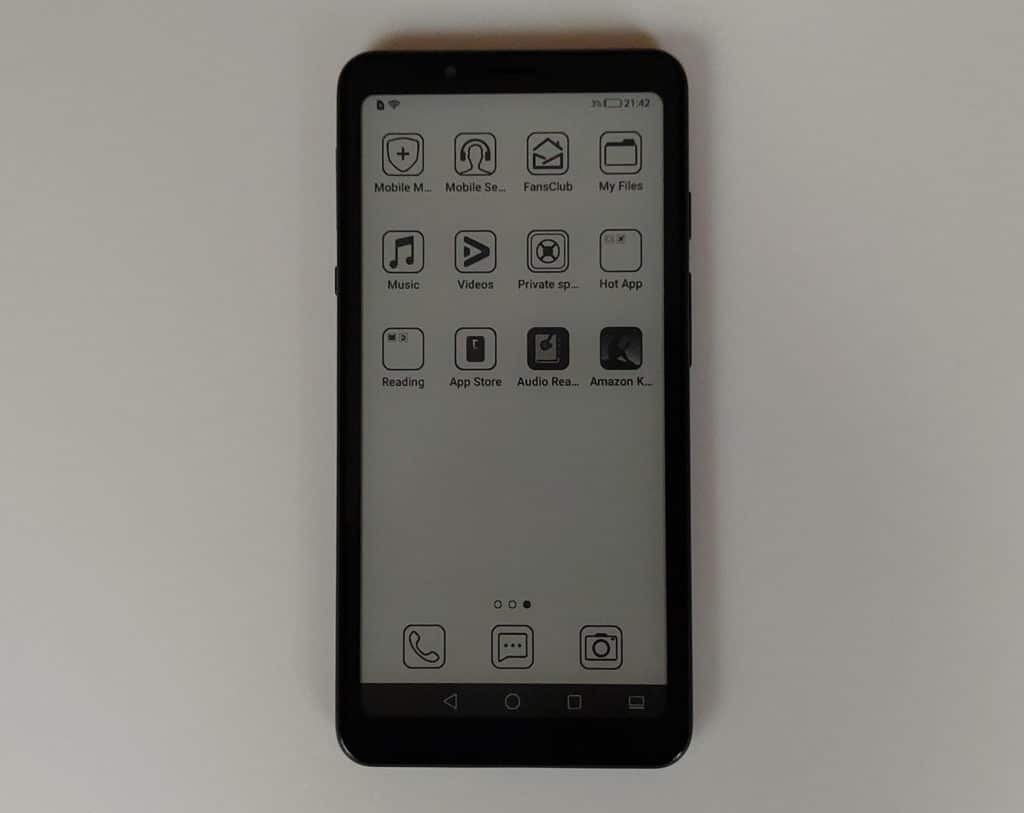 If you swipe down from the top of the page you will see a number of quick options. This includes establishing or changing your WIFI network, SIM network, turn on or off the ringer, change the orientation from portrait to landscape, turn on the Flashlight, power saving mode, geolocation services or connect to Bluetooth devices. It will also tell you if you have the latest firmware update installed, if a new one is available, it will prompt you to install the new one.
If you click on the MORE button on the very bottom of the UI. You can turn on or off the front-lit display and adjust the brightness with a slider bar. The brightness can be set manually or can use the current time to automatically set the level of brightness. There is also a speed option, which basically allows the phone to enter A2 mode, it basically ups the performance of the phone, at the expense of resolution. This is ideal for PDF documents, web browsing or using apps that have animations.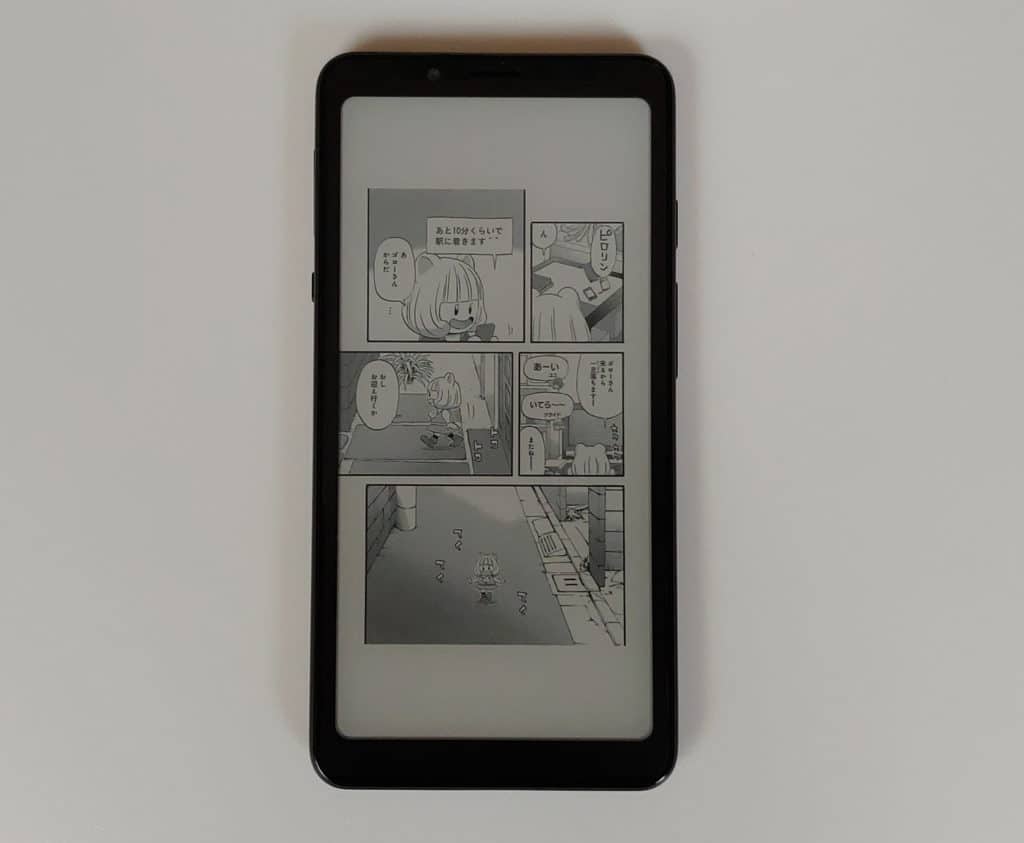 When you are reading manga, webtoons or anything that has lots of graphics, I would turn the speed mode on. Pinching and zooms are more robust, if you have the normal "clear" mode on, the pictures look better, but it sacrifices performance. I would have liked to see an option to establish speed more with specific types of content or apps, so I don't need to keep enabling and disabling it.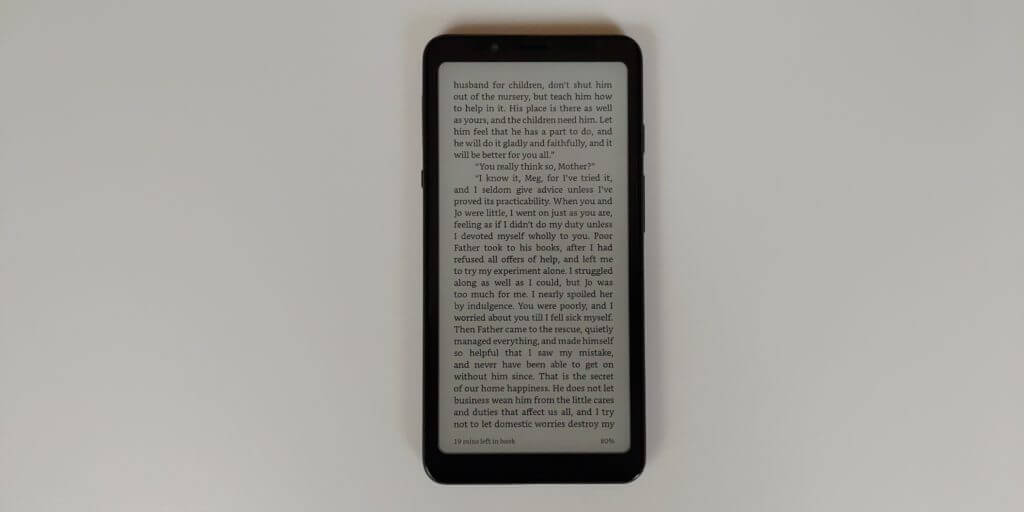 Reading ebooks is excellent. There is no real app store on the device, so  you need to sideload in your own APK files, or install the Good e-Reader APP Store, which was designed for E INK products. There are no animations or things that would detract from the overall experience. We have over 90,000 apps, and you can install all most popular to very fringe.
For the reading experience we used the Kindle app. You can do all  of the normal things you would expect. One of the cool things is audio translations, where you can convert a single word or block of text from one language to another and it reads it aloud. Page turn speeds are quick and robust, even when you have the normal mode on, that makes text look great. Various e-reading apps will provide a unique set of challenges. Many apps were designed for fully features phones, they look really slick on an iPhone or flagship Android phone, but on an E INK screen, where the refresh rate is slower, many apps will not work as intended. You will have to exercise patience when finding a few good apps that you would use on a regular basis, that blends performance with a lack of animations.
One of the features I like is an option called HiSmart. This is where  you can view your screen time on a daily or weekly basis. It will list installed apps that are optimized for the A5, we had the Kindle, Good e-Reader App Store and the web-browser.
Browsing the internet can be done with the default browser, since it is optimized for the E-INK screen you can visit general sites and read news articles. In order to view image heavy content, you will need to turn on the A2 mode and it will speed up your internet connection, although like ebooks and PDF ffiles, it will degrade the images a bit, to up the refresh rate.
There is a read it later service, where you can send blog articles to read on the smartphone. There is also news and info, but it defaults to Chinese publications, can be used to read English.
Wrap up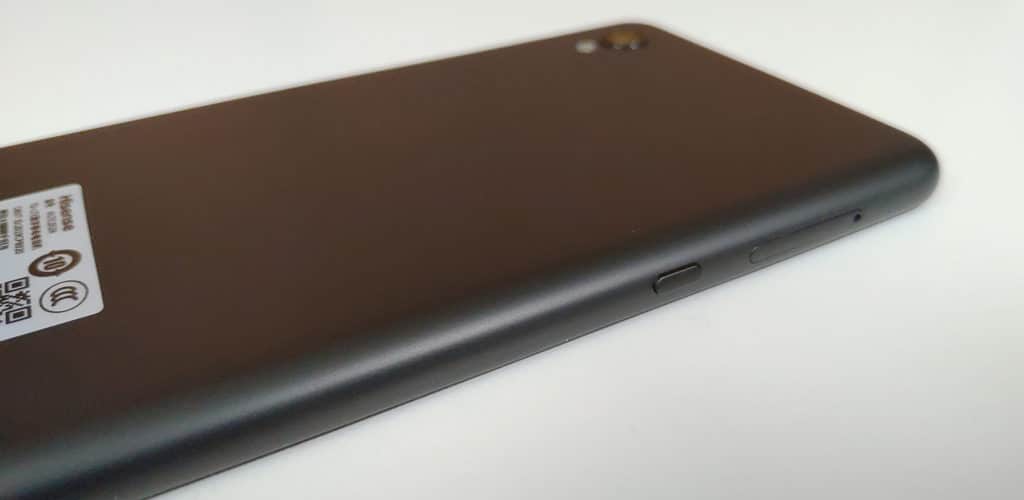 The Hisense A5 is basically the only E INK phone that you can buy right now. The Litephone 2 is not really shipping yet, the Onyx Phone comes out later this year and Yotaphone went bankrupt a few years ago. The Kingrow K1 was only available for a limited time on a crowdfunding campaign and doesn't have any retail visibility, it is a great phone, you just can't buy it, and the company refuses to partner with any vendors.
When you purchase the Hisense A5, you have to know what you are getting into. The phone has reasonable specs and generally OK performance. It has no app store, you will have to sideload apps or download another app market. App performance is hit or miss. When A2 mode is on, it makes apps good, but you lose a lot of the resolution, but it does making playing games or watching YouTube videos viable.
Would the Hisense A5 replace whatever device you are using now? It depends. If you tend to always upgrade to the latest Pixel or iPhone, the A5 would make a great secondary phone. If you tend to hang out to phones for 3-5 years before you replace them, yes, the A5 would replace your old daily driver. I would also recommend the A5 for a kids smartphone, there they could use it to get texts from mom or dad and arrange pickups, but you don't want them wasting their lives away with apps and games and Youtube,  sort of how many parents are buying older Blackberries for this very purpose.
The Hisense A5 is a capable phone and really shows how E INK can be extremely viable on a modern device.
Michael Kozlowski has written about audiobooks and e-readers for the past twelve years. Newspapers and websites such as the CBC, CNET, Engadget, Huffington Post and the New York Times have picked up his articles. He Lives in Vancouver, British Columbia, Canada.