The EE Write E-Pad is the first commercial e-reader product from a relatively new company based in China, called Wisky. They have been crowdfunding on Kickstarter and then Indiegogo for the past five months and have raised over $800,000. They are billing it as an E Ink Android tablet that is designed to take notes via a stylus and also run your favorite Android apps. How does this tablet perform and is it worth it to invest in one?
Hardware
The EE Write E-Pad features a 10.3 inch E Ink Mobius display with a resolution of 1872 x 1404 with 227 PPI. It has both a touchscreen layer for interactions and a WACOM one for taking notes and editing PDF files with the accompanied stylus. It has a front-lit display that is used to brighten up the screen and use at night or in low light conditions. The light is bright at maximum, but there is some grey area on the bottom of the screen.
Underneath the hood is a deca-core Helio X20, which should dramatically increase performance with the Android based operating system. There is 2GB of RAM and 32GB of internal storage and is powered by a massive 4,100 mAh battery.  The battery life of this unit leaves something to be desired, we reviewed the device over the course of four hours and it went from 75% to 40%. It also took around five hours to charge from 1% to 100%. It has USB-C, stereo speakers, Bluetooth and a microphone.
The E-Pad has a tray on the side of the unit that was designed for a SIM card for a 4G connection. When you open up the tray that are 2 different inserts. The tray can support 2 different SIM cards, or a Sim card and a SD card, just 1 Sim or just one SD card. There is no word on the maximum supported capacity of the SD card, but I surmise that it would likely be 64GB. Wisky has not even divulged on their Kickstarter or Indiegogo campaign that the device even has an SD card, we just noticed it during our review.
This is the first e-reader and digital note taking device that will be running Android 7.1.1. Almost every other device on the market is using 6.0 at the latest and 4.4 is the norm. It will have access to Google Play and Play Services for all of your favorite apps.
The E-Pad has a white bezel on the front and the back has a silver finnish. On the front of the unit is a simple capacitive home button. On the bottom is a microphone and USB-C port, which is used to charge the device from a wall charger or plug into your PC. There is also two speakers, most companies put the speakers on the back, which results in a better audiobook or music experience when the e-reader is lying on its back.
The audio quality is really high with the speakers. You can adjust the volume on the fly or with the volume settings on whatever app you are using, such as Audible. You can definitely listen to Spotify while you are reading. Plugging in a pair of wireless headphones is really easy, just hit the settings menu, turn Bluetooth on and engage in pairing mode. My headphones performed really well, since they have a volume controller on the side. The bass levels were a bit low, but nothing a dedicated equalizer app wouldn't solve.
Overall the design is interesting, there are not many e-readers on the market with USB-C and good quality speakers that are on the bottom and not on the back. I am not sure if the box we received our prototype will be the commercial ones, but it was just a plain white box with no branding.
Software
The Wisky is employing Android 7.1.1, which is the most modern version of the Google OS found on any e-reader. This is meant to provide a greater amount of security, since the vast majority of e-readers are running 4.04 to 6.0, and most have known vulnerabilities. I have never heard of an e-reader being hacked before, but since this device is relying on Google Play, there are tons of apps out there that try and do nefarious things.
One of the big drawbacks of this device is that it is using a Phone OS. This is because they have a SIM card tray and are trying to get people to use internet access. The Phone OS version of Android is basically making the entire home screen small and fuzzy. All of the icons are semi-pixelated and all of the nav icons are small and unreadable. There were settings to change the font size, system wide, but when we tried to increase it, there were none stop errors that kept on popping up on the bottom of the screen, saying there were problems with the resolution and enhancement engine. Hopefully Wisky can sort this out before they start shipping in September.
The Phone problem is likely indicative to running a modern version of Android, Wisky simply hasn't properly optimized it to run on their tablet. This is why most companies run Android 6.0, this tends to run really well on e-readers and you often get a great user experience, in terms of screen quality, icon sizes etc. That is not to say that Wisky is running a Vanilla version of Android, it is heavily skinned.
There are four main navigation entries at the bottom of the screen – Apps, Reader, Notes and Settings.  The Wisky basically does not have a home screen right now. It defaults to the apps screen, this includes the Chome Browser, Gallery, Play Store,  Photos, Gmail, Play Music, File Manager and an update function for the firmware.
The Reader screen comprises of your most recently read ebook and shows cover art  and what format it is in, such as EPUB, PDF etc. Underneath that is a listing of all of the ebooks on your device. On the right hand side there is a small drop down navigation entry that will help you find your ebooks in particular formats. The default is all, but you can also just display PDF files, EPUB or other.
The Notes screen lists all of the notes you have made with the accompanied stylus, notes will be featured in another section. The settings menu comprises of a bunch of options that would make you feel right at home if you have an Android phone. You can establish your WIFI connection, search and pair Bluetooth devices, adjust the sound, view battery life, uninstall apps, adjust your timezone, establish whatever language you want your E-Pad to display on a system wide basis, storage, accounts etc. You can also query the Wisky server to see if there is a firmware update available.
On the very top of the screen are a bunch of options. Your time, remaining battery life and volume adjustments. Something that stands out is an entry called "MRB."  If you hit this button there are three different modes. One is regular, which is the stock experience, in terms of refresh rate.  When you hit it again it will disable refreshes on a system basis, the screen will never have a full page refresh. This is useful if you are doing productivity type tasks or doing other tasks. The third option, M, is basically an A2 mode. It will distort the graphics a little bit and dramatically improve performance. This is useful if you want to watch Youtube videos, which this does, or doing web browsing, where you want the pages to load fast, and so what if the lead in image is a little grainy, if everything loads quicker. A2 mode is one of those things that aren't great for image heavy content, such as PDF files. But is good if you are trying Android apps.
Whenever you engage in the MRB features, it only affects the screen you are on. So if you open the Chrome internet browser, and turn on A2 mode, it will work. If you navigate out of Chrome and check your Gmail account, it will automatically revert to the normal stock experience. The same goes with the none-refresh mode, it only affects whenever screen you are on at the time you pressed the button, navigate to the settings menu, or library and it will revert back to the normal mode. I do not know if there is a bug or not.
Overall, the stock Android experience makes everything quick and robust. This is likely due to the 10 core processor, which is the most we have ever seen in an e-reader, the 2GB of RAM to handle multitasking and a recent version of Android. Whenever you click on an navigation entry, such as launching the notes app or opening up Google Play or clicking on cover art to read a book, everything is lightning quick. The only drawback is most of the navigation entries and UI elements are fuzzy and pixelated. This is something that is easily fixed by Wisky, and I hope they do before they send thousands of these out to customers.
E-Reading Experience
The default e-reading app is not very good. You cannot swipe or gesture to turn pages, you have to tap. You cannot long press on a word to call up a dictionary or to make highlights or annotations. There are a few settings at the top of the page to change the language of the ebook, useful if you are reading something in Arabic or Mandarin.  You can also skim to a certain page.  If you tap at the bottom of the screen you can adjust the line spacing  and small, medium and large are your options; medium is the default.  You can also adjust the margins to small, medium and large. There is another option to change the size of the font, there are 11 different options. If you are the type of person that likes bold fonts, although the Wisky does not have a dedicated one, you can adjust the font-weight, contrast and the gap between words, which is something cool.
Finally there is a sketch option where you can draw on EPUB files. Once you start drawing on a page or multiple pages, you can save the EPUB as another file. This will ensure that you can have a virgin copy of the ebook and another with all of your drawings and edits. Although you cannot highlight or make annotations by long pressing, Wisky hopes you will use the stylus with your ebooks instead.
The PDF experience on the other hand is actually really good. The pages turn lightning fast on documents. This does not matter if you have a 200 page document or a 1,000. File size actually does not make a difference either. The 10.3 inch screen really makes full page documents shine, everything looks razor sharp. If you engage the A2 mode on a PDF, things go even faster, I dare say it is the fastest page turn experience I have ever seen on an E Ink device.
You can draw on PDF files, once you click on the note icon.  Drawing is super fast. You can underline words, make little notes to yourself and save the PDF as an independent document. Not only can you turn pages with taps, but you can also pinch and zoom to expand a page. There are also other options such as adjusting the contrast and reflow mode. Reflow basically just stripes out of the images out of a PDF and just gives you text. Be prepared for a long wait, as each page needs to be automatically converted, if you have a 300 page PDF, you will likely wait around five minutes.
Digital Note Taking
We have touched a bit on note taking in reference to editing ebooks and PDF files, but the E-Pad is all about the dedicated note taking app.
First let's talk about the stylus. It is made of the same cheap plastic design that you see on popular brands such as Onyx Boox and Boyue. There is a stylus clip, so you can attach to a case or wear it on your pocket lapel. There is an eraser tip on the top, that will erase anything you press it on. The stylus has over 4096 degrees of pressure sensitivity, whereas the Sony Digital Paper has 0.
The Note app has a UI that is on the top of the screen. You can adjust if you want your stylus to be a pen or a pencil and what type of lines you want, bold or thin, or anywhere in between.
There is a noticeable delay from when you start drawing to when you complete it. During our review video we quickly drew a bunch of lines across the screen and there was definitive lag. When you use the eraser function on the lines we drew, the UI switched to the eraser tab, and when you start drawing again, it doesn't work. You need to switch off the eraser tab and back to the pen icon.
There is a rudimentary text conversion engine that will take your writing and convert it to text. It does an adequate job when writing in English, but falls off a cliff if you use different characters such as Japanese.  You can also not only save your notes, but also send them to whatever apps you have installed on your E-Pad, this would include, Dropbox, Evernote, Skydrive or whatever your favorite cloud storage solution is.
There is a back and forward button, this is useful if you accidently delete the entire page or erase something you shouldn't have. You can go back a few steps or forward a few steps. You can also delete the entire page or just save it to the internal memory of your Wisky.
Overall, the stock default writing app is not as good as the Sony Digital Paper, SuperNote A5, or any of the Boyue or Onyx products. Wisky has their work cut out for them to increase the latency of the stylus on the screen and to boost the performance. Right now, the latency is the major problem, and this will affect artists the most.
Wrap up
The Wisky has some serious bugs in order to be ready for prime time. They intend on shipping off the first batch of devices to people who invested in their crowdfunding campaign. I believe they need to solve the pixelation issues with their top UI and most of the icons. The note taking experience needs to be overhauled in order to improve latency, there is no reason why this can't be better. The hardware is there, the company raised $800,000, they can devote a week of some engineer to look into the Kernel and the apps, and make a few adjustments.
The physical construction of the device is really good and the sound quality is excellent. The modern version of Android is very compelling, the company said they will launch with 8.0, but our review unit had 7.1.1. I want the E-Pad to succeed.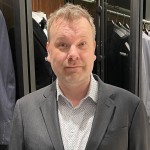 Michael Kozlowski has written about audiobooks and e-readers for the past twelve years. Newspapers and websites such as the CBC, CNET, Engadget, Huffington Post and the New York Times have picked up his articles. He Lives in Vancouver, British Columbia, Canada.