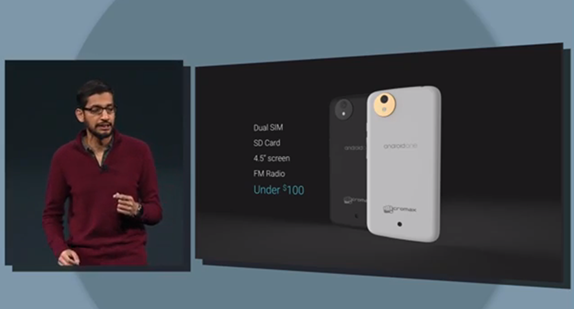 Smartphones have always faced two primary complaints: they are expensive and (at least when it comes to the hardware diversity Android enjoys) there are no standards to adhere to –meaning no two phones are necessarily created equal. With the announcement today that Google has created Android One, neither is a problem any longer. Created to be a reference platform, OEMs can now build high-quality and affordable phones that come loaded with 'stock Android' and all of the benefits that affords (like automatic updates and access to Google Play for app downloads).
During the keynote earlier today, Google previewed a device with a 4.5″ screen, SD card, FM radio and support for dual SIM cards –all with a price-tag of under $100. No carriers in the USA are on-board with the idea yet, but Android One is really meant more for the developing world and as such will begin in India later this year (partnering with Indian smartphone makers like Karbonn and Spice).
Using Android One as a hardware reference model serves many purposes. Beyond the obvious benefit already described that involves creating quality smartphones at low cost, it may also serve to help lessen the fragmentation in the Android market –making it easier for developers who will no longer have to consider so many different configurations when designing their software.

Jillian Koskie is an experienced software developer, content writer, project manager and usability design expert. With over 17 years in these roles, Jillian has enjoyed applying her skill-set to assist clients and users across a wide variety of sectors including: legal, health, and financial services. Combining these professional opportunities with a love of technology, Jillian is pleased to contribute articles, opinions, and advice to numerous news outlets, websites, and publications.