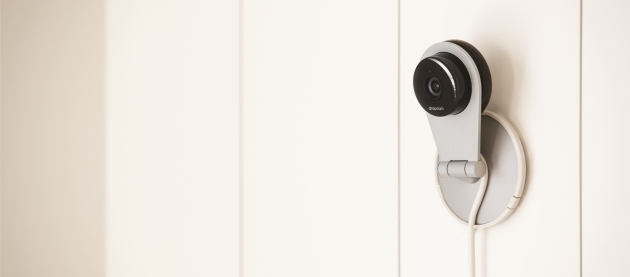 A lot of companies are buying a lot of other companies these days, with one of the latest acquisitions being Nest's $555 million dollar grab for Dropcam. Designed to be a cloud-based WiFi video streaming service, Dropcam may seem like an unusual investment for a company known best for thermostats and smoke/carbon monoxide detectors; at least until you consider that there seems to be a lot of industry movement toward home automation and monitoring (and what better way to check in on what's going on around the house than with wall-mounted, Internet aware cameras?).
Matt Rogers, the founder of Nest, hasn't said much about their specific plans for Dropcam, but has assured customers that their privacy is one of his chief concerns (which is a relief when you think of the potential risks that stem from having a Google Now-enabled home):
"Once the deal closes, we'll incorporate Dropcam into how we do business at Nest. That includes how we handle everything from customer support to customer privacy. Like Nest customer data, Dropcam will come under Nest's privacy policy, which explains that data won't be shared with anyone (including Google) without a customer's permission. Nest has a paid-for business model and ads are not part of our strategy. In acquiring Dropcam, we'll apply that same policy to Dropcam too."
What aspect of home-automation makes you most excited? Keeping your lights active while you are on holidays? Checking in on the nanny while you are at work? Making sure the cat is staying off your kitchen counter (yeah right!)?
Jillian Koskie is an experienced software developer, content writer, project manager and usability design expert. With over 17 years in these roles, Jillian has enjoyed applying her skill-set to assist clients and users across a wide variety of sectors including: legal, health, and financial services. Combining these professional opportunities with a love of technology, Jillian is pleased to contribute articles, opinions, and advice to numerous news outlets, websites, and publications.