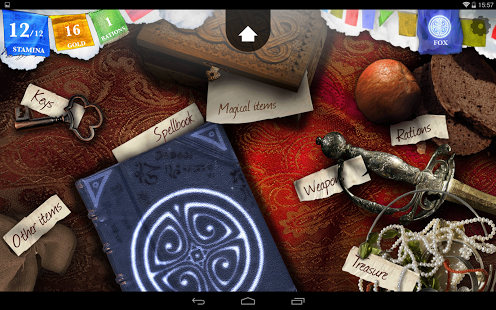 Bridging the gap between ebooks and role-playing games leaves you with a new genre of app: gamebooks. Essentially adding another dimension, gamebooks immerse the reader into the narrative by allowing them to make choices that influence the outcome of the story. Many of you will remember this formula from the popular "Choose Your Own Adventure" books that have thrilled young readers for decades. Using the Inklewriter engine, Steve Jackson's Sorcery! is available for your Android in a thrilling and unique way!
Traditional role-playing games use strategy and skill to guide you through the story, but gamebooks are special because they employ your imagination. While the illustrations inside Sorcery! are gorgeous and elaborate, the words on each page paint the real picture.
Written as a four-part fantasy adventure, Sorcery! presents users with thousands of choices –each of which serves to shape and personalize the story on the fly. Joyfully, these permutations change the timing (or even the existence) of fights, dialogue, and locations such that the outcome is truly unknown until you get there. To get the most out of your experience, pay close attention: you need to outwit monsters by learning their weaknesses and master a host of magic spells while you embark on a tremendous journey across a beautiful hand-drawn 3D map.
If you love reading as much as you do adventure, download Sorcery! now for $5.50 CAD and let your imagination run away with itself.