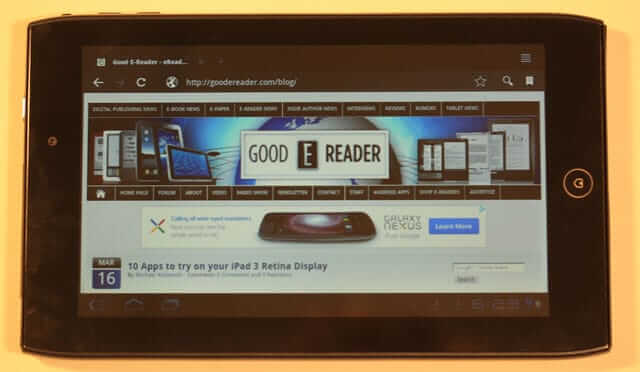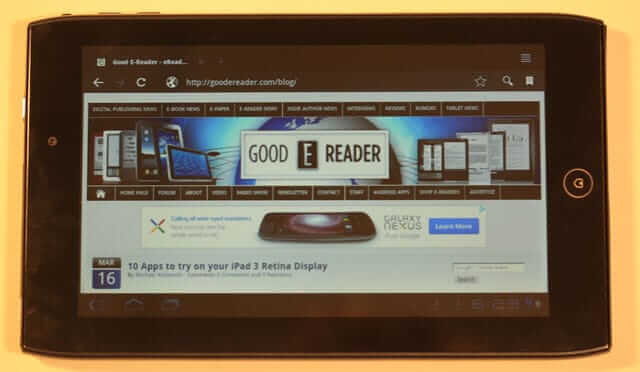 We just got our hands on the Acer Iconia A100 that we originally saw at Computex in Taiwan last year. I admit we are a bit late to the game with this edition but it has recently came down in price and we needed an Android development tablet. It is a solid mid-range offering that gives you a taste of Google Honeycomb, with ICS promised in April. How does it stack up against other seven inch tablets, and is it a good e-reader?
Hardware
The Acer Iconia A100 features a seven inch multi-touch display with a resolution of 1024×600 pixels. It has a Nvidia Tegra 2 dual-core 1GHZ processor underneath the hood, along with 512 MB of RAM. It has 8 GB of internal memory but you can jack it up to 32 GB via the Micro SD.
I found this device to be the perfect blend of effienctcy and hardware. Programs and apps load up fairly quickly and streaming audio/video run with no stuttering at all. I found its more robust in handling a pure Android experience then many other tablets costing $100 more.
The bottom of the device features two stereo speakers and they actually do a really good job at handling audio. I would honestly say it blows the iPad 3 and Nook Tablet out of the water in a great audio experience. One of the factors that kicks it up a notch is the Dolby Audio baked right into the firmware. In between the speakers lurks a HDMI port, docking port, charging and Micro USB. On the right hand side is a SIM and Micro SD that is covered up by a plastic flap to prevent dirt and dust from getting in there. Its a small thing protecting this sort of thing and many companies don't even bother, but its the little things that count. Above that is two audio toggles and an orientation lock. On the top of the device is your power button and there is nothing on the left hand side. On the back of the Iconia A100 is a 5 MP camera with LED Flash and on the front is a 2 MP camera used for video chatting. There is also a small microphone that picks everything up fairly well.
I found battery life to not be the best with about 6 to 8 hours of constant use. Of course the more video intensive things you are doing it will degrade further. One of my beefs is with tablets that need to be manually plugged into the wall and cannot charge with the USB adapter.
In the end, even though this tablet came out in Q4 of last year it still stacks up well against most other tablets and Android e-readers on the market. I would recommend this more then the Kobo Vox, Pandigital Novel, Micro Cruz and many other tablets that cost $200 or less.
Software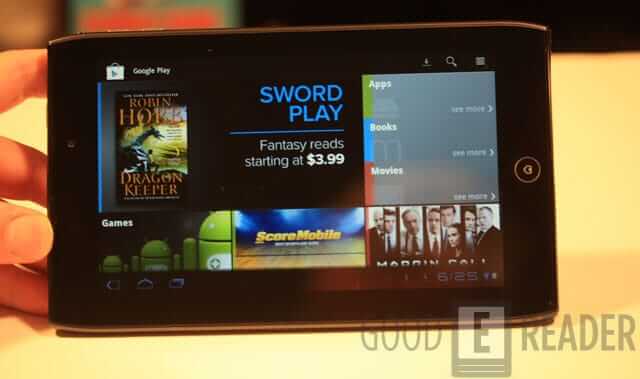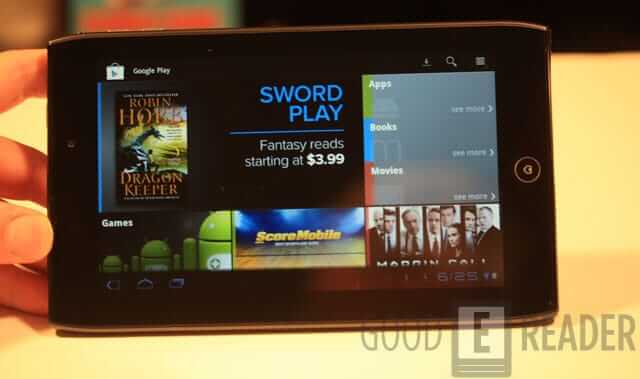 The Acer Iconia runs Google Android 3.2 and will be rolling on a Google 4.0 update by April 2012. One of my concerns with Honeycomb in general is that you cannot save apps to your Micro SD card and must use your internal device memory.
One of the elements that makes this a good buy is that it has the full Google Play Market. You can easily download eBooks, Videos, Audio and Android Apps and be notified when there is updates available. Around 70% of all tablets on the market do not have access to the Google Play Market, which really limits the number of apps you can download. Sure devices like the Kobo Vox has Getjar and the Skypad Alpha 2 has 1Mobile, nothing compares to the Google edition.
Acer has bundled its own category applications on the Iconia A100, and makes the organization of apps a little bit easier. It has an e-Reading, Games, Social and Games Manager. This is a nifty little GUI system that allows you to have a dedicated mini-portal where you can make shortcuts to all of your applications.
There is also a number of pre-loaded apps that are akin to bloatware but should serve specific customers well. It has Documents to Go, Media Server, Aupeo and also a Tegra 2 App Store. Most of the games and apps available in that store are geared towards higher end processors and HD graphics.
As an e-Reader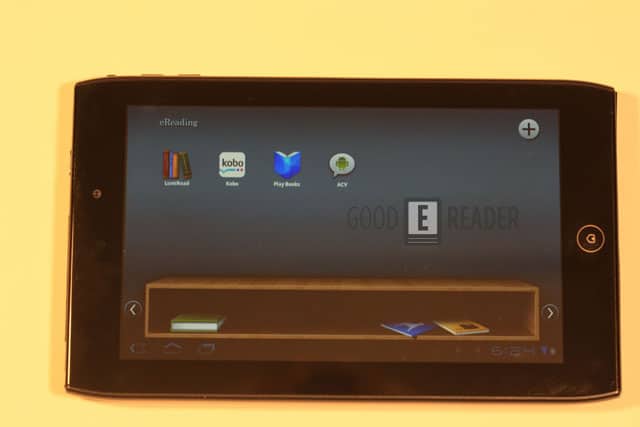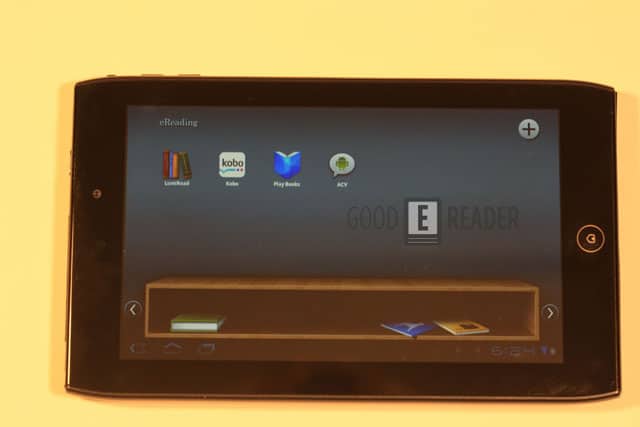 If you want to utilize this device as an e-reader you are in luck because the Google Play Market gives you an endless wellspring of apps to choose from. You can go with Kindle, Sony, Nook or Kobo for the mainstream stores that have a great reader app and all the books you can shake a stick at. If you want to load your own in you can get Moon+ or Aldiko.
Basically the Iconia A100 does not really do many native formats when it comes to books but is wholly dependent on what kind of reading app you lose. I found no problem with plugging the Iconia into my PC and transferring over a bunch of books via USB.
One of the things a full color tablet does very well is being able to read comic books. Obviously this does not have the crazy resolution the iPad 3 has with HD editions of comics, but this does the job better then most. You can get Darkhorse, Marvel, DC or Comixology to read and buy all of your content. If you want to load your own stuff in I recommend Droid Comic Viewer to read your CBZ and CBR files.
Finally, it handles PDFS fairly well with a number of mainstream options to choose from. Scrolling, zooming and everything else really gives you the customization that you want. This is one of the reasons why many people who need to read complex technical documents often go with a tablet to read them instead of a dedicated e-ink based e-reader. e-Readers sadly just don't handle PDF's that well. Many don't let you reflow text or give you the zooming options and in most cases if they do, its woefully slow.
The Acer Iconia A100, is very pocket friendly which makes it as an e-reader a viable alternative to the other budget ones on the market. It fits in your pocket or bag very easy and does not weigh that much.
Our Thoughts
The Acer Iconia A100 might be overshadowed by the A200 that just came out but you should be able to pick it up for around $249.99. That costs about as a Nook Tablet and a little bit more expensive then the Kobo Vox, Pandigital Novels and many other mid-range tablets. Many people end up going for the cheapest options out there but I would caution against many of those devices and pick up the Iconia.
Price aside, it really handles multitasking, video, audio and reading quite well. The Google Play market is not really found on many competitiing devices and should be worth the extra few dollars. There is tons of content and programs easily downloaded for free and there is also a number of deals of the day. You can buy books, movies and apps for .25 or less.
Hardware wise the device is really sexy and has a firm, high quality aesthetic to it. The audio is awesome with the Dolby firmware found right on the device and it is VERY responsive to handling anything you can throw at it.
PROS
Solid Audio
Does not stutter on Movies and Audio Playbook
Battery Life is consistent with the average
Google Play Market
Cons
Honeycomb is fairly dated by now
Inability to save apps to Micro SD
Resolution is sub-average
Price is still a bit high
Rating 8.5/10
[cincopa AsAAk3qhxaXY]
Michael Kozlowski has been writing about audiobooks and e-readers for the past twelve years. His articles have been picked up by major and local news sources and websites such as the CBC, CNET, Engadget, Huffington Post and the New York Times. He Lives in Vancouver, British Columbia, Canada.