Amazon has just released their 3rd generation flagship Fire 8.9 tablet and it has a new naming convention. The company has dropped the name Kindle and the device is just known as the Fire HDX 8.9, a bit simpler.
The 8.9 edition has always cost the most money and this time around it is a staggering $379, which puts it in the same territory as the iPad. The question is, if you have last years HDX model, is this worth upgrading? Additionally, many Fire HD owners may want a bigger screen to play games, read books and watch movies, is this a viable investment?
Hardware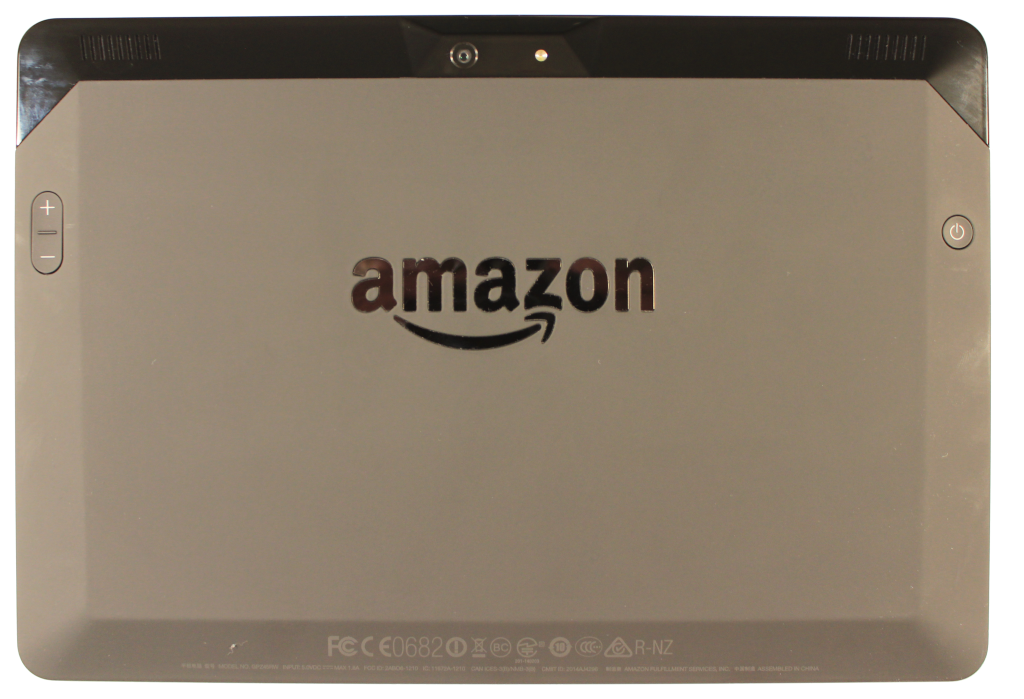 One of the benefits of the entire Fire 2014 product line is that it is fully compatible with the Fire TV. IT has a feature called the second screen, which allows you to replicate exactly whats on your tablet on the television. This is similar technology that the iPhone and iPad employ to build synergy via Air Play to the Apple TV.
The 8.9 slate has a resolution of 2,560 x 1,600 pixels and 339 PPI. The screen composition is IPS LCD and features a capacitive touchscreen, able to display about sixteen million colors. One of the new graphical enhancements was the inclusion of "Dynamic Light Control", which changes the white balance of the pages in reading mode to make it look more like paper depending on the ambient light conditions. That means it can go from cool to warm, from blue to nearly yellow.
Underneath the hood is Qualcomms Snapdragon 805 chip, which is top of the line. It clocks in at a staggering 2.5 GHz via the quad-core processor and has 2 GB RAM. Raw performance aside, Amazon is claiming 12 hours of runtime this year, roughly similar to its predecessor. In addition to that 805 chip, this is also the first tablet with Dolby's Atmos surround sound technology.
In a side by side comparison with the 2013 edition of the Fire HDX, this new model blows it away with sound quality. You can really hear the difference and if you have solid Noise Cancelling headphones or high-end headphones you will notice an immediate difference with the clarity. You will NOT get the same audio quality using ear buds though, so don't even try. I always thought the HDX 2013 model had the best sound in ALL tablets, but the 2014 version now takes the crown. If you want the best tablet audio experience, buy this ASAP.
The overall design has just changed from the one released in 2013 and the 2014 model. Side by side it looks exactly the same, all of the Micro USB, speakers, headphone jack, cameras and speakers are positioned the same. I could tell that it was a little bit thinner, and 30% lighter due to the lightweight nature of the new components.
To be completely honest, this is a solid tablet on a fundamental level. On paper the specs are crazy and can compete with anything currently on the market. The inclusion of a new line of Kindle Keyboards that attach to the Fire, much akin to the Microsoft Surface is welcome. The Sound, the design, resolution blow away anything Barnes and Noble, Kobo, Samsung or Google have done this year.
Software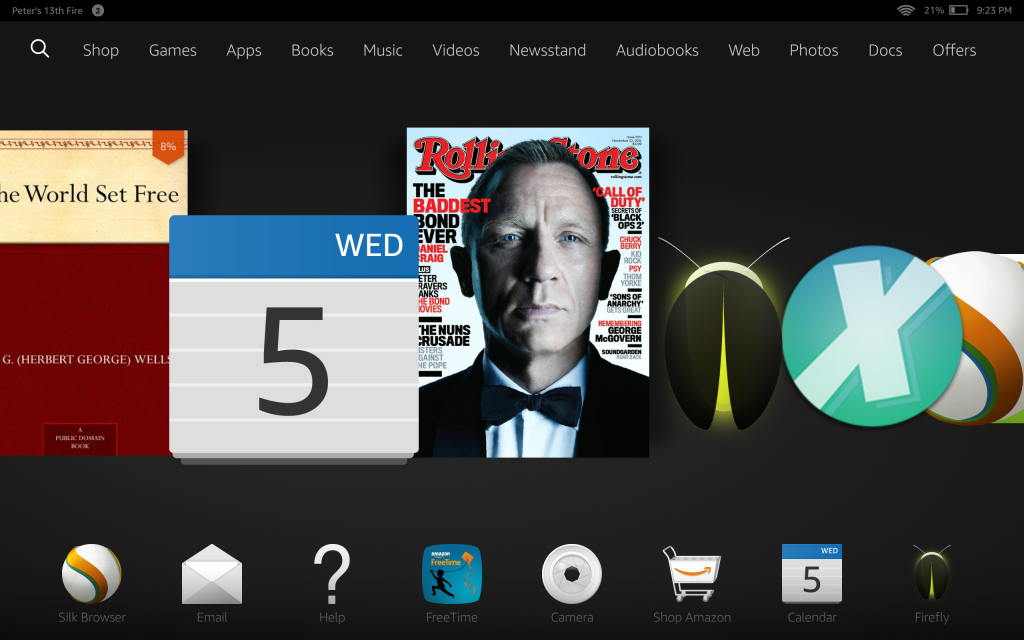 Amazon has never provided a cookie cutter vanilla Android experience like most of its competitors do. Instead, they have their own skinned version which builds upon familiarity the more time you spend with it. Previous Fire owners will feel right at home with Sangria, the name of the Android 4.4 OS.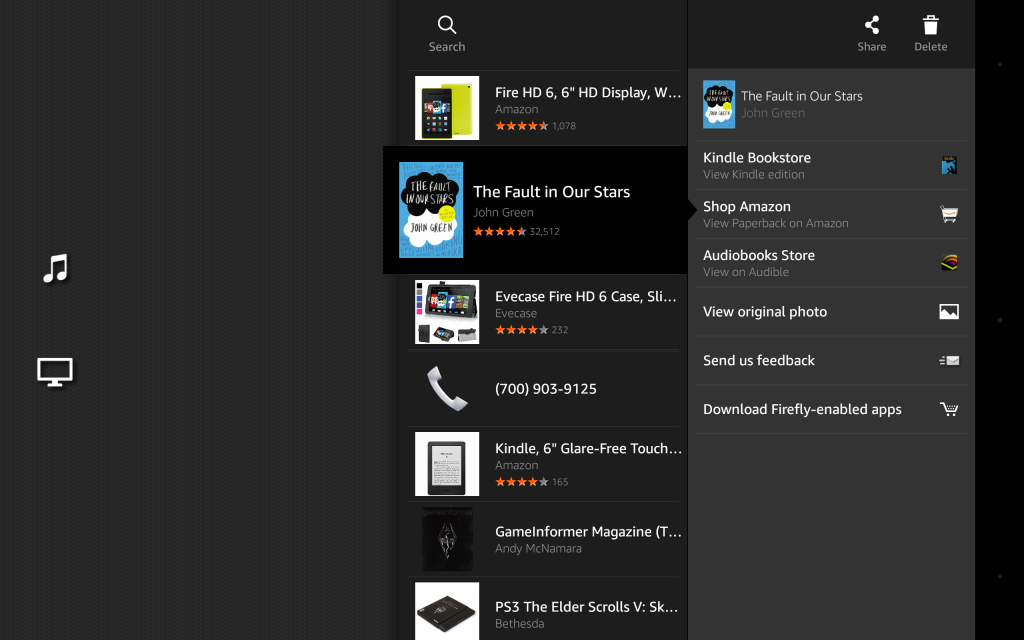 There are a number of software enhancements not found on any other Fire HDX model. The first is Firefly, one of the core features that helped sell the Fire Phone. It basically uses the rear facing camera to scan books, UPC, or bar codes and pulls up the Amazon listing for it. Additionally, it borrows a page out of Shazam's playbook and helps identify music.
Amazon has built quite a media empire with with their movies, television shows and music. They are really trying hard to compete against Netflix by doing a ton of original programming. One of the unique things that they do is invest in a series of pilots and then have the crowd determine what is good enough to warrant a full season. Building on this, the company has developed Advanced Streaming And Prediction (ASAP). What it does is buffer advance content you are watching. Lets say you are you watching Alpha House on Instant Video and check out episode one. It will buffer episode two and three in advance so you will not have to wait, and will be able to view the entire episode immediately.
One of the features that proved to be critically popular in the last generation of tablets was MAYDAY. This feature gives you free access to By 24/7, 365-days-a-year tech support at a click of a button. A small video chat window appears to a rep in the call center to assist users with hundreds of small issues. It is important to note that you can see them, but they cannot see you, only hear you from the built in microphone.
Lets talk about the main UI that the Fire HDX provides. First of all, there is a small carousel of apps, books or any type of new content you have accessed for the first time or stuff you bought from Amazon. You can quickly navigate to the store of your choice and access eBooks, music, videos, apps, audiobooks and other useful stuff like Cloud Photos.
Amazon has their own app store, which is your gateway of getting new content. This tablet is not compatible with Google Services, so Google Play is out. The Amazon App Store is growing, but it still does not have apps from people who compete against their own core business model. You won't find Comixology, Kobo, Nook, Moon+ Reader or thousands of awesome e-reading, eBook, manga or comic book apps. You can load in your own apps by installing a 3rd party app market, like our own Good e-Reader App Store.
One of the drawbacks on the Amazon store is the data files, or OBB files. Amazon makes developers physically host them and this can rack up the bills with games that have 1.2 GB of extra assets to download. Many of the top developers simply don't upload their content to Amazon, and instead use Google, which is on more devices.
e-Reading Experience
When it comes to eBook discovery and search engine algorithms, nobody in the e-reader space can touch Amazon. They account for over 70% of all digital book sales in North America and similar stats for the United Kingdom. One of the ways they have been so successful, is cornerstoning specific markets, like Audiobooks.
Audible is the most successful platform to ever be bought and incorporated into everything Amazon does. They not only have the largest library but they also are the ones that feed Apple content. When you browse the iTunes store for audiobooks on any iOS device, everything is sourced by Audible.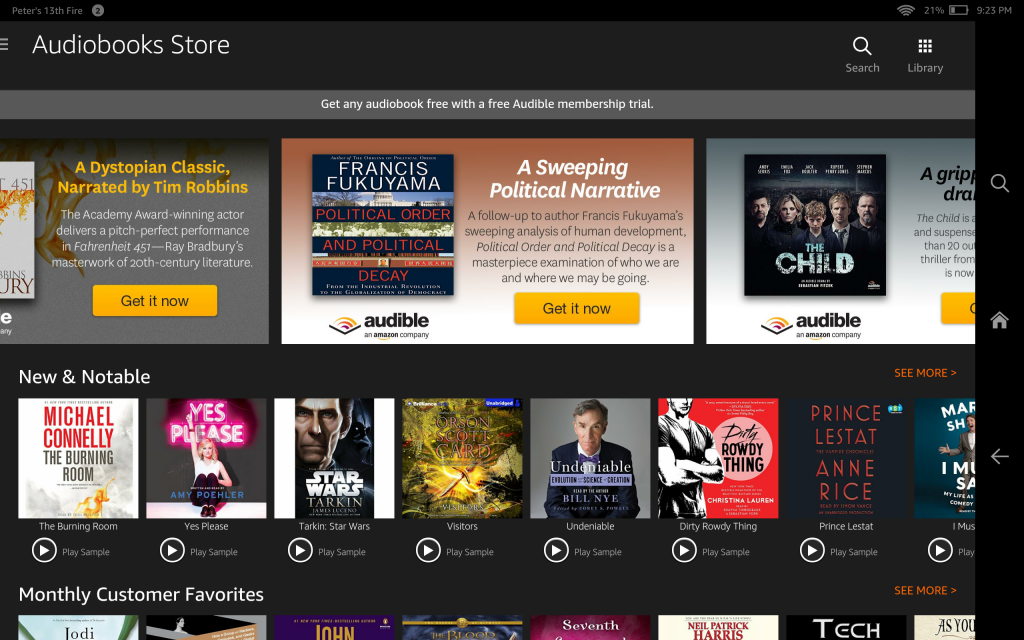 One of the ways Amazon has built synergy between audiobooks and their tablets is WhisperSync for Voice. You can purchase an eBook and the corresponding audiobook and actually read the book and play the audio edition at the same time. While you are doing this, the words get highlighted, which is excellent for someone learning how to read or learning a new language. Amazon also built technology that remembers where you are in the eBook and you can pick up where you left off while listening to the audio edition.
The core of any Amazon mobile device is reading. The entire process of reading is much akin to the Kindle App for Android, if you have used it. There are options to change the size of the font, change the font type completely or adjust the line spacing or margins.
X-Ray is one of the seminal Kindle reading features that is severely underrated. It basically gives you a rundown of the people, places and things in a an eBook. This is really useful for non-fiction that may throw a bunch of terms you have never heard before or historical fiction that will inevitably make reference to terminology that is beyond you.
GoodReads also plays a small role in your daily reading life. I find that reading digitally is a solitary endeavor. You aren't going to a real bookstore and interacting with fellow book lovers. You buy and read by yourself, but GoodReads attempts to make this social. There are virtual bookclubs you can elect to join or even engage in Q/A with your favorite authors. There is also an option to develop your own reading lists and set personal goals for yourself.
Not only can you read eBooks, but there is a rendering engine for magazines and newspapers. Reading them have animated page turns with curl, which means you can swipe to peak whats on the next page. You can also initiate scroll mode, which gives you all of the pages within a certain issue to jump to a specific article or news item.
Wrap Up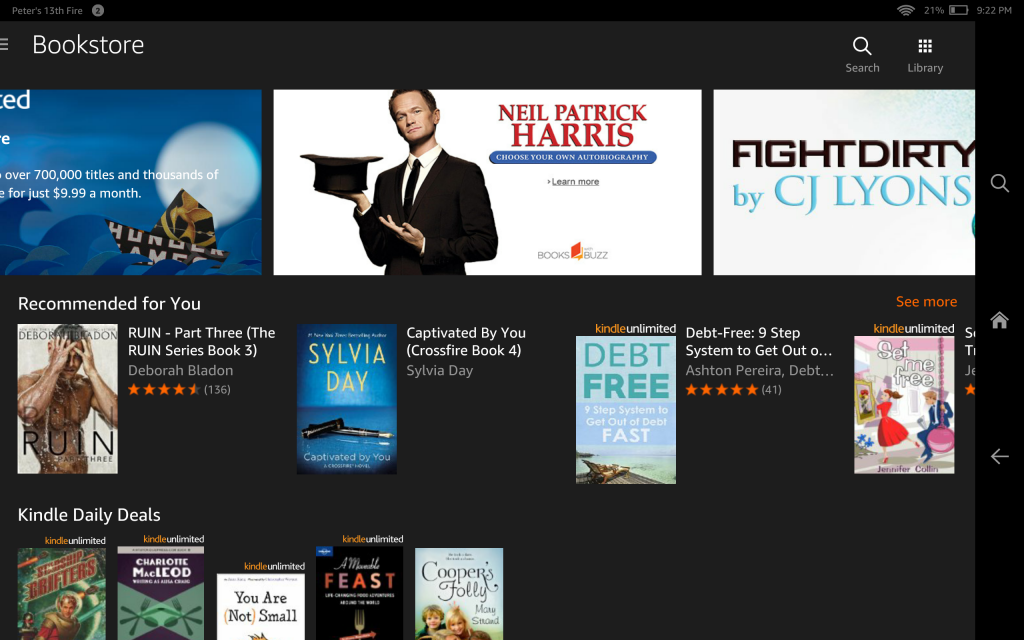 The Amazon Fire HDX 8.9 may cost a pretty penny, but it is the best tablet they have ever made. It plays nice with the Fire TV and has enough innovative features that it makes a worthy upgrade from older models. This is one of the best Android tablets ever made and Amazon really hit a home run with their 3rd generation model.
PROS
Hardware is Amazing
FireFly and ASAP are welcome additions
Audiobooks and eBooks have the biggest selection anywhere
Audio quality is the best in class in ANY tablet
Cons
Expensive
Amazon App Store lacks in specific areas
No SD Card
Can't access the files via USB if the Tablet is in standby mode
Rating: 9.5/10
Michael Kozlowski is the Editor in Chief of Good e-Reader. He has been writing about audiobooks and e-readers for the past ten years. His articles have been picked up by major and local news sources and websites such as the CBC, CNET, Engadget, Huffington Post and the New York Times.