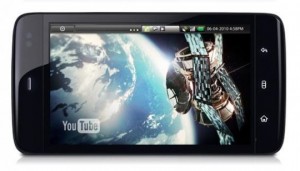 The Streak 5 comes from an era when Apple has just launched its first gen iPad. It's been more than a year since then and we now have the second gen iPad 2 with us and are waiting for the next. The Streak 5, the first tablet device from Dell, came and went in between almost unnoticed. However, the Streak 5 is now back in contention even after it being officially discontinued. It must have been a grueling rigmarole for the Dell Streak tablet to have undergone to finally make it into the list of acceptable gadgets that could be used by the US Armed forces after being cleared by the The United States Department of Defense. The Defense Information Systems Agency (DISA) is the agency that undertakes the testing of such gadgets and they check for security as well as compare the device with others that are available before declaring it usable in service. The tablet from Dell has been launched about 18 months ago and now DOD employees as well as contractors will be able to use this device for their transactions.
The reason the process takes so long is because the Defense Department tests the feasibility and compatibility of the security aspect. In this case, Mobile Security for Android that had been created by Dell was tested. The next set of Dell Android Devices will have this Mobile Security suite loaded on them and the launch is expected in 2012. Dell is currently the single manufacturer of Android devices that has been given the go ahead for its devices to be used in the military market.
People who are working in the defense sector now have the choice of going for a Dell gadget other than the Blackberry devices which were enjoying a monopoly in this area until now. Dell teamed up with Good Technologies to develop the security suite that will allow its users to have secured access to their desktop PC as well as servers from remote locations using the mobile device.
With access to the Android ecosystem, members of the military will have access to information on their PCs or desktops, command and control programs, and a number of different powerful solutions that enable members in the military to operate with similar capabilities as those in controlled environments," said Joe Ayers, an executive at Dell's government business.
Mobile devices running both Android or iOS have been on the radar for military personnel for some time now. While the use of tablet PCs or smartphones has become increasingly common in the military, the new security software suite might also be made available in future tablet PCs for commercial use as well.
via informationweek
Sovan Mandal is the senior tablet and tech corespondent for goodereader.com. He brings a international approach to news that is not just applicable to the North American market, but also Asia, India, Europe and others. Sovy brings his own writing flavor to the website and is interested in Science Fiction, Technology and Writing. Any questions, send an email