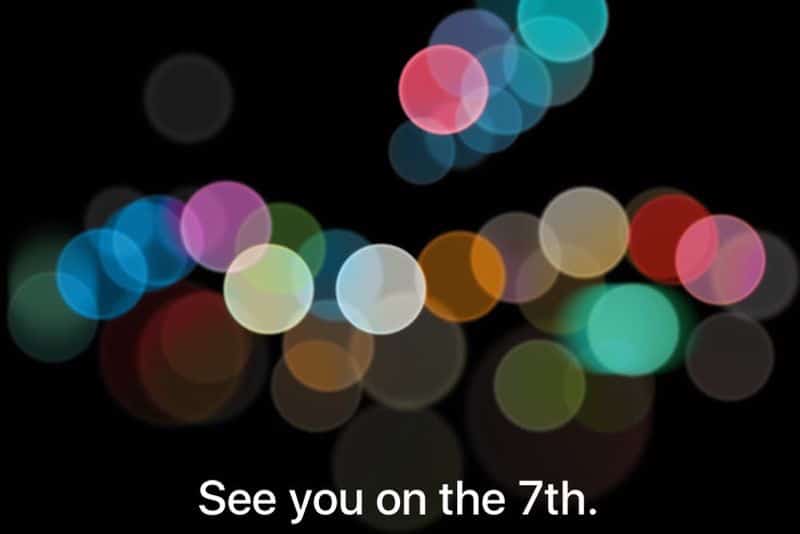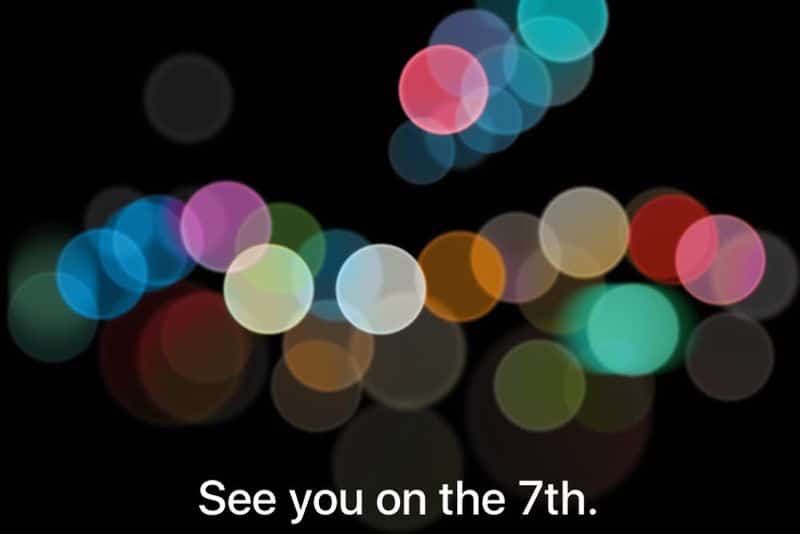 Apple is holding a massive media conference at 10 AM PST. The company is expected to announce the iPhone 7, iPhone 7 Plus, second generation iWatch and new Beats Headphones with wireless and wired capabilities.
It is expected that Apple will forgo the headphone jack and the new AirPods and Beats headphones will plug into the lighting connector. The two new phones will come with a Lightning to 3.mm headphone jack for people who do not want to shell out extra money or have already invested in a pair of expensive headphones.
Blogs and other news outlets have reported that Apple will also introduce touch-sensitive home button that vibrates, double-lens cameras on the larger Plus edition and new MAC products.
Live Blog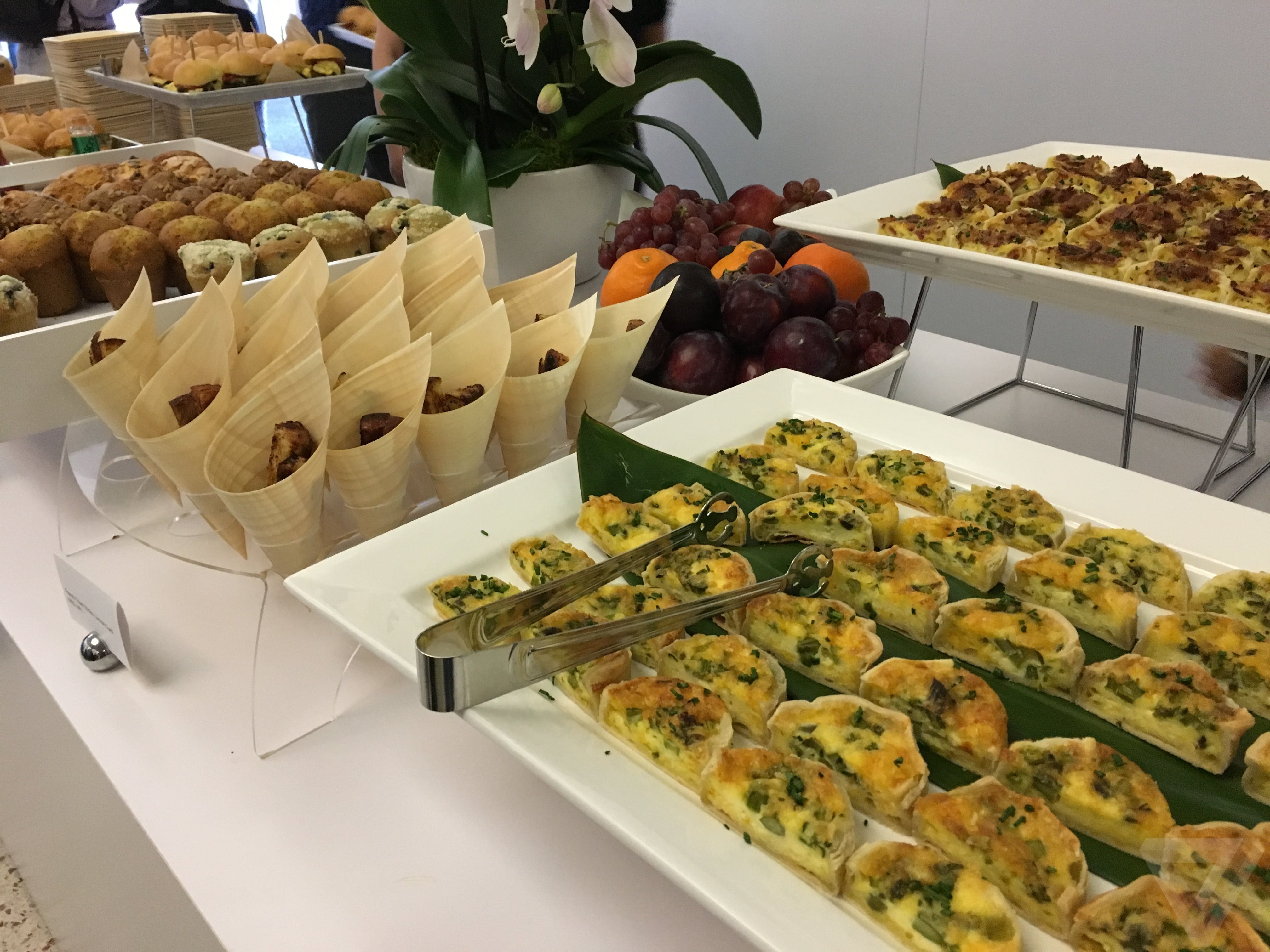 Here is a picture of the eating area, 30 minutes to go before the event starts.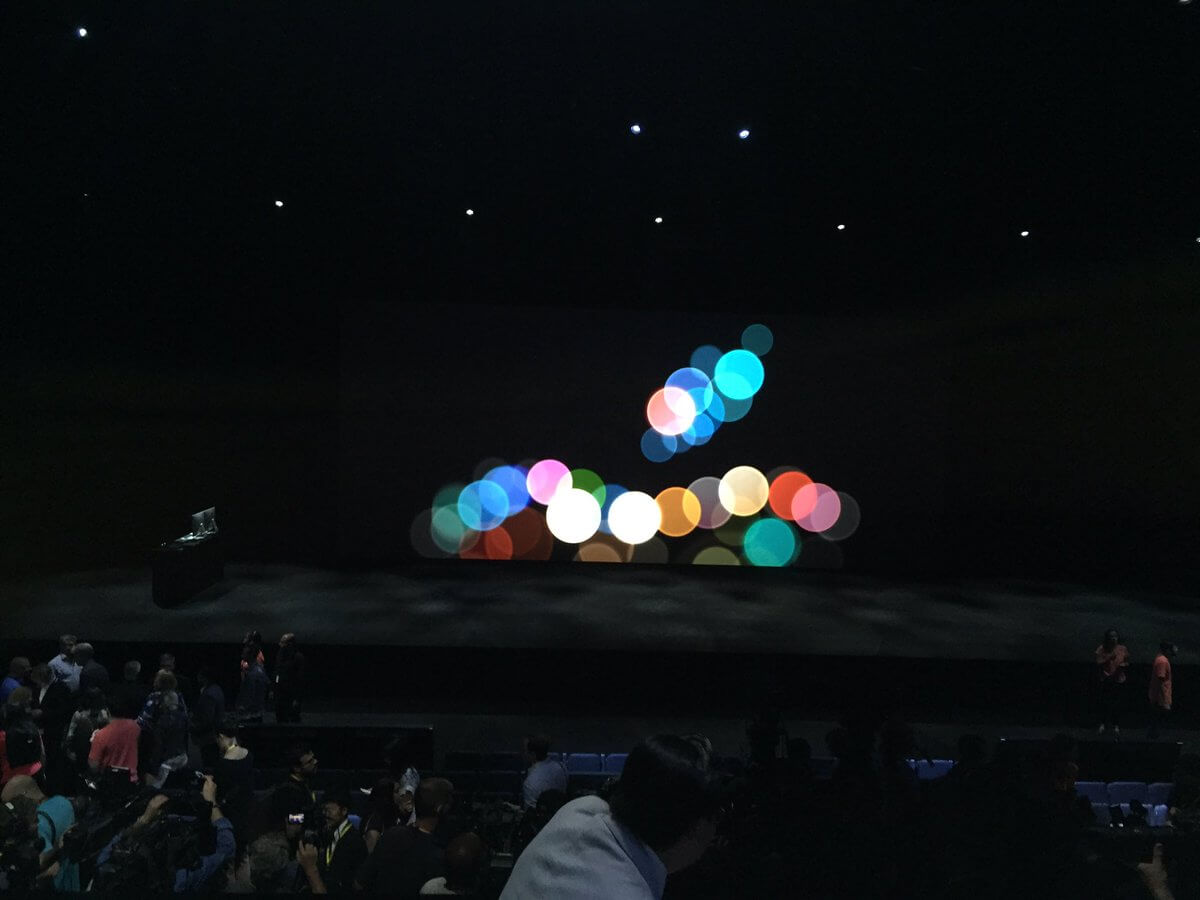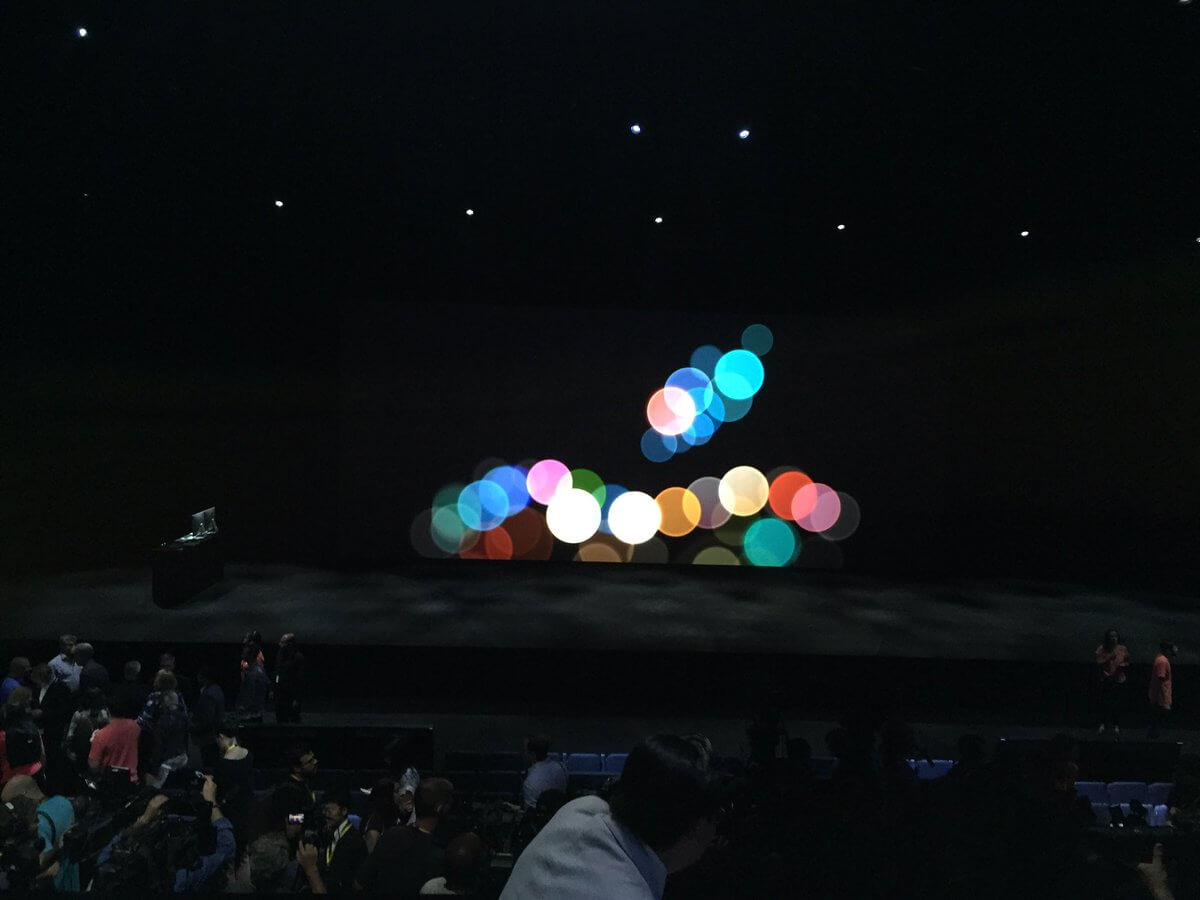 Everyone is filtering into the auditorium
Tim Cook is talking about Apple Music, it has 30 million songs. He is hyping exclusives, 70 different artists have done exclusives such as Frank Ocean and Tyler Swift.
He is now talking about the App Store. 140 billion apps were downloaded. In the last quarter the App store garnered 2x more revenue than Google Play. He claims the iPhone and iPad are most popular than consoles. There is currently 140 million apps in the app store.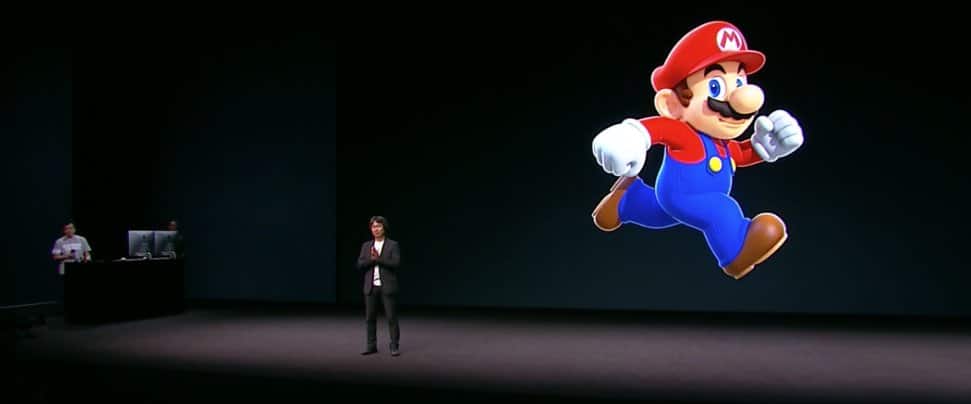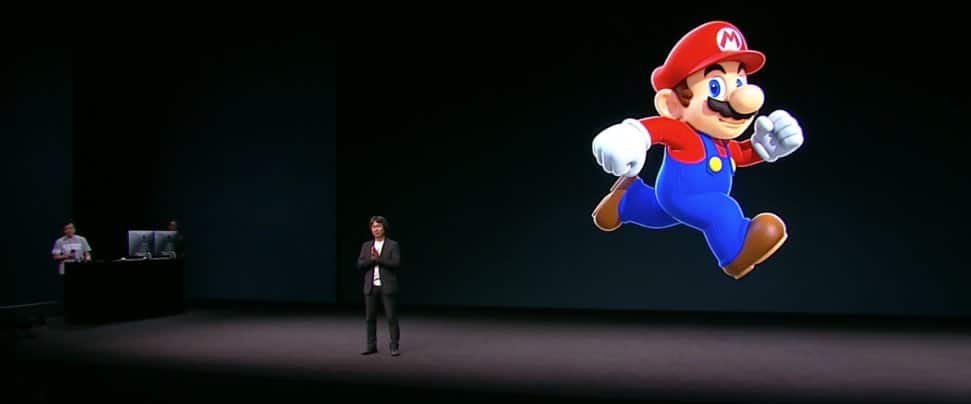 Here is a bombshell announcement. Mario is coming to the App store via Super Mario Run! There is a battle mode called Toad Ralley, which you can play with friends or people all over the world. There will also be Super Mario stickers available for iMessenger.
Tim Cook is really excited about Nintendo finally embracing iOS, me too.


Apple Education is up next, Apple turned 40 this year and education has always been a priority. This fall, all 114 ConnectED schools supported by Apple will be up and running. A Mac and an iPad to 4500 teachers, an Apple TV in every classroom, and 50,000 iPads for students. Everyone Can Code initiative – starts with Swift Playgrounds. We're so excited that they've moved to put this in their curriculum so quickly.


iWork is next, it is getting real-time collaboration features. You can add in slides, images, animations, videos and everything else. This is meant for multiple people adding in different features and everything is updated live. It can be done via the web, phone or a tablet.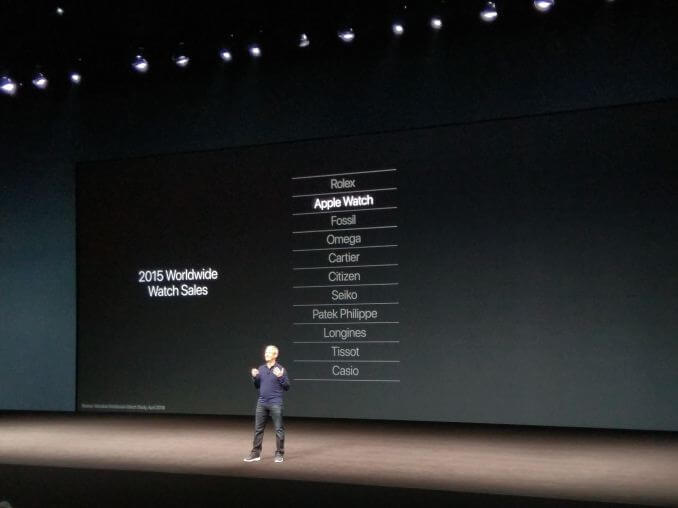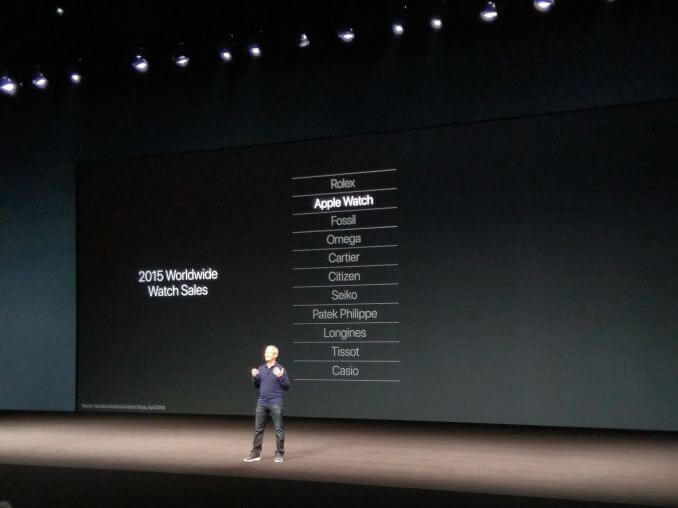 Tim is back on the stage and is talking about Apple Watch. Apple now second in watch sales, Cook says, right behind Rolex. Also the top-selling smartwatch, and customer satisfaction is super high. Customer satisfaction is top for smartwatch.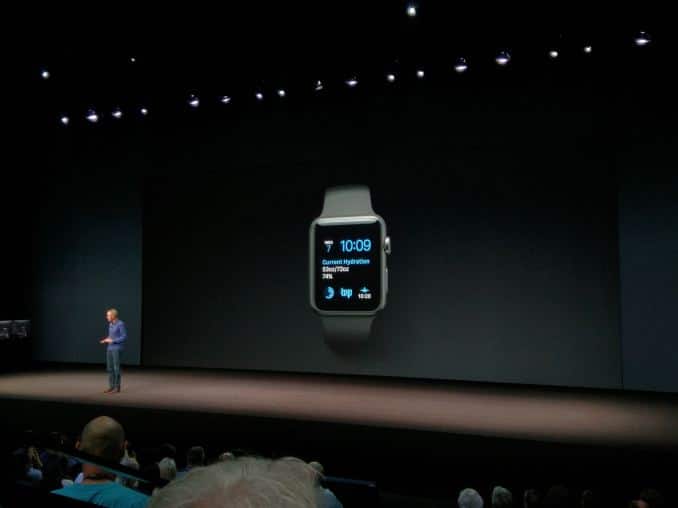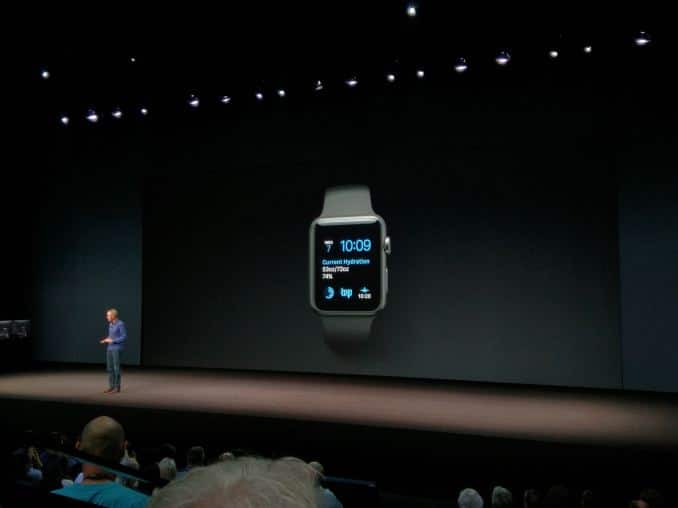 Jeff Williams has taken the stage is talking about Watch OS 3 that first debuted in June. Your apps will always be up to date, there's a new dock, and it's easy to switch watch faces. There is stickers available to the app store. You can contact emergency features by just holding down a button, a message is automatically sent to your emergency content via iMessage.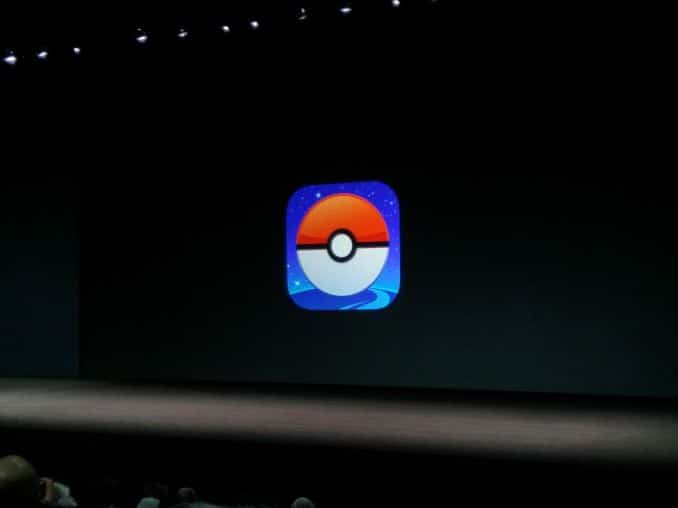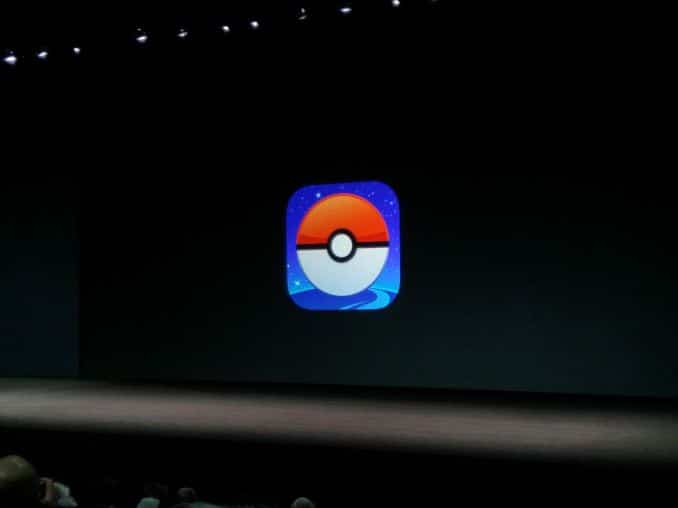 There is a new Pokemon Go app available on Apple iWatch. John Hanke says the app was 500 million times worldwide. Good lord. Players have walked over 4.6 billion kilometers while playing the game. It works with your iPhone to enable heads-up gameplay, and it will be available later this month.
There is a new activity tracker going to be added into the app. You can see distance walked, calories burned, and nearby pokemon. You get notifications when a new pokemon is nearby. When you approach a pokestop, you will get an audio notification. You can do everything on the iWatch without always reaching for your phone.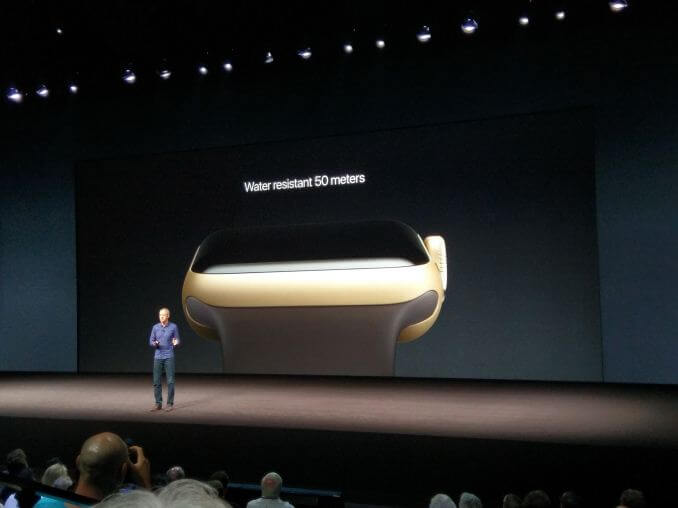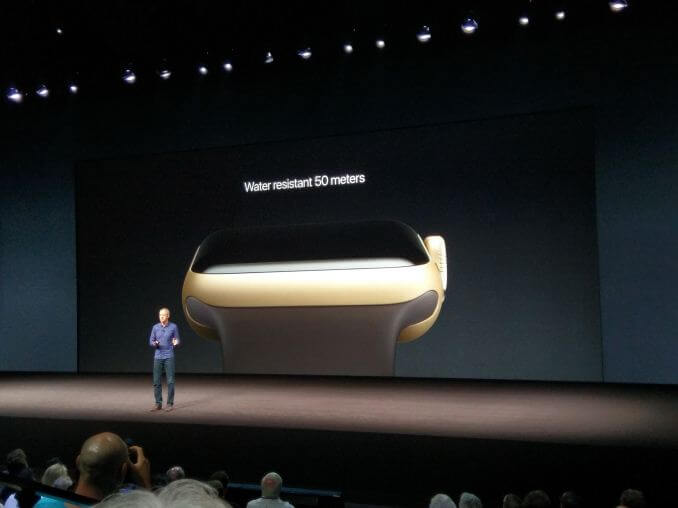 Jeff Williams is back on stage and is announcing a next generation iWatch. It is going to be called Apple Watch Series 2. It is waterproof and swim proof, water resistant 50 meters. The iWatch speaker will automatically eject the water. Jeff says they tested iWatch on a bunch of swimmers that will give you calorie burn information, laps and will give you better stroke efficiently over time.
Apple Watch 2 starts at $369. Apple Watch Series 1 updated with same chip as the Series 2 and will cost $269.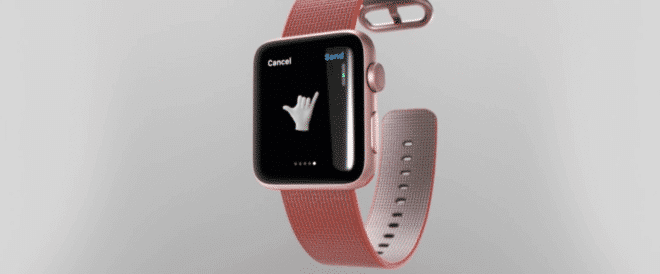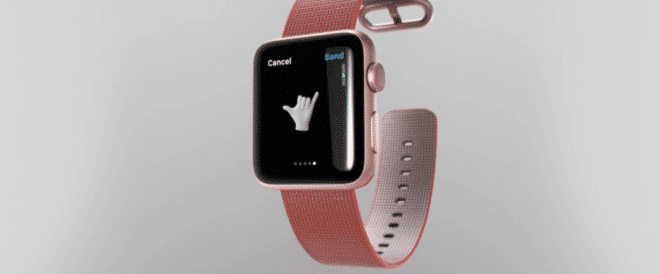 iWatch Series 2 has a new chip. 60 FPS in Night Sky 4, 2nd gen display, 2x max luminescence, brightest display ever shipped by Apple. 1000 nits. It is the brightest display ever shipped in any Apple product, ever.
The new watch has GPS now. You will now get accurate GPS speeds, walking/running information. Apps like View Ranger will allow you to get point of interests, let you know if your going off-trail and prevent you from getting lost. It will even let you know about rare animals and birds you might see.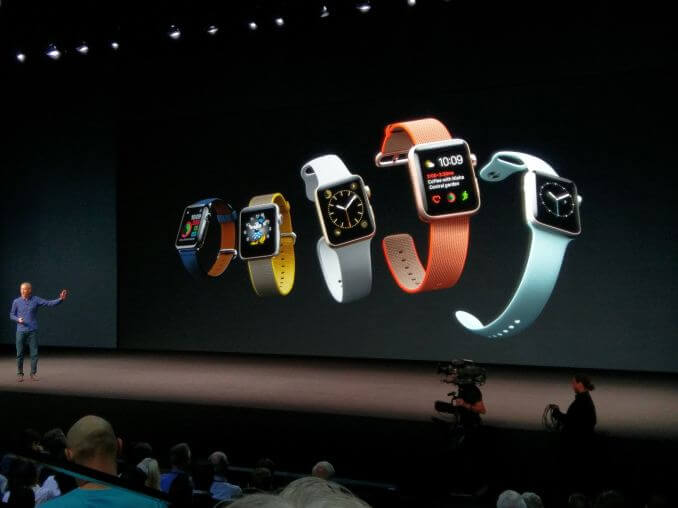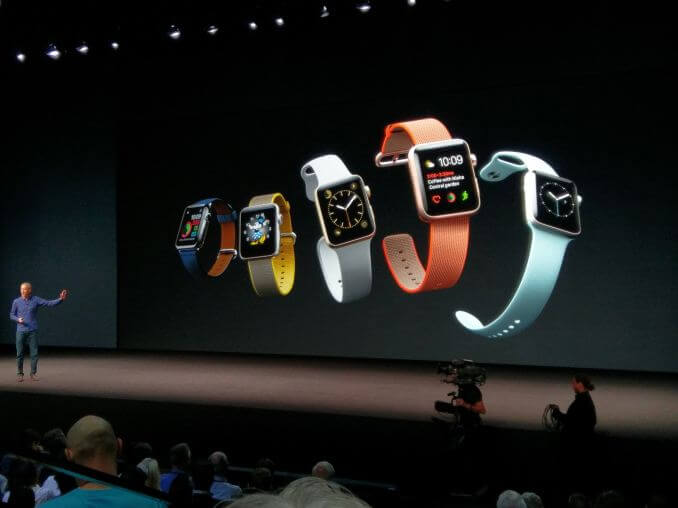 Apple iWatch has come in Aluminum, Stainless Steel, and there is a new material, ceramic. Four times harder than stainless steel, and it sure is pretty.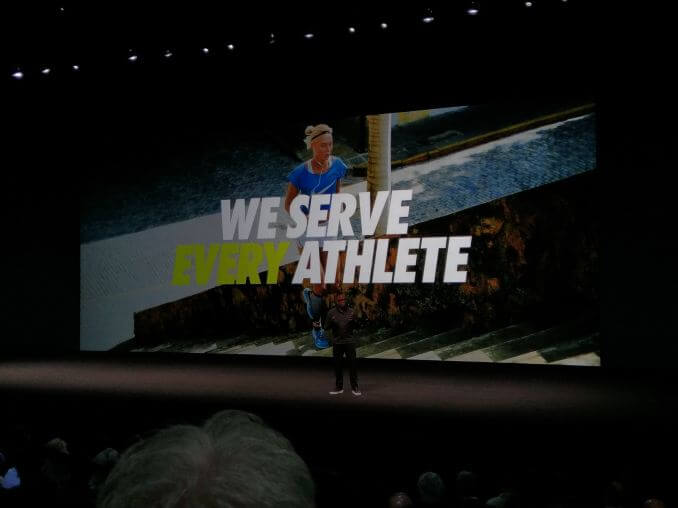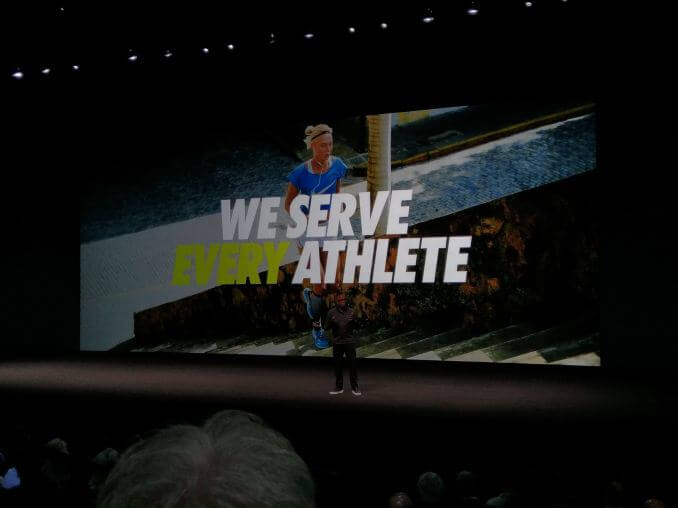 It looks like Apple just announced the Apple Watch Nike Plus. Trevor Edwards, Nike president, out to talk more about it. New runners find themselves challenged with staying motivated. Nike Plus is your running partner and will be the BEST thing you have ever owned! You can tell SIRI you are going to be running and it will launch basic information at a glance, distance, pace or more detailed information. It also has functionality for the Nike Run Club, so you can easily find other newbies to run with and learn how to do it right or stuff for advanced users.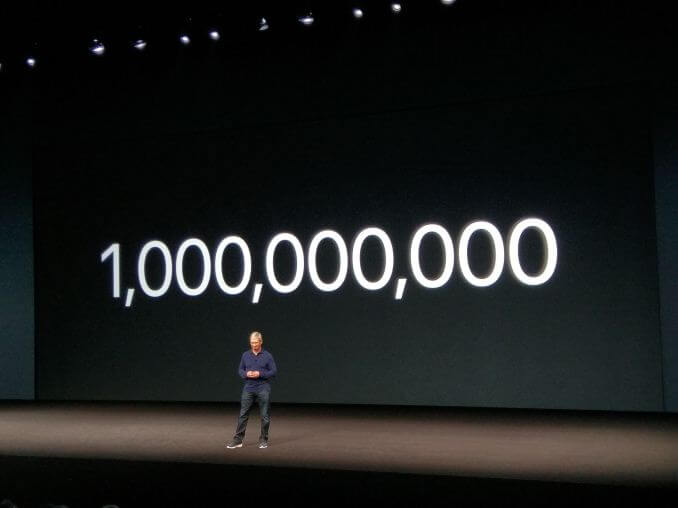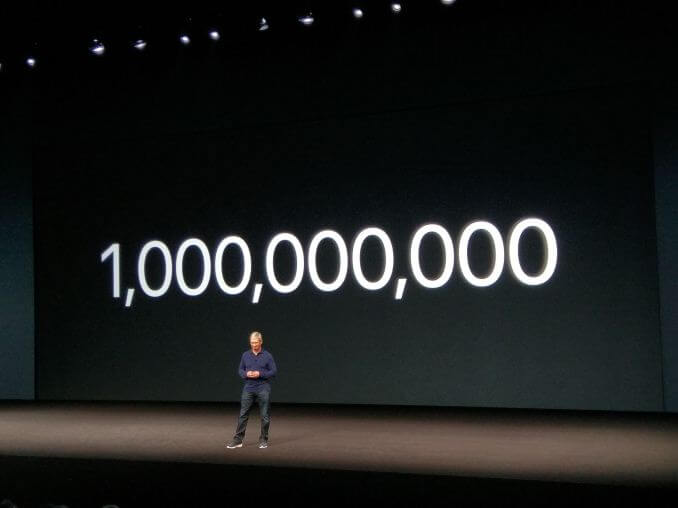 Tim Cook is back on stage again to talk about the new iPhone! He calls it the industry gold standard, transformed the way we do things everything and calls it a cultural phenomenon. Over 1 billion iPhones sold.
iOS 10 is called their most important operating system ever. They added SIRI APIS for developers to include in their apps. Apple Maps has been redesigned to be more like YELP. He also said Apple Home is the first smartphone to be bundled with home automation. It supports everything from garage doors to air conditioners and every major manufacturer supports it. 100 manufactures are releasing new products this year and there is a new certification they will have to let users know that their products support the iPhone.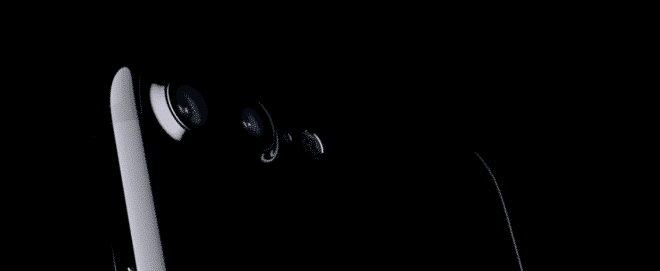 Tim Cook says "It's the best iPhone that we've ever created. This is iPhone 7." It has a gorgeous new design and he is now inviting Ive to narrate it in a video.
It has dual cameras, people thought only the the big model would have it. Ive says it is a sheet of glass made with few, precisely engineered parts.
Phil Schiller has taken the stage and says there are ten major features. The first is design, there is a new finish, jet black, a seamless black finish. It defuses light. The enclosure is created to hold the cameras. The second is the home button, we use it every day for everything. Fingerprints, double tapping, SIRI, multitasking, etc. Apple re-engineered the home button for a new haptic engine. There are different feedbacks based on quick actions, messages, notification, ringtones and a tapic Engine API.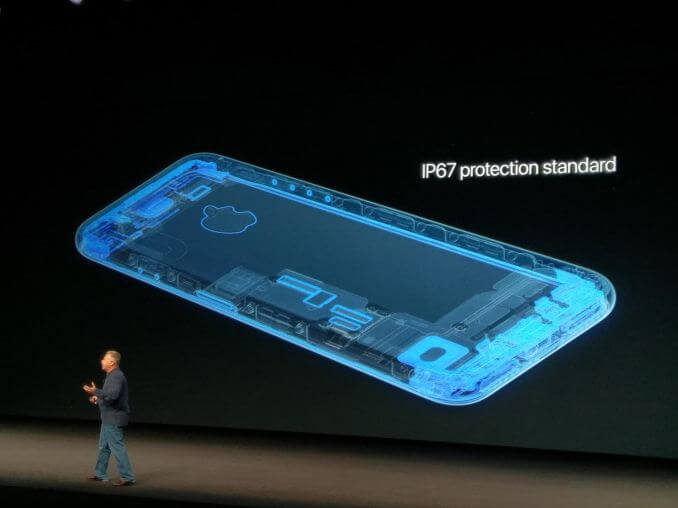 The 3rd is the new feature is that the phone is waterproof and dust proof.
The 4th is the camera, a huge new advancement for cameras on cellphones. A 3X longer image stabilizer. Large 1.8 aperture., six element lense, 12 MP sensor, 60 faster photos. QUAD-LED True Tone Flash, 50% more light and a flicker sensor.
Apple also designed its own image signal processor for this camera. It'll automatically expose for people, capture wider color gamuts, and apparently do 100 billion other things every time you take a photo, all within 20 milliseconds. Low-light photos are much improved, too, Schiller says. If that's true that's the best news so far.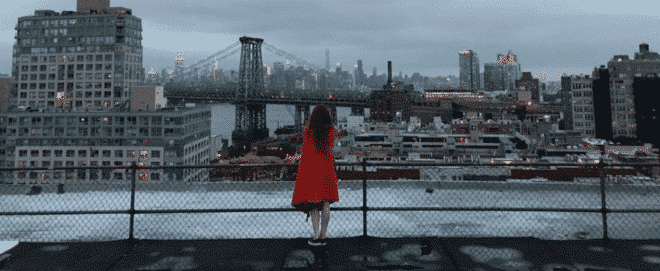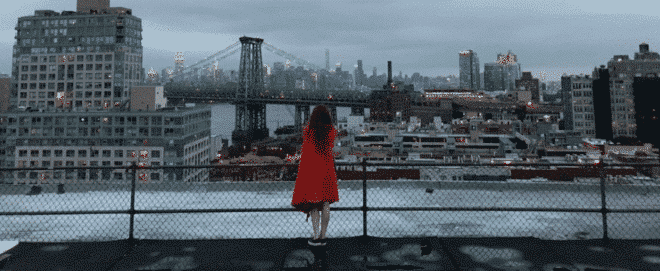 There's also a RAW camera API and developers get access to the wide color API, too.
The front-facing camera has been upgraded to 7 MP and the rear facing camera is 12 MP. This camera is blowing me away. The iPhone 7 Plus has dual cameras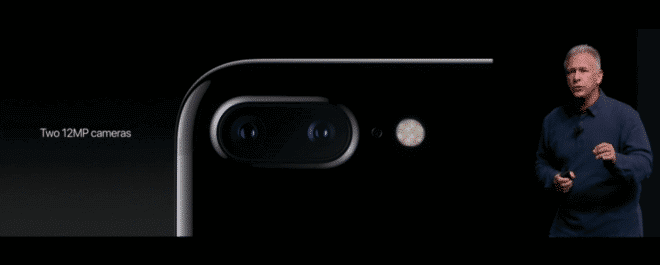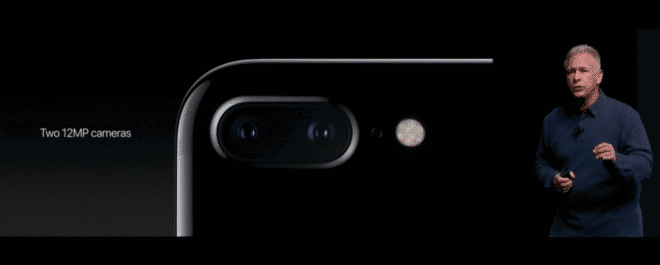 Two lenses: a wide-angle and a telephoto. While you are taking the photo you can put your finger on it, and zoom from 1 to 5x.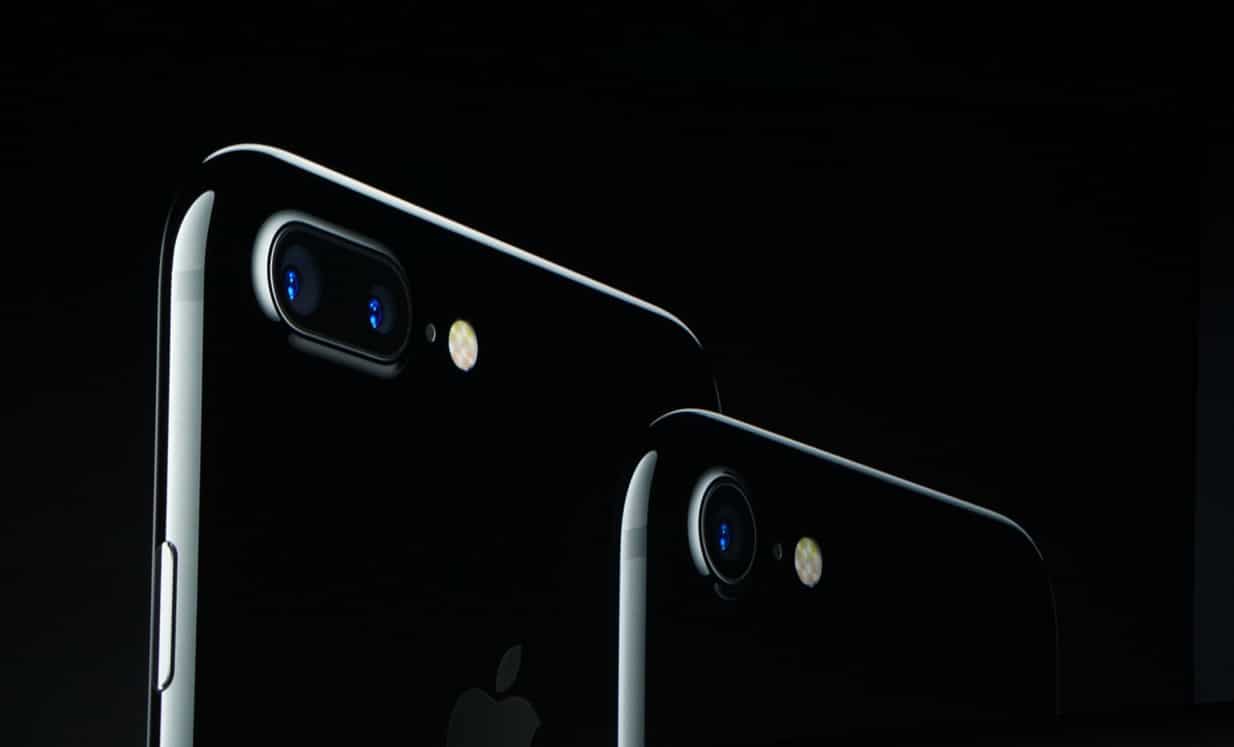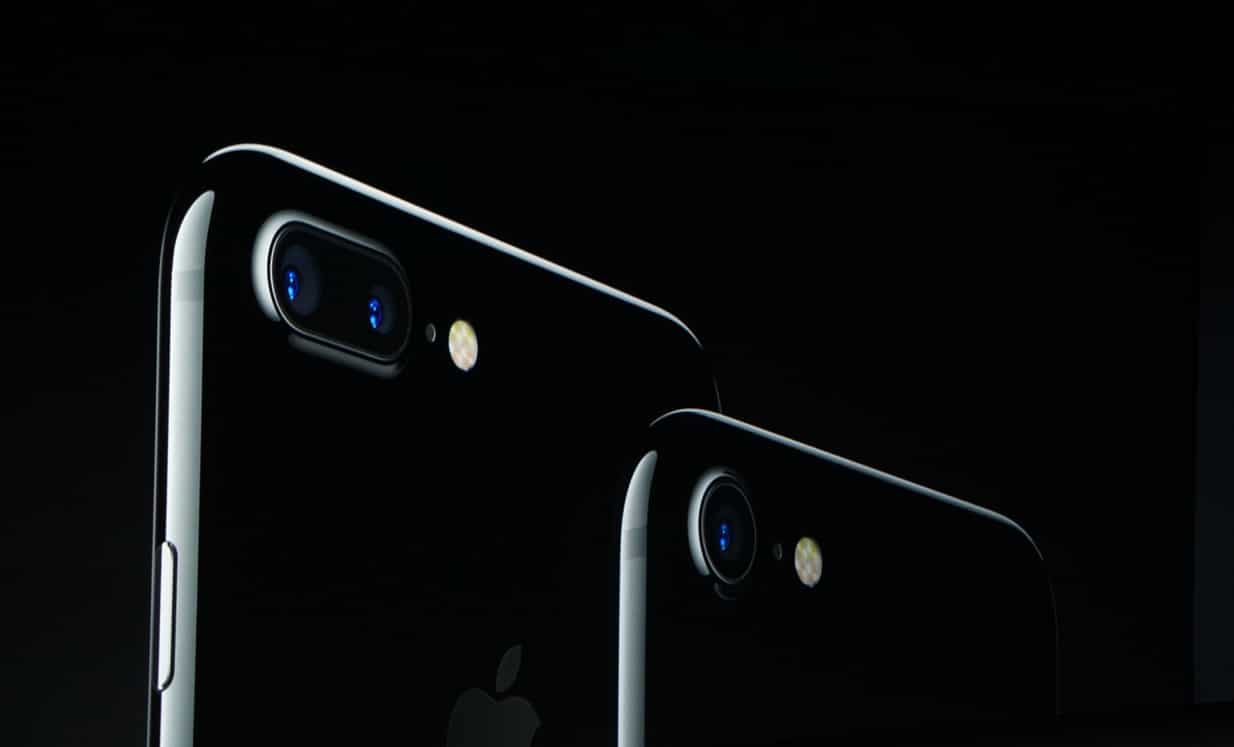 There's one other use of this camera that we challenged our team to do as an "extra credit" project. What we're able to do is use the ISP to scan the scene of a picture and create a depth map.You can automatically see the depth effect in the live preview. Basically you can blur the background and make the foreground really standout. It will be launched as a software update later this year for the iPhone 7 Plus.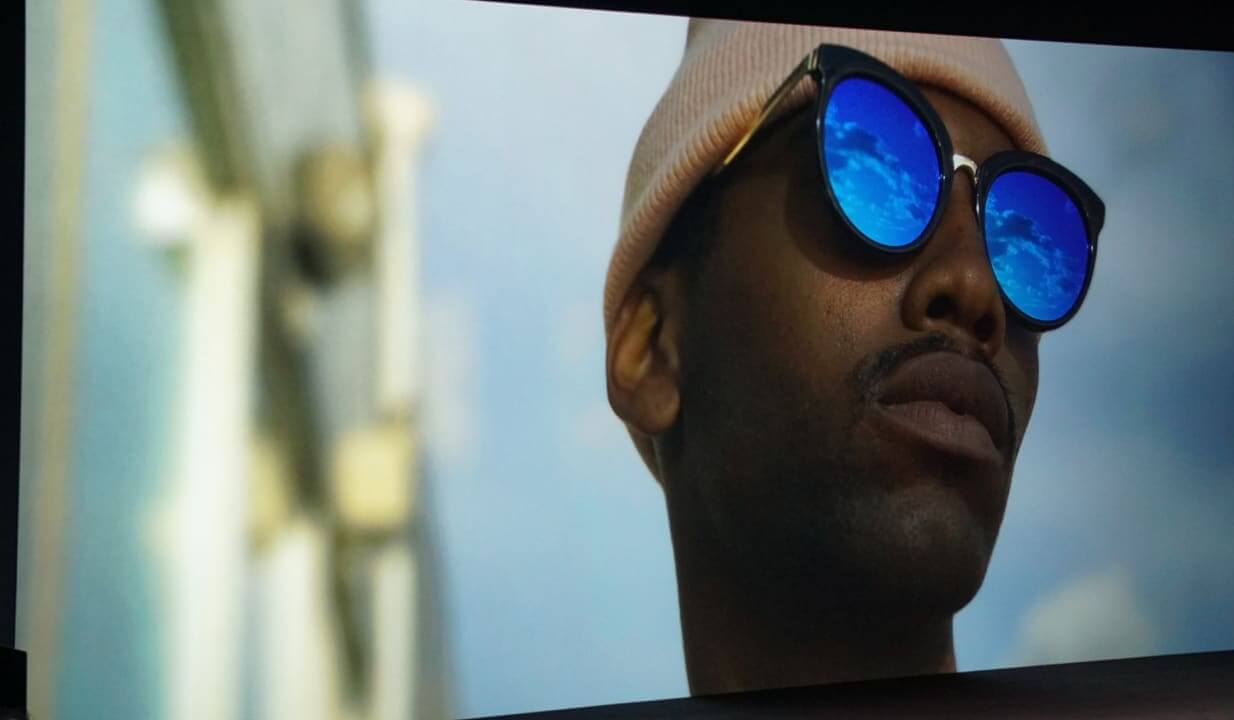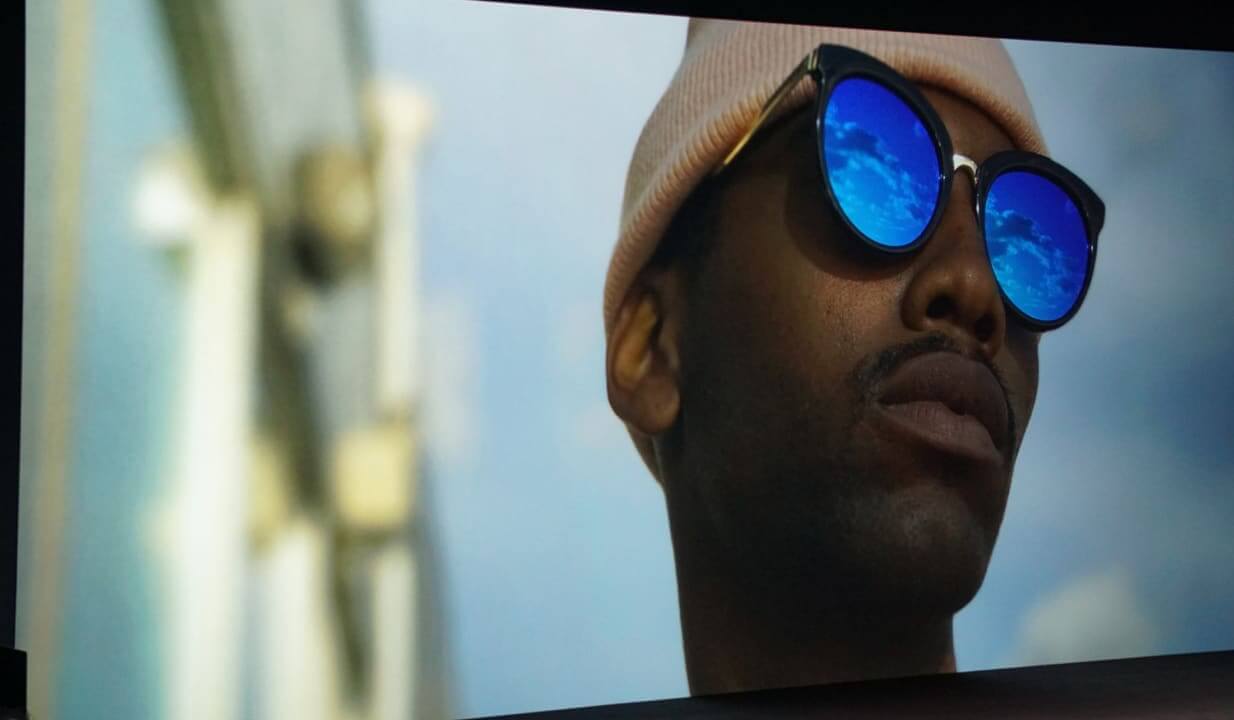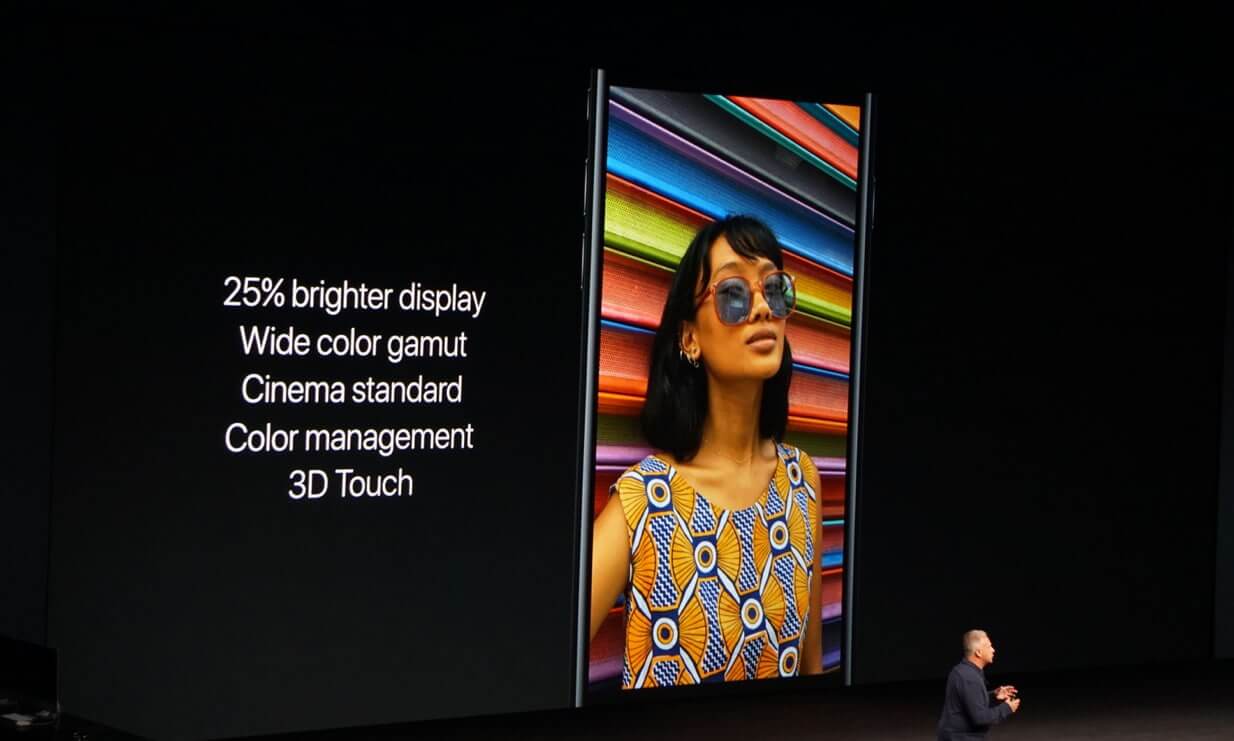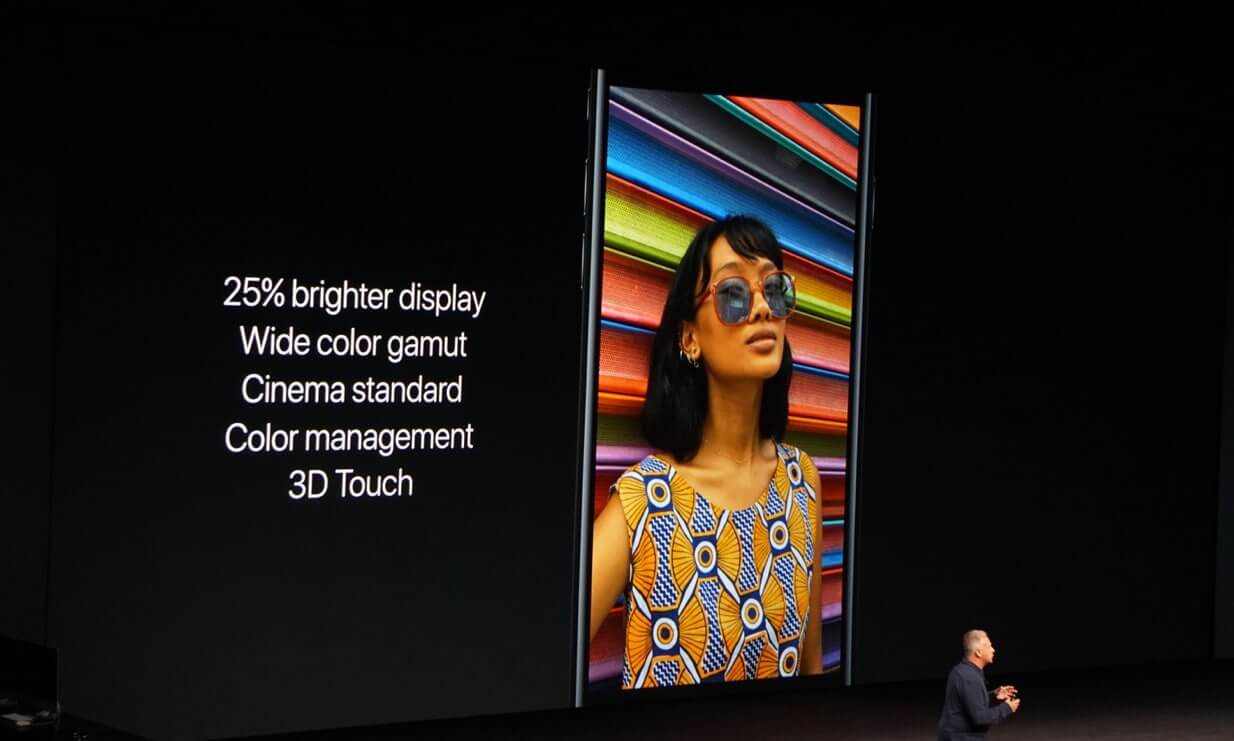 The new iPhone screen will be 25% brighter, a wide color gamut, cinema standard. Apple is calling it the Retina HD display. Instagram guys are on stage talking about the new API and how they manage to make cool filters.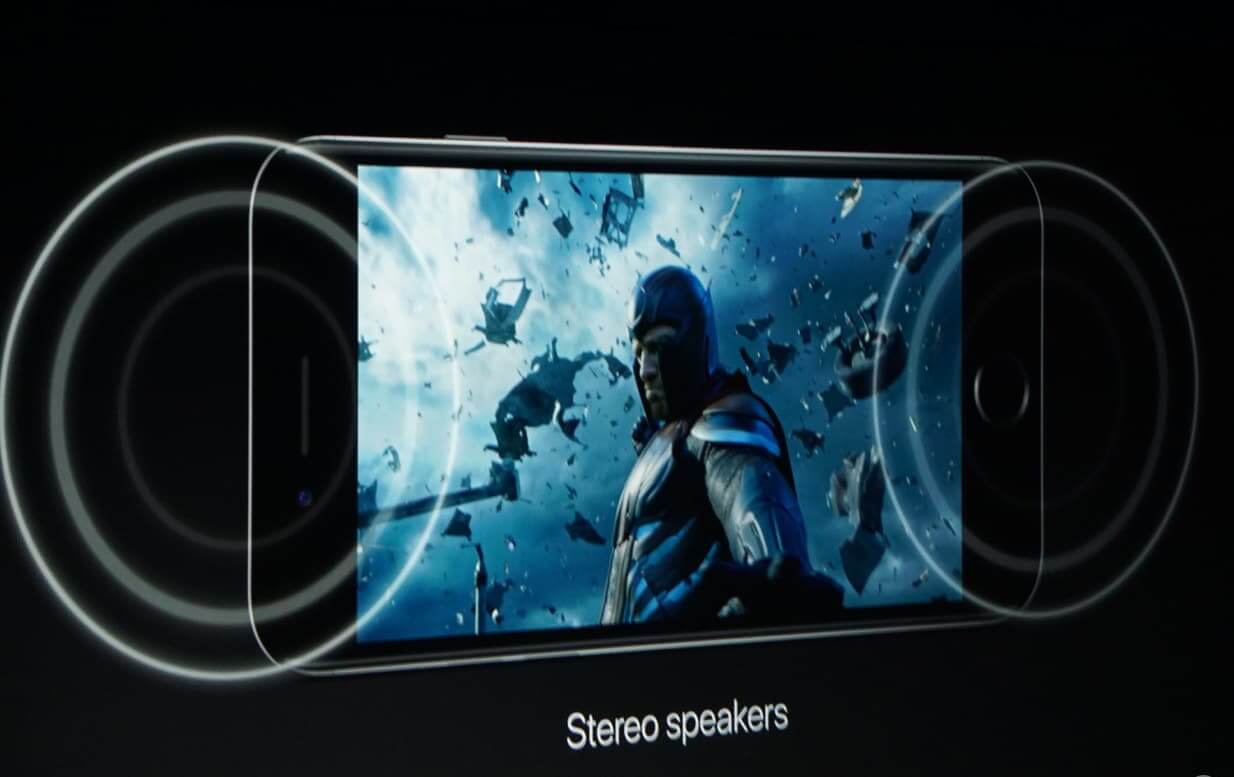 Tim is talking about audio now as the six major upgrade. They have stereo speakers, a pair on the top and bottom, similar to the iPad Pro 12.9 and iPad 9.7.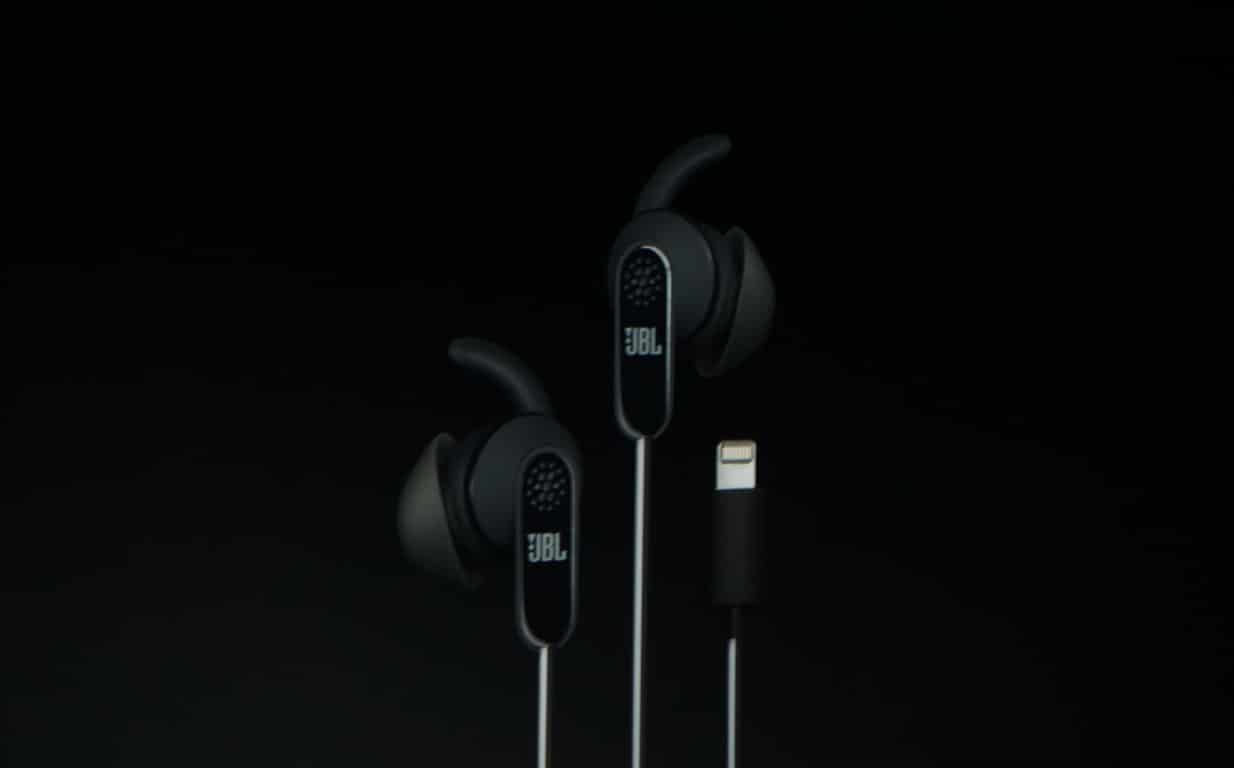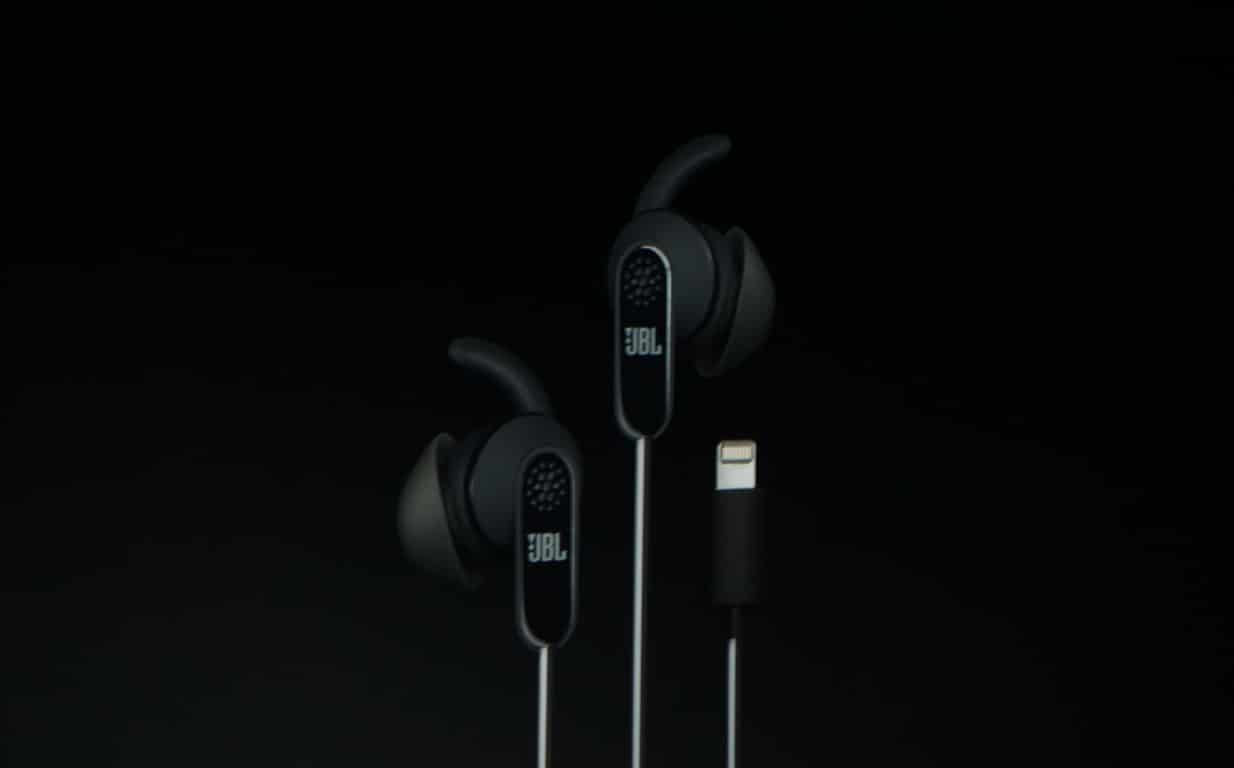 The seventh major thing are headphones. The new iPhone 7 and 7 Plus does not have a 3.5 mm headphone jack, it uses the lightning port. It will be 2x as loud as the 6 and 6 Plus. 900 million Lightning devices, and speakers and headphones have been designed to take advantage of them.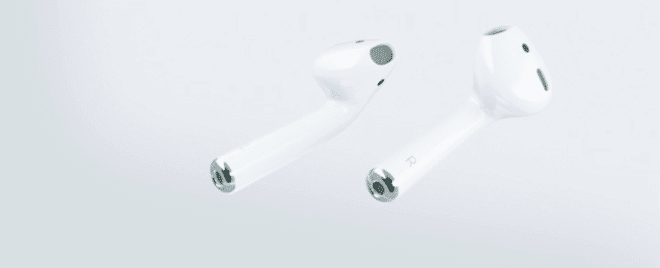 The Air Pods are wireless and connect up to your iWatch or iPhone, but only give you 5 hours, but there is a 24 hour charging case. Not great for this sort of thing. People are saying these estimates are often very conservative. You can probably expect over 6 hours. You can also use just one AirPod to do a phone call or talk to Siri.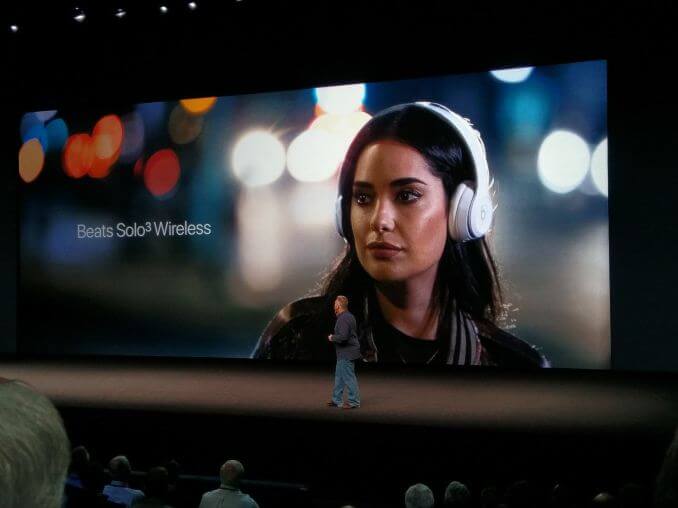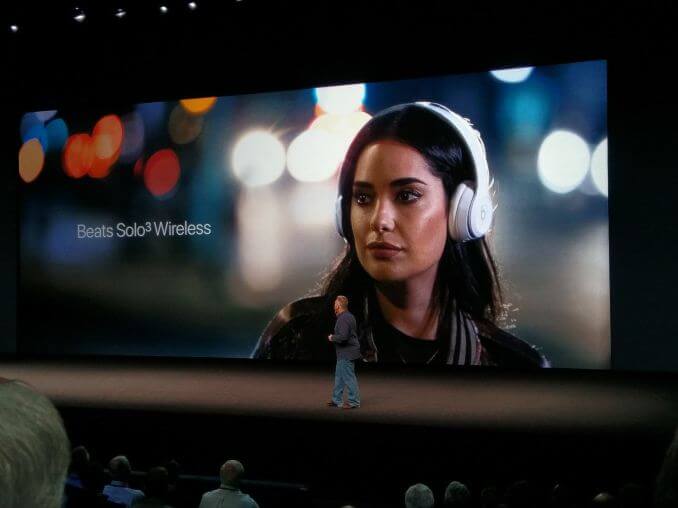 Apple owned Beats is releasing the the Solo 3 Wireless, Beats X, Powerbeats3 wireless for workouts.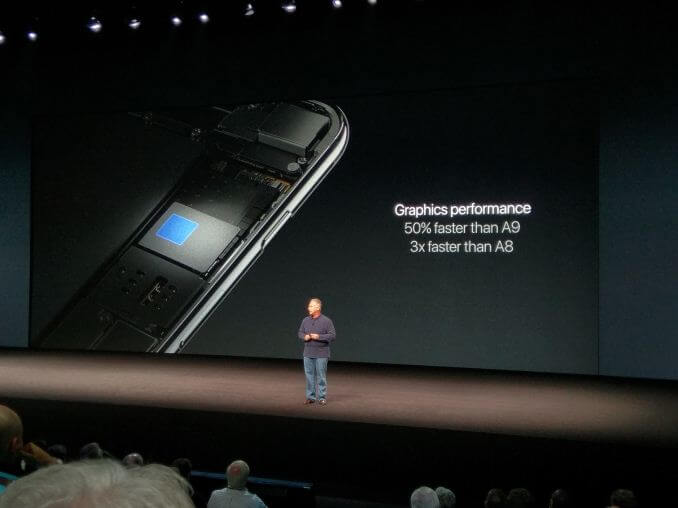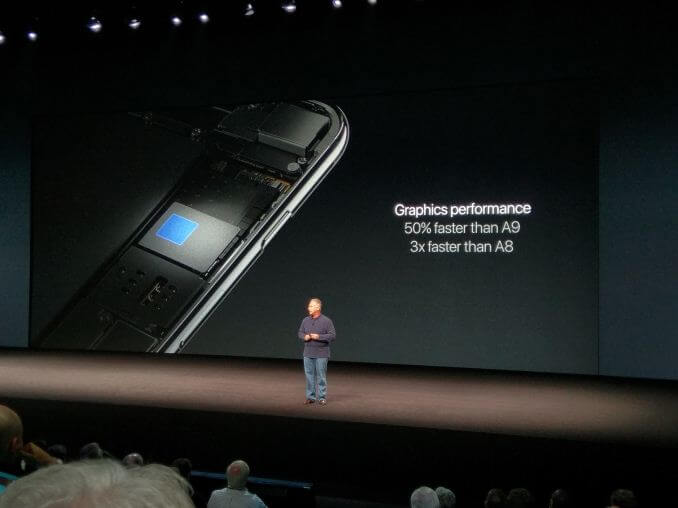 Apple iPhone has a A10 Fusion Chip. 64 bit 4-Core processors, 40% faster than A9 chips, 2X as fast as the iPhone 5. It has 3.3 billion transistors, I love all these big numbers! It also has a new GPU, 50% faster than the A9.
Phil says AAA games are going to look amazing with the new processor, GPU and the new screen. Real time reflections, weather, collisions and ambient effects are a few things we can expect. Game developers are excited about visual FX, cut scene animations. Haptic feedback lets you feel big hits, which is neat.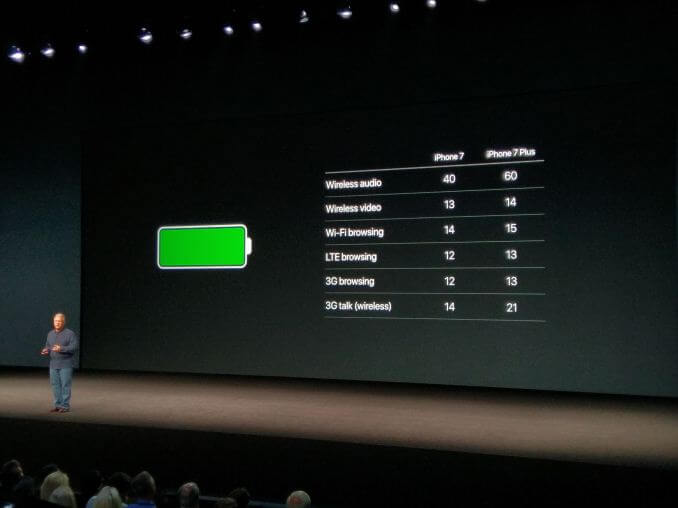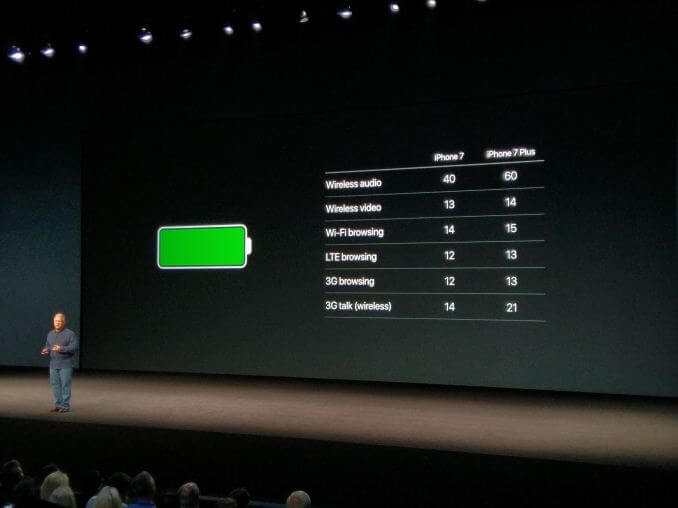 Battery Life Numbers! Looks good to me! 1 hour extra from the iPhone 6 series.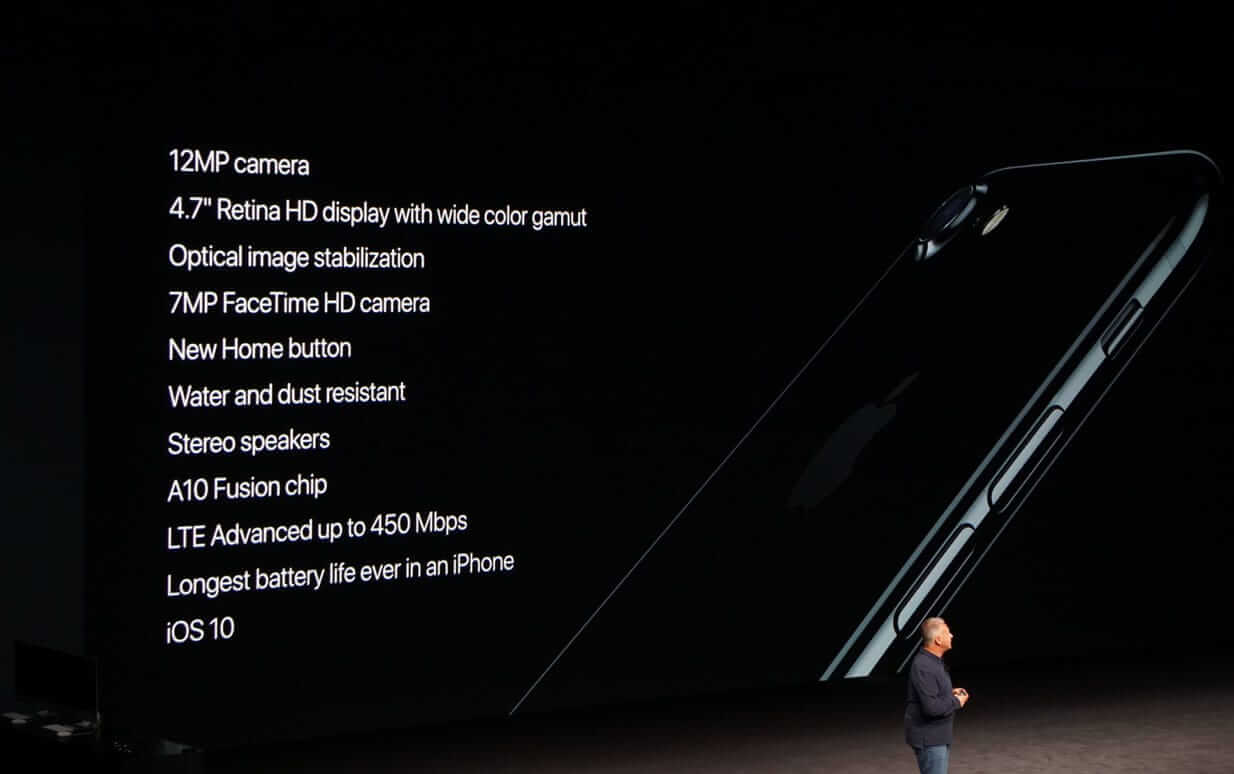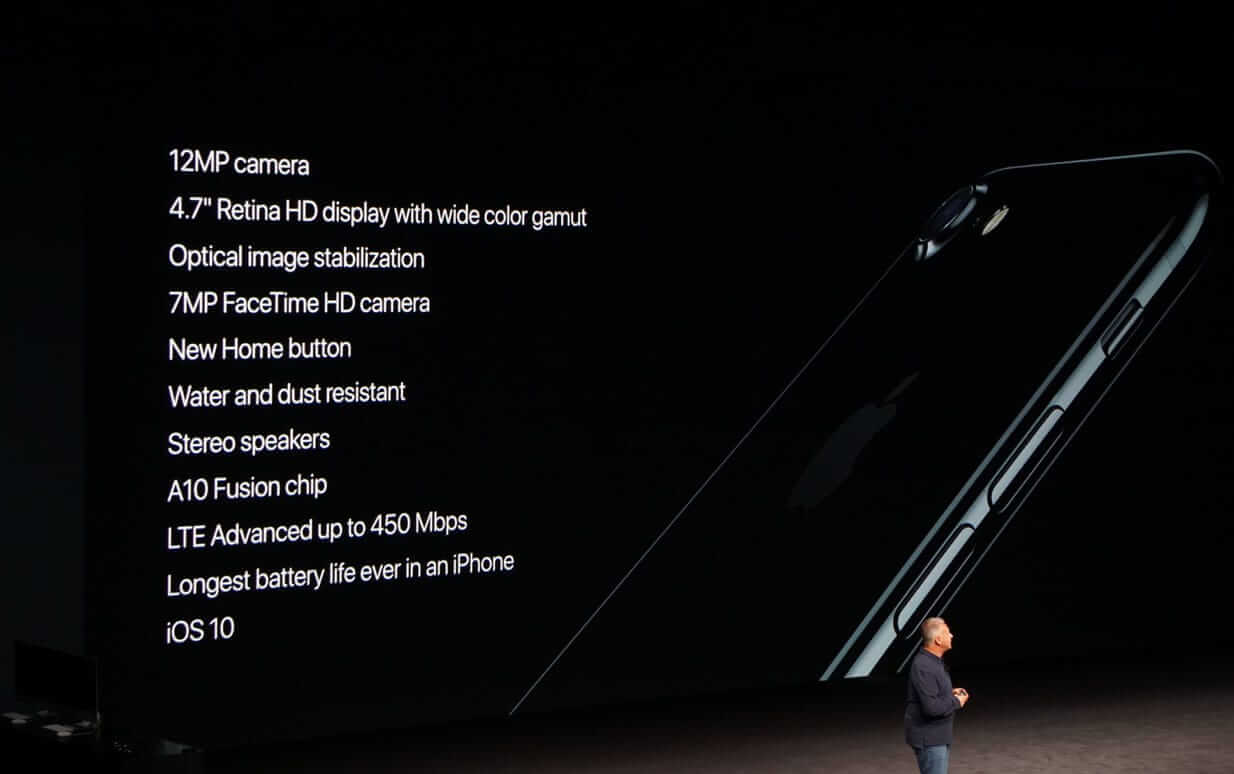 This is the iPhone 7 specs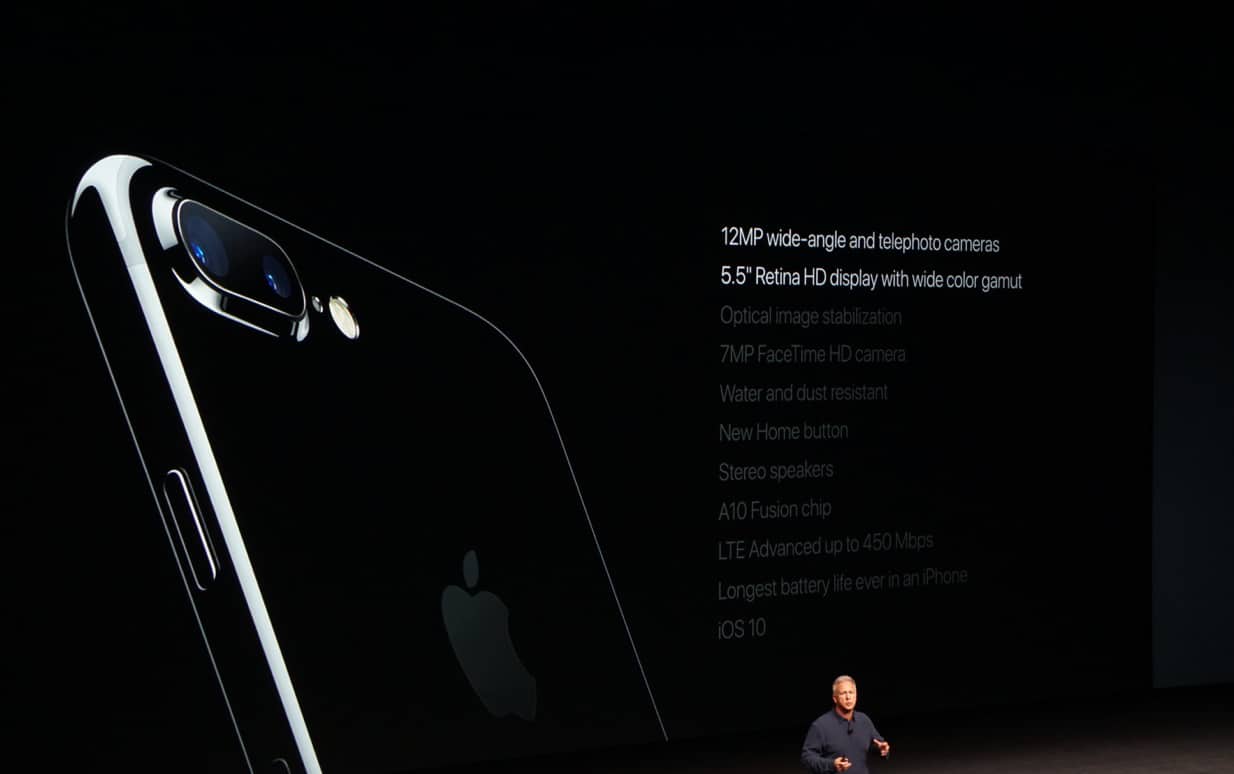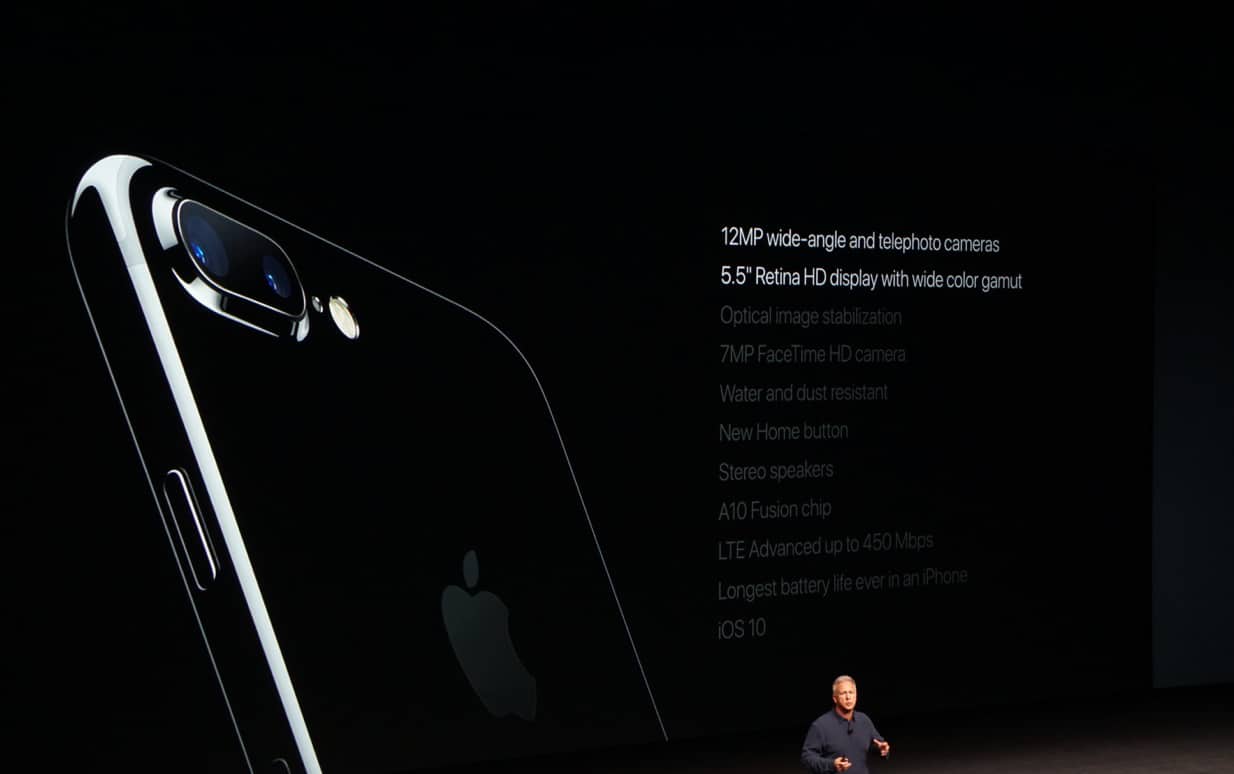 Here are the iPhone 7 Plus Specs.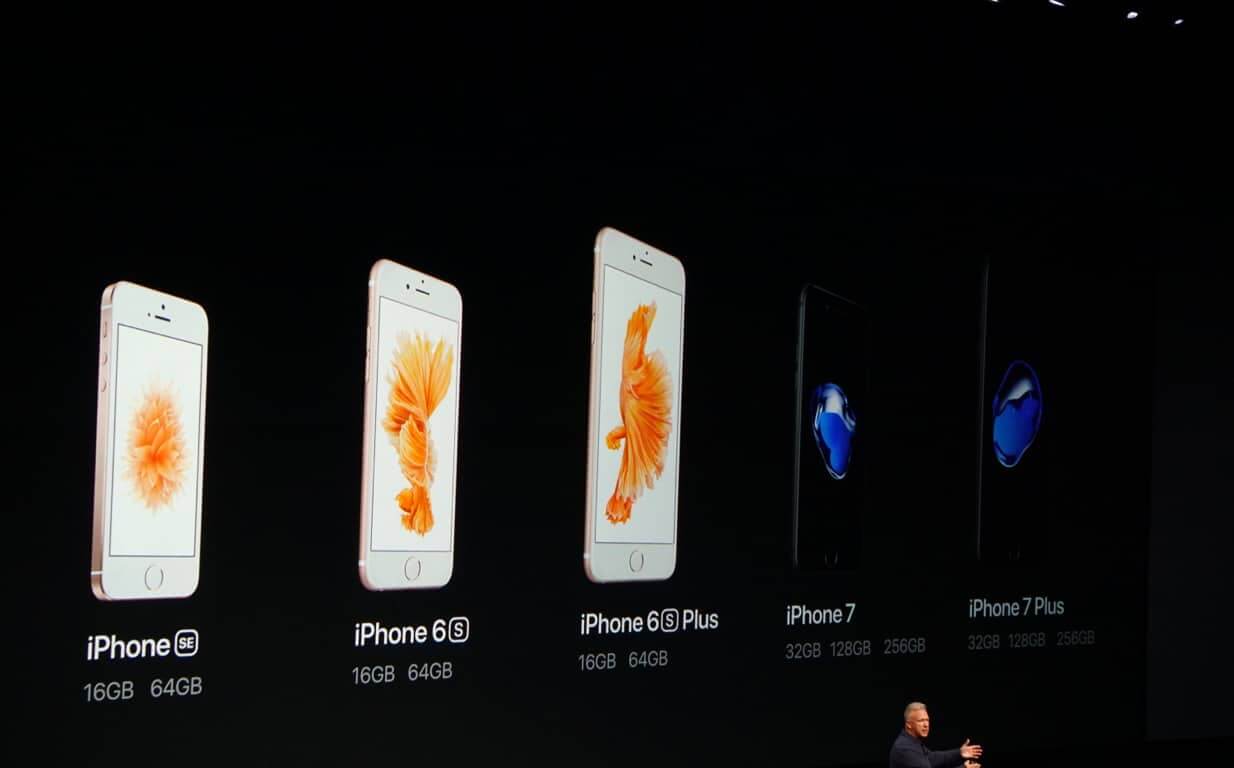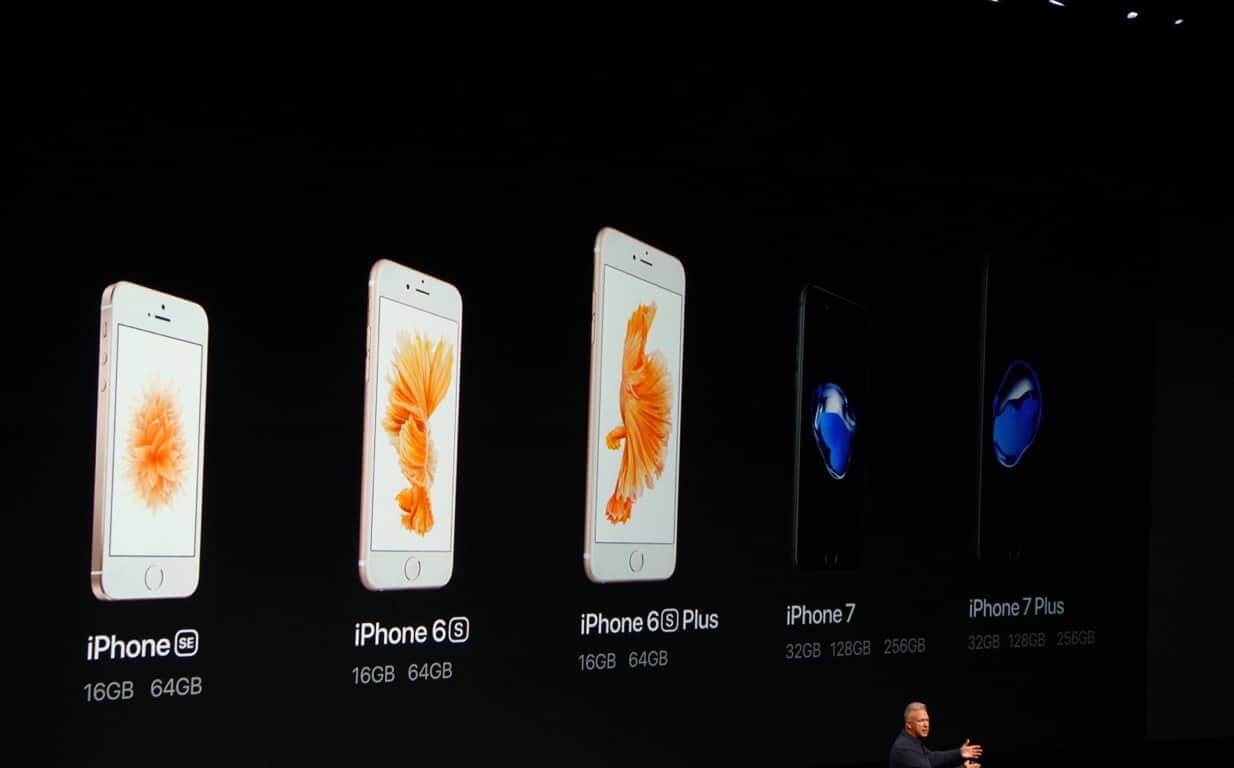 The iPhone 7 will cost $649 for the 32 GB, which replaces the 16 GB entry level model. The iPhone 7 Plus starts are $769. Orders start September 9th and you can buy them in the store on September 16th. Wireless Ear Pods start at $159.

Michael Kozlowski has been writing about audiobooks and e-readers for the past twelve years. His articles have been picked up by major and local news sources and websites such as the CBC, CNET, Engadget, Huffington Post and the New York Times. He Lives in Vancouver, British Columbia, Canada.