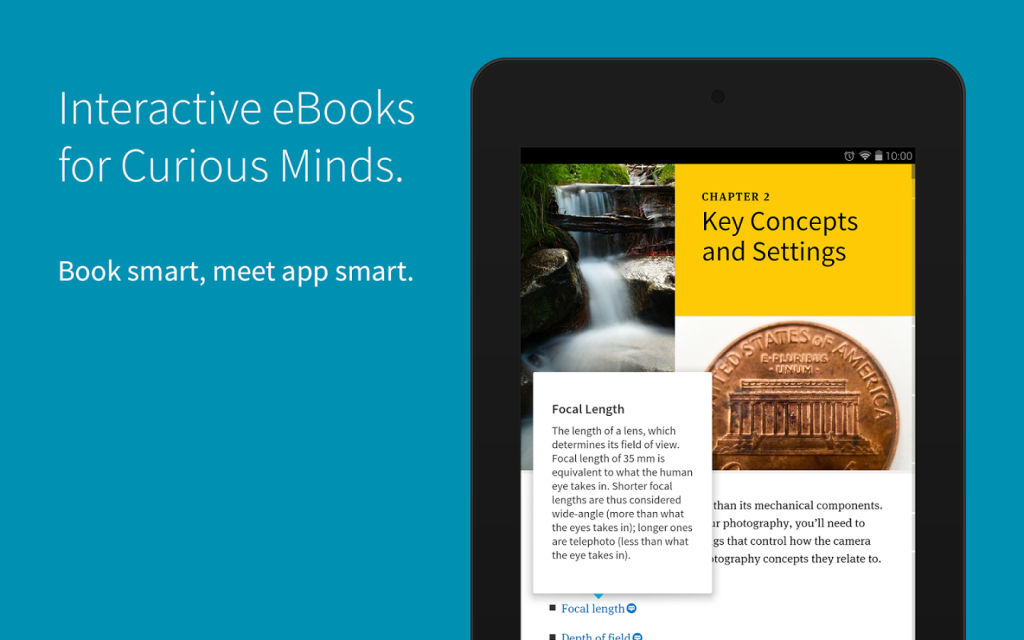 Inkling, a leader in the reimagining digital publishing, has released a beta version of its app for Android. Once downloaded, users have access to Inkling's entire library of learning content both online and off.
The company's catalogue, which focuses on innovative learning, can now be read and synced across Android and iOS devices as well as on your PC or Mac. The ebooks promise a rich media experience, which includes access to embedded videos, images and audio.
"Today marks an important milestone for us," said founder and CEO, Matt MacInnis. "We've realized the promise of build-once, publish-anywhere reflowable content on virtually any device. For consumers, that means buy once, access anywhere. In a multi-platform world, this is critical to both our partners and our consumers."
Users must remember that the app is a beta version, so functionality is still limited. For example readers cannot highlight content or make notes within the ebooks. We view this as a major limiting factor for textbooks. Nor can they adjust the brightness of the screen to provide a custom level of brightness for their eye's comfort. Furthermore, videos cannot be viewed offline as they are streamed in order to reduce the size of the ebook file.
If you're a price sensitive shopper, like a student accessing textbooks, you may not be that excited. In a random sample of six books we noticed that only once did Inkling provide a cheaper alternative than Amazon Kindle's offerings. However, the company does provide the ability to purchase a book by chapter and offers one free chapter to every book it has available.
In our view, the reading experience on Android is seamless and provides an intuitive interface both on the phone and tablet. The media within the ebooks allow for a more indepth understanding of concepts and breaks up the tiresomeness feeling of seeing a wall of words. The company is sure to provide frequent updates, adding in features like highlighting, as it focusing on growing the Android platform.
Inkling provides publishers with a collaborative publishing platform called Inkling Habitat to build and distribute media rich ebooks. The company has signed leading publishers like Pearson, McGraw Hill, Wiley, Kaplan, Elsevier, DK and Lonley Planet. It is also backed by Sequoia Capital.
You can download Inkling eBooks for Android from the Good e-Reader App Store.

Previously, Neal worked in equity research for Investment Banks in Toronto. He conducted corporate, industry and financial analysis on a variety of sectors from technology to mining. He went to Wilfrid Laurier University where he studied Communications and Business. He has traveled to over 30 different countries and is currently involved in a startup. If you have any questions about any of his articles, please send Neil Belovay an email to belo0410@gmail.com