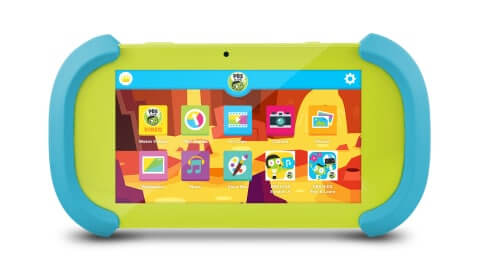 PBS has just announced a new tablet that was designed for kids. It was designed to take a lot of punishment and comes with easy-to-use parental controls that let them further customize the experience, including the ability to approve or block streaming videos, online games, and installed apps, and the ability to set daily usage time limits and the hours when the tablet can be used.
The Playtime Pad comes bundled with 25 games and 120 video clips and music videos, along with 100+ hours of video on the PBS KIDS Video App. Other popular apps such as PBS KIDS ScratchJr and PBS Parents Play and Learn are also included. Additional content can be downloaded via Google Play.
This device is very lacklustre when it comes to the overall hardware. It features a 7 inch touchscreen with a resolution of 1024×600. Underneath the hood is a 1.3Hz quad-core processor, 16 GB of memory, a microSD card slot and USB connection. It also has a front-and-back camera, but PBS has not disclosed exactly how many megapixels it has.
The Playtime Pad is coming to be hitting store shelves on November 6th at Best Buy stores for $79.99, as well as on Walmart.com and on shop.pbskids.org.
"PBS KIDS is committed to being everywhere kids are — offering media content that helps them reach their potential, anytime and anywhere," says Dawn Ciccone, Vice President, Brand Licensing, PBS. "We know that many families are looking for kid-friendly devices to help support their kids' learning, so partnering with Ematic to offer our content on the Playtime Pad was a great fit for us, because it provides yet another place for children to engage with the PBS KIDS shows and characters they love."