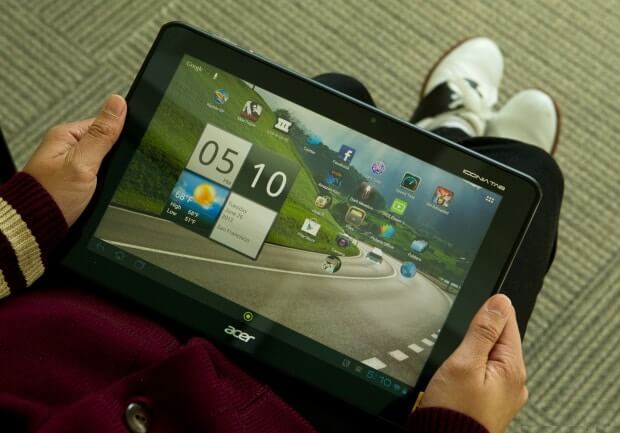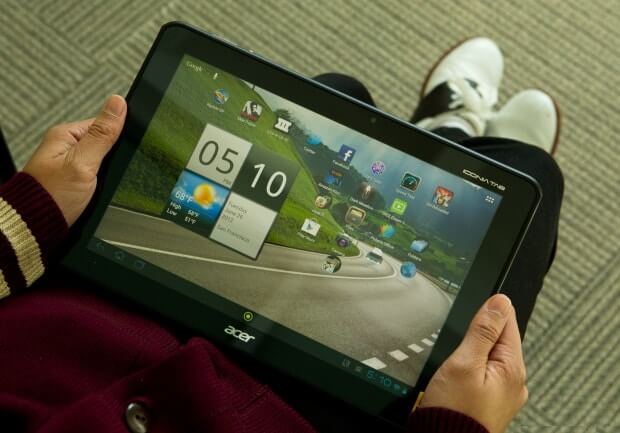 The Acer Iconia Tab A700 is the best tablet that Acer has to offer right now, with the highest resolution that Android can support, and is the first to offer such high resolutions. Is the tablet that good a device when taken in its entirety? Let's find out.
Design and Appearance
The A700 does not break any new ground with its design, though Acer has still managed to come out with a device that is sleek and well built. There is a metallic edge surrounding the device, while the rear sports a speckled finish, allowing the device to be held easily. The tablet is slightly longer and narrower than the current gen iPad 3, in spite of it sporting a 10.1 inch display. The A700 is very similar to the A500, though one thing that sets the A700 apart from the vast majority of other tablets is its resolution. At 1920 x 1200 pixels, the display is second only to the Apple's iPad 3, and a stupendous improvement over the A500. The pixel density for the A700 10.1 inch 10 point multi touch display stands at a healthy 224 ppi. The only other tablet that comes with a 1920 x 1200 pixel display is the Asus Transformer Pad Infinity.
Hardware
The Acer Iconia A700 features a 10.1 inch screen and is running on a Nvidia Tegra 3 quad core CPU with a clock speed of 1.3GHz. The A700 also boasts of Nvidia's GeForce 12-core graphics hardware that provides the tablet with excellent graphics munching abilities. System memory stands at 1 GB, while on-board storage amounts to 32 GB. There is a microSD card slot as well that can take up a few more GBs (96, to be precise), which is gaining importance as we move towards more multimedia oriented data. A SIM card slot is also present, but is inactive in the current version. Acer has stated that would be activated in a future A701 version.
For ports, the tablet sports a microUSB and a microHDMI slot in addition to the microSD card slot already mentioned. There is also a head phone jack and the volume controls as well as screen lock buttons. The power button is located to the top left of the tablet, just like the A500 variant.
Performance is breezy as the device proved its mettle in being able to run even the most memory intensive games or 1080p video playback with perfect elan and without ever dropping any frames. That said, some apps (such as skype) would crash or the screen tended to freeze unexpectedly, though not frequently enough to be a dealbreaker.
Software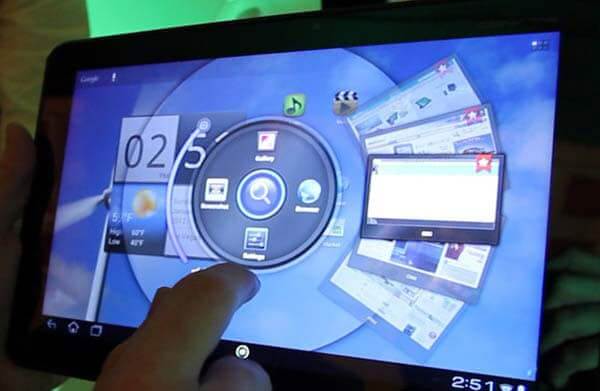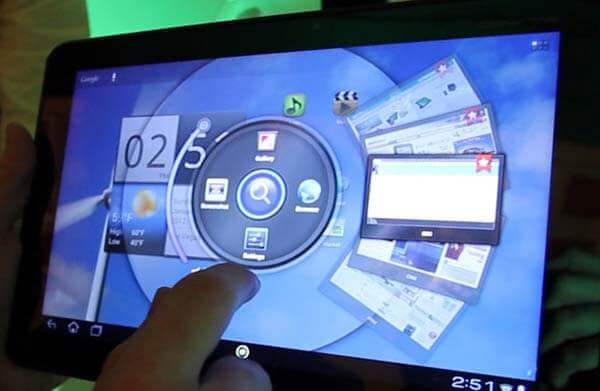 This is one of the most important aspects that can make or break a tablet. This is one prime reason why the iPad series has always excelled and has been the tablet to beat for three years in a row. Competitors have been able to churn out tablet PCs that presented hardware credentials to match the iPad, but none of them have ever been able to offer a complete package of convenience and functionality. In this respect, the A700 can be considered to be a solid attempt.
The A700 runs Android 4.0.4 Ice Cream Sandwich, though Acer has tweaked it enough to allow for a surprisingly nice user experience. Also, the A700's UI provides an easily accessible snapshot of all apps currently open. A green bullseye is located at the bottom of the screen and when tapped it pulls up a ring displaying the open apps, allowing you to get an idea of the current status of the tablet or control its various features, like lock screen or adjusting volume. The UI is inviting to say the least and does add to the tablet's appeal. The ring is also customizable, so users can add frequently used apps to it for easy access.
Another thoughtful addition to the software is an app that provides the user with the option to print out what is being displayed on the screen. Acer is claiming its app is compatible with a whole host of wireless printers currently available, though prospective buyers should check with their current hardware if printing wirelessly from the tablet is a priority.
Another nice feature with the A700 is that it can be connected to all Acer hardware, like a laptop or desktop computer. For this, a simple registration app is all that is needed. Then there is also the NVIDIA TegraZone that the A700 has access to, since it is powered by the Tegra 3 chip. NVIDIA TegraZone holds a repertoire of exclusive applications only compatible with a Tegra device.
Other apps pre-loaded on the tablet include Amazon MP3, Evernote, Netflix, YouTube, and Polaris Office, with the latter able to open and edit MS files. For ebook reading, the A700 comes with the Amazon Kindle and Zinio, while McAfee's VirusScan Mobile provides data protection. Then of course there is the whole host of Google apps, such as Google Music and Google+.
Reading Experience
Acer bundles its tablets with special content folders and one is devoted to reading! The company has suspended its relationship with Kobo to provide 2.3 million free ebooks, but it does have access to Google Play. This means you can easily download Kindle, Nook, Sony, Kobo, Overdrive, and many other popular reading apps. If you are a comic book fiend you can download Marvel, DC, Comixology, or any other app you prefer. Sometimes when you live outside the USA, you are limited to the companies you can deal with or have access to via Google Play. We recommend downloading our own Good e-Reader App Store Client right to your device and download any reading, newspaper, or magazine apps you want right to your device.
The ten inch screen really makes reading comics and newspapers a vibrant experience. It certainly does a better job than the seven inch Acer Iconia A100 tablet that the company released last year. It gives you more screen space and is a bit easier on the eyes.
Battery Life
This also happens to be another extremely positive quality of the A700, as it can survive an entire day on a single charge when used moderately, or several days for intermittent use. To put that in figures, about 8 hours of runtime can be expected when playing videos and with Wi-Fi kept on from the A700's 9800mAh hour battery. While more is always welcome, the battery life isn't bad at all.
Wrap Up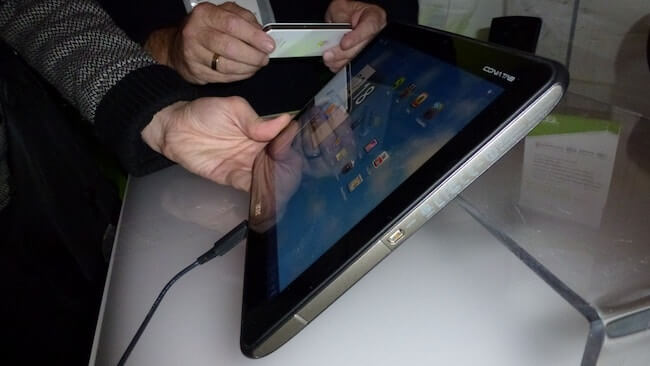 The A700 is available in two color options, matte black and silver, at an attractive price of $450. The price makes the tablet extremely desirable. It promises solid performance with acceptable battery back-up time. While the tablet is not without its share of shortcoming—the design is boring and the tablet tended to get a bit hot at the lower left region after prolonged use—the A700 still has a lot going for it in the 10 inch category of tablet PCs. Also, no other tablet offers such a bright and vivid display at such a low price. Its closest competitor is the Transformer Pad Infinity with better performance, better all-round display, and better battery, but costs $50 more.
Sovan Mandal is the senior tablet and tech corespondent for goodereader.com. He brings a international approach to news that is not just applicable to the North American market, but also Asia, India, Europe and others. Sovy brings his own writing flavor to the website and is interested in Science Fiction, Technology and Writing. Any questions, send an email