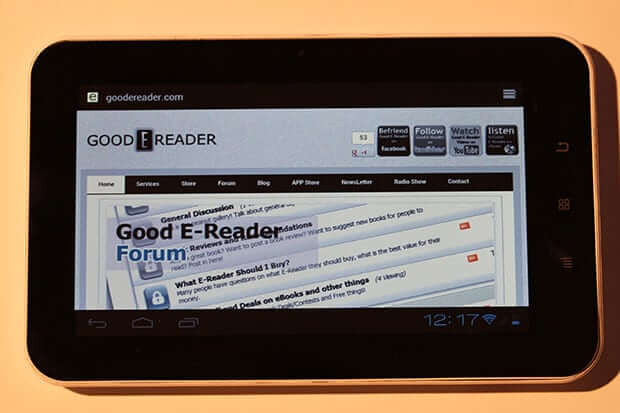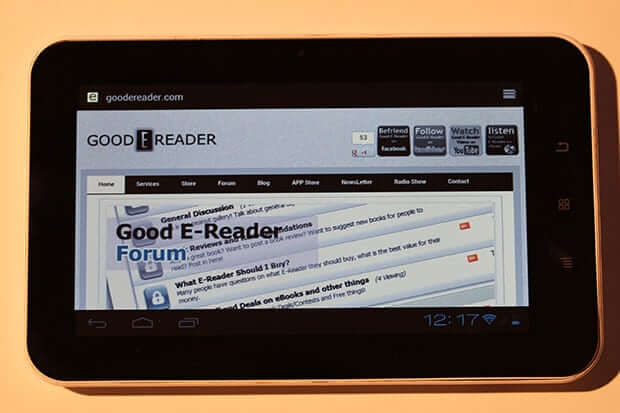 Aluratek is leaving its history of e-readers behind and moving forward with its seven and ten inch Cinepad Tablets. The company initially demoed the devices at CES 2011, and finally released them a few weeks ago. Considering Aluratek is very well known for its Libre series of ebook readers, how does its tablet stack up?
Hardware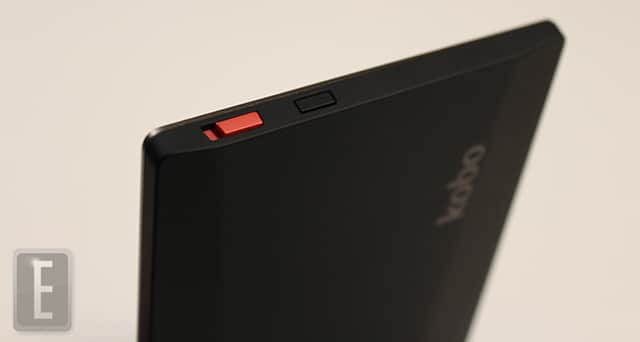 The Aluratek Cinepad AT107F features a seven inch capacitive touchscreen display with a paltry resolution of 800 x 480 pixels. Things chug along fairly slowly with the Boxchip A10 cortex A8 1 GHZ single core processor. I found launching apps and navigating the internet especially were very taxing on the processor. The RAM is not too bad at 512 DDR3, but Android 4.0 suffers from the lackluster hardware specs.
Internal memory is fairly standard with lower-end tablets with 4 GB. There is a Micro SD card that allows you to expand it to 32 GB. There is basically enough memory on this to house most of your common apps and games, but if you are into video content, you want to invest in a Micro SD.
Looking at the body of the tablet, the front has 3 capacitive touchscreen buttons that let you hit the Home, Settings, and Back. It also has a front facing VGA camera that has an abysmal .03 MP camera. It is blurry and sub-par and if you had to Skype with anyone on a serious level, they would see you as a hazy shadow. On the bottom of the device is a Microphone, Micro USB, Hard Reset, HDMI, 3.5 mm headphone jack, and DC Charger. Speaking of charging, it has around seven hours of continuous use with the 3000mAh battery. The left hand side of the device has the power button and volume. There is a single mono speaker on the bottom.
This model only ships with WIFI internet access, but there is a 3G option via the software. Internet speed is fairly robust, but it entirely depends on your connection.
In the end, this hardware is fairly substandard. Google Android 4.0 OS requires a fair amount of processing power in order to give you a great experience. No matter how high you turn the brightness settings when you view this tablet on different angels, it starts to blur out. The overall web browsing experience is fairly poor with the single core processor not able to keep up with common websites with high graphics.
Software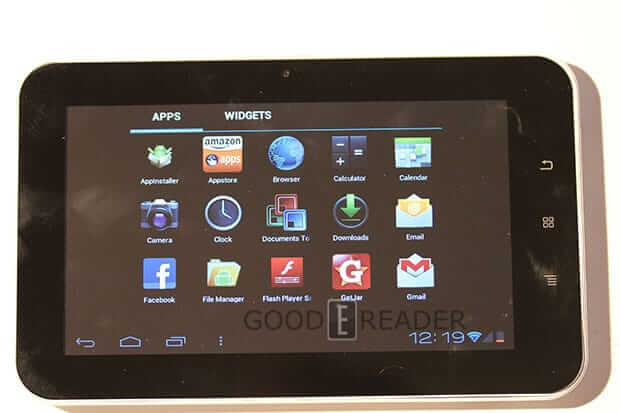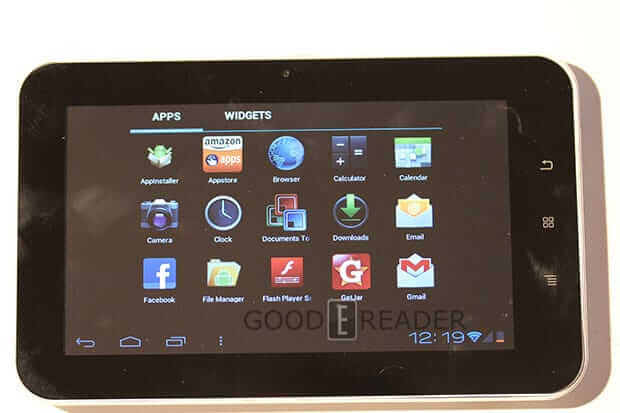 The Aluratek Cinepad 7 inch model features the latest iteration of Google Android Ice Cream Sandwich. It gives you all of the latest features you can expect with the revised menu navigation system.
There is a fair number of bundled apps that come shipped on the device, such as Gmail, Google Maps, and Google Voice. You can get more apps via the Amazon App Store and Getjar, which come bundled on it. There is a copious amount of apps in both of these ecosystems and they give you the opportunity to really get all the major paid and free apps that you want. So many cheap tablets are shipped with no ecosystem at all, so it's refreshing to have so many different options with this tablet.
You can stream 1080P videos directly to your television via the HDMI connector. Obviously, with the 800 x 480 resolution, you won't get full HD on the tablet screen itself, but at least you have the option. There is also no DLNA capability for wireless streaming of audio and video content. Speaking of multimedia, there is only a very basic media app that comes bundled on it. The audio player is especially terrible with only a single Play and Pause button as the extent of your configuration.
Considering Aluratek is well known for producing e-readers for the last four years, the company has not transplanted any roots on this device. There is not even a single e-reader app that is shipped with the device and the company makes no mention of using the Cinepad for this use. It would have honestly made more sense to go with its strengths and market this as an e-reader/tablet hybrid, instead of trying to compete with every other tablet on the market.
Our Thoughts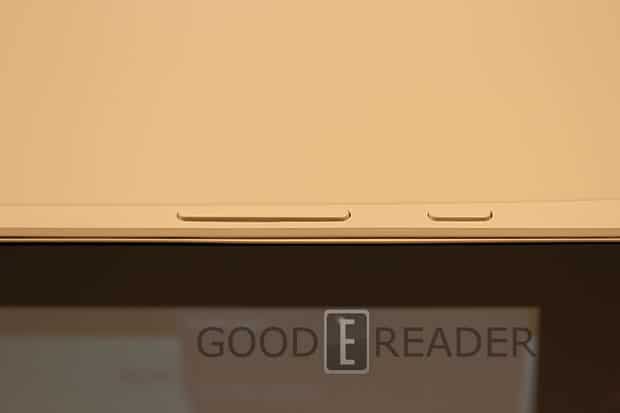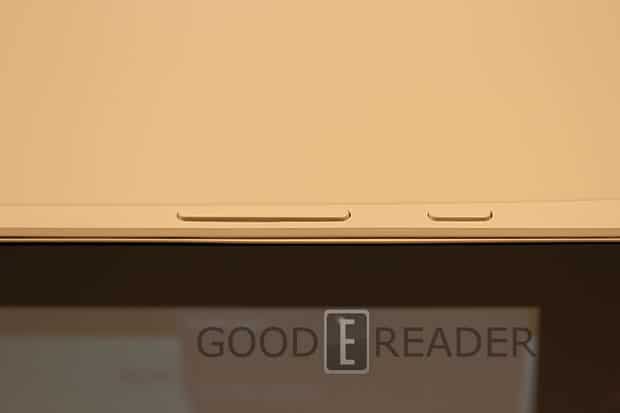 The seven inch Cinepad has a high build quality with a piano black front and an ivory back. It has a cool juxtaposition of contrast in terms of the color. The hardware itself cannot keep up with the most demanding games and the woeful single core processor can't run anything of note. Considering most tablets are now shipping quad-core and most others dual-core, it is very hard to use this tablet for anything less then reading rss feeds and doing very basic tasks. Many customers these days want their tablet to stream full HD, surf the net with impunity, and play the latest Gameloft games. This is not the tablet for you if you want to do all of this.
On the plus side, its price is right and you can currently buy it from Shop e-Readers for $149.99, which is significantly less than the Nook Tablet or the Amazon Kindle Fire. Hardware-wise, it is a bit better than other lower-end tablets, such as the Velocity Micro Cruz, Pandigital tablets, and many others. It is cheap and cheerful, but you definitely get what you pay for.
Pros
Affordable Price
HDMI Out
Amazon and Getjar Markets
Google APPS bundled
Cons
Underwhelming processor and internal storage
Poor Internet Experience
NO e-Reader Apps
Terrible screen resolution.
Rating 5/10
Michael Kozlowski is the Editor in Chief of Good e-Reader. He has been writing about audiobooks and e-readers for the past ten years. His articles have been picked up by major and local news sources and websites such as the CBC, CNET, Engadget, Huffington Post and the New York Times.