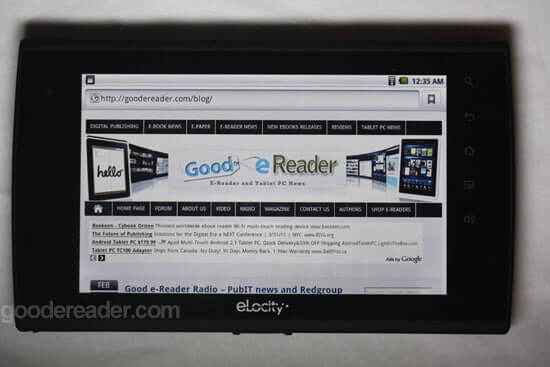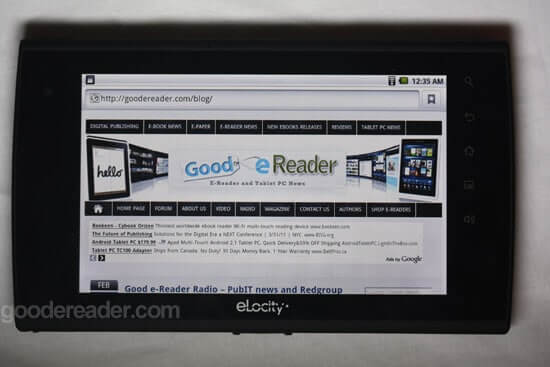 Welcome to another official Good e-Reader Review! Today we take a look at the brand new eLocity A7 Android 2.2 7 inch Tablet PC! This is the final production version, there are a few reviews floating out there, but they are mainly the pre-CES versions. These new tablets are still mainly on pre-order, but we were lucky enough to get a copy from the company.
Hardware
The eLocity A7 is a 7 inch capacitive color touch screen tablet with a resolution of 800×480 pixels. Bundled with the A7 is also an ambient light sensor to automatically dim or brighten the screen depending on your environment. It runs on a NVIDIA Tegra II T-250, 1~1.2GHz, 1MB L2 Cache processor with is powered by a NVIDIA ULP GeForce graphics card. Internal memory is relegated to 4 GB and can further be enhanced up to 32 GB via MicroSD card. It also has 512 MB of 667 MHZ RAM and runs Google Android 2.2 for the operating system.
There are lots of ports on this device which make it highly interactive with attachments and media. It features a USB 2.0 port so you can plug it in to your computer or attach a USB Flash Drive to load files off of it directly. It also has a full HDMI port so you can plug it into your television or projector. As well, it features a headphone jack, twin stereo speakers, microphone and a docking port.
This is a very slick and well designed tablet and is brimming with multimedia features. If watching Youtube and videos is your thing you can easily decode H.264 MP, H.263, VC-1 and for audio AMR-NB, AMR-WB, eAAC+, BSAC, MP3, Ogg Vorbis, WMA 10. It also has integrated support for AVI, MP4, 3GP, ASF, MP3, OGA, QT formats.
One of the most exciting feature that immediately blew us away was how quickly it switched between landscape and portrait mode with its 3-axis accelerometer. Although it is not do total 360 degree rotation, it does portrait, reverse portrait and landscape mode.
There is also lots of connectivity options, you can access the internet via WI-FI and use blue-tooth. It also has a 1.3 MP web-cam so you can do video conferencing via Skype.
The device itself is very sleek and sexy, the chassis is done in Piano black. All of the ports, such as HDMI, DC-IN, USB, Headphones and all of the others have little plastic flaps that protect the port. This is essential if you normally bring your tablet outside of the house where dust, water, and other factors could possibly get inside.
All in all, this is a really polished device, processing power is fast, games such as Angry birds play very well with no lag at all.
Software
The eLocity A7 features Google Android 2.2 as the main operating system and there is no word yet if it will support 2.3 or Honeycomb. We got our device on the very first day it came out and eLocity let us know that a new update was just release today that should correct some lingering Blue-tooth programs, as well as a few others. You can access the update and upgrade your device via MicroSD HERE.
There were a few features right out of the gates which proved to be very pleasent surprises. For one it comes with Adobe Flash! This allows you to watch embedded Youtube videos and access online games. This is such a boon, as so many other midrange tablets have absolutely no Flash capabilities that make it not customer friendly.
Also right out of the box, eLocity plastered links to its own application store that you can download apps using your tablet. You can get common programs like Facebook, eBuddy, Live Messenger, Amazon and Kobo Reading applications. eLocity also bundles a web portal to another Google Android Alternative Appstore in the form GetJar! This is a great place to get all of the current Android games and applications such as Angry Birds ,Dolphin HD and Opera.
We are very impressed on how easy eLocity makes accessing new applications and installing new ones are a breeze. Games also play super fine with the integrated Nvidia ULP graphics acceleration. Many other tablets we played with lately including the Cruz T301 Tablet pale in comparison.
Out of the box the A7 is loaded with applications! If reading ebooks is your thing, it has FBreader, Aldiko and Kindle. You can also easily download other e-reading apps such as Kobo, Sony, Barnes and Noble and Borders via the other markets.
The device also has other apps such as Documents to Go and all of the standard Android apps, such as calculator, web browser, email, file manager and more!
The internet experience on this A7 Tablet is amazing. The ability to play Adobe Flash games, watch embedded Youtube videos make it the premier tablet we have reviewed in the last 3 months. Web pages load very quickly and it really does allow for an unbridled internet experience. We did find playing some flash games did crash the device, while others played flawlessly. Some trial and error with pure Flash games may be required. When you browse the web you can also pinch to zoom in and out, which makes it handy to look at smaller text.
Our Thoughts on the eLocity A7
We first saw the entire 2011 eLocity line at this years CES and were very impressed with the sheer amount of tablets they have coming out this year. We posted a video and pictures of the entire eLocity roadmap of 2011 and there are some great goodies coming out soon. This version of the A7 was the companies first offering of 2011 and will have different models of the A7 coming out in March. The main differences is just internal storage, word has it it will range all of the way to 250 GB of memory.
There are way more positives then negatives on the A7 and that fact alone really impressed us. We have played with most new Android tablets released in the last six months such as the Velocity T301, Archos 7, Maylong 250, and a ton more and this A7 is the best of the bunch. It's a respectable 7 inches which makes it the same size as the Samsung Galaxy Tab. The price is also very respectable at $329.00
Many Android devices that come out feel very unpolished both hardware wise and software wise. This one feels current with Android 2.2, and this lets us use live wallpapers and run all of the applications that really exist for Android. We were also impressed by Skype live calls with the integrated web-cam, it run flawless and thats due to the Tegra 2 processor.
Other positives included a number of e-reading apps and page turns on all of them were very fast. The other apps that came with it also run very robust and we experienced zero lag on anything we did.
The hardware also shined, the ability to put a USB 2.0 flash drive and load files right off of it was a tremendous advantage. The A7 also has 4 GB of internal storage which is enough for most of your media. Videos and music also played very well in our stress tests. Even without headphones the speakers really gave a clear and crisp sounds.
There were only a few negatives we found on the A7, mainly the absence of of a standalone video player with EQ options. They only way you can watch videos right out of the box is to watch the 1080P trailers they give you. If you want to import your own videos you will have to use a high storage USB flash drive and watch the videos off of that, or import them via MicroSD. Another strong negative is the lack of a Micro or a Mini USB port. This means you cannot plug your tablet into your PC or Laptop in order to transfer media back and fourth. The only way around this is to use your USB 2.0 port and Flash drive to transfer content back and fourth. You may also elect to take advantage of your Micro SD card to load your tablet up with music, video and pictures.
We would really recommend this device to anyone wanting to buy into the whole Android tablet craze. It gives you the FULL experience that many other rival tablets do not.
[cincopa AAJAxf60iL16]

Michael Kozlowski is the Editor in Chief of Good e-Reader. He has been writing about audiobooks and e-readers for the past ten years. His articles have been picked up by major and local news sources and websites such as the CBC, CNET, Engadget, Huffington Post and the New York Times.