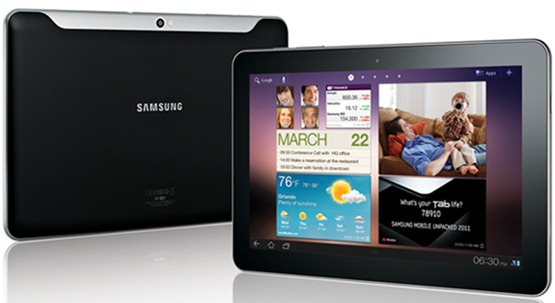 Till today, it has been the Best Buy Union Square Store that has been selling the Samsung Galaxy Tab 10.1 almost exclusively. However, from now onwards, those eager for the Samsung tablet can breathe easy as the tablet will now have a pan US presence.
Running Android 3.1 Honeycomb, the tablet already has been getting rave reviews all across the world and is being considered among the better Honeycomb tablets that has come our way. Also, the tablet right now sports the custom Honeycomb UI as of now though Samsung has said the tablet will get the Touchwiz sometime soon via an update. In fact, the company renewed their commitment towards making the tablet even more better by providing it with necessary updates to keep the product fresh and its appeal intact.
"Ensuring that the Galaxy Tab 10.1 launched with Android 3.1 Honeycomb was part of our constant commitment to meeting the needs of our customers," stated Dale Sohn, the President and CEO of Samsung Mobile before also adding, "The Galaxy Tab 10.1′s ultra-thin design and 10-inch touchscreen are impressive differentiators in the tablet market place. We're going to make the Galaxy Tab 10.1 even more powerful, entertaining and secure through a series of upgrades coming to this device. "
However, in spite of all the good things that the Galaxy Tab 10.1 can be associated with, the one aspect that the tablet can be found lacking is the absence of a 3G version as yet. Of course, Samsung is too well aware of the fact and it should come as a relief for those who have been putting off their purchase of the tablet for want of the 3G feature that the 3G enabled Galaxy Tab 10.1 isn't too far off.
In fact, what makes it even more interesting is that the 3G version of the tablet has hit FCC the very day when the Wi-Fi version of it has gone on sale throughout the US of A. As wirelessgoodness points out, the FCC filing reveal the Galaxy Tab 10.1 complete with the 3G logo while its test report show the Samsung tablet to be compliant with GSM 850 and 1900 bands, along with WCDMA (UMTS) bands II and V as well. These are the band used by AT&T in the United States which means the Galaxy Tab 10.1 in its 3G avatar will be coming from none other than AT&T in the not too distant future.
Samsung or AT&T is yet to announce what the 3G Galaxy Tab 10.1 will cost once its ready for market debut. There have also been reports of the Samsung tablet to be available on Verizon's network as well though nothing has come out of that as yet.
Sovan Mandal is the senior tablet and tech corespondent for goodereader.com. He brings a international approach to news that is not just applicable to the North American market, but also Asia, India, Europe and others. Sovy brings his own writing flavor to the website and is interested in Science Fiction, Technology and Writing. Any questions, send an email