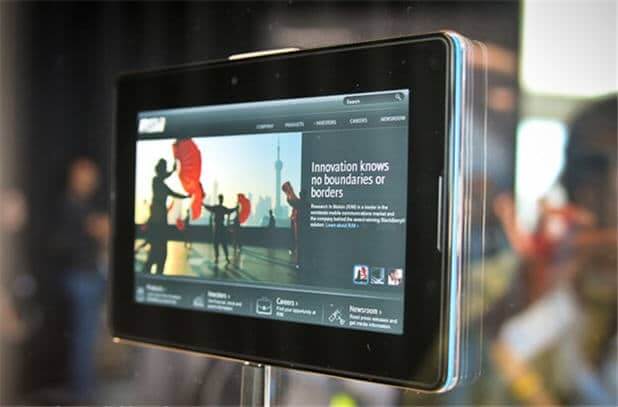 Guess what are the financial implications RIM is having to weather while it attempts to lure consumers with a price bait of $199 for its PlayBook tablet devices. Its a steep loss to the tune of $485 million that RIM faces for its BlackBerry PlayBook and like the almost half billion dollar amount, their tablets have also been stockpiled into a mountainous issue. That does not however mean RIM is letting go of their hopes of the 7 inch tablet coming back into reckoning. In their opinion the tablet market itself is in a nascent stage and therefore such sales disasters are natural to occur before things start settling down. Price of the PlayBook has been reduced to sub $200 and RIM is also planning to introduce some ingenuous promotional ideas to kick start their yet fledgling tablet.
While RIM claims they have enough number of the tablet with then, some retail shops have cancelled orders on the pretext of stock shortage. These reports are quite contradictory, especially for those people who have gone for the tablet just because of its low price. It is however a fact that the BlackBerry device does face a major issue as it does not have native email support which RIM have delayed in attending to.
As per RIM, 150,000 units of the PlayBook have been sold off in the third quarter which should help alleviate their present stockpile issue, at least to an extent. However, for that to happen, the discounts will have to be in place and RIM too does not seem to be in a hurry to push prices up. However, while this can take care of the unsold PlayBook tablet PCs, the staggering losses that the company is facing will take some more caressing to ensure things are back in the black. The $485 million loss that the company has to address is more a non-cash affair.
"Although a number of factors have led to the need for an inventory provision in the third quarter, we believe the PlayBook, which will be further enhanced with the upcoming PlayBook OS 2.0 software, is a compelling tablet for consumers that also offers unique security and manageability features for the enterprise. Early results from recent PlayBook promotions indicate a significant increase in demand across most channels. We look forward to continuing to grow the installed base of PlayBook users and to attracting more and more developers to expand the volume of applications, content and services that leverage the power of the industry leading QNX-based platform," said Mike Lazaridis, Co-CEO, RIM.

Sovan Mandal is the senior tablet and tech corespondent for goodereader.com. He brings a international approach to news that is not just applicable to the North American market, but also Asia, India, Europe and others. Sovy brings his own writing flavor to the website and is interested in Science Fiction, Technology and Writing. Any questions, send an email