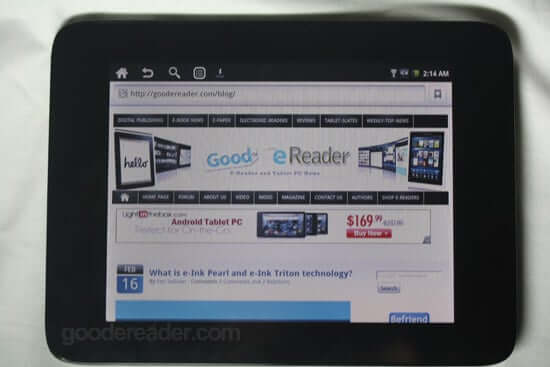 Welcome to another Good e-Reader Review! Today we take a long look at the new second generation tablet from Velocity Micro, the T301! This is the latest tablet PC that Velocity Micro has released. Is it a good investment for your money on a mid range Android Tablet, or should you give it a miss?
Hardware
The Velocity Micro Cruz Tablet T301 is newest offering the company has put fourth to date. It features a 7 inch TFT LCD capacitive touch screen display with a resolution of 800×600 pixels. It currently only has a aspect ratio of 4:3 and has a built in G-Sensor that will give you a full 360 degree rotation. This means not only will it go in landscape and portrait mode, but it will switch to portrait mode even if its upside down. This is a great feature and its baby brother the Velocity Micro Cruz Reader only does 90 degree rotation.
This new tablet has 256 MB of RAM and 4 GB of internal memory. You can further enhance the memory via the 4 GB SD card that comes bundled with the device. Speaking of bundled features you also get a nylon carrying case and a stand for the tablet to sit on. There is room on the stand for the power adapter to be plugged in, so you can watch videos, or use it as a digital photo frame while not having to exclusively rely on the 6 hour battery life. The stand also is weighted, so it is not flimsy plastic like the stand that is bundled with the Pandigital Novel.
The Velocity Micro Cruz Tablet also supports more audio and video codecs then its previous models. For audio playback it supports Mp3, WMA, AAC and WAV and video formats supported are Mpeg-4, H.263 and H.264. If viewing pictures is your thing, it does have support for PEG, GIF, PNG, BMP image support.
One feature this tablet lacks is for ebook formats. The Velocity Micro Cruz Reader has built in support for ePub book formats, which are the most prevalent ebook types found in most book stores. The Cruz Tablet only has support for PDF, TXT, and HTML. You can get around this by sideloading in your own epub books using a different application such as Aldiko or FBreader.
The overall design elements of the Micro Cruz Tablet is very slick, its entire chassis is done in Piano black. Absent from this model, as all Cruz tablets is the Home, Back, Settings buttons. Velocity makes these features entirely software based, which has its pros and cons. Some applications we noticed hide the back and home button, so you must tap randomly within the program to access the home button.
The unit comes with volume up/down on the side and on the top has a micro USB port, power button and the SD card port. On the bottom of the Cruz Tablet you have 2 stereo speakers, the DC charger port and a headphone jack.
Software and Content Distribution

The Velocity Micro Cruz Tablet T301 runs on the Google Android operating system, which seems to be outdated right out of the box. There is no word yet if they will bypass upgrades for 2.1 and 2.2 to go for Google Honeycomb.
Since the tablet runs on Android you have a ton of the mainstay programs that inherently come with the stock OS. You have a web browser, email, calender, alarm clock, file manager and a bunch of others. You also have social media applications that come pre-loaded such as eBuddy and Facebook Mobile. A very nice feature on the Velocity line of Tablets is that they have their own 'Cruz Market.' This gives you a one stop shop for most common Android applications such as Kindle Reader, FBreader, Youtube Mobile and even other markets. You can directly download the Google Android Market alternatives such as andappstore, so you can get other ebook reader programs such as Aldiko.
One of the drawbacks of the Cruz Market is that it does not have applications for other major eBook stores such as Kobo, Barnes and Noble, and Sony. You will have to directly find the Android 2.0 APK files. Of course we are Good e-Reader love to make your e-reading experience as solid as possible, so we put together a list of direct downloads for these other major ebook reader applications. You can access those apps direcrly by clicking HERE. Keep in mind, in order to install APK files, you must have an SD card in your Cruz Tablet. You cannot save APK files directly to the devices internal memory. Also we found out that you cannot use a MicroSD card in a SD adapter, you MUST use a native SD card.
The internet experience is accessed via WI-FI and the keyboard responsiveness in this model is very high. We had a fair amount of problems with the Velocity Micro Cruz Reader with the keyboard being highly laggy, this model makes entering wireless passwords very easy.
You can access the web via the web browser that comes with the Micro Cruz Tablet. You can also Pinch and Zoom which is a great feature, something its other tablets lack. Of course you can also click on the zoom android buttons on the bottom left hand corner. Although the tablet does support pinching, it is very finicky in the way its responsive. We noticed you cannot do quick pinches, it has to be a long press pinch in and out to zoom and unzoom.
Another drawback of the internet browsing experience is that you cannot watch embedded Youtube videos or take advantage of Adobe Flash content and games. Seeing as though a high percentage of the internet has either videos or flash content built into the web pages its a huge drawback to not be able to view this type of content.
Our thoughts on the Velocity Micro Cruz Tablet T301
This is the latest generation tablet that Velocity has offered and it is lacking in a few key departments. The inability to play embedded Youtube videos and Flash Content is a huge deciding factor. It's also 2011 and with a new product that has feeble resolution such as the 800×600 that this offers and 4:3 aspect ratio is abysmal. Another feature that severly lacks is the older version of Android. Using 2.0 means we cannot take advantage of live wallpapers or other great features.
If you can get past these lackluster features the design is solid and it looks like a really sexy device. I dig the fact the tablet is fairly responsive, especially the keyboard and switching between landscape and portrait mode.
Also, if you are not content to do business with Amazon, whose application comes pre-installed you do have options to load in your own reading applications. So if you download books from the internet you can load them on your SD card and read them in a program such as Aldiko.
I also like the fact it comes with a stand, carrying case and a Sandisk 4 GB card, so many other devices do not bundle any of these and force you to spend more money in order to really use your device.
Overall, the device is easily purchased for around $249 and if you are being it to function mainly as an e-reader we would recommend the Barnes and Noble Nook Color at the same price. Its main competition at this price point is the Pocketbook IQ, Pandigital Novel 9 inch and a few others. For this price point, I would recommend to go with the Pocketbook IQ instead of spending the money on this device.
If you were to ask me, if you should buy it, i would say no. There are plenty of great devices that have come down in price, such as the Samsung Galaxy Tab ($399) and come with all of the features that this lacks. I would honestly recommend to save your money and invest in a bit higher end tablet.
One of the saving graces of mid range budget tablets like the Velocity Micro Cruz is that hacking and modding communities exist to give you a little bit of support. The website SlateDroid has a bunch of modding and tips to get better quality video and update the Android OS.
There is a huge gulf between mid range and high range tablets, on the lower range, you get what you pay for, and there is really no solid android devices under $199.99. With Google Honeycomb coming around the corner and new devices such as the LG G-Slate, Samsung Galaxy Tab 2 and iPad 2, you would be better served saving your money and buying something that is considered "current" in 2011. This Velocity Micro Cruz tablet might have seemed like a good investment in 2009 or early 2010, but in the here and now, it lacks too much to make it a recommended viable purchase. If your heart is dead-bent on purchasing it, you could do allot worse.
Rating – 6/10

[cincopa AYGArcKnxKzj]

Michael Kozlowski is the Editor in Chief of Good e-Reader. He has been writing about audiobooks and e-readers for the past ten years. His articles have been picked up by major and local news sources and websites such as the CNET, Engadget, Huffington Post and Verge.