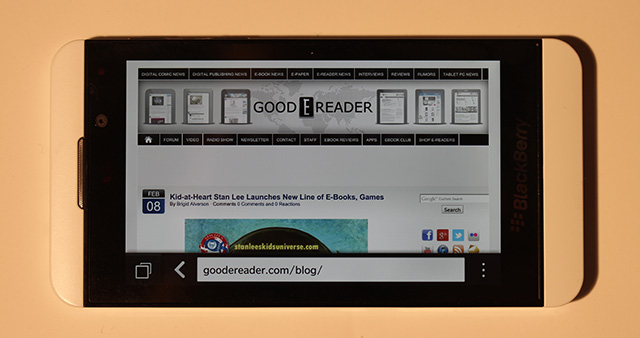 The Blackberry Z10 is the first smartphone running the new BB10 operating system that took years of development. One of the main downsides on the consumer level is the lack of BIS email support. BB10 eliminates the need to rely on Blackberry's own servers to encrypt your data and email. This results in carrier pushed emails and hefty data fees.
Many loyal Blackberry users have stuck with the company because of its world-class email support and encryption. It was this foundation that appealed to enterprise level customers and the general public. When an email was sent to your account, it was passed through Blackberry's servers and then instantly pushed to your phone. Every single Non-BB10 phone still abides by this principle, but the new Z10 and upcoming Q10 will filter all email data through your carrier. The only thing that passes through the official Blackberry servers are very small packets of encryption that help you gain some semblance of security for the general public.
One of the drawbacks of the lack of BIS for BB10 phones is the compression that the service offers. Emails, attachments, and most data were optimized when the content was delivered to your phone, giving customers 4x less data overages as you would see on an iPhone or Android gadget. With the elimination of BIS, this means that if you receive hundreds of emails a day, along with attachments, you can quickly max your data plan. If you are using your Blackberry for your small company, you will incur higher data roaming rates because your data will be higher.
Enterprise level customers still use the BIS through their BB10 devices, but this is not available for the general public. Many carriers are telling customers that you can attach a BIS plan on your BB10 device, but they are wrong, you can't. The best you can do is rely on Activesync, if your server supports it. The vast majority of people with small to medium sized businesses are all using POP3 or iMAP servers, which delivers mail to you very slowly.
The essence of the lack of BIS support is the lack of true pushed email. In the small business world, it is critically important that you get your mail right away. If you have to wait for the 15 minute maximum sync intervals, it could spell disaster for your company. You could miss out on meetings, sports tickets, and netowrking with people on the fly.
Your battery life on BB10 phones will suffer from the lack of BIS support. Since you are constantly querying your accounts, and fetching more data, you will see a significant degraded lifespan on your average charge. Blackberries have been traditionally "All day" devices, typically the Torch, Bold and Curve, would last all day. The Z10 certainly does not see this type of life, many due to massive data increases and the number of calls it's making to remote servers.
To be fair, the Z10 phone still has the best email options in the world. The system completely destroys Android, iOS, and Windows for its form and function. Hardly any email apps allow you to use the Blackberry's famous "delete prior" function. With the click of a button, you can easily delete hundreds of emails at once, eliminating the tedious need to do it one by one. The virtual keyboard for typing emails is actually very solid as well and the overall build quality of the phone is a breath of fresh air. With that being said, serious email users will want to bypass any BB10 phone, unless you are on a true Enterprise server with your large company. You average user and small business customer will be better off with an older phone.

Michael Kozlowski is the Editor in Chief of Good e-Reader. He has been writing about audiobooks and e-readers for the past ten years. His articles have been picked up by major and local news sources and websites such as the CBC, CNET, Engadget, Huffington Post and the New York Times.