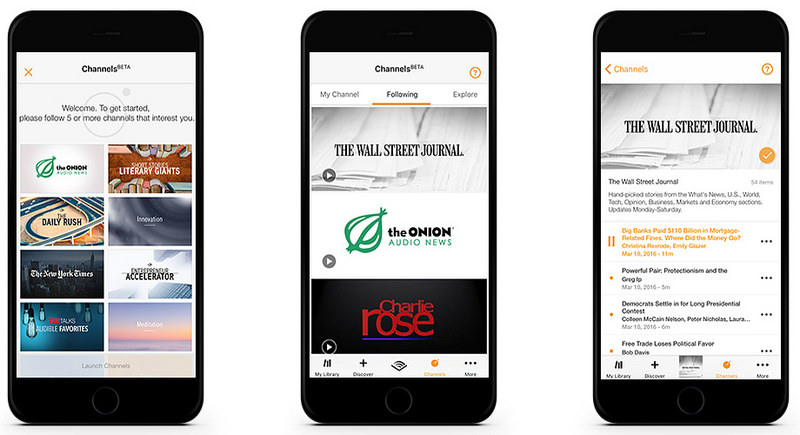 Audible Channels is a new platform that launched earlier this month and it is available for free to monthly Audible subscribers or can be purchased as a standalone subscription. It features podcasts, audio versions of newspapers, comedy shows and tech.
When Audible Channels first launched they 84 different companies that are contributing content, such as The Washington Post, USA Today, The New York Times, CNET, Reader's Digest and Forbes. There are also 8 Audible podcasts that have been created by an in-house team. Audible told me that additional original content will be added on an ongoing basis.
Channels was designed to be a compliment to your existing Audible subscription. When you run out of your listening credits you can simply listen to additional content. I think the big selling point is not everyone has time to listen to a 13 hour audiobook, but everyone can devote an hour to listen to one of their podcasts or news shows.
Audible Original Shows
PRESIDENTS ARE PEOPLE TOO!
A show that transforms each of the American presidents into real-life people complete with flaws, quirks, triumphs, scandals, and bodily ailments. Hosts Elliott Kalan, former Daily Show head writer, and American historian Alexis Coe, talk to experts, comedians, journalists, actors, and re-enactors to better understand the men memorialized on the Washington Mall, and those all but forgotten.
DAMNED SPOT
This series looks at what happens to properties after bad things happen on them. Whenever a tragic event happens, our first thoughts are immediately with the victims, their families, and even, in some ways, with the circumstances and motives driving the perpetrators. But what about the places where these things happen? The spectacle is the jumping-off point; the story is the aftermath. What does a building or house, and, ultimately, a community need to heal? This series looks the places that are changed forever when murders, suicides, hauntings, or nefarious and wrong things happen. Rest of the series to follow in August.
BREASTS UNBOUND
Breasts have been bared, flaunted, measured, inflated, suckled, pierced, tassled — and in every way fetishized by our society. Host and science journalist Florence Williams (prize-winning author of BREASTS: A Natural and Unnatural History) delves deeper into the mysteries of the human breast with funny and enlightening reporting. She tackles the big questions of why they evolved in the first place, how jet fuel ended up in breast milk, why they are arriving earlier and bigger in teen-aged girls, man boobs, and how breast cancer in men can help female breast cancer patients.
MORTAL CITY
Former crime reporter Kathleen Horan has a way of getting strangers to talk. And not just any strangers – she finds souls on the fringe of the city – lost souls and eccentrics mostly hiding in plain sight. Each episode of Mortal City, Horan's talk show on the street, is defined by the vivid, dark, often humorous stories of its guests.
AUTHORIZED
An Audible Original series with host Ashley Ford, in which authors share their most intimate firsts; from drafts to rejections and even first loves.
THE BUTTERFLY EFFECT
In this Audible Original Series a single butterfly effect is told over the course of ten episodes. The butterfly effect in Episode One will lead organically to the butterfly effect in Episode Two, and so on. Host Jon Ronson follows the cause and effects, which will take us in slow motion through space and time across the world and through a wide range of lives and stories.
The Future is Curation
Audible is putting an emphasis on curated content in order to keep things topical, but to also introduce shows that people have never heard of before. They told me that they will have upcoming holiday themes for Thanksgiving, Halloween, Christmas and New Years.
Here is all of the curated content channels that are available now and will be debuting within the next few months.
Highly Curated Channels
| | |
| --- | --- |
| The Daily Rush | Get ready, get informed, get going. Updates every weekday morning. |
| The Daily Wrap | Check in with the important stories you might have missed today. Updates every weekday afternoon. |
| The Weekender | All the stuff you need to know and want to know to get you through the weekend. Updates every Saturday. |
| Stories Worth Sharing | You can thank us later. Updates every Thursday. |
| Learn Something Amazing | Open your mind and let us fill it. Updates every Wednesday. |
| 7 Days of Oscar Wilde | Spend a week with classic stories from Victorian England's greatest wit. |
| 7 Days of Edgar Allan Poe | Enjoy a week of the creepiest stories from the American master of mystery and the macabre. |
| 7 Days of Chekhov | Spend a week (brrrrrr) with one of Russia's greatest writers. |
| 7 Days of Philip K Dick | Enjoy a week of mindbending science fiction from the master of unreality. |
| 7 Days of Arthur Conan Doyle | Enjoy a week of mystery and intrigue from the mind behind Sherlock Holmes. |
| 7 Days of James Joyce | Extend the celebration of Bloomsday with a week of tales from Dubliners, Joyce's classic short story collection. |
| 7 Days of John Updike | Spend a week with John Updike, one of the few writers to win the Pulitzer Prize for Fiction more than once. |
| 7 Days of Katherine Mansfield | Enjoy a week of classic tales from one of New Zealand's most celebrated modernists. |
| 7 Days of O. Henry | Spend a week with classic tales from one of America's most beloved short-story writers. |
| 7 Days of Orson Welles | Spend a week with an early master in the arts of cinema and radio drama. |
| 7 Days of H.G. Wells | Enjoy a full week of fantastical inventions and murderous monsters with these stories from H.G. Wells. |
| 7 Days of Deadly Sins | [Channel contains explicit content] Spend a week with stories that evoke the infamous vices. |
| 7 Days of Fantasy | Enjoy a week of fantastical fiction. |
| 7 Days of Farcical Fiction | These classic pieces of farcical fiction really satisfied our daily dose of absurdity. Check back for a new story each day. |
| Short Stories Literary Giants | We've chosen some fantastic fiction from your favorite classic authors, so just relax, listen, and enjoy. Updates every Monday. |
| Entrepreneur Accelerator | Bust your business plan wide open and disrupt the world. Updates every Monday. |
| Comedy Mixtape | [Explicit] We made you a non-stop mix of standup, sketch, storytelling, & highlights of our original comedy shows. Updates Wednesdays. |
| # Throwback Thursday | We've opened the Audible vaults and found some incredible voices from the past. Updates every Thursday. |
| To Your Health: The Essentials | Quick and easy ways to feel your best. Updates every Monday. |
| Friday Fun Fact | Celebrate the end of another week with a little more knowledge than you had before. Updates weekly. |
| 60 Minutes of Fear | Settle in for a full hour of bone-chilling tales. |
| 60 Minutes of Love | Spend an hour relishing stories about what makes the world go 'round. |
| 60 Minutes of Inspiration | Take a little time to get creative. |
| Cool Stories For a Hot Day | These ice cold tales will help you cope with the blazing summer heat. Available in Channels through July. |
| Double Take | One subject, two ideas. Because sometimes one take just isn't enough. |
| Science This! | Explore science you can apply to your daily life. This month, memory. This month, memory.  Last month, the brain. Updates monthly. |
| World of Tomorrow | What might the future look like? Let the brightest minds in science – and science fiction – blow your mind. |
| Woman Power Wednesday | Your one-stop shop for midweek empowerment. Updates every other Wednesday. |
| Woman Crush Wednesday | [Contains explicit content] With her dark sense of humor, aloof delivery, and stark honesty, Tig Notaro has taken the comedy world by storm. |
| Gaming: Better You Better World | Improving your life, one game at a time. Available in Channels through July. |
| Game Time | Get on top of your game, whatever it may be. For July, Golf Positive with your new coach Debbie O'Connell, LPGA professional. Next up: Poker |
| Great Americans: They Shaped History | Explore the lives of individuals who helped shape the country we know and love today. Available July only. |
| Who's the Boss? Learning to Lead | Being a great leader doesn't happen overnight. Check out these tips to be a more effective boss. Updates every other Monday. |
| World of Numbers: Beautiful Math | Subtract a little time from your day to multiply exponentially your knowledge of everything mathematics-related. Available through July. |
| Stand by Me: Stories of Friendship | Get your friendship on with these heartwarming tales. Available in Channels through July. |
|  Your Ultimate How To Guide | Get some real world tips on just about everything. Updates every Tuesday. |
| The Conversation | We offer pros, cons, and thoughtful takes on one of the day's most controversial issues. |
| The Mysteries of Space | Spend your July exploring the secrets of the universe.  Updates weekly throughout the month. |
| Therefore I Am: The Great Philosophers | Absorb 2,500 years of thinking, starting from the very beginning. A new lecture added each Thursday. |
| The Department of Hard Things: Breaking Up | Nobody said life was easy. |
| The Great Escape: Dreaming of Travel | Get ready for the journey of a lifetime. Updates every other Tuesday. |
| Tech in Focus: Top News & Trends | Get up to speed on trending tech news. Updates every weekday. |
| Debunked: 13 Myths Busted |  Don't believe everything you hear. Updates biweekly. |
| Amazingly Smart | Bugs, birds, machines, and more – they might just surprise you. Updates every other Tuesday. |
| Mistakes Were Made | [Explicit] Regrets? We have a few. Available in Channels through July. |
| Good Night Your Evening Wind Down | Let us help you chill out and drift towards sleep. |
| 20 Minutes of Relaxation | Take a break and just breathe. Om. Updates every Wednesday. |
| Jurassic News | Breaking news from prehistoric times. Available in Channels through July. |
| Celebrating Shakespeare | If quality audio recordings be the food of love, play on. |
| 10 Small Ways to Change the World | It really is that simple. Available in Channels through July. |
| 60 Minutes of Suspense | Keep at least one eye open while you listen to these thrilling tales. |
| Adulting 101: Real World Toolkit | Your blueprint for ascending into (responsible) adulthood.  Available in Channels through July. |
| The Appetizer: For Food Lovers | The latest dish from the wide world of cuisine. Updates every Friday. |
| British Exit: Impact Explained | Brexit explained. Learn about the UK vote to leave the European Union and its impact across the globe. Check back for updates. |
| Conversation Starters for Couples | Here are a few key things to talk about with your better half. Available in Channels through July. |
| The Department of Hard Things: Looking for Love |  Let us keep you away from "all the wrong places." |
| FLOTUS Files: First Ladies in History | Learn more about some of the most influential women in American history. Available in Channels through July. |
| History Uncovered | Learn about history's most pivotal moments and characters. Updates every other Thursday. |
| In the Beginning: Bible in a Year | Follow a full year of in-depth, comprehensive Bible study from theologian Dr. Bill Creasy. A new lecture every five days. |
| On Nature: This Gorgeous World | Listen, look, love. These short pieces explore the beauty of the world we live in. Updates every other Wednesday. |
| On the Trail: Campaign Confidential | The biggest news from the road to the White House. Updates every Tuesday. |
| Personal Best: For Runners | Cross the finish line in record time with helpful tips and inspiring stories. Updates every other Saturday. |
| Pope Francis: A Man of Change | A look at Pope Francis, one of the most beloved– and controversial– reformers of our time. Available in Channels through July. |
| Queen Elizabeth II: Life of a Monarch | Celebrate the Queen with this new, eight-part original biography from Audible U.K., Elizabeth II: Life of a Monarch. Available though July. |
| Young People, Big Ideas | Explore the innovative work of inventors, musicians, activists, and more, all under the age of 20. Available in Channels through July.. |
The Future of Channels
Audible has disclosed that they are planning on adding at least two two new content providers a month going forward. They will also be adding more people to their in-house content team, which has close to 40 people right now. This includes narrators, editors, writers, engineers and executives.
Right now Audible Channels is only available in the United States and the company does not have any current plans to launch the service in the United Kingdom or other markets. This is not to say that they will never launch outside the US, but it looks like this is their priority market for the foreseeable future.
Topics in Channels
Adventure stories
Bios & Memoirs
Business News
Celebrities
Classic Fiction
Contemporary Fiction
Food
Funny Stuff
Global Affairs
Horror
Human Body
Innovation
Leadership
Live Storytelling
Meditation
Music
Mystery
Romance
Safe For Work Comedy
Sci Fi
Sex and Sexuality
Sports
Theater
Top News
Travel
True Crime
U.S Politics
Brands
CNET
Forbes Magazine
Foreign Affairs
Franklin Covey
The Future Is Here
The Great Courses
Harvard Business Review
Horoscopes by the AstroTwins
McSweeney's
MIT Technology Review
National Review
New Republic
The New York Times
The Onion Audio Shows
OSHO Talks
Reader's Digest
Reason Magazine
Science News Magazine
Scientific American
Smithsonian Magazine
TED Talks: Our Favorites
TED Talks: Weekly Featured Collection
Today in History
USA Today
The Wall Street Journal
The Washington Post
Shows
Best of RISK! Live
The Charlie Rose Show
Criminal
Death, Sex & Money
Freakonomics Radio
HBR Ideacast
Here's the Thing
Hold On with Eugene Mirman
Hot Mic with Dan Savage
How to Be Amazing
In Bed with Susie Bright
Limelight
Love + Radio
Marketplace
The New Yorker Radio Hour
Newshour
Note to Self
On the Media
PRI's The World
Radiolab
Snap Judgment
Timothy McSweeney's Internet Tendency
The Truth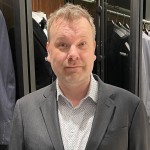 Michael Kozlowski has written about audiobooks and e-readers for the past twelve years. Newspapers and websites such as the CBC, CNET, Engadget, Huffington Post and the New York Times have picked up his articles. He Lives in Vancouver, British Columbia, Canada.