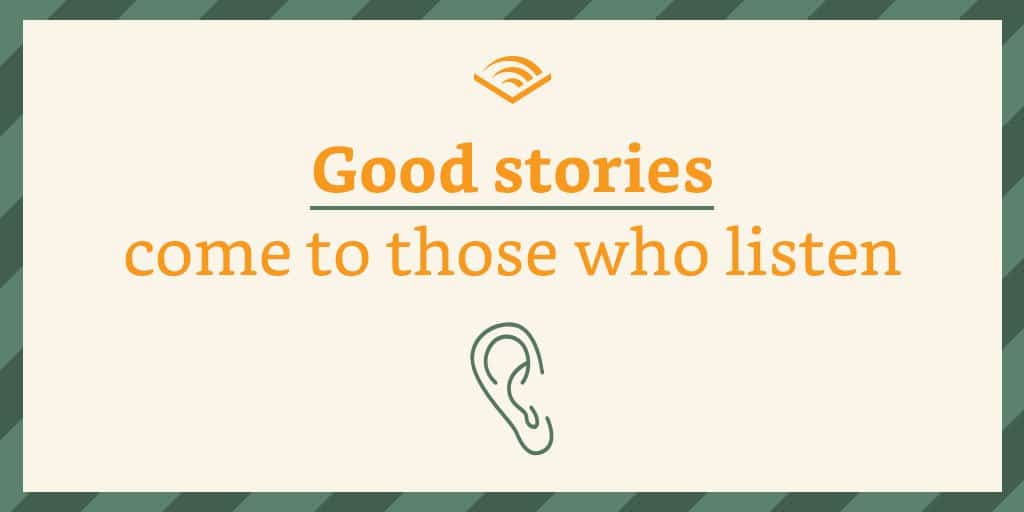 Audiobooks are the fastest growing segment in publishing, but it is hard to find resources. Hardly anyone is reviewing them on a regular basis and it is difficult to know what new titles are coming out or if the narration is any good. In order to assist audiobook lovers, Good e-Reader would like to review our resources list, which keeps tabs on everything new coming out and if they are any good.
Retailers
Audiobooks.com – Many people tend to think that Audible is the be all, end all, when it comes to digital audio sales. Audiobooks.com is owned by RB Media, which is the company Recorded Books started. Audiobooks.com has a great list of all of the new titles that have come out on any given week, and is a good resource if you want to know what's good.
Audible – Amazon owned Audible is the largest audiobook store in the world. They have a dominant market share in the United States and totally crush it in the UK. Audible puts a heavy emphasis on past purchases, so if you bought something with a credit, it will recommend other things. On their main home page they list all of the big name releases from major publishers, so it is a good resource if you use Audible, or just want to find out all of the new things that come out on a weekly basis.
Kobo Audiobooks – Kobo launched their audiobook store late last year. They offer a monthly subscription where you get credits to spend on a title, just like Audible. They also sell audiobooks individually. This company is great for curated lists. They have a best of the month, Staff Picks, trending titles and what I find interesting, pre-orders. Kobo is one of the only companies to really make pre-orders front and center, it gives you a sense on what is coming out soon and to budget for it.
Google Audiobooks – This service only launched rather recently and is fairly barebones compared to Audible, Audiobooks.com or Kobo. Many people use Google Audiobooks because it is a Google App and often recommended to download for people who have Android phone or tablets. The only real discovery options available are New Arrivals and Top Charts. Many of the titles in both categories are the same.
Amazon – The Amazon audiobook bestseller list is updated hourly and is based on algorithms. They put a focus on the top 50, but most of the titles aren't totally new. The current list ranges from September to November. They do have other options for audiobooks released in the past 30 days, past 90 days and audiobooks that are coming out soon. Unlike the Kobo pre-order page, Amazon/Audible produce their own audiobooks with their in-house recording studios and contract out the narration to big name people. Of course, the coming soon list also has content from all of the major publishers. I think Amazon does a better job with audiobooks that are the cusp of release.
Libro.fm – Libro.fm is a small audiobook company that first burst upon the scene in 2013. They have been selling their digital content directly to consumers but have pivoted their business to allow independent bookstores to generate revenue by earning commissions per each audiobook sold. The audiobooks from Libro.fm will be integrated into the IndieCommerce platform,enabling the convenient purchase of digital audiobooks. Customers now have an option to purchase digital audiobooks – as well as print and ebooks – while supporting their local, independent bookstore, and as an alternative to Amazon's Audible.com.
Libro has their own bestseller list from a myriad of publishers, but they also have a dedicated section with recommendations from bookstores who belong to the American Bookseller Association. The reviews and rundowns of the audiobooks are written by staff members. This makes the Libro recommendation system fairly unique.
Hachette Audiobooks powered by Wattpad – Hachette is producing a limited number of ebooks that were self-published on Wattpad. The two companies work together to give the audio treatment to the most prominent books on the platform. If you are looking for fan-fic or content you won't find in any other vendor, you want to check this out.
Listenup Audiobooks – This company produces their own content and puts an emphasis on indie authors. They also sell digital audio on behalf of major publishers such as Hachette Audio.
Reviews
The New York Times – The Times runs a monthly list for audiobook sales and is trusted by most people to be an authority. They conduct extensive reviews, but it is their lists that most people check. They focus on Fiction, Non-Fiction and Childrens. Whenever you check the list it counts as an article read on their paywall system. So you will have to use Incognito Mode or a privacy browser to bypass this, or just subscribe!
AudioFile Magazine – This company has been around literary forever and they review almost every big name title out there. They not only review the audio version itself, but talk about the production quality and narrator. Sometimes a really good book is hampered by someone who can't do accents well or the audio production has all sorts of background effects that breaks immersion. They also do dedicated reviews on narrators.
AudioGals – There are plenty of blogs that do audiobook reviews, but they are sparse. Maybe they do one or two a month and then go silent for awhile. Audiogals does a new review almost every single day. They have an extensive staff, so you get different voices and perspectives. Tend to focus on romance and other things that women like.
Audiobook Reviewer – Focuses more on the type of stuff guys would want to listen to, with an emphasis on science-fiction, fantasy. They also conduct interviews with authors, a really solid site.
Reddit – There are a few Reddit communities that focus on audiobooks and discussion. Sometimes there are massive threads on recommended audiobooks on any given week, but also lively discussion on all sorts of audiobooks. If you shop at specific retailers such as Graphic Audio, Audible, Tantar or others, there are daily deals posted and unadvertised promotions. My favorite is the main /R/Audiobooks, it is a really happening place. There is also a dedicated audiobook review section.

Michael Kozlowski has been writing about audiobooks and e-readers for the past twelve years. His articles have been picked up by major and local news sources and websites such as the CBC, CNET, Engadget, Huffington Post and the New York Times. He Lives in Vancouver, British Columbia, Canada.