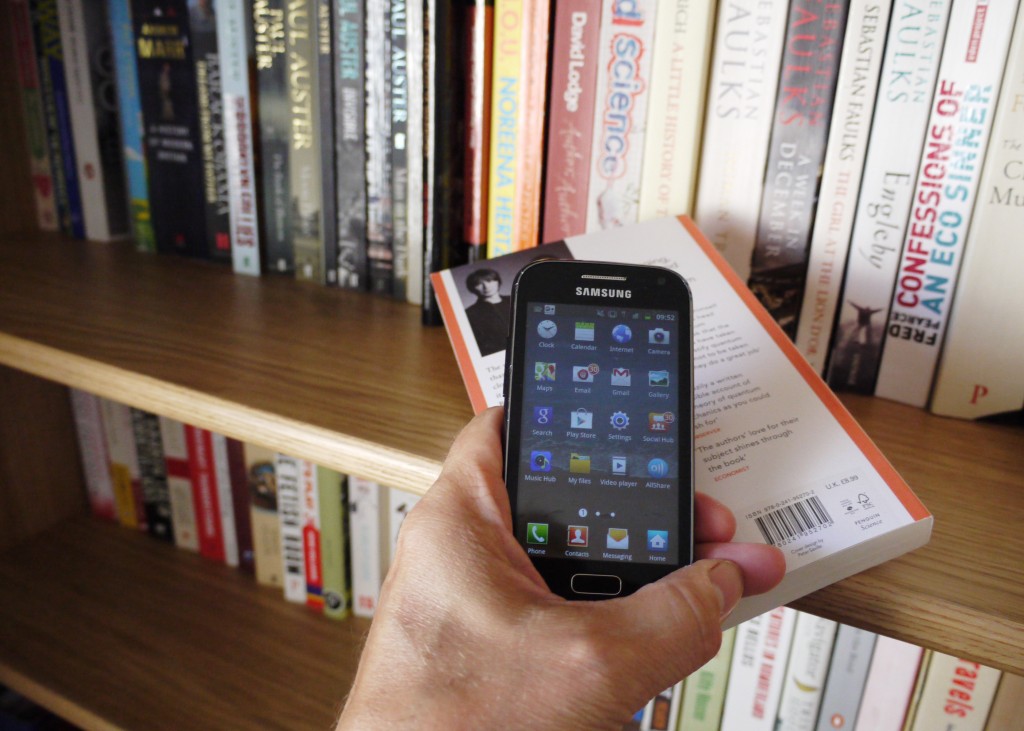 Showrooming is the process in which people visit their local bookstore to snap a picture of a book or scan a barcode to find it cheaper online. The average person is just doing this to get a better deal, but effectively they are directly contributing to bookstores all over Canada, US and the United Kingdom going out of business. Do people who showroom hate print and are actively trying to destroy it?
The Nielsen Global Survey of e-commerce found that British consumers are almost 40% more likely to buy items online than Europeans as a whole. The data also mentioned that that between 2011 and 2014, the number of UK respondents who intended to buy e-books online in the next six months increased 200%.
The UK Booksellers Association found that 63% of shoppers admitted to engaging in showrooming behavior. The survey of 2,045 UK book buyers found that while young people felt (or at least admitted to feeling) guiltier than older shoppers about using bookstores as showrooms, they were actually more likely to do so. 76% of 16- to 24-year-old's also admitted to visiting brick-and-mortar bookstore before buying online, compared with 51.7% of those over 55 who confessed to doing the same thing.
Meanwhile in the US Barnes and Noble is also a victim of customers walking into the store and buying the e-books elsewhere. A mobile tech company called Placed, analyzed the shopping behavior of showroomers and found 18% of all of B&N's customers are buying the content via Amazon.
"Barnes & Noble and Best Buy are places that are showroomed like crazy," says Wharton marketing professor Stephen Hoch. Hoch predicts that neither chain is likely to survive Amazon's assault because the stores don't have the service levels to stand out. "Go into a Barnes & Noble or a Best Buy and you see big box stores that should know their businesses. What you find out, however, is that employees don't know their business, and you don't get great help."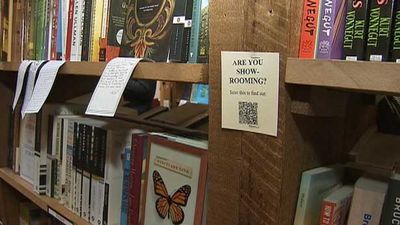 Some bookstores aren't just sitting back and letting customers get away with showrooming. One store, Elliott Bay Book Co., has taken to attempting to get customers to think about their actions. Signs are posted throughout the stacks that warn customers against the practice, even providing a QR code that links to an article that details the after effects of this practice. Yet another business, publisher Educational Development Corp., went so far as to pull their titles from Amazon due to their salesmen giving lengthy presentations to corporate consumers at company expense, and then having those potential customers make the purchase from Amazon.
But will these tactics actually prove effective? After all, if a consumer is willing to physically stand in a bookstore and make the purchase on their smartphone (or on their tablet, using the store's WiFi connection as they do), will simply pointing out how it harms their business enough?
One option would be to actively encourage the online purchasing, and even go so far as to provide a counter top computer to conduct these transactions while directing the customer to the retailer through the store's own website. Kobo has agreements with indie bookstores all over the US and the UK and they can earn affiliate benefits on the transaction. Customers who need the instant purchase of the title will buy it in store, and those who can afford to wait in order to save on the discount can still help the business.
I think bookstores need to get back to basics. Knowledgeable staff that actually read the books they are recommending. I often feel when I visit a bookstore such as Chapters/Indigo or Barnes and Noble the staff are just working there because its a stable job. I want to visit a store and be sold on something, to have that sense of jubilation when discovering something new. When you showroom your local bookstore with the intention of buying it online it's a gentile form of shoplifting.

Michael Kozlowski has been writing about audiobooks and e-readers for the past twelve years. His articles have been picked up by major and local news sources and websites such as the CBC, CNET, Engadget, Huffington Post and the New York Times. He Lives in Vancouver, British Columbia, Canada.