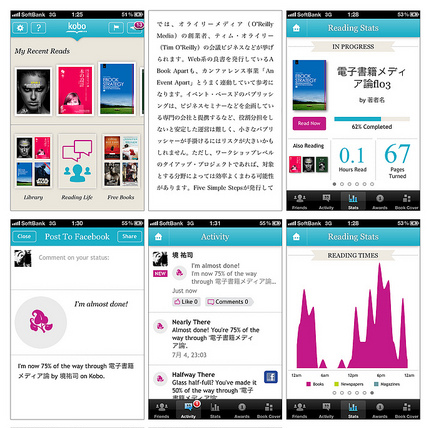 In the past, if you wanted to read socially, you had to find someone in your area. With the advent of the internet, it doesn't take much to find people who share the same taste in books as you do. When it comes to digital books and e-readers in general, companies have been developing new technologies that take a normally solitary experience and make it social. Amazon and Kobo e-readers both offer ways to participate in community discussion and websites like Goodreads foster a greater community. Is the future of ebooks a pure social experience?
A few years ago Kobo debuted a program entitled Reading Life and Pulse. These apps allow users to share rewards and achievements they earned from reading books with their friends. Pulse is a way that you can see how many people are in the process of reading, or have completed a book you own. You can then leave comments and chat with people who love the book. One of the coolest features about this would be the spoiler function. You can disable comments from people who are further ahead in the book than you are. Both of these programs are now bundled in every single e-reader and tablet the company offers. This company is basically the most progressive with social reading and even organized a few author chats with Pulse when the program first launched, but since then has been doing nothing with it.
Most e-reader companies like Barnes and Noble, Amazon, and Sony all offer social elements to the reading experience. They may lack the punch of Pulse, but it is quite easy to share notes, highlights, and quotes via Facebook, Twitter, and Evernote. Amazon recently introduced new features for the Kindle that will automatically let all of your friends know when you have completed a book. Reading has really gotten social in the last few years, and you would be hard pressed to find a dedicated reader with no social functions at all.
Social communities like GoodReads allow people to share their reading lists with each other, comment on books they want to read and develop a public board with all the books they have read or are in the process of reading. There is a fairly solid community of authors and book lovers to write reviews and follow kindred spirits. Scribd has also developed new social features when you are logged into Facebook, you will see personalized reading recommendations based on what your friends are sharing and on your Facebook likes and interests. And when you find something that you enjoy, with a simple click of the Like button you can quickly and easily share it with your friends. Honestly, however, it seems like all of these reading communities often just boil down to indie authors hawking their self-published books. Is this really what social reading is all about? Apparently so.
Social Reading is just basically a buzzword these days, instead of a practical solution to form meaningful relationships with other readers. Social Reading is often distilled down to center around sharing highlighting and note taking features with Facebook and Twitter. Many book lovers are introverts, who often have no idea they can employ social activities. It is often the narcissists that have to brag to everyone how many books they have read or how much they love a particular book.
Local bookclubs are almost all but dead, due to the rise in e-readers and ebooks. Major e-reading companies have done nothing at all to form a proper virtual bookclub and likely never will. The social communities are more about shameless advertising than they are about discussing the love of a book. Sharing ebook reading habits often boils down to spamming your Facebook wall with updates on the book you are reading or sharing book covers on Pinterest. If this is the future of social reading, I elect not to take part in it at all.

Michael Kozlowski has been writing about audiobooks and e-readers for the past twelve years. His articles have been picked up by major and local news sources and websites such as the CBC, CNET, Engadget, Huffington Post and the New York Times. He Lives in Vancouver, British Columbia, Canada.