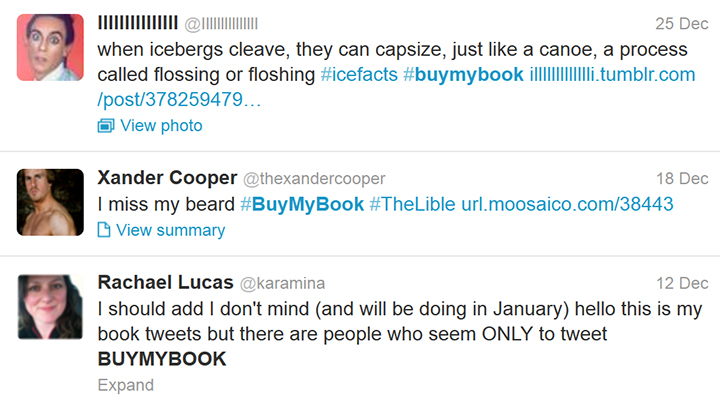 The vast majority of indie authors don't contribute anything good to the literary world and often incur the ire of many of the greatest writers of our time. The stigma of self-publishing is alive and well in today's digital world, despite the very vocal writers who say otherwise. Really, publishing is a bit of an anomaly when it comes to authors battling with each other on their distribution methods. You never hear about mainstream music superstars hating on indie bands, but you hear it all the time with authors being very vocal about each other.
Many prominent authors have weighed in during the last year, giving credence to the idea that the majority of self-published titles are completely terrible. Brad Thor recently said, "The important role that publishers fill is to separate the wheat from the chaff. If you're a good writer and have a great book you should be able to get a publishing contract." Sue Grafton mentioned, "To me, it seems disrespectful… that a 'wannabe' assumes it's all so easy he can put out a 'published novel' without bothering to read, study, or do the research… Self-publishing is a shortcut and I don't believe in shortcuts when it comes to the arts. I compare self-publishing to a student managing to conquer Five Easy Pieces on the piano and then wondering if he's ready to be booked into Carnegie Hall." Finally, Olen Steinhauer expressed his concern by saying, "The ebook changes nothing from an author perspective—I'm a big consumer of ebooks. But the 'noise' of self-publishing is so vast. I worry that writing is becoming steadily devalued."
Who came to the aid of indie authors against these disparaging remarks? Hugh Howey, of course, and in his typical fashion blasted those who disagreed with him by saying, "Make no mistake, there is a revolution afoot. A technological revolution. A societal revolution. A revolution of artists. It has already hit every major sector of the entertainment industry: music, film, television, comedy, photography. And now the tools of self publishing are slicing through the publishing world like a gleaming guillotine slamming down on a steaming pile of bullshit. Sue Grafton stated in the original interview that if you write a great work, the universe will come to your aid. If you want to understand the outcry this remark engendered, know that we have just had our Marie Antoinette moment. A beloved queen of the old order has leaned out over the ramparts, peered down at the huddled masses, the beleaguered and starving artists, and has admonished us with: 'Eat your #$#@! cake.'"
Why do indie authors have such as bad stigma? Often it is from the tactics they employ to stand out from the crowd. This includes battling a bad review on Amazon and other ebook stores; engaging in review swaps (you do one for me, and I'll do one for you); buying Twitter followers; paying for book reviews; or even using a company like AuthorSolutions to tell your friends you are published with Penguin. Don't forget about employing SEO tactics and buying specific website domain names. Also, consider this, many programmers are now writing scripts that automatically generate and publish ebooks. Close to 100,000 of them are now listed on Amazon and fragment the process of new ebook discoveries even more.
Renee Pawlish wrote a great introspective on why self-published authors are one of the lowest common denominators. "Back in the days before the Kindle and ebook publishing, here's how one usually got a book published: You had an idea for a book, you sat down and wrote it, and you went to the library and check out The Writer's Marketplace, or another book about agents and publishing. In these books you found out how to query agents. You might have read some of the tips on making sure your story was publishable. Then the internet grew and you could look for this information online. You queried agents and if you got no response, you knew that most likely: your query sucked, your book sucked, or both." He continued, "The smart authors went back and checked their novel and tried to make it better. The even smarter authors read books, took writing classes, talked to published authors, and went to conferences and talked to agents and editors, and learned how to improve as a writer. They learned about using active vs. passive voice, clichés and stereotypes, using too many adverbs and dangling participles. " He summed it up by saying, "Now you have people who write a book and publish it with very little or no editing. They have no idea how to make a story active and engaging. They tell a story, not show it. They have poor covers. And on and on. They glut the market with sub-par books, and then wonder why they don't sell. They wonder why people tell them the story isn't very good."
Andrew Whickey weighed in on the matter, from an independent author's perspective, "There are a lot of very, very good self-published authors out there, with good reasons for publishing their own work rather than going through publication houses. But as long as we tolerate—and even encourage—incompetence, illiteracy, and unprofessionalism in the name of solidarity, or sticking it to 'the man', or even just being kind to someone who means well and tries hard, sensible readers are going to lump everyone in together and avoid all of us."
Indie writers who publish fiction have the hardest time separating themselves from the herd. They are a very vocal demographic that generates modest revenue or none at all. You would be hard-pressed to find an established writer battling with a bad review or leaving comments on website, but it does happen occasionally. Indie authors, on the other hand, mass their Twitter Armies and Facebook Friends to join their crusade at the drop of a dime.
What can indie authors do to be taken more seriously? The Huffington Post wrote a great piece on the issue, citing bad editing, quantity over quality, and the lack of gatekeepers as the main factors that hamper the indie self-publishing industry. Finally, a fine man on GoodReads posed a solution, "If indie authors are going to get the respect and credibility they deserve, they are going to have to adopt some minimal professional standards. I propose a cooperative, independent movement (yes, it does seem contradictory), where independent authors barter editorial services with each other. That way, their cash outlay is minimized while quality is maximized."

Michael Kozlowski has been writing about audiobooks and e-readers for the past twelve years. His articles have been picked up by major and local news sources and websites such as the CBC, CNET, Engadget, Huffington Post and the New York Times. He Lives in Vancouver, British Columbia, Canada.