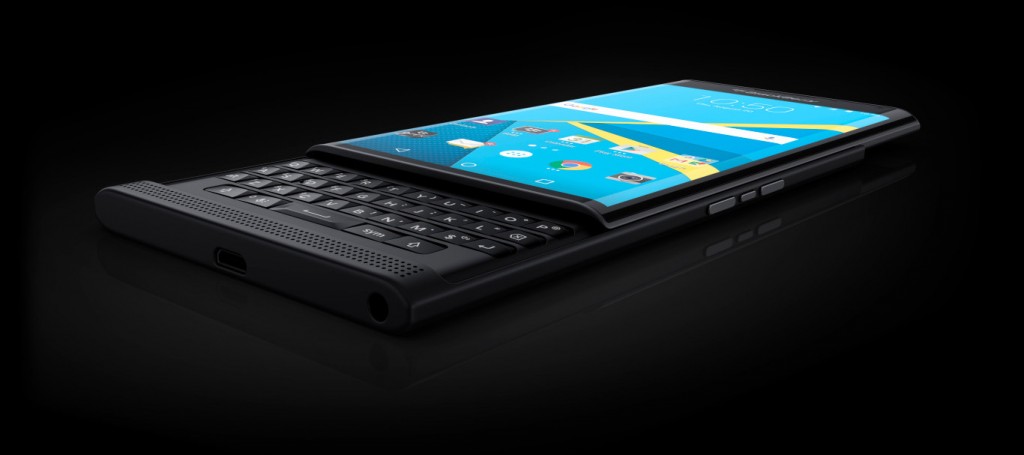 Blackberry has lost hundreds of thousands of users and corporate customers to smartphones running Google Android and iOS. The Waterloo company has been in a terrible state of affairs the last few years and their Blackberry 10 operating system has been a resounding failure in the marketplace. There is a new phone called the Blackberry Priv, which is running Android and has a slider keyboard. Can this device win back former customers?
One of the big allure of the Blackberry line of phones has always been the keyboard. When Blackberry 10 came out in 2013 it was an new operating system that was geared towards your average customer. You can tell that the entire design was to appeal to the mass market, borrowing element from Android and iOS. Sadly, Blackberry never managed to win over developers and their app store was a ghost town. Netflix, Snapchat, Instagram, Hulu and many others refused to develop for the platform because they considered it too fringe and there weren't enough users to make their time developing and maintaining an app worth it. This resulted in Blackberry signing a deal with Amazon and bundling their App Store on all future devices, primarily because BB10 had an emulator to run Android apps.
The Blackberry Priv is the first modern phone that is not running Blackberry 10 and instead of running the same version of Android that you would find on hundreds of other phones. Unlike other phones on the market, it has a slider keyboard, similar to the Blackberry Torch. This will appeal to people who write a lot of emails or use their phone as a business device.
On top of that, BlackBerry has also added their own security suite of apps to the device, better known as BlackBerry Safeguard, though the leaks thus far haven't laid out exactly what that all consists of. On BlackBerry 10, it's just a combination of safeguards built to the OS such as Picture Password, Password Keeper, BlackBerry Protect but BlackBerry may have built some additional tools now that they can make use of Android options.
The Priv features a 5.4 inch capacitive touchscreen display with a resolution of 1440 x 2560 pixels and 544 PPI. Underneath the hood is a Dual-core 1.8 GHz Cortex-A57 & quad-core 1.44 GHz Cortex-A53 processor and 3 GB RAM. It has 32 GB of internal memory to store all of your apps, e-books and other media content. If this is not enough you can expand it up to 128 GB via the MicroSD.
Will a full on Blackberry device running Android with a pull out keyboard resonate with former and new customers? No specific figures exist about people who abandoned Blackberry and went over to Android, but you have to figure it was likely an even mix between Android and Apple.
I have been using Blackberry phones for over a decade. I bought the Blackberry Playbook on opening day and used the tablet for a number of years. Good e-Reader was the first company to offer apps for the tablet and continues to support it. We have built tools allowing to you convert Android Apps over the Playbook BAR format, and many top developers use it, rather than Blackberry's own command line tools. The Good e-Reader App Store currently has over 42,000 Playbook, BB10 and Android apps, and we love supporting Blackberry.
I used a number of Blackberry 10 phones and was totally turned off of the operating system. It was my belief that the OS had no direction. Did it want to appeal to corporate customers or your average Joe? It seemed to me that they wanted to do both, haphazardly. Likely the biggest turnoff was Blackberry abandoning their own data network and pushed users to get data plans with the carriers. This resulted in people who traveled and roamed a lot to pay outrageous fees because the data was no longer being compressed by Blackberry.
Can the Priv be relevant in today's world? It all depends on what type of security layer that can be established on Android. In order for the phone to work it has to be totally geared for business, corporate and longtime users. This is the companies last shot to pivot from what they have been doing very poorly and embrace Android. They tried and failed to make their own OS, and I actually applaud them for taking a big risk.

Michael Kozlowski is the Editor in Chief of Good e-Reader. He has been writing about audiobooks and e-readers for the past ten years. His articles have been picked up by major and local news sources and websites such as the CBC, CNET, Engadget, Huffington Post and the New York Times.