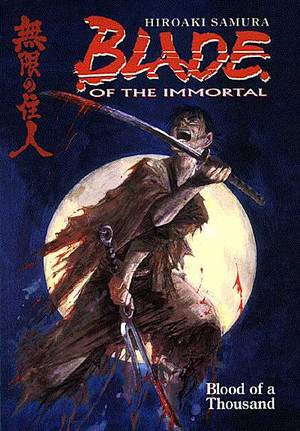 At this weekend's SakuraCon, editor Carl Gustav Horn opened the Dark Horse panel with the announcement that it is adding two popular, long-running series to its digital service: Oh My Goddess and Blade of the Immortal. Both will debut in digital format in April.
Oh My Goddess, which has been running in Japan since 1988, is the story of a college student who unwittingly summons a beautiful goddess and binds her to himself for life. Humorous complications ensue, and there are a number of multi-arc adventures, as the storyline has gotten more complicated over the years. Dark Horse started publishing it in 1994, one chapter at a time as a monthly comic, then gathered it into trade paperbacks. Dark Horse will release volume 44 in April. There is also an anime based on the series, with the slightly different title Ah! My Goddess.
Blade of the Immortal is a classic samurai story about a swordsman who cannot be killed by a wound. He views his immortality as a curse and sets out to kill 1,000 evil men in order to have it lifted. Volume 26 of the series came out this month, and it was recently announced that it will come to an end in Japan with volume 30 (which will be volume 31 in the American numbering). Like Oh My Goddess, Blade of the Immortal was originally released as single-issue comics but is now published only as trade collections.
Horn also announced two new licenses, New Lone Wolf and Cub and a series based on the Vocaloid character Hatsune Miku. While he didn't say anything about digital versions of these two comics, it's likely that both will show up on the digital service, as the original Lone Wolf and Cub is available on Dark Horse Digital and Hatsune Miku: Unofficial Hatsune Miku Mix is published in a digital-only anthology, Comic Rush, in Japan.
A former book editor and newspaper reporter, Brigid Alverson started MangaBlog to keep track of her daughters¹ reading habits and now covers comics and graphic novels for Comic Book Resources , School Library Journal, Publishers Weekly Comics World, Robot 6, and MTV Geek. She also edits the Good Comics for Kids blog at School Library Journal. Brigid was a judge for the 2012 Eisner Awards. Send her an email to wordballoons@gmail.com