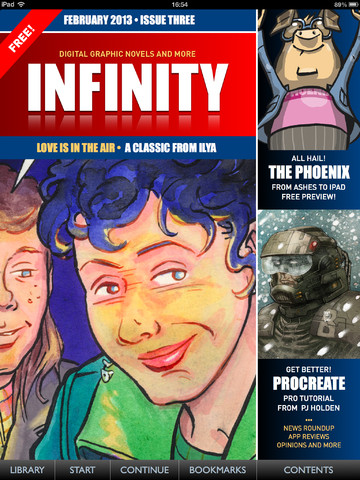 A lot of free digital comics have been dropping into my inbox lately, and it's time to share! Some of these are limited-time offers, so check 'em out right away.
The Walking Dead #1 on iTunes: Wondering what all the hype is about? Check out the first issue of Robert Kirkman's The Walking Dead, a 33-page comic that dumps you right into the heart of the zombie apocalypse. If you get hooked, you can buy subsequent issues for $1.99 each on iTunes, but you'll probably save money if you go for the collected editions ($8.99 for vol. 1, which collects issues 1-6) instead. This offer is only good this week. (Hat tip: Hypable.)
Infinity Magazine: Edited by Russell Willis, who is also the guy behind the Panel Nine graphic novel apps and The Phoenix digital comic app, Infinity is a mix of digital comics news, reviews in-depth features, and comics; this issue includes a look at award-winning comics on digital devices, a Procreate tutorial, and a wistful little romance comic by the creator ILYA. There's plenty of good reading here, and the layouts and design are polished and elegant. (Infinity is published as a Newsstand app for the iPad, but you can also read a PDF version here; also, since we love a bargain, the Panel Nine graphic novels—David Lloyd's Kickback, Eddie Campbell's Dapper John: In the Days of the Ace Rock 'n' Roll Club, and The Certified Hunt Emerson, are marked down to $4.99 for the month of February.)
Sanctuary #1: This is the first issue of a wry talking-animals comic about an animal sanctuary where, in the great tradition of such comics, the animals are smarter than the humans. Writer and artist Stephen Coughlin has a nice cartoony style, and aside from being in black and white, these animals would be at home in a Disney movie, but the story has more bite, and this is not a kiddie comic. Publisher SLJ offers it as straight digital downloads in PDF, CBZ, or ePub format (they explain on their catalog page which is best for which e-reader), and it's also available via comiXology. Subsequent issues are 99 cents each, so if you get hooked, Sanctuary won't be a terribly expensive habit. (Hat tip: 3 Million Years.)
Retrowood #1: I'll confess I haven't had time to read this one yet, but I like the cover. It's a noir detective story set in "faux Depression era Hollywood"; I'm not sure what that means, but the comic is easy on the eyes and looks like it's worth a try.

A former book editor and newspaper reporter, Brigid Alverson started MangaBlog to keep track of her daughters¹ reading habits and now covers comics and graphic novels for Comic Book Resources , School Library Journal, Publishers Weekly Comics World, Robot 6, and MTV Geek. She also edits the Good Comics for Kids blog at School Library Journal. Brigid was a judge for the 2012 Eisner Awards. Send her an email to wordballoons@gmail.com