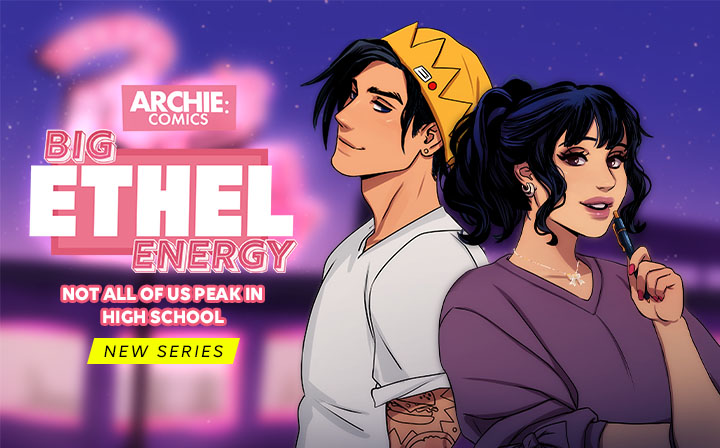 Archie Comics: Big Ethel Energy, a brand-new digital comic being developed by WEBTOON and Archie Comics, was announced this week. The comic, which debuted yesterday and is only available on WEBTOON, was developed by principal artist Siobhan Keenan and writer Kryl Brown Ahmed. For a new generation of comic book enthusiasts, Big Ethel Energy modernizes the legendary character.
A new episode of Big Ethel Energy chapter one is available right now, and they air every Wednesday. You can check it out here.
According to Jamie L. Rotante, senior director of editorial at Archie Comics, the company is immensely thrilled to return to Ethel's universe with season 2 of Big Ethel Energy and to carry on their prestigious collaboration with Webtoon. She said that this has been the logical development of Archie's long-term storytelling, with an emphasis on uplifting, romance-driven tales that give the characters room and time to develop and change for a contemporary readership.
Ethel began compiling a history of Riverdale in Season 1 of Big Ethel Energy. Formerly, Riverdale used to make fun of Ethel. With a freewheeling attitude, she is now a prominent journalist in New York. Ethel was desperate to leave her hometown and pursue her chosen career as soon as possible after graduating from Riverdale High. When the Mayor of Riverdale offers to pay her generously to pen a history of the city, she can't wait to come back and exact revenge on Archie, Jughead, Betty, Veronica, and all the other locals who made her life miserable all those years ago. She just neglects to take into account the possibility that they may all have changed.
Ethel is prepared to move on from the past in Season 2 as she negotiates the perilous waters of juggling a job that can be more political than she anticipated, a new relationship and all the ups and downs that entails, and realizing how her friendships have changed and where she fits in her hometown of Riverdale. She soon discovers that it is harder than she anticipated to keep her relationship with Moose Mason intact.
Big Ethel Energy was the first project to be created by Archie Comics and WEBTOON together, received a nomination for a Ringo Award in 2022 for Best Webcomic and has amassed more than 22 million views and 385,000 subscribers since its September 2021 debut. A popular print graphic novel based on the series was also released last year.
David Lee, VP of Content at WEBTOON, remarked that it had been amazing to bring the legendary Ethel to a new audience on the platform.  He also added that Archie has been a fan favourite for years because of its familiar characters, which can change to fit various plots and forms. As a result of Season 1's overwhelming success, WEBTOON is eager to partner with Archie Comics to continue bringing these adored characters to WEBTOON's audience worldwide

.
Alexis Boutilier is from Vancouver, British Columbia. She has a high interest in all things tech and loves to stay engaged on all the latest appliances and accessories.