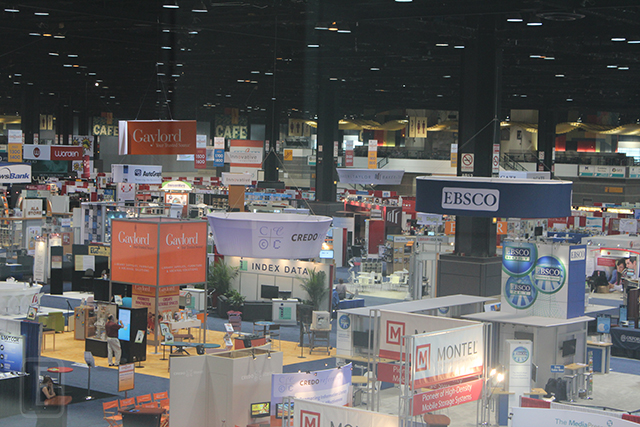 eBook discovery is something that every major online bookstore and the entire publishing industry is trying to figure out. How do you make books easier to find online and tailor results to your specific needs? Physical bookstores and libraries are often the places people visit to find out what just came out and discover new authors. Libraries certainly don't generate many headlines with making digital content easier to finds so how exactly are libraries making digital discovery easier for their patrons and even building brand awareness?
There were two major topics of discussion at the American Library Association Annual conference in Chicago. We wrote about one of them last week, in an article that centered around the concept of libraries becoming retail. The second major trend at the event was addressing ebook discovery and what libraries and technology companies are doing about it.
Overdrive unleashed its Media Station for Libraries, and the concept behind this is to attract the public using a tablet in a display or kiosk, which then aids in discovering what digital content is available. It features an all-in-one PC that can be any brand or model, and it uses Overdrives HTML5 software to allow you to interact with the touchscreen. The Media Station will showcase the audiobooks, ebooks, video, and music that the library offers and can send the content directly to your smartphone or tablet. Currently, Overdrive deals with 22,000 libraries all over the world and many will buy into this new platform. It really aids discovery with the ability to customize your home screen and focus on specific literary genres, notable authors, or develop custom lists for individual customers. This allows libraries to encourage the public to check out their digital content and develop specialized elements that would appeal to their local community.
Many libraries are investing in online technology and database code to aid in ebook discovery. Douglas County Library employs very advanced searching algorithms that will give you specific results or make recommendations based on your reading habits.
Libraries, to me, are focusing on the wrong thing. They are more concerned about extensive programming to serve specialized search results, like Amazon does. Or, they are focused on customizing their apps and developing funky book lists. Some are even investing hundreds of thousands of dollars on their own hybrid ILS and totally original experiences.
The average library now has an operating budget of $10,000 for their digital collection. Building public awareness should be the top priority and often is the most neglected. How do you let the general library population and the greater community at large know that you even offer ebooks? Libraries tend never to run advertising campaigns or do local marketing at any level. This hampers the digital adoption because they have no way of letting the younger demographic know they can get thousands of free ebooks from the library. Why focus on what the existing users are doing when 70% of all your core demographic aren't even using digital?
Libraries these days are faced with having to generate their own promotional vehicles. A few libraries are placing cards in each book with a link to the ebook or having QR codes spread around the library location. Some are making posters and others are running events in schools and old folks homes. Sadly, most libraries don't have dedicated marketing division. Of course, the big ones do, like the New York Public Library, but the 99% of the others are faced with the challenge to promote themselves alongside all their other duties as a community figure.
Every single library we talked to at ALA was feeling tremendous pressure to promote their digital collections. Some were seriously looking at Overdrive's terminals to boost public awareness and others were looking at more guerrilla marketing. In the end, there is no service or resources to help libraries promote their digital collection. There are no collections of free open sourced software, communities, and marketing materials that offer step by step tutorials or have seasonal advice. ALA does its best, but its materials are not current and it really doesn't have any savvy digital kids generating modern materials. 3M and Overdrive offer very generic stuff, but that ropes you into dealing with them. What if your collection is more academic or focused on small publishers and there are no public resources for you? I don't think libraries should worry about digital discovery, they should be more concerned about discovering the digital collection.

Michael Kozlowski is the Editor in Chief of Good e-Reader. He has been writing about audiobooks and e-readers for the past ten years. His articles have been picked up by major and local news sources and websites such as the CBC, CNET, Engadget, Huffington Post and the New York Times.