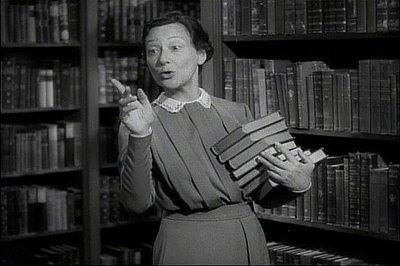 When people think of libraries they normally envision old ladies with cats eye glasses shushing everyone. The only sounds that are audible is the rhythmic clanking of ink based book stamps. Times have certainly changed with many libraries forgoing books altogether and focusing on digital. The vast majority though, have embraced digital to a substantial degree.
A recent report by the Library Journal has stated that 95% of all US libraries have an e-book collection. That's up from 89% in both 2013 and 2012, when researchers thought that adoption had plateaued for good.
The average number of e-books carried was 20,244 by each library, but that of course was skewed toward large libraries. Medium sized libraries statistically had around 10,434 titles.
The American Library Association every year holds an annual event that brings thousands of librarians and companies marketing services towards them. One of the biggest trends in 2014 was audiobooks, which have quickly become a billion dollar industry. The 3M Cloud Library disclosed that 50% of all the libraries they serve are very interested in an audiobook solution, while Baker & Taylor is seeing unparalleled demand.
Audiobooks is a very interesting system for libraries, as many of the top distributors lean on 3rd parties for a full catalog of content. 3M and Baker and Taylor both do business with Findaway World, which is current market leader in production. Findaway has a catalog of over 40,000 titles and maintains production studios, narrators and crew in New York. Overdrive has their own internal solution, where they approach publishers directly. Hoopla is also a rising force due to their 13,000 titles with 1,000 added each month. Hoopla deals with over 100 libraries in the US and charges no licensing fees with setting up the system, which is quite appealing to the average library. Instead, the libraries adopt a pay-per-use system and set a monetary threshold on how much they want to spend each month. This is useful because the entire Hoopla catalog is integrated into the library, so they can quickly monitor trends and user engagement.
I remember visiting libraries in my small town of Thunder Bay to kill time or to cultivate my love of reading. All of the locations had a very paltry selection of magazines and newspapers that were often yellow with age and in a state of tatters. Things are noticeably different in the digital age with new issues and back issues remaining in perfect condition for patrons to borrow. One of the leaders in this field is PressReader who has a robust system of 3,000+ well-known newspapers and magazines including the Washington Post, Business Traveler, and ForbesDaily. One of the cool benefits that this company provides is a wireless hotspot so anyone visiting the library can connect to and download anything they want. The system for magazines and newspapers does well in a library setting like this because eBooks have a one user one use system, whereas PressReader gives unlimited access.
Almost every major library in the US has a digital strategy in play, some have large collections and deal with many different companies to facilitate an avenue of content. Others are fairly small and often only do business with one or two companies at the most, due to budget and ILS concerns. Some libraries though, are bucking the trend and ditching print altogether.
The BiblioTech library in Bexar County is doing something that no library in the US has ever done. Since last year, the organizers had a grand vision of an all digital library. Six hundred e-readers and over ten thousand eBooks are available to loan out to the public and a huge computer lab is available for people to work on.
The library is based in a predominately Hispanic, low-income neighborhood, where 75% of the population lacks Internet access, yet that's precisely why the $2.4 million facility was built there, said County Judge Nelson Wolff, who envisioned it when he had an epiphany after reading the life story of Apple founder Steve Jobs. "e-book readership was going up, more e-books were being produced, so we thought why not address that segment at probably one third of the cost … as opposed to building a big branch library."
The success of the BibloTech library has prompted a series of non-profits in Omaha Nebraska to purchase a rundown Borders bookstore and convert it into a purely digital library. Mike McCarthy, a board member of Omaha nonprofit Heritage Services, said "All Omahans will benefit from increased access to all the good things technology can provide — the opportunity to learn, to explore and to create. This space will welcome everyone from our children learning to read and our grandparents applying for Social Security, to the emerging creative class who will develop the tools and products of the future, to our next generation of entrepreneurs."
The future of libraries looks bright indeed. According to ALA, Americans go to school, public and academic libraries more than they visit the movies and there are more libraries than McDonald's fast food joints. When it comes right down to it, there are many elderly people who simply can't visit the library as much as they used to and digital allows them to borrow and read in the comfort of their own home.