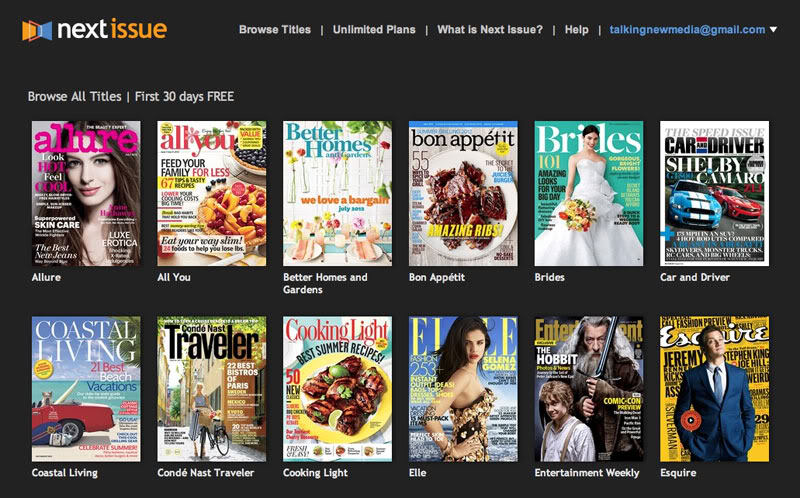 If you live in Canada and watch television, undoubtedly you might have seen the Next Issue advertisements. The premise of their campaign is trying to convince you that physical magazines take up a lot of room. It makes it unsuitable for reading at home, or on the go. So the question is, is Next Issue viable for Canadians wanting to read digitally?
Next Issue has over 100 digital magazines in their catalog and offers a free one month subscription. Afterwards, it costs $9.99 a month to read as much as you want. Well, there is a catch, you don't get People, Hello! Canada, The New Yorker, Sports Illustrated, Maclean's, or Time unless you pong up $14.99 a month.
If you like content, Next Issue has you covered. They have established relationships with most of the leading publishers. This includes Conde Nast, Hearst, Meredith, Rogers and Time. For your average reader, they have most of the mainstream magazines, such as Wired, Popular Mechanics, Bloomberg, Entertainment Weekly, Fast Company, Macleans, People, and Vogue.
Canadians do have access to a fair amount of content, but Next Issue is heavily skewed towards the very mainstream. There are no magazines from major publishers in England, such as Imagine. Basically, there is hardly any international representation in the overall catalog. Instead, you mainly have stuff printed and published in Canada and the US only. I am a big fan of Games TM, Vice, T3 and other tech magazines, sadly there is none of these.
If you are using the Next Issue app for Android or iOS you normally pick and choose what issues you want to subscribe to, and they download to your device. Each one is around 100MB in size, and this warrants monitoring of space limits. Most people have the 16GB iPad or iPhone, and a few months of storing magazines could really take up a ton of space.
There are some very noticeable drawbacks when using their app. New issues don't download automatically unless the app is open. If you have many downloading at once, they take a long time to complete.
When it comes to reading digital magazines in Canada, we are somewhat limited to who offers them and what type of deals they offer. Amazon, Apple and Kobo all sell individual magazines directly and have way more content than Next Issue. There are also companies like Magster, PressReader and Zinio that all offer subscription plans. These three companies all have larger catalogs than Next Issue. Zinio allows you subscribe to 3 magazines a month, with their ZPass program, while PressReader allows you to subscribe to them all, and puts a heavily emphasis on international magazines from over 80 countries.
Most Canadians just want to read the popular and mainstream magazines and Next Issue may make sense. The price is low enough, that you can read as many as you want, without having to pay for them individually. If you like to read magazines in other languages and from other countries, avoid it.

Michael Kozlowski has been writing about audiobooks and e-readers for the past twelve years. His articles have been picked up by major and local news sources and websites such as the CBC, CNET, Engadget, Huffington Post and the New York Times. He Lives in Vancouver, British Columbia, Canada.