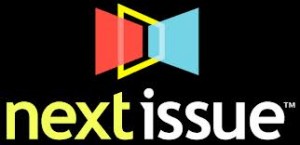 Consumers enjoyment of tablet-based magazine reading has grown over the last three years, and now one of the leading content providers is expanding its customer base to Canada. Next Issue, a subscription plan-based digital magazine distributor formed by several magazine publishers to provide unlimited access options to tablet users, signed an agreement today with Rogers Media, one of Canada's leading platforms for this type of content.
"We're thrilled to be partnering with Rogers Media to bring for the first time the Next Issue experience to customers outside of the U.S.," said Morgan Guenther, CEO of Next Issue Media, in a press release. "In addition to its industry leading magazine titles, the Rogers organization offers unparalleled reach to consumers throughout Canada via its cable, wireless, broadcast, sports and Internet properties. We look forward to working with Rogers to ensure a seamless delivery of world-class magazine brands to new and existing consumers."
Like its US customers, Canadian readers will be able to choose from Next Issue's Basic and Premium monthly memberships, which affords them access to unlimited reads from their plans' selection of magazine titles. Basic members have access to all of the companies bi-weekly and monthly titles, while premium members can access all of those, as well as all weekly publications. Both memberships let customers read unlimited back issues of the catalog.
"The Next Issue platform is the future of magazine content consumption. Our investment in Next Issue signals a collective commitment to our digital future," continued Ken Whyte, the new president of Next Issuu Canada. "Next Issue Canada delivers added value with an all-you-can-read experience. It retains the best of print while making the content come to life vividly, giving readers a more personalized, interactive experience. As a result, the magazine of today is even more powerful than the magazine of yesterday."