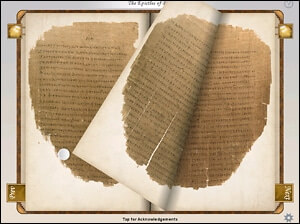 The University of Michigan's most famous papyrus is now available to users on the iPhone or iPad. High-resolution images of the third-century codex, which is the oldest known copy of the Letters of St. Paul, can be flipped through like the pages of a book.
The app includes a translation from Greek to English, either word-by-word or by the page, along with annotations which explain where the papyrus differs from the Standard Version in the New Testament. The codex was originally made up of 104 pages, of which 86 survive. "This gives an idea of what it was like to read an ancient book, with no capitals, no spaces between words, and no punctuation," explains Arthur Verhoogt, acting archivist of the library's papyrology collection.
More info in the University of Michigan Record.

Paul Biba is a retired corporate international lawyer who has worked in 53 countries. Since he is a very fast reader he came to ebooks out of self-defense in order to avoid carrying a suitcase of books on his travels around the world. An early ebook adopter, he has read on Palms, Pocket PCs and practically every device that has been out there. After being a frequent contributor to TeleRead.com, the oldest ebook/epublishing blog on the net, Paul became TeleRead's Editor-in-Chief, a position he recently resigned. Send Paul an email to paulkbiba@gmail.com